WND's Cashill Changes Mind, Now Thinks Zimmerman Might Be Responsible for His Own Behavior
Topic: WorldNetDaily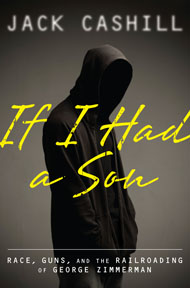 WorldNetDaily columnist has spent much of the past couple of years making excuses for George Zimmerman, who was acquitted of murder in the 2012 killing of Florida teen Trayvon Martin, even as Zimmerman's behavior became more erratic and violent. (Cashill did write a book about how Zimmerman was a civil rights martyr, after all -- currently submergeda at the flop-worthy No. 501,682 at Amazon -- so he had to try and preserve what little stream of his income that represented.)
But it now appears Zimmerman has gone too far even for a man inordinately fond of killers as Cashill is. In a Jan. 17 WND article, Cashill shows he's rather slow on the uptake by noting that Zimmerman's latest arrest on a domestic violence charge means he's "showing signs of trouble."
Cashill then goes into armchair-psychiatry mode, proclaiming without evidence that Zimmerman has no support network and, thus, needs to recommit to his Catholic faith:
Cashill thinks Zimmerman, a Catholic, needs to get back to his faith to turn his life around.

"I think what would be ideal for him is really to find a spiritual retreat for about six months where he could get his head straight," the author said.

Cashill said Zimmerman will not find spiritual balance following his current path.

"He's not going to find [balance] in the kind of pursuits he's pursuing now – women or guns or whatever," Cashill said. "He just needs to be re-grounded and re-moored to turn his life around."
But lest anyone think Cashill has completely rediscovered the idea that a person should be held accountable for their own behavior, he just can't seem to completely stop making excuses for Zimmerman, lamenting that Zimmerman "must be the most unloved man in America right now" and making sure others share the blame for his plight:
Regarding the ongoing civil suit, which alleges that Zimmerman violated Martin's civil rights, Cashill doesn't believe there is much of a case.

"It strikes me as Eric Holder's way of telling his radical black supporters, and white supporters, too, that, 'We haven't let him off the hook yet,'" he said.

[...]

Nevertheless, the New Black Panther Party has not rescinded the $10,000 bounty it placed on Zimmerman's head in 2012. Cashill is appalled that the White House and the attorney general's office have not denounced the organization.

"There's no consequence, no negative consequence for the New Black Panther party," he said.
When you've devoted your life to being an apologist for unsavory people, as Cashill has, it's apparently hard to go cold turkey.
Posted by Terry K. at 10:12 PM EST