Newsmax-Bernard Kerik Rehabilitation Watch
Topic: Newsmax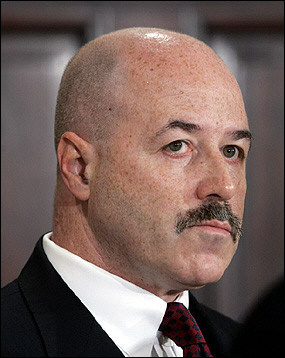 Newsmax has always been dedicated to fixing the reputation of former New York City police chief Bernard Kerik in the wake of corruption allegations for which he served prison time. They're still at it, letting him appear on Newsmax TV to opine about Al Sharpton:
It shouldn't come as a surprise to anyone that controversial civil rights activist Al Sharpton "shakes down" companies for money in exchange for not attacking them as racists, according to former New York Police Commissioner Bernie Kerik.

"I don't think anyone that's followed Sharpton for any period of time would be surprised by the article," Kerik said during an appearance Monday on "America's Forum" on Newsmax TV, during which he discussed a Sunday New York Post story that reported Sharpton takes corporate payoffs to keep quiet.

"It's what he does and I've said this before, he's an opportunist in many of these circumstances."
Unmentioned during the interview: Kerik served more than three years in prison for essentially doing what Sharpton is accused of doing: exploiting a tragedy to make money.
It's ironic that Newsmax lets a convicted felon to make such accusations, then hides his criminal record.
Posted by Terry K. at 8:37 PM EST