CNS Ignored Benghazi Report, But Highlighted Criticism Of It
Topic: CNSNews.com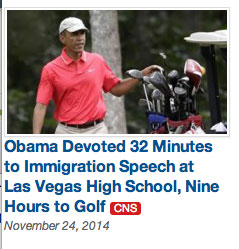 The Republican-led House Intelligence Committee released a report on Friday that debunked many right-wing conspiracy theories about the attack on a diplomatic facility in Benghazi, Libya. CNSNews.com -- despite claiming to be a "news" organization, ignored the report.
CNS did not notice the report until nearly three days later, when a Nov. 24 article by Susan Jones framed it in an attack by Republican Sen. Lindsey Graham, who called the report "full of crap."
CNS was apparently busy covering other issues it deemed more important, like how much golf President Obama played over the weekend. Priorities!
Posted by Terry K. at 9:17 PM EST