MRC Denied Pro-Life Link To Tiller Murder, Blames Sharpton for NYC Police Deaths
Topic: Media Research Center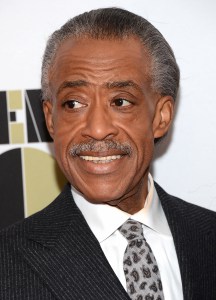 Whenever anyone in the media sought to link the murder of abortion doctor George Tiller to the anti-abortion movement -- a link that's not unreasonble to make, given killer Scott Roeder's ties to mainstream anti-abortion activist group Operation Rescue -- the Media Research Center howled about it:
But when a man killed two New York City policemen then himself, the MRC knew who to blame: Al Sharpton, President Obama and New York City Mayr Bill de Blasio. This despite the fact that none of them have never directly called for violence against anyone, let alone policemen.
The MRC's Tim Graham mocked Washington Post columnist Eugene Robinson for denying that Sharpton, de Blasio and Obama are to blame, insisting that the killer, Ismaaiyl Brinsley, "clearly identified himself with police 'accountability' movements for Brown and Garner and in dramatic hostility to the police in general." So holding police accountable for their actions is akin to endorsing violence?
NewsBusters' Jack Coleman penned another slobbering tribute to right-wing radio host Mark Levin that the MRC has become famous for, touting how "force of nature" Levin declared that Sharpton, Obama and Eric Holder have "blood on their hands" over the deaths. Needless to say, Coleman didn't mention the fact that Levin is employed as a spokesman for the MRC. Coleman went on to sneer that "golf is more important"to Obama than going to the funerals of the slain officers.
A Dec. 27 NewsBusters post by Jeffrey Lord demands that MSNBC fire Sharpton as a host because he is "a man with 'blood on his hands' -- the blood of two policemen -- to be showcased five nights a week on their airtime."
Lord engages in a dubious metaphor likening Sharpton to D.W. Griffith, director of the infamous Ku Klux Klan-lionizing silent film "Birth of a Nation," and Obama to Woodrow Wilson, who "happily showcased the film at the White House." In fact, while "Birth of a Nation" was the first film ever screen at the White House, there is no official record of Wilson expressing any view of the film, and the one that is generally attributed to Wilson -- "It is like writing history with lightning" -- was likely made up in order to promote the film.
Lord also highlights how former New York City Police Commissioner Bernard Kerik blamed Sharpton for "setting the tone" that resulted in the policemen's deaths. He doesn't mention that Kerik's credibilty is a little on the dubious side given that he recently spent time in prison on corruption charges.
Nevertheless, Lord insists that NBC "looks more and more every day like the home of the values portrayed in Birth of a Nation." Funny, we don't recall Lord ever saying that about the anti-abortion movement after Tiller's murder.
Posted by Terry K. at 8:49 PM EST
Updated: Sunday, December 28, 2014 9:10 PM EST