WND's Farah Tries To Spin Anti-Boehner Failure Into A Success
Topic: WorldNetDaily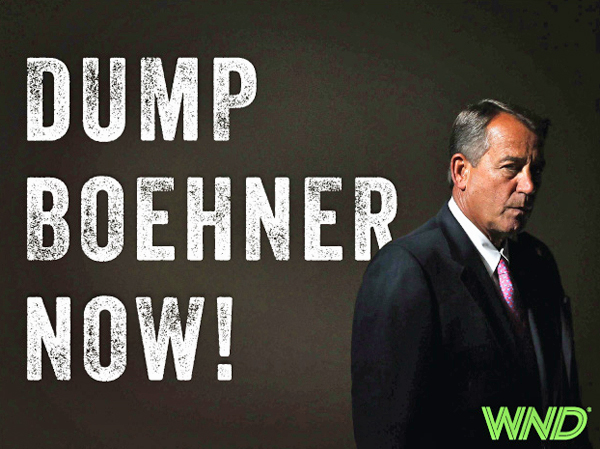 Joseph Farah devoted his Jan. 6 WorldNetDaily column to glossing over the failure of himself and other right-wing activists to oust John Boehner as House majority leader:
In the end, John Boehner even needed help from Democrats to beat off a challenge by House Republicans to his speakership.

Had it not been for some 27 members, mostly Democrats, not showing up for a floor vote, he might have been denied re-election.

That's fitting, since Boehner has been a facilitator of Democrat policies since he first got the job in 2011.
Farah went on to declare that his anti-Boehner campaign will continue, because ... well, just because:
I like to think I had something to do with starting this historic and nearly successful rebellion. When no one else was even talking about a "dump Boehner movement," I started one, with the help of grass-roots support from across the nation.

Don't Be Yellow: Dump Boehner Now!" managed to generate 560,000 letters to House Republicans in about three weeks – during the holidays! Well, I am happy to announce today that the campaign continues. We can't give up.

I'm afraid it's going to take millions of letters to awaken the House Republicans who put committee assignments and prime office space above the best interests of their country. But we can do it. We came very close Tuesday – closer than I could have imagined three weeks ago.

What would an avalanche of mail delivered to the offices of House Republicans in the coming weeks mean?

Would they begin to have second thoughts?

Would they begin to realize their decision to support Boehner was not really in their best interests after all?

Would they think it might be time to get on the right side of history?
Farah doesn't mention the presumably real reason his campaign continues: it's a money maker for WND. As we've documented, those 560,000 letters -- generated by just 2,267 people, hardly a significant groundswell in a country of more than 300 million -- generated a healthy $67,000 in gross revenue for WND, and it certainly didn't cost WND anywhere near that much to send those letters in bulk to House members.
Perhaps driven by this profit motive, Farah keeps shilling for his campaign:
We need to return to representative government – and we don't have that with John Boehner in leadership. He needs to go. He detests you and what you believe in. He's comfortable with the direction of the country right now. He's profiting from it.

So please take a few minutes right now to join the "Dump Boehner Now!" campaign. It is the most cost-effective way to amplify your voice on Capitol Hill.

And one more thing: Spread the word! Let everyone you know who shares your desperate concerns for the future of this country to take action – before it is too late.
And Farah is profiting from hating Boehner. Don't expect him to admit that, though.
Posted by Terry K. at 1:06 PM EST