WND Is Still Censoring Birther Debunkings
Topic: WorldNetDaily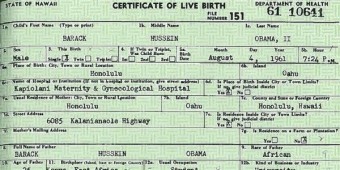 As usual, WorldNetDaily's year-end list of "underreported stories" reflects WND's own far-right obsessions instead of reality. Thus, you won't find anywhere on that list a certain story WND destroyed its credibility covering: birthers.
Specifically, how the birthers have been repeatedly discredited. As we've pointed out, the news that birther conspiracy theories have been debunked has been studiously ignored by WND, even though it promoted many of those discredited claims.
In the past year, former Cold Case Posse member Brian Reilly has dished on the dysfunction of the panel run by Mike Zullo and WND's own Jerome Corsi, and how Zullo has dismissed Hawaii's verification of Obama's birth to further the birther conspiracy.
You'd think that WND would be eager to report on this, but apparently, if it doesn't come from Corsi (whom Reilly revealed has had a falling-out with Zullo), it didn't happen. Reilly's report was met with utter silence from WND -- not even a defense of the posse by Corsi.
It seems that if WND has decided to underreport a story, it won't appear on WND's list of underreported stories. Funny, that.
Posted by Terry K. at 11:13 PM EST