The MRC's War On (And Jealousy Of) Jon Stewart
Topic: Media Research Center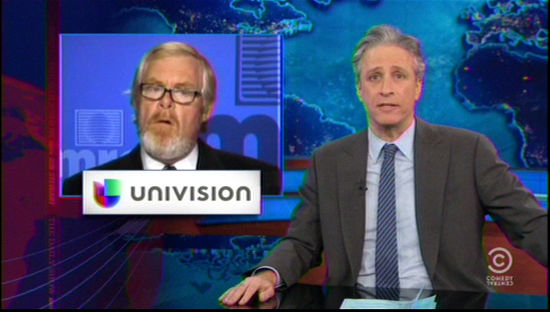 The Media Research Center has been focusing its ire on "Daily Show" host Jon Stewart in recent days.
MRC officials Brent Bozell and Tim Graham devoted their Nov. 21 column to bashing Stewart and sneering at the people who enjoy his brand of political satire -- or, as they call it, "his snarky conservative-trashing show" -- calling them "flatterers, sycophants, and every other synonym in the thesaurus for obsequious."
Bozell and Graham whined that Stewart responded to right-wing "mockery of Obama's patriotism" in the criticism of the president's salute with a coffee cup in his hand. But they don't mention is that President George W. Bush did the same thing while holding a dog, and not only did it not get held up for public ridicule at the time, the MRC complained that it was brought up as a way to "muddy the waters" over their criticism of Obama.
Bozell and Graham don't mention one reason why they are so upset at "The Daily Show" -- earlier this year, Stewart mocked Bozell for complaining that a Spanish-language channel was helping its viewers to comply with Obamacare.
Graham went off again in a Nov. 24 NewsBusters post, downplaying Stewart's influence because he "generally draws about 1 to 1.2 million viewers, less than ABC's Nightline draws at 12:30 in the morning. It typically gets beat by a second airing of The O'Reilly Factor." Graham, of course, doesn't mention that Stewart's audience is more desirable to advertisers than O'Reilly's: 65 percent of Stewart's audience is under 50, while 64 percent of O'Reilly's audience is over 50.
Graham also ranted that Stewart "makes more than $25 million a year," but doesn't explain what that has to do with anything.
An then there was Jeffrey Lord's Nov. 22 NewsBusters attack on Stewart. Lord takes offense at Stewart for arguing Fox News right-winger Sean Hannity is "acting" rather than pushing sincerely held beliefs, but rather than respond to Stewart's charges (other than to insist that Hannity "a deeply well-grounded, thoughtful man with boundless empathy"), he launched an ad hominem attack on Stewart, accusing him of being "loathsome, disingenuous, cynical and devious" because ... well, there are toomany white people on his show, and he once aired an edited video, which completely justifies Hannity doing the same.
Lord also cites economist Peter Schiff's complaint about how his "Daily Show" interview was edited, highlighting his statement that the "mentally retarded" would be happy to work for $2 an hour. Lord didn't mention that Schiff likes to engage in stunts like protesting a minimum wage hike in a Walmart parking lot.
Lord concludes: "Jon Stewart is a funny guy. A talented guy. But there are words for what comedy's Jon Stewart and academia's Jon Gruber are about. The words 'devious' and 'loathsome' are but two."
The truth is, however, that the MRC is totally jealous of Stewart's success, and it wants a piece of that action.
In September, the MRC sent to its mailing list accusing Stewart of being among the comedians who "advance a leftist agenda under the guise of comedy and brainwash America's young people each and every day. Is it any wonder that the youth of America are turning into leftist Obama zombies?"
The email went on to solicit donations to upgrade the MRC's sad little web comedy show, "NewsBusted" (a title, by the way, that the MRC stole from us):
When we started NewsBusted, we wanted to change that by creating at least one comedy show where socialism isn't worshiped and where American values aren't derided.

NewsBusted is the one comedy show where joke writers aren't afraid to serve up the ridicule that Barack Obama, Joe Biden, Harry Reid, and Nancy Pelosi so richly deserve.

We have a specific goal for 2015 – to raise enough money to upgrade all aspects of the audio and video production of NewsBusted… it's time for a major, high tech upgrade—in High Definition!

Quality television audio & video production doesn't come cheap. For nearly seven years, our production team has been using the SAME standard definition camera, the SAME microphones, the SAME lighting system, the SAME editing bay, the SAME graphics package, and the SAME sound mixing board… NewsBusted is long overdue for a high tech upgrade and 2015 is the year to do it!

I need you to donate today so that we can start producing better sounding and better looking episodes of NewsBusted – in high definition! We need your generous contribution to keep the laughs coming!
How does investing thousands of dollars (well, other poeple's dollars) in a comedy show further the MRC's ostensible mission as an "educational" organization -- not to mention qualify under tax law as being tax-deductible? We don't know either.
We do know, however, that "NewsBusted" probably wouldn't survive if it was subjected to the free market where ratings and viewership matters -- the same place where Stewart and "The Daily Show" are thriving. Which makes the normally free-market MRC's jealousy of Stewart that much more ironic.
Posted by Terry K. at 5:29 PM EST
Updated: Tuesday, November 25, 2014 5:38 PM EST