CNS Keeps Up Lazy 'Meathead' Insults of Rob Reiner
Topic: CNSNews.com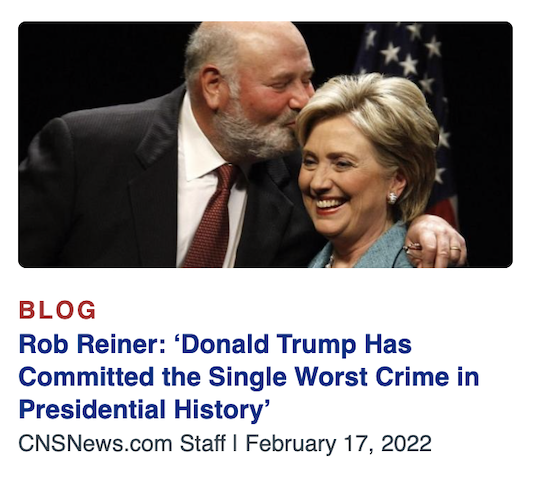 Like its Media Research Center parent, CNSNews.com has a penchant for lazily trying to dismiss anything Rob Reiner has to say by callling him "Meathead" -- a role he hasn't played in more than four decades, never mind that he has since had an acclaimed career as a film director. It has continued to do so over the past year.
A February 2022 article (anonymously written, of course) grumbled that Reiner, "the actor who played 'Meathead' on 'All in the Family,' sent out a tweet on Wednesday claiming that former President Donald Trump 'has committed the single worst crime in presidential history'" by triyng to overthrow the government. An Aug. 29 article by Craig Bannister -- which highlighted how TV host Bill Maher "sparred with radical liberal activist and Hollywood mogul Rob Reiner" -- was the only one of these to carry a byline and the only one to refrain from calling Reiner "Meathead."
An anonymously written Nov. 16 article referring to "'Meathead' Rob Reiner" in the headline groused:
Actor Rob Reiner, who played Michael "Meathead" Stivic on "All in the Family" has sent out a series of tweets over the last three days calling for Attorney General Merrick Garland to indict former President Donald Trump.

"Hey, remember when Donald Trump stole highly classified documents?" said a tweet that Reiner re-tweeted on Nov. 13.

Reiner followed-up that re-tweet with a tweet said: "After the Dec. 6 runoff, there is absolutely no reason for Merrick Garland not to Indict Trump for Stealing Top Secret Classified Government Documents. To strengthen Democracy, it must be done."
CNS kicked off 2023 with a couple more lazy hits on Reiner. An anonymously written Jan. 25
article
referred to "Rob 'Meathead' Reiner" in the headline:
Rob Reiner, who played Archie Bunker's son-in-law Meathead on "All in the Family," sent out a tweet earlier this month declaring his opinion that "Donald Trump is a pathologically lying criminal."

This was only one in a series of tweets in which Reiner attacked Republicans generally and Trump specifically.
And there was anonymously written "Rob 'Meathead' Reiner" article on Feb. 16:
Rob Reiner, the actor who played Archie Bunker's son-in-law "Meathead" on "All in the Family," sent out a tweet on Tuesday obscenely expressing his view of former Vice President Mike Pence.

"So Pence is fighting the DOJ subpoena to testify about the Jan. 6 insurrection," said Reiner. "Guess he feels more comfortable flying up Trump's a** than helping to save democracy."

In a preceding tweet that he also sent out on Tuesday, Reiner went after Trump.

"On January 6, 2021, Donald Trump led a violent attack on the United States Capitol in an attempt to overthrow the Government," said Reinter. "If he is not indicted for that, he will have succeeded."

In fact, Trump did not go to the Capitol on Jan. 6, 2021.
Trump did not need to go to thte Capitol when his speech beforehand sufficiently incited the crowd.
That was the only pushback on Reiner in any of these articles. There was also no explanation of why CNS (not to mention the MRC) specifically attacks tweets from Reiner when ignoring him might be a more prudent path -- unless, of course, it thinks Reiner is easy clickbait, which makes CNS even lazier than we thought.
Posted by Terry K. at 12:16 AM EST
Updated: Tuesday, February 28, 2023 12:31 AM EST