To The Lazy MRC, Rob Reiner Will Always Be 'Meathead'
Topic: Media Research Center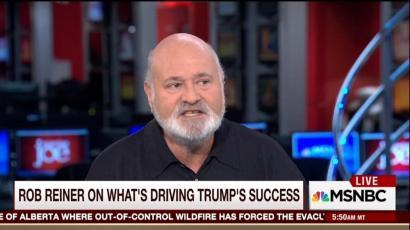 Rob Reiner has done a lot of things in the nearly 40 years since his acting stint on "All In the Family" -- namely, being the director of popular and acclaimed films -- but that doesn't matter to the Media Research Center. It's much easier for them to go for the cheap, lazy insult and call him "Meathead" every time he say something they don't like.
The latest to lazily insult Reiner is Callista Ring, who complains that Reiner accurately notes that there's a "serious strain of racism" that runs through the followers ot Donald Trump. Her headline references "Meathead Rob Reiner" and and huffs, "Like Hillary Clinton, Rob Reiner would toss an awful lot of Americans into a 'basket of deplorables.' Or in Meathead's case a bunker of Archies."
Ring doesn't really bother to disprove Reiner, instead whining that Reiner was "reeking of liberal elitism" and writing things like "What a surprise, another liberal accusing people of racism simply for not agreeing with him."
That's kneejerk right-wing ranting that's just as lazy as insisting on calling Reiner by the name a character he hasn't played in 40 years.
Posted by Terry K. at 1:25 PM EDT