MRC Goes The Biden Whataboutism Route To Deflect From Santos' Lies
Topic: Media Research Center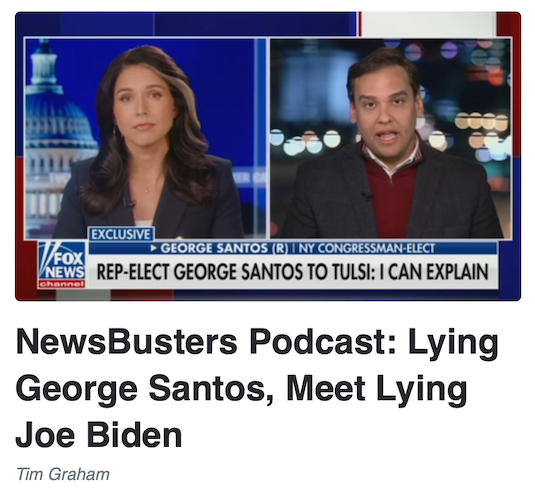 The first reference to Republican Rep. George Santos at the Media Research Center was an attack -- not over his being a serial liar, but over his failure to toe the ideological line and parrot right-wing anti-"big tech" narratives, as Catherine Salgado complained in a Nov. 15 post:
Newly elected GOP Rep.-elect George Devolder-Santos (NY) has already assured the nation that he is not much interested in investigating pro-censorship Big Tech, saying he doesn't want to "waste time," according to a recent news report.

Fox News co-anchor asked Santos, a "MAGA" Republican, about potential congressional investigations after Republicans presumably take control of the House in January.

Santos classified probes of issues including Big Tech – which has colluded with the government to censor Americans – as "hyperpartisan," according to The Hill. Because apparently nothing is more partisan than free speech?

The future congressman's assurance could please Big Tech as much as it seemed to please the leftist Daily Beast. But free speech will suffer if a Republican Congress agrees with Santos.

[...]

This milquetoast attitude is especially odd since Santos caused controversy by praising former President Donald Trump's speech on Jan. 6, 2021, and reportedly making contributions to get Jan. 6 political prisoners out of jail.
Salgado concluded by huffily noting that "Santos made history by winning the first House race with two openly homosexual candidates." She clearly did not see that as a good thing.
When it was first revealed that key elements of Santos' claimed biography appear to have been made up, the MRC stayed silent, as if it wanted to huddle with its fellow right-wingers to plot out a strategy to respond. And on Dec. 27 -- eight days after the allegations against Santos first went public -- a post by Mark Finkelstein announced the strategy: Biden whataboutism!
MSNBC's Morning Joe delighted on Tuesday in the case of Republican Congressman-elect George Santos, who's now admitted telling a series of fraudulent tales about his biography to get elected in the Third District on Long Island.

That's shameless, and the voters have every right to be angry and want him to resign. But if multiple lies about one's background are cause for a politician to resign, when will Democrats and the liberal media be demanding that Joe Biden quit, and how soon should we expect Ol' Joe to announce his departure from the White House?

Let's take a walk down the long Memory Lane of some of Biden's lies, shall we?

[...]

As documented above, Joe Biden has told a multitude of lies about his background. But naturally, Morning Joe never made mention of Biden's history of lying—let alone suggest that he should resign. There were "lying liars" who are typical in myth-making, and then there's Santos.

To the contrary, the panel chatted about Biden's "playbook" of exposing Republicans, and Lemire said the Santos story "certainly feels like the further Trumpification of the Republican Party."
Tim Graham used the same strategy in the promotion for his Dec. 28 podcast:
This week, the media elites pounced on the finding that Congressman-elect George Santos (R-New York) lied about nearly everything on his political resume. Democrats and the media played up the need for Santos to resign in disgrace. Conservatives responded with Biden's many tall tales about his life. Just days ago, Biden claimed that as vice president, he presented a Purple Heart medal to his Uncle Frank....who died ten years before he took national office.

The major difference here is that Biden's been exaggerating about his life for 50 years, while Santos hasn't even taken office yet. What is "whataboutism" and why is it objectionable?
In the podcast itself, Graham first and foremost blamed "liberal" media outlets for not vetting Santos, though he did eventually concede that Republicans failed to vet him as well and that "everyone can shre in the blame for not vetting this man." Graham touted how it how "it was very easy for people to make a list of Biden whoppers," then whined about the same "liberal media" not being hard on Barack Obama (whining extensively that he created composite characters in his memoir), Elizabeth Warren and even John Kennedy for alleged whoppers. He then complained that his whataboutism on Santos was being called out, and defended it as a key MRC strategy:
I don't generally like this term -- it cuts too close. Comparing political behavior and how it's evaluated by the press is what we do here at NewsBusters. Part of the charge of whataboutism is saying, "Well, now you're misdirecting away from an infraction by talking about someone else who did something kinda similar." I can get were you'd say youre changing the subject -- how convenient. But many examples of this so-called whataboutism are a part of politics, of comparing and contrasting. Pro-Clinton Democrats engaged in a ton of whataboutism when he was president.
Graham then complained that the MRC was criticized for not immediately denouncing Santos:
Finally, I find it mildly annoying when leftists get on Twitter and suggest that we as media critics have yet to make political denunciations on a timeline like -- "I see you haven't condemned Santos yet," they might write, like it's a great hot take. Likes the most important thing for us to do on a story is not evaluate the story but we have to lead with "We hotly denounce George Santos' lies."Well, OK, we're not in favor of politicans lying. But our point here is to study how Santos is covered first and not to pronounce a verdict first. We're looking at patterns. We're saying, "this is the hot story, what other stories are they not doing?" Or, "notice how they're doing a story that pleases the Democrats more."
Graham might have a point if the MRC actually cared about legitimate "media research," but it doesn't -- it's a rapid-resonse political organization whose main goal is to drive right-wing political narratives in political conversation. Graham and the MRC want to drive those narratives in real time, so it's entirely appropriate to point out its days of silence on Santos while it devised an appropriate narrative.
P.J. Gladnick stuck with that narrative, serving up similar whataboutism in a Dec. 29 post:
The egg covering the face of poor Chris Hayes is the result of him sticking his foot into the controversy about the lies told by Congressman-elect George Santos versus what he called "normal" political lies told by Joe Biden. Here is Hayes' Tuesday tweet that caused a tidal wave of blowback mockery of the MSNBC host as to Biden's "normal" lies:

[...]

Unfortunately for Chris Hayes the mendacity record is not kind to Joe Biden especially as regards his failed 1988 presidential campaign which also included multiple allegations of plagiarism.
Finkelstein returned the same day to complain that it was pointed out how Republicans' failure to hold Donald Trump to account for his lies led to Santos:
Let's stipulate: George Santos running for Congress on a carpet of lies is beneath contempt. As Tulsi Gabbard, subbing for Tucker Carlson, said to him: "do you have no shame?"

But that doesn't mean that the Democrats, with a big helping hand from the liberal media, won't try to exploit the situation for their political gain.

And so it was that Morning Joe was only too glad to play its part today. The show invited on Democrat Congressman-elect Jared Moskowitz of Florida. Moskowitz has tweeted that, in contrast with Santos, he actually does have relatives who were victims of the Holocaust.

Moskowitz scalded Santos's lies about having Jewish relatives who escaped the Nazis as "the lowest form of humanity." Fair enough.

But Moskowitz then proceeded to try to turn the situation to his party's political advantage, predictably trying to blame Santos on Republicans in general, and Donald Trump in particular.

Moskowitz said that Santos's lies were:

"Not surprising, unfortunately, because this is what folks on his side of the aisle have learned. They have learned this from, you know, the leader of their party. That you can traffic in these lies and you can get away with it."

It remains to be seen whether either Trump or Santos will "get away" with things. But it's a certainty that the Democrats will try to milk the scandal for all its worth.
And Finkelstein played his part by unable to let his criticism of Santos stand without playing whataboutism for complaining that the criticism cuts a little too deep.
When a writer for the right-wing American Spectator bizarrely portrayed Santos' lies as some sort of "own the libs" moment -- which ignored the fact that he owned Republicans as well, who are now stuck with a congressman who has pretty much llied about everything -- Jeffrey Lord cheered the twisted logic inhis Dec. 31 column:
So whether intentional or not, Santos has effectively (and amusingly) set the liberal media up. He advertised himself -- without saying a word other than listing his bio "facts" - as one seriously woke guy. So the media gave him a pass.

He says he's openly gay? To challenge him by noting he was previously married to a woman means you're a bigot, so no challenge there. He worked at the woke investment company Goldman Sachs? Here's a New York Post headline:

How Goldman Sachs exploits 'woke values' to pursue its own profit and power

If you're appealing to a woke media, claiming a background at woke Goldman will be silently applauded. He's woke just like one of us.

[...]

Whatever else comes of this episode with George Santos, one takeaway lesson is that the lib media is so woke at this point that they will even not do their due diligence on a Republican candidate if that candidate passes a woke test with flying colors.

Whether by design or sheer accident, it appears that most if not all of his phony resume advertised by George Santos fit the woke bill - and the media shrugged.

You can't make it up. Unless you're George Santos.
Unmentioned, of course, is that Santos owned Republicans as well, who embraced every lie Santos told because it wanted a Latino candidate who was still willing and eager to toe the Republican line. If Republicans can't be bothered to seriously vet their own candidates, why is it the media's responsibility to do so?
UPDATE: A Dec. 29 post by Bill D'Agostino dismissed the idea that Santos committed voter fraud by lying as "absurd" but also cheered that Santos' opponent was criticized for failing to do opposition research into Santos, as if GOP officials weren't also responsible for vetting their own candidates.
Posted by Terry K. at 10:05 PM EST
Updated: Friday, January 27, 2023 6:07 PM EST