WND Exploits Athlete Deaths, Collapses To Push Bogus Anti-Vaxx Conspiracy
Topic: WorldNetDaily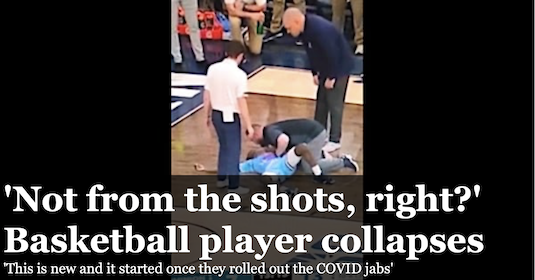 WorldNetdaily is so dedicated to the maliciously false narrative that the COVID vaccines are killing vast numbers of people that it immediately assumes that anyone described as having collaped or "died suddenly" was victimized by the vaccine. Joe Kovacs wrote in a scare quote-laden Dec. 26 article:
The sudden, unexpected death of the executive producer for ABC's "This Week with George Stephanopoulos" at age 37 over the weekend has some sounding the alarm about the dangers of COVID vaccines, even though it has not been determined if a shot played a role.

Dax Tejera "died suddenly" Friday, ABC's Rachel Scott reported on the air Saturday. The cause of death was reportedly a "heart attack."
Kovacs had an unusual follow-up in a Jan. 3 article attacking Tejera and his wife for leaving their young children in a hotel room while the "went out on the town in New York City the night he collapsed in the street." Still, he insisted on conspiratorially adding that "the sudden, unexpected death of Dax Tejera has some sounding the alarm about the dangers of COVID vaccines, even though it has not been determined if a shot played a role."
When NFL player Damar Hamlin collapsed during a game, Bob Unruh ghoulishly capitalized on it to promote WND's anti-vaxx narrative in another Jan. 3 article:
It perhaps has not been among most days' top headlines that dozens, no, hundreds of young healthy athletes have simply collapsed while competing in their sports over the past year.

They frequently are diagnosed as the victims of cardiac arrest and their average age is 23.

And the heart issues are coinciding directly with the rollout of the experimental COVID-19 shots that governments around the globe have been mandating.

But when such a collapse occurs on live TV, during a National Football League game between playoff contenders, there's much more alarm.

The Epoch Times reported Buffalo Bills safety Damar Hamlin collapsed on the field Monday night after making a tackle.

[...]

While Hamar's vaccination status was not known, and was not necessarily public anyway, a report at the Gateway Pundit noted the fact that "athletes across the world have been dropping life flies as they compete in games."
The Gateway Pundit is a fetid fount of lies and conspiracy theories, and the Epoch Times is loaded with COVID misinformation, so Unruh (further) discredits himself and WND by citing them.
Unruh went on to seemingly cheer the death of a man who criticized anti-vaxxers in a Nov. 6 article:
Another young man, a pro football player who denounced opponents of the experimental COVID-19 shots during the pandemic, has been found dead.

Hundreds of young athletes, mostly men, have reported heart malfunctions, sometimes fatal, during their sports activities. Many, many more have simply died.

Such appears to be the case for Uche Nwaneri, 38, who played for the Jacksonville Jaguars in the National Football League.

He had adopted an extreme position on the COVID shots, demanding "jail" for anyone who refused corporate or government mandates to be part of the experiments.

Now LifeSiteNews reports he was found "unresponsive" in his home Dec. 30 in Indianapolis, Indiana, by his wife, and an autopsy report said there were "no signs of foul play."

Preliminary results suggest "a possible heart attack, pending toxicology results," the report said.

[...]

The report noted Nwaneri's death is "the latest in an alarming trend of sudden deaths among athletes, coinciding with the rollout of the COVID vaccines and raising suspicion that the shots led to heart failure among young athletes."

It noted Dr. Joseph Mercola has documented that more than 700 athletes have "collapsed on the field during a game from March 2021 to March 2022."

The issue has developed so significantly that it's now being called Sudden Adult Death Syndrome.
Mercola is a quack, and approvingly citing him discredits Unruh and WND even more. And as we've documented, Sudden Adult Death Syndrome is not a real thing.
Kovacs hyped a different case in a Jan. 8 article:
A college basketball player collapsed suddenly on the court Saturday, sparking fears among his teammates and fans watching the event.

Imo Essien, a sophomore guard at Old Dominion University dropped to the floor while clutching his chest with just over 13 minutes remaining in the first half in a match between ODU and Georgia Southern University in Statesboro, Georgia.

[...]

This latest case of a young athlete collapsing suddenly is again raising questions if a COVID vaccine played a part.
An anonymous WND writer pushed yet another one the next day:
Authorities in Wyoming say a 17-year-old basketball player has "died suddenly," and they suspect it might have been due to an injury.

A report from the Blaze identified the athlete as Max Sorenson and revealed he died unexpectedly at his home Dec. 26.
Despite admitting that "the suspected cause is peritonitis" -- which had been reported before this article was published -- the anonymous writer irresponsibly and maliciously declared that "WND already has reported that hundreds of young people, many athletes, have died after getting the experimental COVID shots."
This kind of irresponsible, non-fact-based reporting is a major reason why WND teeters on the edge of insolvency -- but it's so dedicated to spreading these conspiracy theories that it refuses to see that it's harming itself in the process.
Posted by Terry K. at 2:32 PM EST