CNS Managing Editor's Gay-Bashing Beat
Michael W. Chapman has spent the past couple of years making sure hatred for LGBTQ people is a key part of CNS' "news" coverage.
By Terry Krepel
Posted 2/27/2023
---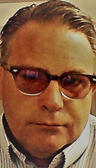 Michael W. Chapman
When you have a notoriously aggressive homophobe like Michael W. Chapman as your managing editor, anti-LGBT freakouts are to be expected at CNSNews.com. And indeed, Chapman has continued to deliver on the anti-LGBT front.

ConWebWatch has previously noted how Chapman has led CNS in lashing out at LGBT people President Biden has nominated to work in his administration like Pete Buttigieg and Rachel Levine, and he has bashed prominent conservative gathering CPAC and even the Republican Party for not hating LGBT people enough. Let's look at what else he has done over the past couple of years.
The Caitlyn Jenner meltdown
When Bruce Jenner transitioned to Caitlyn Jenner, the transphobic CNS didn't take it well and continued not to do so. A March 2020 article by Chapman, for instance, included a picture of "Bruce Jenner, now imitating a transgender woman, Caitlyn Jenner."
When Jenner declared she was running for California governor in that state's 2021 recall election but also running as a Republican and expressing conservative views in the process, the confusion continued, particularly from Chapman.
In a May 2020 article, Chapman was almost giddy that Jenner was spouting right-wing (and CNS) narratives on transgender athletes, yet still made sure to take a shot at Jenner's own identity:
Caitlyn Jenner, a transgender "female" who used to be Bruce Jenner -- an Olympic Gold Medal decathlon winner and one of the most famous athletes in the world -- said that he opposes "biological boys" who are transgender females competing in girls' sports in school because "it just isn't fair."

On Saturday, a TMZ reporter caught up with Caitlyn Jenner in a parking lot and asked, "Hi Caitlyn, there's legislation in various states to ban biological boys, who are trans, from playing in girls' sports in school. What's your opinion on that?"

Jenner said, "This is a question of fairness. That's why I oppose biological boys, who are trans, competing in girls' sports in school."

"It just isn't fair," said Jenner. "And we have to protect girls' sports in our schools."
A couple days later, an article by Chapman repeated his sneering at Jenner's sexual identity while embracing her political stances:
The transgender "woman" Caitlyn Jenner, formerly known as Olympic Gold Medalist Bruce Jenner, is running for governor of California as a Republican in a runoff election later this year. In a Wednesday interview with conservative Sean Hannity, Jenner said he supports limited government, low taxes, the border wall, the police, and ICE, the Immigration and Customs Enforcement agency.

"I am all for the wall," said Jenner. "I would secure the wall. We can't have a state -- we can't have a country without a secure wall."
CNS, it seems, may not have quite figured out how to handle a transgender woman who is also a solid conservative. When Jenner ceased being a frontrunner in the race, Chapman and Co. were probably relieved.
Pride Month and more
After Pride Month ended in June 2021 -- in which CNS published numerous anti-LGBT attacks -- Chapman was a little late to the party in calling on his favorite fellow homophobe to say a few words days after the month was over:
In a message noting the end of June's "Gay Pride month," Rev. Franklin Graham said the month was set aside to celebrate what God defines as "sin," and is therefore similar to setting a month aside to celebrate other sins, such as "lying, adultery, or murder." In the Word of God, it is all sin.

In a July 3 post on Facebook, Rev. Graham wrote, "Gay Pride month has come to an end. BBC reported last week 'Pride has gone mainstream.'"

"This is an entire month set aside to celebrate a lifestyle that God defines as sin," said Graham. "It's like setting a month aside to celebrate lying, adultery, or murder (which includes abortion), or anything else that God says is sin."
Did anyone expect CNS to cap Pride Month any other way?
Chapman huffed in an August 2021 article:
Although Georgetown University is the nation's oldest Catholic institution of higher learning, founded by Bishop John Carroll in 1789, it has named transgender "female" Charlotte Clymer, a biological male and transgender activist, to be one of its fall 2021 "Fellows."

The Georgetown Fellows "lead weekly discussion groups," "hold office hours for students" and "mentor students," according to the Fellows' webpage. They also receive a stipend, may use campus resources, and may audit any class at the McCourt School of Public Policy, "one of the top public policy schools in the nation."
Chapman went on to complain that Clymer's talks to Fellows will touch on things like bigotry in America and climate change -- then went on to recite anti-LGBT aspects of Catholic Church canon.
Two days later, Chapman was at it again:
Members of the Jamaican Coalition for a Healthy Society (JCHS) protested outside the U.S. Embassy in Jamaica this month against the flying of an LGBT Pride flag, denouncing the action as an "insult to our country."

The Biden administration has made flying the LGBT flag a top priority of its diplomatic mission, to condone and promote the homosexual lifestyle.
Chapman offered no evidence that flying the LGBT flag is a "top priority" for the Biden administration, or that being LGBT is merely a "lifestyle."
Chapman had another meltdown the following month:
Jared Polis, the openly gay Democratic governor of Colorado, "married" his long-time partner, Marlon Reis, in a small Jewish ceremony on Sept. 15. Traditional, orthodox Judaism teaches that marriage is between one man and one woman.

"Mawage. Mawage is what brings us together today," tweeted Polis, a former member of Congress, on Sept. 15.
Chapman is so homophobic, he couldn't even find humor in the "Princess Bride" reference in Polis' tweet.
After noting that the ceremony was performed by "a Jungian psychotherapist and a leader in the international Jewish Renewal Movement," Chapman called on a right-wing Jewish group, the Coalition for Jewish Values, to denounce the "marriage" (his scare quotes, not ours):
Asked for comment about the "marriage," Rabbi Yaakov Menken, managing director of the Coalition for Jewish Values (CJV), told CNS News that his organization opposes such arrangements because marriage is reserved for a man and a woman.

"Marriage is described in Genesis as directly connected to having children," said Rabbi Menken. "So even without reference to clear prohibitions in Leviticus, it is obvious that a same-sex union is foreign to Judaism."

The CJV represents 1,500-plus traditional, orthodox rabbis nationwide.
Chapman concluded by whining, "Polis has a long history of supporting liberal/left causes and voting (in Congress) for their advancement."
African adventures
Chapman went on to find some more people who share his hatred for LGBT people -- and they're in Africa. So Chapman wrote all about them. He cheered an act of censorship in an October 2021 article:
A documentary film entitled I Am Samuel was banned from being shown or distributed in Kenya because it promotes "same-sex marriage as an acceptable way of life," which is in violation of Kenyan laws against homosexuality.

"I Am Samuel is a clear and deliberate attempt by the producer to promote same-sex marriage as an acceptable way of life," said Christopher Wambua, chief executive officer of the Kenya Film Classification Board in a Sept. 23 statement.

"This attempt is evident through the repeated confessions by the gay couple that what they feel for each other is normal and should be embraced as a way of life," reads the statement. "The documentary ultimately features marriage of two men, and concludes with the dedication of the family to the gay community."

A description of the film reads, "Samuel, a gay Kenyan man, balances duty to his family with his love for his partner, Alex, in a country where their love is criminalized."

By deliberately advocating gay marriage in Kenya, "the film blatantly violates Article 165 of the Penal Code that outlaws homosexuality," said Wambua, and the rules of the Films and Stage Plays Act of Kenya.

Sexual acts between men constitute a felony in Kenya, punishable by up to five years in prison. In addition, gay marriage is prohibited, as is the adoption of children by homosexual couples.
Unsurprisingly, Chapman offered no dissenting views to the country's blatant act of censorship. His endorsement of censorship would seem to run counter to the the agenda of his employer, the Media Research Center, which insists that conservatives are victims of "censorship" on social media.
Near the end of that month, an article by Chapman seemed quite jazzed at the possibility of a different African country jailing people for not being heterosexual:
The Republic of Ghana in West Africa is considering legislation that would strongly punish homosexuality, including prison terms of up to 10 years for people who identify as LGBT, penalties for people who defend them, and prohibitions against the publication of pro-homosexual materials. The legislation is likely to become law, according to various media reports.

Ghana's population is about 77% Christian (Protestant and Catholic) and 16% Muslim. The country already has anti-homosexuality laws on the books from when the British ruled there, but those laws reportedly are rarely enforced.

Sam George, a member of Ghana's parliament who proposed the new legislation, said he was motivated in part to counter the increasing "advocacy" and "propaganda" being peddled by Ghana's LGBT activists.

"We are just bringing our laws up to speed to ensure that so long as our national position has not changed and still homosexuality is an illegality, let's make the laws reflective of that," told Deutsche Welle(DW.com).
Surprisingly, Chapman did mention criticism of the move by human rights groups, but then tried to justify depriving people of their human rights by citing religion and polls of residents:
The Catechism of the Catholic Church states, "Basing itself on Sacred Scripture, which presents homosexual acts as acts of grave depravity, tradition has always declared that "homosexual acts are intrinsically disordered." They are contrary to the natural law. They close the sexual act to the gift of life. They do not proceed from a genuine affective and sexual complementarity. Under no circumstances can they be approved."

Many conservative Protestant and charismatic churches, as well as Islam, hold essentially the same view as the Catholic Church on homosexuality: It is contrary to God's design and will.

A 2016-2018 survey by Afrobarometer asked Ghanians about acceptance of homosexuals as neighbors: 92.54% said they would "not tolerate" it and only 7.17% said they would.

A 2013 survey showed that 96% of Ghanians said society should not accept homosexuality.
Chapman didn't explain why popular opinion or religious views should take precedence over someone's human rights.
Updated 2022 hate
Chapman's homophobia unsurprisingly spilled into 2022. When Canada's passed a law banning anti-gay conversion therapy, Chapman invoked his fellow homophobes in a Jan. 25 article:
After Canada passed a law banning conversion therapy for people who may want to escape homosexuality, an estimated 4,000 Christian leaders in Canada and the U.S. spoke out on Jan. 16 against the ban, describing it as "totalitarian" and a clear threat to religious freedom.

Many Canadian pastors expressed concern about what they could now say in public about the Bible's admonitions against homosexual behavior, and U.S. pastors warned that similar draconian measures are coming to America. Violating the new law in Canada could lead to a five-year prison sentence.

Pastor John MacArthur, head of Grace Community Church in Los Angeles, sent a letter to pastors about the new law and warned of its consequences. "I am eager to support our Canadian brothers and to preach on biblical sexual morality on January 16, and I invite you as a faithful pastor to do the same," he wrote.

"Our united stand will put the Canadian and the U.S. governments on notice that they have attacked the Word of God," he added. "We are all well-aware of the evil power and destructive influence of the homosexual and transgender ideology. Our government is bent on not only normalizing this perversion, but also legalizing it, and furthermore criminalizing opposition to it."
What Chapman didn't do, of course, is report why conversion therapy was banned: it doesn't work and tends to be harmful to the therapy target. As a less biased news organization pointed out, medical associations around the globe have discredited it, given that it's based on the false premise that sexual orientation and gender identity can or should be "cured."
Chapman offered on explanation for why LGBT people must be turned into heterosexuals -- forcibly if necessary. Instead, he quoted other anti-LGBT pastors ranting about "totalitarianism" and the purported destruction of "Western civilization," and he tossed in his favorite non-Catholic preacher, Franklin Graham, warning of "legal oppression." Chapman closed by quoting anti-gay Bible verses.
Yes, this is what CNS considers to be "news."
In a March 29 article, Chapman cheered his favorite right-wing homophobic minister, Franklin Graham, for helping to advance CNS' war on Ketanji Brown Jackson by endorsing the gotcha question Republicans asked her regarding the definition of a woman: "Where are we going as a nation when a nominee for our highest court will not define what a woman is?" Graham also took a swipe at transgender college swimmer Lia Thomas (whom CNS' parent, the Media Research Center, has repeatedly attacked), and Chapman concluded with a series of cherry-picked Bible verses designed to suggest transgender people are evil and going to hell.
Chapman used an April 19 article to try to shove transgender people back into the closet because they're purportedly not enough of them to be concerned about:
Although many liberal activists and lawmakers, including President Joe Biden, use their influence to promote transgender people throughout society -- see sports, modeling, cable TV, public schools, government, military -- the Centers for Disease Control and Prevention (CDC) that nearly 1 million people identify as transgender in the U.S., which is 0.3% of the population, or less than 1%.

According to the Census Bureau, the U.S. population is 331,893,745 (as of July 1, 2021). One million transgenders equals 0.3% of the total population.
Chapman then smeared transgender people as filthy disease vectors:
The CDC also reports that in 2019 (latest data available), there were "36,801 total new HIV diagnoses in the U.S. and dependent areas." Among those diagnosed with HIV, the virus that causes AIDS, 671 people were transgender, about 2% of the total diagnoses.

On a related note, gay and bisexual men made up 69% of the new HIV diagnoses: 25,552 people.

For the transgender women (biological males) newly diagnosed with HIV -- 625 total -- blacks made up 46% of the cases, or 289 people. Hispanic trans women made up 35% of the cases, 221 people, and white trans females comprised 13% of the new diagnoses, 80 people.

For the HIV-positive among trans men (biological females) -- 46 total -- 41% (19 people) were black, 26% (12) were Hispanic, and 24% (11) were white.

According to the CDC, "there are several challenges that place transgender people at higher risk of HIV." This includes transphobia, racism, HIV stigma, and lack of knowledge.
In addition to rehashing his complaint that "Health and Human Services Secretary Xavier Becerra had the transgender flag flown outside HHS headquarters in Washington, D.C. ... the first time in U.S. history that the trans flag had been displayed outside a federal building," Chapman also cited right-wing anti-transgender psychiatrist Paul McHugh as well as the anti-LGBT Family Research Council without identifying their anti-LGBT ideology; he did, however, identify the Human Rights Campaign as "pro-LGBTQ."
Chapman spent an April 25 article ranting that Notre Dame refused to hate LGBTQ people as much as he does, claiming the school can't really be Catholic unless it does:
Although the University of Notre Dame in South Bend, Ind., is supposed to be a Catholic institution "defined by its Catholic character," it sponsors an LGBTQ+ alumni group that held a campus event this month to honor one of the plaintiffs in the Supreme Court case that legalized "gay marriage." The alumni association also gave an award to South Bend transgender activist Meghan Buell.

[...]

An alumni group of faithful Catholics that oppose the Notre Dame sponsorship of the ARC, the Sycamore Trust, is headed by 1952 alumnus William Dempsey. He told the National Catholic Register that the ARC ND awards event was a "scandal of the first order."

"Notre Dame's official blessing of an LGBT alumni group hostile to Church teaching on sex, marriage and gender has had its predictable result," he said. "The very first act of the new official LGBT organization is sponsorship of an 'LGBT Awards Weekend' to celebrate prominent proponents of same-sex marriage and gender change."

Dempsey also cited a document issued by the U.S. Conference of Catholic Bishops entitled Catholics in Public Life. It partly reads, "The Catholic community and Catholic institutions should not honor those who act in defiance of our fundamental moral principles. They should not be given awards, honors or platforms which would suggest support for their actions."
Chapman didn't explain where, exactly, it is "Catholic character" to spew hatred at LGBT people as he demands, or why one can only be "faithful" if you spread that hate. And, again, he ended with some Bible verses.
Chapman used a May 10 article to complain that "Chicago's Democratic Mayor Lori Lightfoot, a lesbian," argued that the then-imminent overturning of Roe v. Wade, as made clear by a leaked draft of the decision, meant that the Supreme Court was coming for LGBT people, making sure to add that "According to Merriam-Webster, a 'call to arms' is 'a summons to engage in active hostilities.'" He added:
The opinion written by Alito -- and reportedly joined by four other justices, making it a court majority opinion -- says nothing about LGBTQ+ persons. However, liberal critics have claimed that if the court overturns Roe v. Wade and sends abortion law back to the states, it could do the same with so-called "gay marriage" and other hot button issues.

[...]

Such media speculation apparently is what triggered Lightfoot to tweet "a call to arms" for people in the LGBTQ+ community. Lightfoot is "married" to lesbian Amy Eshleman, and they have an adopted daughter. In 2019, Lightfoot was one of the grand marshals of the Chicago Pride Parade.
Of course, that media speculation was ultimately proven correct; when the decision finally came down, it was accompanied by a concurring opinion by Justice Clarence Thomas demanding that the court "reconsider" previous " substantive due process precedents," including the Obergefell decision that legalized same-sex marriage and the Lawrence v. Texas decision that legalized same-sex sexual relations.

Chapman continued to lash out at Catholic institutions for not hating gay people enough. A June 16 article cheered that "The Most Rev. Robert J. McManus, bishop of the Diocese of Worcester, Mass., issued a decree on June 16 stating that the Nativity School could no longer identify itself as "Catholic" or allow the Mass on its premises because the administration refused to remove gay pride and Black Lives Matter flags from the front of its property. Chapman complained about a church action that didn't even happen in America in a June 20 article:
Although Pope Benedict XVI explained -- as have other Popes and many saints in the Catholic Church -- that "homosexuality is incompatible with the priestly vocation," a 300-member Franciscan order in Germany recently elected an open homosexual as its new leader.

Brother Markus Fuhrmann publicly announced in May that he was a homosexual; his fellow Franciscans elected him as provincial superior in mid-June. Fuhrmann reportedly lives a celibate life as a Franciscan. He was ordained a priest in 2005.
Chapman was back in cheerleader mode in a Sept. 1 article celebrating that "The Indiana Supreme Court ruled unanimously on Wednesday that a Catholic school was within its rights to fire a male teacher who "married" his gay lover -- a same-sex civil union -- explaining that "the government has no business telling Catholic schools how to operate, or interfering with their religious mission," said the Becket Fund for Religious Liberty in a press release. " He repeated the usual Catholic doctrine boilerplate that "homosexual acts are intrinsically disordered" and "contrary to the natural law."
A Dec. 12 article by Chapman weirdly touted a Gallup survey showing that during the COVID pandemic, "heterosexuals (exclusively) scored lower on the stress levels than gays/lesbians (exclusively), bisexuals, and people of 'another sexual identity.'" Chapman did not explain why he felt the need to promote this.
The latest from