The MRC's Childish Ratings War Against CNN
If you're immaturely gloating that CNN's ratings are bad (and smearing its leader with anti-Semitic tropes) while cheering about how much better Fox News' ratings are, you're not involved in doing "media research" -- you are partisan hacks.
By Terry Krepel
Posted 1/13/2023
---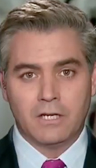 Jim Acosta
How do we know that the Media Research Center is nothing more than a partisan attack dog that cares nothing about actual "media research"? Because actual media researchers wouldn't engage in abject gloating when a channel's ratings drop. But that's what the MRC -- mostly NewsBusters managing editor Curtis Houck -- has been doing for months when reporting on ratings at CNN.

In March 2021, Houck immaturely cheered under the sneering headline "How Refreshing":
Showing just how far CNN has fallen as they continue to struggle with symptoms of Trump withdrawal, Reliable Sources and host Brian Stelter suffered their worst rating of the year on Sunday as Nielsen Media Research showed a scant 936,000 total viewers subjected themselves to his hour of hate against Fox News and conservative media.

Worse yet, CNN's ratings overall plummeted to their worst week of 2021. The Washington Post's Paul Farhi dug into the Nielsen ratings on Monday and found CNN had hemorrhaged "45 percent of its prime-time audience in the past five weeks" with MSNBC down "26 percent in the same period" and the Fox News Channel only off by six percent.
Houck went on to huff: "On this past Sunday, Stelter's show was more of the same, spewing hate in his never-ending quest to send Fox News employees to the unemployment rolls" -- as if Houck isn't trying to do the same to Stelter and every other CNN employee -- and complained he said of Fox News, "Bottom line here, you are what you watch and it could make you sick." Houck retorted, "Trust us, Brian. The feeling is mutual."
In April 2021, Houck chortled under the immature headline "Sad Trombone":
On Monday, CNN's Brianna Keilar began her new gig as New Day co-host after just over two years helming CNN Right Now and the weekday afternoon edition of CNN Newsroom, where she had come to establish herself as a condescending, far-left, Fox-hating, smug pundit with commentaries masquerading as journalism.

Unfortunately for Keilar, the ratings were in and the show was down 30 percent in total viewership from last year and 33 percent in the 25-54 demographic. This should come as no surprise, but that would mean that the show had continued to reign as the least-watched show on CNN, Fox News, or MSNBC.

Nielsen Media Research ratings revealed that Monday's debut featured a paltry average total of 495,000 viewers and a minuscule average of 122,00 viewers in the 25-54 demographic.
Houck was back in May to mock CNN ratings again:
Along with its ongoing ethical problems, a deceptive marketing campaign, and a continued hatred for non-liberal voices, it's been a terrible, horrible, no good, very bad year for the Jeffrey Zucker-led CNN. And as per the latest Nielsen ratings, CNN has continued to hemorrhage viewers with primetime and entire day total viewership down over 70 percent since January.

Nielsen Media Research has the breakdown and it's not pretty, no matter how the Zucker Borg would spin it. Since a January high of roughly 798,000 primetime viewers and 530,000 total day viewers in the 25-54 demographic, CNN has fallen off a cliff and into the pit of misery with the network fetching only 229,000 in primetime and 152,000 in total day over the past month.

That, dear NewsBusters readers, would represent a cratering of 71 percent for both metrics. Granted, January saw the January 6 attack on the U.S. Capitol, the second Trump impeachment, and the Biden inauguration, but to lose anything by such a large metric wasn't anything one should brag about.
Houck loves to portray Zucker -- who is Jewish -- as CNN's "puppetmaster," an anti-Semitic trope. Of course, Roger Ailes did the exact same thing at Fox News as Zucker was being accused of at CNN, and Houck presumably had no problem with at all. Houck actually used the racially charged "puppetmaster" insult to mock CNN's ratings again in a June 2021 post:
On Monday, one could have diagnosed CNN's New Day co-host Brianna Keilar deciding to eat cicadas as the show's "shark jumping" moment, but that would have meant that the show was successful to begin with when, in reality, it's been a dumpster fire since its April 19 reboot.

Nielsen Media Research has the numbers and, unless you're puppetmaster Jeff Zucker and his minions with their heads in the sand, they're not pretty with an audience of under 500,000 total viewers for five weeks in a row (with only the first week being north of that).
Houck's weird CNN-hating obsession continued later that month:
When it rains, it pours. And when it comes to ratings at the Jeffrey Zucker-led clown show known as CNN, it's a monsoon. The second quarter's ratings came out on Tuesday and the immature, noxious, and repugnant network suffered its worst month in total viewers and the 25-54 demo since June 2019. And that's not to mention that primetime ratings have tumbled 71 percent in total viewers and 78 percent in the demo since January.

Meanwhile, the Fox News Channel continued to assert its dominance over the competition with its 78th consecutive quarter leading cable news and sixth straight win in all of cable, led in part due to the continued success of shows like The Five, Gutfeld!, and Tucker Carlson Tonight.
Scott Whitlock took the CNN mocking stick from Houck for a July 2021 post: "Apparently, Americans don't want to watch 80 minutes of CNN's Don Lemon sucking up to Joe Biden. The July 21 town hall special bombed the ratings, losing not only to Fox News (which would be expected), but even MSNBC."
So pathological is the MRC's hatred of Stelter that it even tried to blame him for tanking the ratings of someone else's show, as Abigail Streetman did an an Aug. 13 post:
Stephen Colbert is wrong about a lot, but his biggest mistake yet was allowing Clown News Network's Brian Stelter onto his show this week. The Late Show saw a drastic decrease in viewership during Colbert's segment with the news anchor who scrambled helplessly in an attempt to defend Chris Cuomo.

[...]

When Stelter appeared on the show, ratings for his interview revealed it as Colbert's least watched segment of the night. Wow, shocker! People hate Stelter's show and it seems like they can't even stand to watch him on Colbert's show.

Demonstrating she's a Mean Girl with nothing to offer but lame, juvenile insults, Streetman concluded, "The Lame Show will be no more if Stelter ever makes an appearance again."
Yet the MRC wants to be treated as serious "media researchers." Go figure.
Curtis Houck indulged in his juvenile smears again in a September 2021 post:
In a hilariously epic fail for the liberal media, Fox News finished the month of August with 94 of the top 100 cable telecasts in total viewers amidst a monumental month of news with Gutfeld! scoring its first-ever victories over CBS's The Late Show while, at the other end of the spectrum, MSNBC scored its lowest total day and primetime in the 25-54 demo since December 2015.

And despite the attempts from Jeff Zucker PR flunkie Brian Stelter, CNN also had a difficult month with its worst month in weekday primetime total viewers since June 2019. It's safe to say they desperately miss Donald Trump.

According to an FNC press release, they "notch[ed] 94 of the top 100 cable telecasts for the month and 13 of the top 14 cable news programs in overall viewers and the younger A25-54 demo, according to Nielsen Media Research." Not surprisingly, this also included a sweep of the top five spots.

Fox's successes stood head and shoulders above MSNBC, which had not only the worst demo month since December 2015, but its worst in total viewers since 2017 and has experienced a drop of 40 percent from last year across all measuring sticks.
Note that Houck is literally regurgitating a Fox News press release, showing how much of a slave he is to right-wing narratives.
A few days later, Houck had another fit of Acosta Derangement Syndrome:
In what might be one of the least shocking developments to be published on NewsBusters, CNN carnival barker Jim Acosta's tenure as late weekend afternoon CNN Newsroom host has gone less than swimmingly as, since he took over April 3, the timeslot has lost almost half its viewership.

Nielsen Media Research measured the three months prior to Acosta taking over (December 28, 2020 to March 28, 2021) versus Acosta's tenure thus far (up through August 28) and found that there was a whopping 42 percent loss in total viewers (1.151 million to 668,000) and an equally astounding 46 percent hemorrhage in the 25-54 demographic (249,000 to 135,000).
Houck was up for more gloating in another post that month, again sourced from a Fox News press release:
The more things change, the more things stay the same. Such was the case with this week's ratings release for the third quarter of 2021 as, to the shock of no one, the Fox News Channel was victorious with its 79th straight quarter as the top cable news channel while CNN and MSNBC saw numbers tank to levels not seen since Barack Obama's second term as President.

Of course, Zuckerville (otherwise known as CNN) and MSNBC will see zero reason to change their divisive and poisonous yet tiresome business models.

According to an FNC press release from Tuesday, the ratings win coincided with its 25th anniversary as it was also "the most-watched network in all of basic cable with total day and primetime viewers" and "its highest-rated quarter of the year in both total viewers and the coveted 25-54 demo."

[...]

As for CNN, Zuckerville had its worst quarter in the 25-54 demo since 2014 with year-over-year total day ratings tanking 36 percent for all viewers and 41 percent in primetime via the same metric.
We don't recall anyone at the MRC ever portraying Fox News as "Ailesville."
Houck had a fit of Stelter Derangement Syndrome as well in an October 2021 post:
On the latest edition of CNN's lead Fox hatefest known as Reliable Sources, the Brian Stelter-helmed show suffered another pitiful showing in the ratings as, amongst all viewers in the 25-54 demographic (and not just those inside his elitist, far-left bubble), Stelter fetched only 85,000 viewers.

And when examining a variety of other shows that aired on Sunday before, during, and after Stelter, the results weren't pretty as, according to Nielsen Media Research, he drew fewer people than the likes of Nick Jr.'s Paw Patrol and Peppa Pig, Bravo's Below Deck: Mediterranean and syndicated reruns of The Fresh Prince of Bel Air and Golden Girls to name a few.

Before going any further, it should be noted that Stelter's audience grew to 706,000 if you add in total viewers, which still lost to CNN's documentary on the late Princess Diana and 13 Fox News Channel shows. This included a head-to-head thrashing against FNC's MediaBuzz, which pulled in, as per our friend RoadMN on Twitter, 1.473 million total viewers.

[...]

No matter how Stelter and his boss Jeffrey Zucker slice it, his niche show will continue to bear little to no control over how the American people view the news media. And for that, America is far greater place.
And if there's ever a remake of "Mean Girls" focused on media criticism, Houck would have a starring role, as someone who has nothing better or more productive with his life than to take petty potshots at people he's paid to hate -- and believes that this is substantive "media research."
Later that month, Houck sneered under the headline "Bottoms Up: CNN's 'New Day' Loses to Shows on Cars, Glaciers, and...Moonshine?!":
Yes, you read that headline correctly. On Wednesday, CNN's hideously-rated New Day had its worst viewership of the year as, according to Nielsen Media Research, it fetched only 304,000 total viewers and 63,000 of those via the 25-54 demo. Among the shows that drew more people on Wednesday, they included Discovery's Moonshiners, ESPN's Get Up, History's Counting Cars, and Game Show Network's People Puzzler and Family Feud.

[...]

No matter how you slice or which off-the-beaten-path show you measure, life isn't and hasn't been peachy over in Zuckerville for quite some time. But with a poisonous network hellbent on dehumanizing anyone who opposes them, it's a safe bet that the ratings will continue to sag.
As if Houck and the MRC aren't doing the exact same thing.
Houck brought the immature hate again in a Jan. 21 post:
CNN's New Day co-host and insufferable liberal pundit Brianna Keilar received her turn this week to audition for the vacant 9:00 p.m. Eastern slot and, instead of it being called CNN Tonight, it was labeled Democracy in Peril. According to Nielsen Media Research, no one seemed to care as she drew fewer viewers than shows like Food Network's Worst Cooks in America, Game Show Network's Chain Reaction, TLC's My 600 Pound Life, and reruns of The Andy Griffith Show.

Needless to say, we're not surprised that few seemed to tune in for a nightly dose of her penchant for spewing venom against just about anyone who disagrees with her. If they want fear porn about your conservative coworker or spouse, they probably watch MSNBC's Nicolle Wallace instead.

[...]

No matter how you slice it, things aren't going well for her and the divisive, snarky kind of politics she espouses (masquerading as news).

That act normally wouldn't fly in the eyes of any reasonable executive worth spending millions to make permanent, but given the way Jeff Zucker has operated, it wouldn't be surprising if Keilar and Democracy in Peril receive the permanent nod.
Since the MRC has made CNN's Jim Acosta its longtime personal enemy, it's no surprise that lazy potshots were taken at him too. Kevin Tober whined about Acosta's turn in that timeslot for a Jan. 24 post:
If you are like the overwhelming majority of Americans and did not tune into Jim Acosta's debut of the low-rated CNN show Democracy in Peril, you weren't missing much. In fact, you can probably guess what was said by Acosta and his conga line of leftist guests.

The first guest Acosta had on was the left-wing election attorney Marc Elias who spewed all kinds of crazy conspiracy theories on the show. Jim Acosta was the first one out of the gate, asking Elias "how likely is it in these upcoming midterms that we're gonna see a scenario of multiple elections across the country becoming such a huge circus because of these bogus fraud claims?"

As expected Elias didn't scoff at this notion, instead he fearmongered that "we are one, maybe two, elections cycles away from a real constitutional crisis."
Tober made no effort whatsoever to disprove or counter anything that was said on the show, so maybe it's not as "crazy" as he would like us to believe.
Sure enough, a few days later, Houck served up another dose of immaturity in mocking Acosta's ratings:
Following New Day co-host Brianna Keilar's spectacularly bad week hosting CNN's poisonously partisan Democracy in Peril special, carnival barker Jim Acosta received his chance to audition for the primetime slot formerly held by Chris Cuomo and, through three days, Acosta did even worse. Among the shows he lost to, Acosta fell behind a Hallmark movie, History's Forged in Fire, a rerun of Everybody Loves Raymond, Property Brothers, and, yes, My 600 Pound Life.
Yes, Houck sure seems to find fat people eminently mockable, doesn't he?
This petty gloating doesn't exactly make people want to the MRC seriously -- Houck comes off as a jerkass partisan, not a person anyone should take serious.
When Don Lemon was moved from prime time to a reworked morning show, Houck spent a Sept. 15 post laboring to portray this schedule-shuffling as a demotion:
CNN announced Thursday morning that, after a nine-year run, their morning show New Day would be canceled this fall as new CNN boss Chris Licht and new parent company Discovery continue to remake the far-left, low-rated network and replaced with a yet-to-be-named newscast starring longtime CNNers Don Lemon and Poppy Harlow and chief White House correspondent Kaitlan Collins.

CNN said in a statement that current New Day co-hosts John Berman and Brianna Keilar would "continue to anchor New Day until the new program premieres" when they will thereafter "assume new roles at the network later this year."

The obvious highlight and takeaway from this new trio is Lemon, the far-left, deeply partisan evening host who had helmed anywhere from one to two hours of primetime starting in 2014. Originally borne as CNN Tonight, it became Don Lemon Tonight in May 2021.

Chronicled with diligence and humor (with a side of fact-checking) by our Nick Fondacaro for seven years, Lemon had established himself as a home for rampant partisanship, snarky commentaries, yelling, and venom toward conservatives.
Actually, Fondacaro cares little about facts (and nobody finds him humorous). Houck offered no evidence to back up his assertion that both CNN and Lemon are "far-left." That's just name-calling to pander to the MRC's right-wing audience.
The headline of Houck's piece insisted that Lemon was being "demoted" by moving from prime time to mornings, and the MRC was deadly serious about keeping it, so it was pleased when its favorite right-wing media critic on Fox News embraced it, as documented in a Sept. 18 post by Kevin Tober:
With the news this week of low-rated leftist CNN host, Don Lemon's demotion to mornings, Fox News MediaBuzz host Howard Kurtz noted the glaring double standard in media coverage of the move. Kurtz pointed out how there was barely any mention of Lemon's divisive and hyper-partisan commentary nor mentions of how being moved from primetime to early mornings is a serious demotion for Lemon.

"CNN is throwing out its third-place New Day and launching a new morning show with Poppy Harlow, Kaitlin Collins, and Don Lemon. It's a big move by new CNN boss Chris Licht who once helped create Morning Joe," Kurtz reported.

[...]

The Fox anchor then pointed out that: "The press sure is giving him a pass. Maybe most of the writers agree with Lemon's anti-Trump stance" adding "can you imagine the reaction if one of Fox's most conservative opinion hosts was suddenly reinvented as a morning personality?"

If Sean Hannity or Tucker Carlson were moved to mornings, the media would make sure to mention every chance they got to say it was a demotion, and they would be right. The media refuse to say anything critical of Lemon because he is a Democrat Party [sic] propagandist like them.
Tober doesn't mention that Kurtz is never going to criticize Hannity or Carlson because, like them (and Tober), he's a right-wing propagandist as well as a fellow Fox News employee. Also, being a morning host does require a certain set of skills that nobody has ever accused Hannity or Carlson of having -- and neither Kurtz nor Tober (or Houck, for that matter) offer any evidence that Lemon does not have those skills.
It took both Fondacaro and Geoffrey Dickens to take even more lame shots at Lemon in a Nov. 1 post as his morning-show stint began:
Don Lemon will be starting his totally-not-a-demotion stint on CNN's revamped morning show CNN This Morning this morning. So we at NewsBusters thought it would be nice to take a stroll down memory lane and look back at Lemon's heinous remarks that the network would prefer were memory-holed.
This was joined by a "brief montage of Lemon's primetime blathering" from Bill D'Agostino. So it actually took three MRC employees to spew this nastiness.
Talking trash and childish mocking is not "media research." The MRC does not seem to understand that.
Fluffing Fox News
By contrast, the MRC collectively squees like fangirls over Fox News' ratings being better than its competition, as ConWebWatch has documented. A sampling from recent years:

After right-wing insult commentator Greg Gutfeld was given a late-night show on Fox News (thus proving even more that Fox News isn't actually "news"), the MRC became one of his biggest supporters. As Gutfeld's ratings improved, the MRC gushed accordingly, and right-wing film critic Christian Toto decided he wanted in on that sweet sycophancy action.

In an August 2021 post, Toto touted that The Fox News program Gutfeld!, a cable show with zero A-list stars and a modest budget, just beat Colbert's "Late Show" in the ratings for the first time," adding: "The fact that it happened while Colbert ran defense for what might be the biggest foreign policy blunder of the modern age may not be coincidental. Chances are more than a few viewers were curious what a right-leaning comic had to say about President Joe Biden's blunder as opposed to Colbert's typical fawning."

In dismissing Colbert as a "far-left propagandist," it's clear Toto prefers the stylings of a far-right propagandist like Gutfeld. So he served up a full-throated love letter to Gutfeld -- whom he describes only as a "comic provocateur" -- in a post the following month:
The right-leaning outlet unleashed Gutfeld! earlier this year. The news-driven comedy show offered exactly what's missing on late night TV, albeit without A-list stars and broadcast-level cash:

Jokes aimed at progressives.

A few weeks ago Gutfeld! rose to the top of the ratings heap. The moment came after President Joe Biden's Afghanistan debacle, suggesting audiences would rather hear someone snark about it than play defense for the indefensible.
Toto was referring to the U.S. withdrawal from Afghanistan, but Fox News reflexively defended Trump for four years no matter how indefensible his actions were and Toto never criticized that. He called Colbert a "liberal hack" in his headline, but he didn't explain why Gutfield shouldn't be considered a right-wing hack. Nevertheless, he went on to huff:

Will audiences eventually tire of Gutfeld! and restore Colbert to his late night throne?

Perhaps. Here's what's clear, though.

Consumers finally have a late night alternative, a program willing to call out politicians on both sides of the aisle. And since Netflix, Hulu, ABC and the rest have no interest in telling jokes that might hurt Democrats, there's a good chance Gutfeld! will remain on top for some time.
Of course, Toto can't even admit Gutfeld is at least as biased as the "far-left" late-night hosts he loves to attack. He simply can't see any bias when it comes from his ideological fellow travelers.
The bashing continues
The anti-CNN sniping and Fox-fluffing continued into 2022. Graham spent a Feb. 7 podcast bashing Stelter yet again for defending his employer from right-wing sniping about ratings and pointing out that those pushing it are "not watching CNN" but just "watching complaints about CNN on other channels." Graham huffed in response:
Now, as people who watch CNN for many hours a day, this is just false. ... Brian can cartoon our conservative argument as we're saying they're all talk or all opinions all the time, but he can't claim his critics aren't watching CNN. We found when we studied it that the cable news networks are doing news in the traditional defintion about 20 percent of the time. And that doesn't mean the other 80 percent is garbage, it just means the nature of cable news today is much more cable opinion, analysis and speculation. Reporting is not what they do most of the time. You know, it's much earlier to hear Brian talk about CNN and wonder if he's ever watched CNN.
Graham is referring to a 2021 MRC "study" that buried the crucial finding that Fox News carries even less news than CNN, making Graham's argument rather hypocritical because he will never criticize Fox News for doing the same thing as CNN but to a even greater degree.
Later on, Graham ranted: "What Brian Stelter doesn't like is when we say, 'Your global news brand sucks.' They think democracy is under attack whenever anybody says CNN sucks. Well, CNN sucks! Live with that! We get to say that! The First Amendment and democracy starts with us having the freedm to say CNN sucks!"
When Stelter further called out the "bullshit on Fox" attacking CNN's ratings, Graham grumbled that Fox News couldn't be criticized by Stelter as having all opinion when CNN has opinion content too.
Graham gloated in a June 21 post:
Fox News media reporter Brian Flood might have been wearing a grin as he reported on the ratings chasm between CNN and Fox News.

The obsession with January 6 is NOT working magic for CNN. No wonder Brian Stelter complains about their "freedom of reach"!

[...]

Stelter's time slot also displays how badly CNN loses to Fox. No wonder they wail that democracy is in peril!
Graham notably didn't call out Flood for bias or a conflict of interest in denigrating his employer's competition.
Graham raved and taunted even more in his Aug. 3 podcast:
The New York Times reported on the front page of its Business section on Wednesday that CNN's ratings are terrible and their financial picture looks rough. But reporter Benjamin Mullin wrote absolutely nothing about the network's liberal tilt, or losing its daily fearmongering about Donald Trump.

Meanwhile, Fox was touting strong ratings for July. From their press release on Tuesday, we learn: "FOX News Channel (FNC) finished July 2022 as the third most-watched network in all of television during weekday primetime, trailing only CBS and NBC." They even boasted "FNC's The Five and Tucker Carlson Tonight both beat ABC's The Bachelorette in total viewers."
Houck took a whack at former Fox News host Chris Wallace in a Sept. 27 post, gloating about how his show's debut on CNN proper "tanked" following a run on the short-lived CNN+. The MRC mocked both Wallace leaving Fox News and the demise of CNN+.
Again, this is not serious "media research" -- it's partisan hackery laden with double standards.
The latest from