CNS Columnists Call Out Russian Orthodox Church's Support For War; Reporters, Not So Much
Topic: CNSNews.com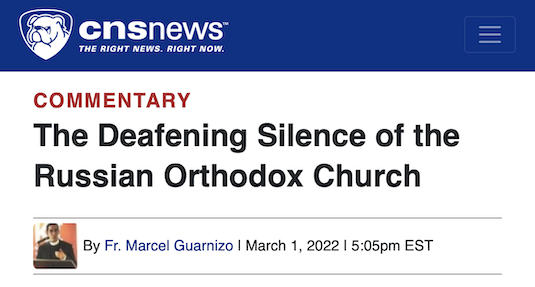 CNSNews.com columnists have been pro-appeasement when it comes to the Russian conflict in Ukraine, but there is one issue they have gotten right: calling out the Russian Orthodox Church over its support for Putin. Rev. Marcel Guarnizo made his point clear in a March 1 column:
Why is the Russian Orthodox Patriarchate not condemning this unjust war? Why do you not call on the Russian soldiers to lay down their weapons and abandon the field of battle? Putin's forces not only flagrantly breach international law, but this is an anti-Christian war violating the Gospel you and I stand for. I have in person expressed my outrage and dismay that the Orthodox hierarchy has been in an unseemly long-term alliance with the Putin regime, despite its criminality inside and outside of Russia. We know of the immense benefices the Russian Orthodox Church has received from Putin and his oligarch friends for years. I have warned some of your high prelates that the Church's dependence on the Putin regime would bring the loss of moral freedom to stand up against his criminality, let alone his manipulation of the Church.

[...]

But the silence of Patriarch Kirill and the Orthodox Church is unworthy of your position and the faith we profess. The actions and support of the Russian Orthodox Church for the Putin regime give ample rationale for the split of the Ukrainian Orthodox Church from your jurisdiction. But how will you erase the stain that will now be laid at the feet of the Russian Patriarchate for their lethal silence? If this does not awaken all of you prelates in Russia from your stupor, it is unlikely anything will. You have been called to guide the faithful in Russia, and it should be evident that, to regain your moral freedom, you must now stand up and condemn unequivocally and publicly this unjust war. For Christ clearly taught, "What profit is there for one to gain the whole world yet lose or forfeit his soul?" (Luke 9:25)
Meanwhile, CNS' favorite right-wing Catholic priest, Michael Orsi, used his March 4 column to mix his usual right-wing claptrap in his criticism of the war; he bizarrely insisted that "Putin does have some not-unreasonable security concerns about the gradual eastward advance of NATO" and Putin has a "legitimate fear of Russia being encircled."Wrong -- Putin's concerns stopped being legitimate when he waged war on a soverign country.
Orsi eventually get it right, though, in suggesting that the Russian Orthodox Church has some influence in the matter:
The one institution that has the presence and prestige to exert real pressure internally is the Russian Orthodox Church. Putin has draped himself in the mantle of Christian faith and virtue for years. Indeed, he's the one former-Communist figure of consequence to recognize the spiritual heart of the Russian people.

He's spoken to that heart frequently, exalting Christian family life, and making himself a spokesman for traditional virtue. While this moral stand may contrast with his ruthlessness and personal corruption, it's worked for him. His strong opposition to the global LGBTQ agenda has even gained him admirers internationally.

Because of this identity, the Church is in a strong position to exercise tangible influence. That this hasn't happened to any meaningful degree so far is a source of great disappointment.

We should pray that Russian Orthodox leaders rise to the challenge. We should also pray for Vladimir Putin. Pray that his heart be changed. Pray that we may yet see good fruit.

And pray for Ukraine.
A March 8 column by Arielle del Turco of the Family Research Council noted that "any control that Russia or Russian-backed forces have over Ukraine is dangerous to believers not affiliated with the Russian Orthodox Church," adding that "Putin has utilized the Russian Orthodox Church to bolster a strong Russian national identity and repeatedly used Russian Orthodox churches to politically benefit the regime and reinforce its authority.
by contrast, CNS' news side has largely censored news of the Russian Orthodox Church's ties to Putin and its support for his war. The only reference to it came far down in a March 14 article by Dimitri Simes, in which he noted that "Leaders in influential institutions such as the Russian Orthodox Church have also endorsed the Kremlin's actions. During a sermon last week, Patriarch Kirill framed the war as a struggle between supporters of traditional Russian values and those of the liberal West."
It seems like this is one time that CNS' news side should be following the lead of its columnists.
Posted by Terry K. at 6:56 PM EDT
Updated: Monday, April 4, 2022 7:10 PM EDT