WND, McCullough Mislead About Yet Another COVID Vaccine Study
Topic: WorldNetDaily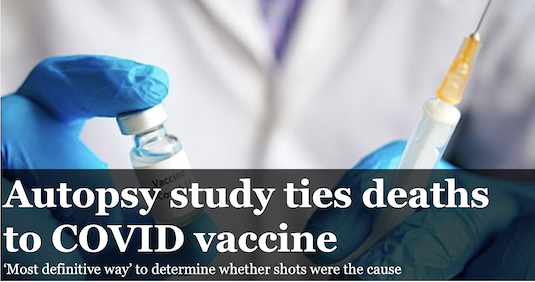 WorldNetDaily's Art Moore once again called on his favorite COVID misinformer to spread more of the same in an Dec. 5 article:
Dr. Peter McCullough is among prominent cardiologists calling for a halt to the COVID-19 mRNA shots, contending there is a link between the vaccines and the apparent increase in reports of sudden deaths from cardiac arrest.

In a column on his Substack page, he pointed to an unusual study conducted in Germany of autopsies of 35 people who died within 20 days of COVID-19 vaccine injection.

A total of 25, or 71%, had a final diagnoses consistent with a vaccine injury, including myocardial infarction, worsening heart failure, vascular aneurysm, pulmonary embolism, fatal stroke and vaccine-induced thrombotic thrombocytopenia.

Significantly, McCullough said, five cases had acute myocarditis as the cause. Biopsies of the heart muscle, he pointed out, showed "patchy inflammation very similar to what was seen in the deltoid muscle were the mRNA vaccine was injected."

"Inflammation in the heart was coincident with the same pattern of inflammation in the arm," McCullough explained. "Thus we can conclude death within a few days of vaccination is most likely due to the genetic product and that inflammation in the arm may be a surrogate for a similar process in the heart."

McCullough noted the public "is becoming increasingly disturbed with reports of death among the vaccinated."

"It is natural to ask 'was the death caused by vaccination?' The most definitive way of answering that question is with autopsy," he wrote.
But as in so many of the alleged anti-vaccine studies it hypes, this one didn't find what McCullough claimed. As PolitiFact reported:
According to the German study, the researchers identified "acute (epi-)myocarditis without detection of another significant disease or health constellation that may have caused an unexpected death" in four patients. But experts who reviewed the study told us there is not enough evidence to prove that the deaths were caused by the vaccine, nor can the study be used to infer how frequently vaccine-related myocarditis is fatal.

"The temporal association of lymphocytic myocarditis following vaccination suggests but does not prove causality," Dr. Leslie T. Cooper Jr., a myocarditis expert and chair of the Department of Cardiology at the Mayo Clinic in Florida, told us in an email.

Cooper added that the background rate of myocarditis is around 1 to 10 in 100,000 people per year. "Because we do not know the denominator of patients vaccinated in their region during this time, we cannot calculate the expected number of cases if there were no vaccinations," he said.

"I think that it is not possible to prove that vaccination is really the cause of death of these people," Dr. Karin Klingel, head of cardiopathology at the University Hospital Tübingen in Germany, told us in an email.
Health Feedback similarly reported:
The authors of the paper themselves state that their data is merely descriptive and "does not allow any epidemiological conclusions". The authors also correctly state that the study does not prove a causal link between the COVID-19 vaccines and myocarditis.

There are numerous well-performed studies on an epidemiological level that clearly showed the protective effects of vaccines; even the number of COVID-associated myocarditis cases is higher compared to those induced by vaccines.
but Moore has no interest in providing accurate information. Instead, he repeated old misinformation from McCullough: "McCullough, in a video interview with WND, cited peer-reviewed literature indicating the vaccines cause myocarditis, including a U.K. study that found about 100 fatal cases of myocarditis linked to the shots." As we documented, that number was taken from a pool of 43 million people who had received at least one dose of the vaccine, and that the rate of fatal myocardits is 11 times greater among those who had COVID.
Posted by Terry K. at 4:50 PM EST
Updated: Friday, December 30, 2022 1:47 AM EST