Before The War, CNS Loved Gay-Bashing From Putin, Russian Orthodox Church
Topic: CNSNews.com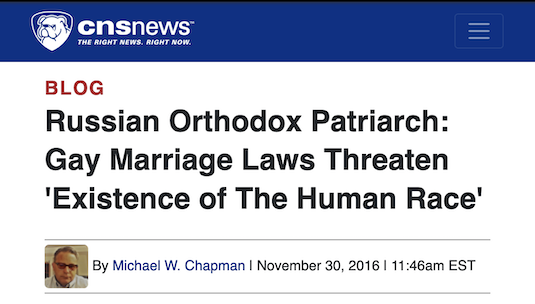 CNSNews.com may be questioning the Russian Orthodox Church now that it is Vladimir Putin's handmaiden in keeping the Russian people supporting its war against Ukraine. But it will not surprise you to learn that CNS -- particularly managing editor Michael W. Chapman, who is already on record as endoring Putin's gay-bashing moves -- thought the Russian Orthodox Church was pretty cool when they expressed a similar hatred of LGBT people and was getting cozy with Putin.
A November 2015 article he wrote featuring Franklin Graham bashing then-President Obama for not hating gay people enough featured a photo (though only the caption remains) showing Graham "meet[ing] with Patriach Kirill of Moscow and All Russia," and it also quoted Graham cheering how he "very much appreciate[s] that President Putin is protecting Russian young people against homosexual propaganda, if only to give them the opportunity to grow up and make a decision for themselves."
Chapman wrote in a November 2016 article:
When asked his opinion of laws promoting homosexual "marriage" and LGBT "rights" in Western Europe and the United States, the head of the Russian Orthodox Church, Patriarch Kirill of Moscow, said such laws "are at odds with the moral nature of human beings" and cause people to rebel against them, and he stressed that perverting marriage and reproduction -- children in families -- "poses a significant threat for the existence of the human race."

"What's happening in the Western countries is that, for the first time in human history, legislation is at odds with the moral nature of human beings," said Patriarch Kirill in a Nov. 21 interview on RT.com (Russia Today).
He added that the legal and social pressure to accept homosexual marriage and related phenomenon "is very reminiscent of what was happening under Soviet totalitarianism."
Chapman even touted another Orthodox leader's Russian leanings. A May 2017 article featured Greek Orthodox bishop Metropolitan Seraphim of Piraeus demanding that Turkish leader Recep Tayyip Erdogan "convert to Orthodoxy or face 'eternal and unending' suffering in Hell, along with Muhammed and his followers," adding that he "further advises Erdogan to be instructed and then baptized in the Orthodox church and to ask his ally, Russian President Vladimir Putin, to be his godfather."
Pat Buchanan -- for whom CNS editor Terry Jeffrey worked during his presidential campaigns in the 1990s -- has also long been a fan of Putin and the Russian Orthodox church's entanglements with him. He defended Putin's land grabs in a 2014 column:
Is Russia really reconstituting the Soviet Union? True, Putin seeks to bring half a dozen ex-Soviet republics, now nations, into an economic union to rival the EU. But where the state religion of the USSR was Marxism-Leninism, i.e., communism, Putin is trying to restore Russian Orthodox Christianity.

There is a difference, as there is a difference between Stalin murdering priests and Putin prosecuting Pussy Riot for blasphemous misbehavior on the high altar of the Cathedral of Christ the Savior.
(CNS reporter Penny Starr cheered in a 2014 article that Pussy Riot members were "convicted in 2012 of hooliganism after desecrating Cathedral of Christ the Savior, a Russian Orthodox church, by dancing and chanting obscenities on its altar" and complained that members of Congress hailed their bravery in taking a stand against the church's closeness with Putin.)
Buchanan gushed in a November 2016 column that "With Communism dead, Vladimir Putin invokes the greatness and glory of the Russian past and seeks to revive the Orthodox faith."
Buchanan did even more sucking up to Putin in a July 2017 column: "Putin is not Pope Francis. But he is not Stalin; he is not Hitler; he is not Mao; and Russia today is not the USSR. Putin is an autocrat cut from the same bolt of cloth as the Romanov czars." He added that "The Russia of Tolstoy, Pushkin, Solzhenitsyn and the Orthodox Church belongs with the West."
Buchanan hyped the ties between Putin and the church in a May 2018 column:
After being sworn in for a fourth term, Vladimir Putin departed the Kremlin for Annunciation Cathedral to receive the televised blessing of Patriarch Kirill of the Russian Orthodox Church.

The patriarch and his priests in sacred vestments surrounded Putin, who, standing alone, made the sign of the cross.

Meanwhile, sacred vestments from the Sistine Chapel were being transported by the Vatican to New York's Metropolitan Museum of Art to adorn half-clad models in a sexy show billed as "Heavenly Bodies: Fashion and the Catholic Imagination." One model sported a papal tiara.

The show proved a sensation in secular media.

[...]

One Europe is turning back to God; the other is turning its back on God.

And when Vladimir Putin and Belarus' Alexander Lukashenko are standing up for traditional values against Western cultural elites, the East-West struggle has lost its moral clarity.
In a July 2018 column that particularly didn't age well, Buchanan tried to portray Putin as benig: "The ideology that drove its imperialism is dead. There are parties, demonstrations and dissidents in Russia, and an Orthodox faith that is alive and promoted by Putin. Where, today, is there a vital U.S. interest imperiled by Putin?
One vary rare voice of dissent, however, was a September 2016 column by Eric Metaxas warning his fellow conservatives against cozying up to Putin over his anti-gay edicts because he was trying to shut down non-Orthodox religions, including other Christian sects.
Posted by Terry K. at 12:41 AM EDT