WND Profiles In COVID Misinformation: Peter McCullough
WorldNetDaily loves giving a platform to McCullough, a doctor who has been wrong about so many things related to the COVID pandemic.
By Terry Krepel
Posted 4/18/2022
---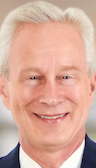 Peter McCullough
WorldNetDaily writer Art Moore has been a fake-news machine on the issue of coronavirus, and repeatedly touting a study promoting the use of ivermectin to treat COVID by claiming it had been published in a journal that rejected it is just the tip of the iceberg. He was busy much of last year giving an uncritical platform to some of the biggest COVID misinformers out there.

The main thrust of Moore's May 10 article was to tout an interview Fox News' Tucker Carlson did with Dr. Peter McCullough, an aggressive promoter of questionable treatments like hydroxychloroquine and ivermectin, in which he attacked COVID vaccines, claimed thousands of people have died from them, and insisted that immunity obtained from having coronavirus is better:
He insisted it's a "false narrative that you can get the infection twice."

After 17 years, people who had the first SARS virus are still immune, and that virus is about 80% the same as the current SARS virus. And of the 111 million people in the world believed to have had COVID-19, there have been only about 100 cases of claimed reinfection.

But in nearly every case of claimed reinfection, McCullough said, it's turned out to be a misintrepretation of a PCR test, which commonly delivers false positives.

[...]

All of the vaccines produce a viral spike protein that is pathogenic and can cause blood clotting and damage blood vessels, he explained.

[...]

Noting the risk the vaccines pose to COVID-recovered people, he said a clinical diagonosis of COVID-19 should be enough to confirm immunity.

"I hope some rational thinking comes down in America to say, Listen, proof of having COVID or proof of being a survivor recovered will be good enough," he said.

[...]

People say: "Oh, there are studies out of Denmark where there were some ambient antibodies here and people got COVID here. You must be able to get reinfected."

But those are "little red-herring cases."

"I said, Look at your nursing homes, is grandma going in the ICU over and over again? No. Does it seem like everybody gets it one time? Yes.

There's a lack of common sense. we just have to use our clinical common sense. The immunity is robust, complete and durable. Let's move in."
WND has already had to walk back the bogus claim that PCR tests are prone to false positives. Meanwhile, a fact-checker has pointed out how misleading McCullough's claims are (as well as other claims he had that Moore didn't note):
But what McCullough didn't tell viewers is that acquiring immunity through infection comes with the risks associated with the illness. The relatively low mortality rate of COVID-19 is commonly cited as a reason not to worry about catching the virus. But this focus on mortality rate alone doesn't account for the fact that the virus is highly contagious, and can therefore still cause many deaths when it spreads widely. To date, more than 590,000 people in the U.S. have died from COVID-19, while COVID-19 deaths worldwide have exceeded 3.6 million.

Furthermore, COVID-19 can lead to other outcomes besides complete recovery and death. For example, a proportion of COVID-19 survivors have persistent health problems even after recovering from the infection. Some of these problems include difficulty breathing, cognitive deficits, joint and muscle pain. This condition is termed long COVID.

[...]

As explained above, natural infection does produce protective immunity in most cases, but reinfection can and does happen. This suggests that not all survivors develop protective immunity from infection alone. It's unclear how many COVID-19 survivors experience reinfection, as there isn't enough data to make conclusions, although reinfection is thought to be uncommon.

Vaccination can help enhance COVID-19 survivors' protective immunity. Firstly, vaccine boosters designed to target variants can further improve the immune system's ability to respond to an infection by a variant, as Cassandra Berry, a professor of immunology at Murdoch University, explained in this article published by The Conversation.

Secondly, reinfection is difficult to predict, but individual variability in immunity can arise due to factors such as genetic susceptibility, age, and the amount of virus a person was exposed to (also known as infectious dose). Since vaccines are designed to produce optimal immunity, as Berry explained, vaccination can help to bridge the immunity gap in a survivor that didn't generate protective immunity from infection alone.

[...]

Overall, McCullough's claim that vaccine-induced spike protein poses a danger to people isn't substantiated by evidence. In fact, the available evidence contradicts his claim.
Don't look for Moore to correct his article -- it has already served its purpose of instilling fear into WND readers. And it's clear that for Moore, pushing the right-wing talking point du jour is more important than basic fact-checking.
In a May 21 article, Moore uncritically repeated another claim from McCullough:
McCullough warned that the randomized vaccine trials excluded people who had been infected with COVID. That means there is no safety data and no indication of the effectiveness of the vaccine for people who have been infected, he said.

Further, there are two studies from the U.K. and one from New York City that show higher rates of adverse events for recovered COVID-19 patients who are vaccinated.

"There's no evidence of benefit and only evidence of harm," he said.
In fact, the Centers for Disease Control recommends that people who have recovered from COVID-19 receive a vaccination because having the disease is no guarantee against catching the virus again (though studies at the time suggested that they may need only one dose of the vaccine). If there's "evidence of harm" in getting the vaccines, there's certainly a greater degree of it from the virus itself.
Moore devoted an entire article to McCullough's dubious argument in a May 25 article:
Dr. Peter McCullough, a prominent cardiologist, internist and professor of medicine who has testified to the U.S. Senate, has explained that he is not against vaccines, and many of his patients have been vaccinated for COVID-19.

But he said in a new interview this week that with increasing reports of adverse effects, it's too risky for people who have a more than 99% survival rate to receive one of the experimental vaccines.

"Based on the safety data now, I can no longer recommend it," he said in an interview with journalist and author John Leake.

"There are over 4,000 dead Americans, there are over 10,000 in Europe that die on days one, two and three after the vaccine," said McCullough.

The figure for the United States comes from reports submitted to the Vaccine Adverse Event Reporting System, or VAERS. Between Dec. 14, 2020 and May 7, 2021, more than 190,000 adverse events were reported, with 4,057 deaths.
In fact, a report of an adverse effect to VAERS does not mean there is a proven link to those events and the vaccine, and anti-vaxxers like McCullough are simply trying to scare the public by citing raw VAERS data, not impart any useful information. In other words: McCullough is lying, and Moore refuses to call out his lie.
Moore touted more McCullough medical misinformation in a June 10 article:
Last November, renowned cardiologist Dr. Peter McCullough was among the physicians who in Senate testimony decried the politicization of hydroxychloroquine, invermectin and other drugs as COVID treatments.

In an interview last month, McCullough told Fox News' Tucker Carlson that "something has gone off the rails" in the world's approach to the novel coronavirus pandemic, with health authorities in the U.S. and abroad suppressing safe, cheap and effective treatments while promoting experimental vaccines that have received only emergency use authorization.
Again, not true. Hydroxychloroquine has not proven effective in a host of studies, and even the one Moore promoted elsewhere in his article showed only preliminary results, is merely an observational study and not a randomized double-blind study considered the gold standard for research, and it has not been peer-reviewed.
In another June 10 article, Moore copied-and-pasted McCullough's earlier lie about "4,000 dead Americans" from the vaccine. On June 14, Moore recycled McCullough's bogus claim that the vaccine is "getting the vaccine is too risky, taking into account the fact that most people have a 99% survival rate" -- a claim Moore repeated in a June 15 article.
Delta variant fail
Moore uncritically wrote in a June 29 article:
Los Angeles County health officials who are "strongly" urging people – even those who are vaccinated – to wear a mask indoors due to the "Delta variant" of the Wuhan coronavirus are overreacting, contend two prominent epidemiologists.

Dr. Peter McCullough said the restrictions in Los Angeles and lockdowns in Australia, Thailand and South Africa are "completely unnecessary."

"The Delta variant is the mildest one we've seen so far, and even though it'll proportionately take up a greater number of cases – and we expect this in the United States – it has a very low mortality, appears to be the most treatable strain that we've seen so far," he said Monday in an interview with Fox News' "The Ingraham Angle," which was guest-hosted by Ben Domenech.
McCullough did not define what he meant by "mild," but it's clear that whatever it was, the Delta variant was not that: It has shown itself to be much more contagious than the original COVID strain, and early research suggests that those who who are sickened by the Delta variant are more likely to end up in the hospital. The variant eventually accounted for nearly all new COVID cases as the summer went on, the vast majority of whom were unvaccinated.
Moore also quoted another dubious doctor, Harvey Risch, being similarly wrong about Omicron, insisting it was a "very mild variant" and that people and governments were "dramatically" overreacting.
An anonymous WND writer stated in a Sept. 27 article:
Dr. Peter McCullough, who has become a leading critic of the experimental COVID-19 vaccines, explained in a thorough, nearly 90-minute presentation why he believes the vaccines should be pulled from the market.

As both a researcher and a practicing physician, McCullough has come to the conclusion that most deaths attributed to COVID-19 could be prevented with early treatments that have been suppressed by policymakers.

In a slide for his Aug. 20 presentation – which can be viewed below – he argued the "COVID-19 genetic vaccines have an unfavorable safety profile and are not clinically effective, thus they cannot be generally supported in clinical practice at this time."

McCullough, the editor-in-chief of two medical journals, is a practicing internist, cardiologist, epidemiologist and professor of medicine at the Baylor University School of Medicine in Dallas.
In fact, not only is McCullough no longer affiliated with Baylor -- his history of dubious COVID claims caused the school to fire him -- the school has gotten a restraining order against McCullough to get him to stop claiming that he is. McCullough's alarmist claims about COVID vaccines have been repeatedly discredited, so there's no reason to trust him on this.
Nevertheless, Art Moore featured McCullough again in an Oct. 7 article:
Warning that the world is "in the middle of a major biological catastrophe," renowned physician and epidemiologist Dr. Peter McCullough charged in a recent address that fraudulent public health officials are pushing experimental "gene-transfer" COVID-19 vaccines that produce the "loaded weapon" of a toxic spike protein.

"I think the reason why everybody's here is we have a sense that something very bad is going on in the world. And I'm here to tell you, I think it is," he said Sept. 24 in a keynote address at the annual fundraiser of the non-profit Michigan for Vaccine Choice, LifeSiteNews reported.

"If you feel tension right now and you feel some emotional distress, and if you feel as if things aren't going right ... I think your perceptions are correct," McCullough said.

"And if your perceptions are correct, now's the time for action."
Moore gave McCullough space to whine about losing jobs in the medical field for spreading misinformation (Moore gets a little credit for admitting, unlike his anonymous WND counterpart, that McCullough has indeed been fired from Baylor) and frame him as an innocent victim:
Baylor University Medical Center fired him in February. And Texas A&M College of Medicine, Texas Christian University and University of North Texas Health Science Center School of Medicine have cut ties with McCullough, accusing him of spreading misinformation.

"I've been stripped of every title that I've ever had in that institution. I've received a threat letter from the American College of Physicians, [and] a threat letter from the American Board," he said.

All because of his "lawful" participation "in a topic of public importance."

"What we are doing is lawful," he said.

He predicted the eight professional acronyms behind his name "will be progressively erased."

It will happen "because there's powerful forces at work, far more powerful than we can possibly think of, that are influencing anybody who is in a position of authority."
But Moore doesn't detail the accusations of misinformation against McCullough, which makes him a lazy stenographer, not a reporter. A real reporter would have informed readers about the facts regarding McCullough's dangerous claims. Instead, Moore is McCullough's handmaid in spreading disinformation.
Omicron variant fail
Moore kept up the uncritical promotion of McCullough's dangerous ideas in a Dec. 1 article:
The newly discovered omicron mutation of the novel coronavirus will likely be a "minor" variant, according to epidemiologist Dr. Peter McCullough.

"It's simply not going to be as infectious" as the delta variant, he said, citing researcher Jacques Fantini of the University of Aix-Marseille in France.

"It doesn't look like it's going to have the evolutionary efficiency to become a dominant strain," McCullough told Fox News host Laura Ingraham Tuesday night. "I think it's going to be like the lambda and the epsilon variants previously described during the most recent year in COVID-19.

"It will become a minor variant," he said. "So I certainly wouldn't be looking for wrapping up on new vaccines or boosters to try to target this variant, until we have more data."

[...]

McCullough added that the omicron variant first reported last week arose among travelers in Botswana who were vaccinated.

"So I think it's clear now that this variant is an evolutionary mistake that arose within the vaccinated."
Just as he was wrong about the delta variant being "very mild," and he's wrong here: A few weeks after this article appeared, omicron swiftly became the dominant strain in the U.S. While vaccinated people are more exposed to catching the omicron variant because of its extremely high transmissibility, early evidence suggested that those who catch it appear to be feeling only mild symptoms, while unvaccinated people will likely feel more severe symptoms and be more prone to hospitalization.

Moore then worked to boost McCullough's medical credentials -- "McCullough has 600 peer-reviewed publications to his name. Many have appeared in top-tier journals such as the New England Journal of Medicine, Journal of the American Medical Association and The Lancet" -- while complaining that he lost jobs because of "powerful forces at work, far more powerful than we can possibly think of" -- but he won't describe the misinformation he's been caught spreading (of course, much of that spread thanks to Moore's help).

WND republished a Dec. 10 article from right-wing website American Greatness featuring McCullough claiming that "myocarditis in young people post vaccine is far more dangerous than the COVID version of the heart disease." A medical fact-checker found his claim to be false.

Moore returned to serve as McCullough's servile stenographer in a Dec. 19 article, letting him play victim again:
In a podcast interview that would not have been allowed on YouTube, medical scientist Dr. Peter McCullough charged that media and government censorship related to COVID-19 treatments have caused untold harm, contributing to many deaths.

Joe Rogan, the nation's No. 1 podcaster, told McCullough that on nearly every other online platform, including YouTube, their conversation would be censored.

"But what you're saying is incredibly important," said Rogan, whose podcast, "The Joe Rogan Experience," is streamed by Spotify.

"Censorship that has suppressed for two years information on safe and effective early treatment and censorship on vaccine safety has led to large numbers of deaths, hospitalizations and permanent disability," McCullough said.
Moore didn't mention that McCullough made numerous false or misleading claims on Rogan's podcast.
Moore did an interview with McCullough for a Dec. 23 article, where the sympathetic victimhood was ramped up and President Biden was attacked for calling out COVID misinformation despite the fact that he never criticized McCullough by name:
The Wikipedia entry for Dr. Peter McCullough states matter of factly in the second paragraph that the renowned cardiologist and medical scientist with 600 peer-reviewed published papers to his name has "promoted misinformation and falsehoods about COVID-19, the vaccines and treatments."

President Biden picked up on that charge Tuesday in his introduction of measures against the new omicron variant, centered on more vaccination and exponentially expanded testing. The commander-in-chief undoubtedly was referring to McCullough and a number of the scientist's colleagues when he charged that the "vaccine hesitancy" of an estimated 40 million Americans has been "fueled by dangerous misinformation on cable TV and social media."

Biden called on "the purveyors of these lies and misinformation to stop it." The president described as "immoral" their distribution of data on safe and effective early treatments along with reports of vaccine injuries from the Centers for Disease Control and Prevention website amid suppression of traditional scientific debate.

In a 30-minute video interview with WND on Thursday discussing the government's response to the omicron wave along with the latest on vaccines and treatments, McCullough was asked how he reacted to Biden's statement.

"Just like this interview today, I'm just giving Americans the data," he replied. "These are the published papers, and I cite them. So, I'm not giving misinformation. I'm not giving information. I'm just giving data, and that's for individuals, doctors, scientists and the public at large to interpret."

McCullough, who said he has been vaccinated for COVID-19, told WND the way forward is to simply "drop all the rhetoric and all the angst regarding the discussion here and just constantly – like we did today – dispassionately review the published data."
Moore is too much of a McCullough fanboy to call him out on his misinformation, despite the fact that it's easy to find. For instances, Moore did note that omicron had become "73% of new cases and more than 90% in much of the country," he didn't mention McCullough's declaration just a few weeks earlier that omicron would be a "minor variant." Instead, he let McCullough not only promote dubious drugs like ivermectin, but also another drug that anti-vaxxers have embraced:
But the biggest advance in treatment of COVID-19, he said, is an oral nasal treatment that long has been used by doctors to treat viral and bacterial sinusitis.

The lead agent, he said, is sold as Betadine, which is 10% povidone iodine. It can be purchased at a pharmacy or online for about $10.

A small amount of Betadine can be squirted into a shot-glass sized container – enough to cover the bottom – and the rest of the glass can be filled with water.

The solution is administered in the nose with a nasal bulb or spray syringe.

"Squirt it up the nose over the sink. Sniff it back and then spit it out," McCullough advised. "Do that in both nostrils and then gargle with the rest, spit it out in the sink.

"I tell you, that has a tremendous effect. People should do that after their Christmas dinner, their congregant setting, [after] they've been around people."
In fact, Betadine is an antiseptic that has no impact whatsoever on COVID and could be dangerous to people who overuse it. He continued to misinform about another medication:
Food-grade hydrogen peroxide would be a "second best" substitute for anyone who doesn't tolerate Betadine.

"I want every American, instead of focusing on hand sanitizer," to use the treatment regularly, he said.

"It's not a hand infection," he said of COVID-19. "It's not even spread by the hands; it's actually in the nose."
In fact, inhaling hydrogen peroxide is very bad for your health. But Moore won't tell you that -- he's too in thrall to McCullough to tell readers he's a chronic -- and dangerous -- misinformer.
We've said it before: Lying to your readers does not build the kind of trust a news organization needs to be treated as credible. It's unknown why WND thinks it's exempt from this rule.
The latest from