CNS Also Loves The Lazy 'Meathead' Insult of Rob Reiner
Topic: CNSNews.com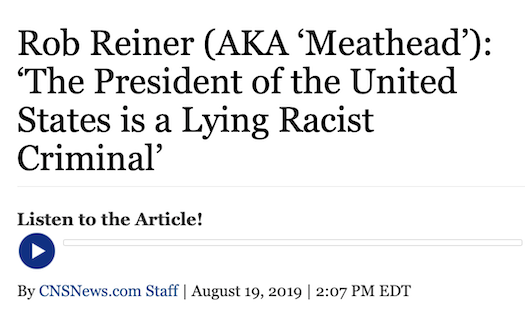 We've documented how the Media Research Center insists on identifying Rob Reiner as "Meathead" -- an acting role he hasn't played in more than 40 years and despite the fact he has become a director and producer of numerous successful and critically acclaimed movies since -- as a cheap, lazy insult whenever he expresses an opinion it doesn't like.
It turns out the MRC's "news" division, CNSNews.com, embraces that lazy insult as well. An anonymously written Aug. 19 CNS article -- a "news "article, not a blog post -- carries the headline "Rob Reiner (AKA 'Meathead'): 'The President of the United States is a Lying Racist Criminal'" and tells us in the lead paragrah that "Actor and director Rob Reiner, who played 'Meathead' in the 1970s television program 'All in the Family'" said this.
The article also added that "Reiner frequently issues Tweets attacking Trump," but it did not explain why this particular tweet was somehow more newsworthy than the others. At no point does the anonymous CNS writer dispute Reiner's characterization of Trump, just complain that it was said.
The article is bizarrely illustrated with an 11-year-old photo of Reiner pictured with Hillary Clinton. Didn't Getty Images -- from which CNS pulled that photo -- have any more recent photos of Reiner that would be more timely and relevant? Or is CNS giving up on the pretense that it's different from its MRC parent and is now pushing the same partisan political attacks?
The question has to be asked: Is there any difference between CNS and the MRC anymore, other than the format in which the information is presented?
Posted by Terry K. at 11:22 AM EDT
Updated: Sunday, September 8, 2019 11:35 AM EDT