CNS Scoops Up Damage Control After Tony Dungy Spreads Falsehood About Litter Boxes In Classrooms
Topic: CNSNews.com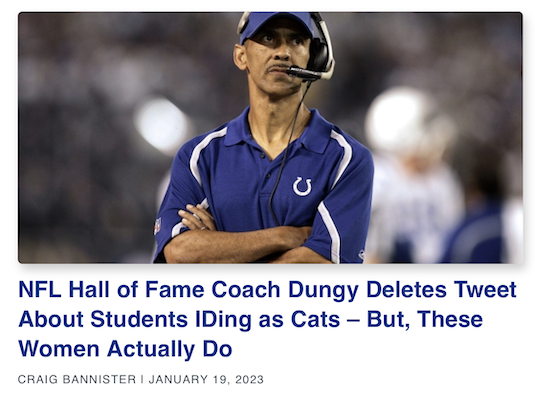 Former NFL football coach Tony Dungy has long been praised by CNSNews.com for injecting his right-wing Christianity into sports. For instance:
So when Dungy got busted touting a false story about litter boxes being placed in classrooms for students who identify as cats, Craig Bannister ran to his defense in a Jan. 19 article:
The first African American head coach to win a Super Bowl deleted a tweet mocking school gender identity policies on Wednesday, following backlash from liberal websites and social media users claiming he was promoting a debunked urban myth.

On Wednesday, NFL Hall of Famer Tony Dungy tweeted a comment mocking Minnesota State Rep. Sandra Feist for saying schools should be required to provide menstrual products in boys' bathrooms – because "not all students who menstruate are female."

Replying to a Daily Wire video of Rep. Feist making the claim, Dungy tweeted:

"That's nothing. Some school districts are putting litter boxes in the school bathrooms for students who identify as cats. Very important to address every student's needs."

Denounced and accused of perpetuating a conservative urban myth, rather than just making a joke, Dungy deleted the tweet by the end of the day.
Bannister offered no evidence Dungy was "just making a joke." Indeed, Dungy himself offered no such defense in apologizing for the tweet: "As a Christian I should speak in love and in ways that are caring and helpful. I failed to do that and I am deeply sorry."
Bannister then took things one step further, effectively arguing that Dungy is right because somebody somewhere once identified as a cat:
Regardless of whether or not schools are providing bathroom litter boxes, some women actually are identifying as feline.

A social media post by one such cat-lady was a featured video at last year's Media Research Center Gala. In it, she provides examples of her various meows and their meaning, including her cat mating call.

"Overall, we're a very happy kitten family," she says.

Apparently, cat-identification is nothing new. In 2016, a Norwegian woman named Nano claimed to be a cat. She said she really believes she is a cat. In a video interview with a local reporter, the then-20 year-old said she first realized she was a cat at 16 years old.

"I think I will be cat all my life," she predicted.
After clearing that up, an article the next day by editor Terry Jeffrey touted Dungy speaking at the annual anti-abortion March for Life:
Tony Dungy, who coached the Indianapolis Colts to a victory in Super Bowl XLI in 2007 and is now a football analyst for NBC, spoke at the March for Life in Washington, D.C. on Friday and said that the march was more important than the ongoing NFL playoffs.

"It is great to be here," Dungy said. "Can't tell you how much excitement [my wife] Lauren and I have to be here today--even though this march is taking place right at the biggest time of my profession, the NFL Playoffs. This is way, way, way more important."
Jeffrey said nothing about Dungy discrediting himself a coule days earlier by spreading a fake right-wing story.
Posted by Terry K. at 12:34 AM EST