MRC Drops Biden Classified Doc Obsession After Classified Docs Were Found At Pence's House
Topic: Media Research Center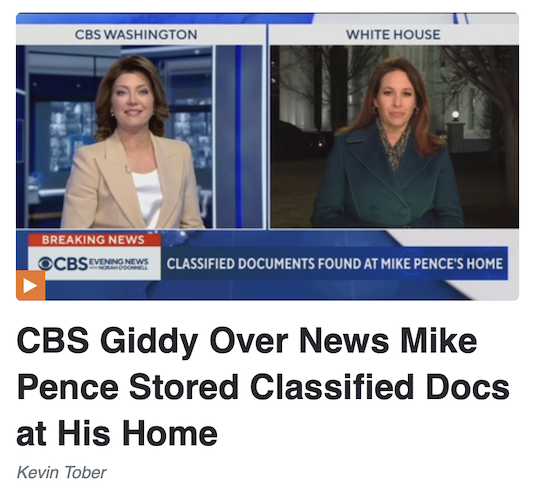 After a solid two weeks of attacking President Biden over classified documents found at his properties, the Media Research Center was angry to see all that go to waste when classified documents were discovered at the home of former (and Republican) Vice President Mike Pence. Kevin Tober complained in a Jan. 24 post:
Like a bunch of five-year-old children, CBS Evening News anchor Norah O'Donnell and chief White House correspondent Nancy Cordes appeared to be beside themselves with excitement Tuesday over the news that former Vice President Mike Pence had about a dozen classified documents at his home in Indiana. Since they presumably see their jobs as serving as apparatchiks of the Biden regime and the Democrat Party at large, O'Donnell and Cordes were clearly relieved to know Pence was also reportedly guilty of having mishandling classified documents.

"In a pair of letters to the National Archives, lawyers for former Vice President Mike Pence said they searched his home in Indiana last week out often an abundance of caution. There, they discovered a small number of documents bearing classified markings that were inadvertently boxed and transported to Pence's home at the end of the last administration," Cordes breathlessly reported.

Cordes then jumped at the chance to portray Pence as dishonest by noting how "the search came just days after Pence assured multiple journalists, including CBS's Robert Costa, that he had been more responsible about documents than President Biden was."

Once Cordes was done with her report, O'Donnell was giddy with excitement when bringing Cordes in to discuss the story further: "Nancy Cordes joins us now from the White House. So did they say anything there today about all this?"

Equally ecstatic, Cordes replied that "publicly, the White House had absolutely no reaction, but behind the scenes, several officials actually expressed relief that Mr. Biden is now not the only former Vice President to discover that he had some classified documents stored in an unsecure area."

You can be sure that the leftist media will use the Pence situation to shield Biden from his own irresponsibility in mishandling documents. Since there's no excusing Biden's behavior, leftist activists like O'Donnell and Cordes will point to Pence in order to distract the public from the Biden documents scandal.
Of course, by that definition, the MRC has been acting like a bunch of five-year-old children in spending two weeks hyping Biden's document issues while portraying Donald Trump as a victim for refusing to cooperate with archive officials to such an extent that an FBI raid became necessary to retrieve the documents he took. Tober made sure not to bring up Trump's name here.
But Tober and the rest of the MRC didn't really want to talk about Pence either. Thus, a Jan. 25 post by Nicholas Fondacaro based on yet another hate-watching of "The View" tried to turn the focus on a co-host he particularly hates for not loving Trump enough:
Faux conservative and co-host of ABC's The View, Alyssa Farah Griffin used to work for the Department of Defense and former Vice President Mike Pence during the Trump administration. And on Wednesday, after it was reported that Pence had classified documents at home, Farah Griffin had the spotlight of scrutiny (jokingly) placed on her. But she couldn't confirm nor deny that she had classified documents there.

The cast wasn't critical of Pence retaining classified documents in an unsecured location; after all, this helped to provide cover for President Joe Biden and they chalked it up to him having to frantically pack after January 6 and the "hang Mike Pence" chants from the rioters.

"I think it was the chaotic nature of the transition. When I resigned in December, staff was being threatened, don't look for new jobs, don't pack your offices. Because they were not preparing for a transition," Farah Griffin recalled.

Farah Griffin assumed the documents ended up with Pence's personal things as a result of a "staff error" due to "last-minute" packing.
Kathleen Krumhansl served up further whining that the Pence discovery undermined right-wing narratives in a Jan. 26 post:
To take it from Joseph Malouf, Telemundo's in-house "Constitutional Law Expert", Christmas came a month late for Donald Trump on January 23 when classified documents were found at former Vice President Mike Pence's Indiana home.

"Now that you have three people -- three people recently serving the country -- with classified documents; it's the best news Trump could have asked for; it's Christmas for him," Malouf told D.C. correspondent Cristina Londoño the day after the story of Pence's documents broke.

[...]

Does "Christmas for Trump" lead to Springtime for Biden? Telemundo sure seems to think so!
As it turns out, the Pence discovery so deflated the MRC that it has not done any more posts focused on Biden's classified documents for the next few weeks -- and it certainly did no more on Pence's classified documents. Still, the MRC was desperate enough for any possible anti-Biden dirt it could find that Curtis Houck did serve up some really thin gruel, however, in a Feb. 16 post:
Late Wednesday, CNN's Paula Reid revealed the FBI had conducted multiple searches of President Biden's records at the University of Delaware from his Senate tenure (and "documents...sent...in recent years") that have been held in secret since their donation in 2012. While they reportedly didn't find any classified documents, it was worth sharing as it marked another chapter in his classified documents scandal, but CBS Mornings saw no reason to mention it on their Thursday editions.

ABC's Good Morning America wasn't much better as they snuck in an 11-second brief on the search, which topped the 18 seconds spent on their overnight show, America This Morning. In contrast, NewsNation's flagship AM show Morning in America had a full report in each of their three hours.
Yes, Houck really demanded full wall-to-wall coverage of a search in which nothing was found, just because right-wingers could use it to bash Biden. That's how we know the MRC is first and foremost a partisan political organization, not anything seriously dedicated to "media research."
Posted by Terry K. at 7:16 PM EST
Updated: Sunday, March 5, 2023 2:54 PM EST