The Heathering of Alyssa Farah
The Media Research Center is quite upset that the daughter of WorldNetDaily's Joseph Farah and a former Trump administration official left the Trump cult and wants to co-host "The View" -- as is her father, apparently.
By Terry Krepel
Posted 10/19/2022
Updated 10/24/2022
---
I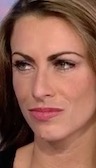 Alyssa Farah Griffin
t's to the point that we're almost starting to feel bad for Alyssa Farah.

ConWebWatch noted the rift between her -- who worked in the Trump administration in various communication capacities including White House communications director but left shortly before the Capitol riot following Donald Trump's fact-free insistence that the election was stolen from him -- and her father, WorldNetDaily editor Joseph Farah, apparently stemming from his continued embrace of Trump's Big Lie about election fraud. When Trump trashed Alyssa in public for speaking out about how she left his administration, Joseph Farah stayed silent.

In February, the elder Farah -- who was proud enough of his daughter's Trump-related achievements that WND scrubbed her byline from articles she wrote while a college student -- wrote a column that began with a few Bible verses and a declaration of how much he loves his family, followed by concern over making private family matters public and a complaint that he had been accused of "boycotting" Alyssa's wedding (whose name he didn't use anywhere in his column). The column concluded: "Why didn't we go to the wedding? A father dreams of going to his daughter's wedding. WE WEREN'T INVITED!"

(Update 10/24/22: Farah refused to admit it, but his column was a direct response to Alyssa saying on "The View" a couple days earlier that he and his wife, Elizabeth (Alyssa's stepmother), "didn't want to attend my wedding" because of "political differences after I spoke out against President Trump." Alyssa added: "The answer was simple. Like, I love them. They were welcome to be there on my end. But if they didn't want to be there, why would I interrupt my special day by trying to have them there?")

Farah, unfortunately, has continued to embrace Trump's Big Lie, so it appears that Alyssa's apparent drastic action had no effect on him whatsoever and couldn't move him to re-evaluate his choices.

As if that wasn't enough, the Media Research Center has flip-flopped on Farah for failing to love Trump enough -- a classic bit of Heathering.

In a December 2020 post, Curtis Houck was happy to tout her White House job as a retort to incoming President Biden having the first all-female White House communications staff. In October 2021, Kristine Marsh came to Farah's defense during a guest-host stint on "The View" when the other co-hosts "badgered and berated her for working for the Trump White House at all"; Marsh noted that Farah "explained that Trump's rhetoric around denying the election results was what caused her to resign and told the View hosts she didn't vote for him in 2016, which was a small relief to them."

But Farah's refusal to defend Trump no matter what and to not hate Democrats and President Biden as much as right-wing dogma demands -- not to mention her apparent desire to be a permanent host on "The View" -- has made the MRC slowly flip-flop and turn her into a victim of its Heathering process, in which it attacks fellow right-wingers for straying ever so slightly straying from that dogma because no dissent is tolerated. In a Jan. 16 post, Tim Graham complained that Farah -- now Alyssa Farah Griffin after her marriage -- didn't spew hat at Biden during an appearance on Brian Stelter's "Reliable Sources": "At least Stelter asked Alyssa Farah Griffin about the lack of press conferences. She didn't exactly attack the White House for hiding Biden."

Marsh did praise Farah Griffin for bashing former New York Gov. Andrew Cuomo, in a Feb. 8 post, though she did make a point of noting that she "now works for CNN." The next day, Marsh praised her again for defending the notorious Florida "don't say gay" bill. In a March 14 post, however, Nicholas Fondacaro criticized Farah Griffin for advocating a no-fly zone over Ukraine, declaring that would be an "escalation" of the conflict there; he did praise her on March 17 for arguing with co-host Whoopi Goldberg in a way that when Goldberg responded, she "refus[ed] to look Farah in the eye."

Fondacaro's hostility to Farah Griffin increased after that. When Biden's sister appeared n the show to promote her book, Fondacaro sneered in an April 12 post that "self-proclaimed Republican Alyssa Farah Griffin couldn't think up an original question and essentially asked Hostin's again." Translation: Farah Griffin wouldn't spew hate her at the woman for the sin of being a Biden. The next day, Fondacaro ranted against the co-hosts favored sensible gun regulation and that Farah Griffin "didn't push back on any of this nonsense."

Fondacaro seemed to be complaining that Farah Griffin wasn't an obnoxious enough right-winger in a May 10 post on the show's co-hosts discussing abortion in the wake of the leaked Supreme Court opinion overturning Roe v. Wade: "As self-described Republican and guest co-host Alyssa Farah Griffin was trying to bring up how "there was an anti-abortion clinic that was targeted violently," Goldberg interrupted to wave off any mention of the topic." The next day, Fondacaro whined that she has "honestly been rather squishy with defending conservative and Republican policies." He was still Heathering Farah Griffin will agreeing with her in a May 13 post noting that "self-described conservative Alyssa Farah Griffin got to the heart of the debate and why the pro-life side was so adamant about their position."

Fondacaro set the tone for his and the MRC's further rage at Farah Griffin in a May 24 post:
During a contentious appearance on ABC's The View on Tuesday, former Trump advisor Kellyanne Conway frazzled the cast in the way only she can. There to promote her new book, Here's the Deal, Conway confronted the liberals with President Biden's failures and blasted the liberal media for targeting her family. She also called out sell-out conservative Alyssa Farah Griffin for abandoning conservative principles for her selfish interests.

[...]

The sparks really flew when Griffin tried to portray herself as a defender of America and democracy citing her exit from the administration after the 2020 election. "I left three months before you did, for my children. I have four of them. And I said less drama, more mama," Conway shot back. "I think you stayed a whole month after the election that you were having a problem with."

Griffin rudely interrupted Conway to proclaim she supposedly stayed in order "to help my junior staff get jobs." She then took a cheap shot at Conway by suggesting she took an oath to support Trump and not the Constitution.

Building off that false premise, Griffin tried to suggest Conway was for the Capitol Riot but Conway had receipts showing her opposition. Conway then called out Griffin's self-serving actions of abandoning conservative principles in an attempt to be a media staple for bashing Republicans:


Alyssa, if you're saying that somehow you think we're supposed to think that you've seen the light and not just see your name in lights, that's not fair.

"That's such a cheap shot," Griffin whined at the truth.
Given that neither Conway nor Fondacaro describe exactly how Farah Griffin supposedly "abandoning conservative principles" or described the "selfish interests" for which they were purportedly abandoned -- or even for what, exactly, she "sold out," that truly was a cheap shot.
Again: The only criticism the MRC has ever laid on Farah Griffin has been not loving Trump enough and not hating Biden enough. That's Heathering at its finest -- and, apparently, reason enough to try and destroy her for no longer being part of the cool kids club.
Interestingly, there was no mention whatsoever by the MRC of Farah Griffin's pedigree as the daughter of the operator of one of the most virulent fake-news conspiracy websites out there. So it hasn't thrown her completely under the bus (yet).
Fondacaro's summer of Heathering
As this summer continued, Fondacaro continued to give Farah Griffin the Heather treatment. He sneered in a June 14 post:
Former Trump White House official-turned-self-serving sellout Alyssa Farah Griffin once again joined ABC's The View on Tuesday to commiserate about the January 6 Committee hearings and bash the party she claims to still be a part of. And at the start of a conversation about potential 2024 nominees for both sides, Griffin slipped and seemingly announced she was interested in pushing a Democratic candidate. And co-host Sunny Hostin announced her primary requirement for a candidate is that they're hot.

With co-host Whoopi Goldberg kicking off the segment by fretting that former President Trump would run again in 2024, Griffin noted that inflation, gas prices, the tumbling stock market, and his advanced age were bad news for President Biden. She soon pivoted to asking about who the Democrats would put up and flashed her interest in pushing them as her candidate.

"I'm curious. Like who are the Dems going to run? Where is like the Obama energy that we could bring?" she asked the liberal cast. She caught what she said and quickly tried to walk it back, adding, "That you guys could bring."
Fondacaro is so filled with hate for anyone who does not follow in rigid lockstep with his right-wing ideology or offers even the slightest reasonable criticism of Trump -- deviation equals treason as far as he's concerned. He's desperate to read treason into Griffin's mild comments solely as an excuse to spew hate at her. His hatred for her is so irrational that he even attacked her for something he might actually agree with, which he did the next day:
The cast of ABC's The View was in something of a panic Wednesday after several congressional primaries revealed which Republican candidates would be squaring up against Democrats in November in what's likely to be a massive red wave victory for the right. But the coven was in such denial that they aggressively shot down any mention of the red wave and completely ignored the historic win by Latina Republican Mayra Flores in a special election flipping a seat occupied by Democrats for over 100 years.

"I'm a conservative. I'm a Republican. And listening to Russell Fry who unseated Tom Rice, a principled conservative who voted to impeach Donald Trump," whined guest co-host Alyssa Farah Griffin. "But here's what I would warn. The red wave is coming. Republicans are going to win the midterms short of something unforeseen that I cannot predict now."
Fondacaro didn't mention Flores' far-right QAnon-curious leanings.
In a June 17 post, Fondacaro tried to gloat over another "View" host bashing people who worked for Trump (which Farah Griffin did):
It appears as though the likes of former Trump administration officials Alyssa Farah Griffin and Stephanie Grisham sold out their "conservative" principles for The View's blessing for nothing (not like it was worth anything to begin with). During Friday's edition of the ABC show, co-host Joy Behar lashed out at them, calling them "recovering addicts" and complaining about them coming on the show; essentially exposing how the liberal cast doesn't even want mediocre opposition on the program.

"So, I do think he needs to be commended for his actions that day," self-proclaimed Republicans and staunch Never Trumper Ana Navarro said of former Vice President Mike Pence's actions on January 6. "That does not erase four years of complicity."

That was that comment that set off Behar. "Exactly. These people who are now all, like, recovering addicts – recovering addicts in the Trump world that come on, even on this show. They come on this show, they go on other shows and they're turning on Trump," she whined.

It's obvious who she was talking about as Griffin and Grisham are part of the rotation for the "conservative" seat and are the only ones who used to work in the Trump administration. Griffin has even been on the show multiple days earlier in the week. And both are seemingly okay with relegating themselves to being punching bags for the liberal cast members.
Fondacaro added: "Griffin has been widely accused of selling out to enrich and ingratiate herself with influential people on from the left." He didn't mention that his definition of "widely" is limited to rigid ideologues like him who are unable to handle even the slightest deviation from right-wing, pro-Trump dogma.
When Farah Griffin was reported to be a candidate for a full-time slot on "The View," Fondacaro rehashed his previous attacks on her in a July 5 post:
Eager to please and be the punching bag for the Hollywood liberal cast that will never really accept her, Farah is the obvious choice when examining her performance.

[...]

And Griffin has been roundly criticized for the self-flagellation she's undergone in an attempt to receive praise from the radical leftist co-hosts. Former Trump advisor Kellyanne Conway once confronted her on the show and declared: "we're supposed to think that you've seen the light and not just see your name in lights."
Again, Fondacaro's criticisms focus more on not toeing the hard-right line, not on her suddenly becoming a Whoopi Goldberg-level liberal. And Conway is hardly a credible source of criticism, given how she has profited handsomely off her years in the Trump administration with a new book and frequent Fox News appearances; she clearly loves seeing her name in lights, even more than Farah Griffin.
Fondacaro clearly can't handle a woman who thinks for herself,and that those thoughts might be just slightly different from his, even if she's unquestionably a conservative. That's why he's lashing out so viciously at Farah Griffin.
National Review hit piece
When the right-wing National Review did a hit piece on Farah's purported lack of right-wing conservatism, the MRC naturally had to lavishly gush over it, and Houck did the slobbering honors in a July 14 post:
Writing Thursday morning at National Review, Intercollegiate Studies Institute (ISI) fellow Nate Hochman penned a scathing examination of CNN political commentator Alyssa Farah Griffin, chronicling her rise from a well-known political family to the upper echelons of conservative political communications to liberal media darling and from Trump supporter to skeptic to card-carrying member of The Resistance.

And, upon the story's publication, Farah Griffin offered a vivid reminder of how the Washington media and political elites have razor-thin skin and vehemently object to even the most gentle outside criticism.

Hochman explained how Farah Griffin has undergone a "change in tone and emphasis" since her start working for her father Joseph Farah at World Net Daily that was then parlayed into running communications for the House Freedom Caucus and Trump administration posts with Vice President Mike Pence, the Pentagon, and the White House as communications director.

As Hochman noted, Farah Griffin seemed like "a conventionally partisan Republican operative."

However, she's left that behind, instead drawing a litany of scoffs and dismissals from conservatives as she's become what Hochman called not only "fervently anti-Trump," but "sometimes anti-Republican" with newfound friends at CNN and ABC's The View (where she's the rumored frontrunner to become the fifth co-host).

[...]

When January 6 becomes your cri de coeur and everything else (e.g. abortion, gas prices, inflation, etc.) is secondary while painting a picture that your life is so difficult while also opulent, working people scoff. Farah Griffin should let the world know when she starts consistently having CNN hits and tweets that have nothing to do with January 6 and Donald Trump.
Both Houck and Hochman are well-paid partisan right-wing operatives, so there's no reason to ever think of them as "working class."
Neither Hochman nor Houck explained why criticism of Trump is so verboten that it's enough to get one kicked out of the right-wing bubble they live in (and make their living from). Nor do they explain why she must be punished for trying to run from the Trump taint of corruption and for criticizing his role in inciting the Capitol riot. They also don't cite the chapter and verse of right-wing dogma where it states that right-wingers in good standing are not allow to discuss the riot or blame Trump for it.
When Farah Griffin gave a statement to Hochman stating that she's "fiercely anti insurrection," Houck sniffed in response: "And there it is. All roads have to lead back to January 6." Again, there's no explanation for why she's not allowed to talk about it, even as events like the House committee hearings have kept it in the news. If anything, people like Houck and Hochman need to explain why they stay in the Trump cult despite the mounting evidence of Trump's corruption.
Houck offered a parting shot when he complained about a Twitter thread from Farah Griffin after the hit job was published in which she stated she hadn't read it: "Exit question: Did Alyssa think she's too important to have to read it?" She knew it was going to be a hit job, and it was; she does not need to read about how much die-hard Trumpers despise her.
The next day, Fondacaro returned to reference the National Review's hit job and attack Farah Griffin anew: "The Friday after the National Review published a scathing article calling out The View's faux 'conservative' Alyssa Farah Griffin, she showed her true blue colors as she falsely accused Florida Republican Governor Ron DeSantis of scamming his supporters with a recurring donation 'grift.'" Like Houck, he didn't explain how Farah Griffin's departure from the Trump cult makes her a "faux 'conservative.'" He went on to complain that she is not an extremist anti-abortion absolutist like he apparently is:
This wasn't the only lie Farah Griffin told about the political party she purports to still be a part of. Earlier in the show, during a conversation about the 10-year-old Ohio girl who was raped and got an abortion (they omitted the part about the alleged rapist being an illegal immigrant), she parroted the leftist falsehood that the pro-life side didn't care about the babies and women after birth.

"To be pro-life needs to mean supporting moms throughout their lives. It means paid parental leave, it means investing in foster and adoption care," she said. "Frustrates me so much that my party really cares about them having the baby, but there's no benefits that they're going to have after the fact."

In reality, there are many pro-life organizations and charities that support women and babies after birth. In fact, the left hates how crisis pregnancy centers outnumber abortion mills 3-1 and they want to shut them down.
Fondacaro cited no evidence to prove that she purportedly lied, nor did he explain why it should be left only to "pro-life organizations and charities" to support women and their children and why the government apparently shouldn't.
Fondacaro sneered once again in a July 26 post at the possibility that Farah Griffin might become a permanent co-host on "The View":
The rumors appear to be true that The View's months-long search for a conservative to replace Meghan McCain is ending with the selection of faux conservative Republican Alyssa Farah Griffin. That's according to the U.K.-based Daily Mail which reported on Tuesday that "ABC will announce her new position imminently." They also have some purported outrage from inside the network that's pretty hilarious.

"Farah Griffin, 33, will be named as Meghan McCain's full time [sic] replacement on the panel from September for the show's 26th season," wrote senior reporter Claudia Aoraha. "Three insiders with knowledge of the discussions with Farah Griffin have told DailyMail.com that ABC will announce her new position imminently."

The article also included quotes from those insiders critical of the pick and hilariously calling out Farah Griffin for the opportunistic operative that she is:

[...]

It's obvious that Farah Griffin's views and allegiances change based on who is lining her pockets. As NewsBusters reported in June, she was eager to learn which Democrat her future co-workers supported so she could push them too: "I'm curious. Like who are the Dems going to run? Where is like the Obama energy that we could bring?"

And she even walked back comments pointing out the apparent red wave coming in the November midterm elections when pressed by Whoopi Goldberg, who seemed to suggest she was trying to suppress Democratic voter turnout.
Of course, Fondacaro himself can easily be described as an "opportunistic operative," since his literal job is to be given the opportunity to act like a right-wing operative and lash out at others who are purportedly not as pure as him, and continuing to do so is what is lining his pockets. So he's being more than a tad hypocritical here.
| | | |
| --- | --- | --- |
| Related articles on ConWebWatch: | | |
| | | |
Even when Farah Griffin is actually repeating the right-wing talking points that Fondacaro is such a slave to, he still can't keep himself from insulting her. In a July 28 post, he managed to complain that "While the rest of the cast was praising the so-called 'Inflation Reduction Act,' which introduces billions in spending that will likely increase inflation, sell-proclaimed [sic] Republican Alyssa Farah Griffin dared to bring up the news that we've seen the second quarter of negative economic growth."

That is a literal Republican talking point. How could Fondacaro possibly object?

When Farah Griffin was officially named a full-time co-host, Fondacaro rehashed his vitriol in an Aug. 4 post:
The months-long search for someone, anyone to fill the "conservative" seat on The View, vacated by former co-host Meghan McCain, ended Thursday with the poorly kept announcement that they would be hiring faux conservative Republican Alyssa Farah Griffin. But not only were they set to add one pretend right-winger to the coven, but they also doubled down and announced that rotational co-host Ana Navarro would be going full-time (eventually).

First to be announced in the latter half of the show, with a gushy video introduction, was clout chaser Farah Griffin. "Thank you. Thank you. If anyone had ever told me I would be sitting at a table with Whoopi Goldberg, I would have said, 'you are crazy.' It is such an honor to be with you ladies every day on this set, and it's particularly exciting for me today," she said.

Farah Griffin said she was "honored" and opined about how "Barbara Walters had this vision for bringing women from totally different backgrounds, lived experiences, careers, to talk about the tough issues that, frankly, our elected officials often aren't tackling and we do that every day."

[...]

And despite being born into a well-off family with many connections in Washington, D.C., which she utilized, Farah Griffin whined about her career path and was thankful The View was giving her a "voice." "I was, you know, a president's spokesperson, I was a vice president's spokesperson, I was way too many Republican mens' of Congress spokesperson, but now it is my voice," she said.

In reality, no one made her take those jobs.
Fondacaro provided no evidence that Farah Griffin was "born into a well-off family with many connections in Washington, D.C." In fact, Farah's father, Joseph Farah -- who's constantly begging for money from readers to keep his fading WorldNetDaily alive -- might take issue with being a "well-off family."
Fondacaro then appeared on his boss Tim Graham's Aug. 5 podcast to whine some more about Farah Griffin, ranting that she got on the show because she was willing to act like a "martyr[] for the cause of anti-Trump." He didn;t explain why being opposed to a clearly mentally ill man who's trying to overthrow American democracy is a bad thing. Graham speculated that Farah Griffin won't be right-wing enough for him: "I don't think she's going to have the courage to put a lot of dissent in there. She wants Whoopi's approval."
Nothing says "opportunistic operative" like hopping on his boss' podcast to spout his spiel -- are we right, Nick?
When the new season of "The View" arrived, Fondacaro spewed even more hate at her in a Sept. 5 post:
On the eve of yet another vapid and hate-fueled season of ABC's The View, the Labor Day Monday edition of ABC's Good Morning America teamed up with new permanent "conservative" co-host Alyssa Farah Griffin to promote the 26th season. In the course of the interview, Farah Griffin made the laughable claim that she and her fellow co-hosts aim to "elevate the discourse" of the country and chided politicians for not being able to talk like they do.

Seemingly hinting at Fox News, GMA co-host Janai Norman said Farah Griffin could have gone to "a place where others have views just like yourself, but you wanted to have that discussion with people with opposing views." She also noted that "sometimes things get heated, especially during Hot Topics" on the show.

"Listen, by the way, I survived the Trump West Wing. I think I can survive The View," Farah Griffin pompously declared, despite how she often cowered to push back from the rest of the liberal cast when she was a guest host.

[...]

"[A]s a Republican, the table skews to the left. Umm. I'm not going in trying to change everyone's mind. Merely to show the other viewpoint, show how, you know, nearly half the country sees some of these issues," Farah Griffin continued.

Still speaking as a "Republican," she explained that she was looking forward to lecturing Republicans about her master plan for the future of the party from her perch in a New York City studio:
Fondacaro continued to whine that Farah Griffin refused to be the kind of blind ideologue he is in a post the next day:
During a Monday promotion for their new season, "conservative" co-host Alyssa Farah Griffin claimed The View cast was looking to "elevate the discourse" on the show and in America. But during their 26th season primer on Tuesday, co-host Whoopi Goldberg's audio dropped out as she cursed out Republicans and average hard-working Americans who opposed President Biden's unfair and legally dubious student loan bailout
Fondacaro was further angered that a comparison was made between student loan forgiveness and the Paycheck Protection Plan loans that were given out during the COVID pandemic, most of which have been forgiven:
Farah Griffin offered mild pushback, noting that "the PPP conversation is a little bit different. We artificially shut down the economy because of COVID, businesses were not allowed to operate. So, of course, private businesses were given rightfully PPP loans." Goldberg refused to listen to reason and insisted they were exactly the same.
Fondacaro somehow forgot to mention that his employer received more than $1 million in PPP money, and it has shown no interest in repaying that money.
It's clear that Fondacaro is not going to elevate his discourse and continue to engage in the misogynist hate he's been spewing at the show. If he finds it so "vapid and hate-fueled," he should quit the MRC and do something else.
Meanwhile, the website operated by Farah Griffin's father was taking shots at her as well. A Sept. 5 article was a repost of a Fox News article bashing Alyssa after becoming an official co-host of "The View":
New "The View" co-host Alyssa Farah Griffin said Monday she hopes to represent former President Trump's voters in the ABC show's Republican seat, although she has become one of his staunchest critics and hopes he never returns to the White House.

"I'm a millennial and I worked in the Trump administration," she said on ABC's "Good Morning America" in a segment previewing the show's upcoming season. "I've also since criticized the former president, but I still want to be a voice for the 74 million Americans who voted for him, and kind of tell them, from my experience, here's why I won't support him again, but here's what a future Republican Party can and should look like. So that's really what I'm hoping to meet the audience with."

Griffin held a number of key positions in the Trump administration, including Vice President Mike Pence's press secretary, Pentagon press secretary and White House communications director. Griffin resigned in December 2020, expressing pride in her time in the administration in her departing letter. Since Trump left office, Griffin has spoken out strongly against his stolen 2020 election rhetoric and become one of many Republican critics of Trump with lofty media perches.
The article -- co-written by the hateful Gabriel Hays, formerly of the MRC -- went on to complain that Farah Griffin and a fellow new arrival to the show, conservative Ana Navarro, "are hardly reflective of their fellow party members, which polls show remain broadly supportive of Trump." Hays and co-writer David Rutz went on to complain that "Since Trump left office, Griffin has spoken out strongly against his stolen 2020 election rhetoric and become one of many Republican critics of Trump with lofty media perches."
Interestingly, neither the Fox News article nor the WND excerpt of it mentioned that Farah Griffin is the Joseph Farah's daughter. It's a subtle underbusing that Joseph Farah did of his own daughter, but it's an unmistakable one all the same.
Like we said: we almost feel sorry for her.
The latest from