The MRC's Year Of (Still) Hating Transgender People
The Media Research Center spent 2022 spewing even more hatred at not only those who are transgender but also those who refuse to hate them as much as it demands.
By Terry Krepel
Posted 2/22/2023
---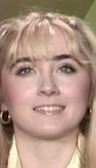 Tierin-Rose Mandelburg
The Media Research Center's campaign of hate against Lia Thomas was merely last year's most visible recent manifestation of its anti-transgender ideology of hate. It also spent 2022 hurling hate at other transgender people, as well as anyone who refuses to similarly hate them.

A Jan. 10 post by Alexander Hall went to great lengths to pretend that right-wing anti-transgender author Ryan T. Anderson doesn't really hate transgender people, insisting that his book "When Harry Became Sally" is "compassionate but unapologetically honest." In fact, Anderson embraces the view of discredited anti-trans researcher Paul McHugh -- who is frequently cited by trans-haters -- that transgenderism is a mental illness. Hall portrayed Anderson as a victim because his book was delisted by Amazon -- though he doesn't explain why a private business like Amazon is obligated to sell every single book that has ever been published -- and suggested the book was delisted because it offered "scientific facts that offend liberals" and not because it pushes a hateful narrative.

In a Feb. 23 post, Kevin Tober lashed out at New York magazine for reporting on his anti-transgender activists are trying to influence education:
The left thinks they own your kids. Don't believe me? Well, take a look at this article in New York Magazine's Intelligencer. In the article titled "Household Tyrants," writer Sarah Jones begins by fear-mongering: "to empower parents, Florida Republicans would put children in danger."

Jones argues that Florida's pending Parental Rights in Education bill, which would "prevent public-school districts from 'encouraging classroom discussion about sexual orientation or gender identity,'" is some how a bad thing.

If you don't want your eleven-year-old child learning about transgender ideology and other sexually inappropriate terms and theories, then you are a tyrant and a bigot according to Jones.

Tober didn't identify what "ideology" being transgender is. He then argued that children are too stupid to know who they are, that parents who help children be who they are are child abusers, and

Later on in the piece, Jones writes "the GOP's position on parental rights isn't entirely coherent. Any attempt to ban gender-confirming therapy for transgender children theoretically infringes on the rights of the parent."

What Jones doesn't understand is that parents don't have a right to abuse their children.

Young children aren't fully able to grasp the concept of what a man or a woman is (the bill deals with kids of elementary school-age). Parents shouldn't be allowed to chemically castrate their children or give them sex hormone injections (which is what "gender-confirming therapy" is). When the child turns eighteen and still wants to do that, then it's their prerogative as a legally recognized adult.

"The right insists that what's good for parents is good for kids," Jones claims, "the idea that children are already people, with thoughts and needs independent of their parents, never factors into the party's position at all."

Nobody doubts that children are people (except the left who wants to abort them), but the idea that a child's thoughts and needs should be taken seriously is absurd. If your child wanted to eat candy all day long, would you let them? Obviously not, because children do not know what is good for them. That's what parents are for, to look out for their child's wellbeing.
Are parents who forcibly coerce a child into being something he or she is not guilty of child abuse too? Tober doesn't say.
A Feb. 28 post by Matt Philbin accused an Arizona teacher of teaching "trans ideology indoctrination"; actually, all the teacher did is tell sixth-graders that gender fluidity is a thing and that mocking purportedly insufficiently masculine boys as sissies is a bad thing. Philbin clearly disagrees with the latter. Philbin also demonstrated his utter ignorance about transgender people by illustrating his post with a publicity still from the classic film "Some Like It Hot" -- in which the main characters are not transgender but, rather, cross-dressing as women to escape from the mob. Philbin clearly doesn't know (or care about) the difference.
A March 31 post by Rachel Peterson complained that the character played by transgender actor Elliot Page -- whose transition the MRC has previously mocked -- on the show "Umbrella Academy" would also transition. Peterson went on to mock Page's preferred pronouns of he/they: "Still not sure how someone's pronouns can be both he and they." The same day, Alex Christy grumbled that MSNBC's Hallie Jackson used "dishonest framing" to portray Republicans (like, um, Christy) as anti-trans by passing anti-transgender laws: "Jackson made it seem as if these laws are tantamount to child abuse when all they seem to do is protect the integrity of women's sports, don't allow adults to affirm childhood beliefs about gender identity, or ensure that adults don't encourage minors to make life-changing decisions about their bodies."
Philbin returned for an April 5 post to attack a target the about which the MRC has spread numerous falsehoods in the past, a school district in Virginia:
Normal people who have to send their kids to Loudoun County Virginia's public schools face a Whack-A-Mole game of lefty dysfunction. As soon as you get a handle on Critical Race Theory, an unreported school rape pops up. Force the resignation of a lunatic school board member, the prospect of boys on the girls volleyball team leaps out at you. Heck, not even changing governors can tamp down the crazy. And the hits just keep on coming.

Passed last August, LCPS Policy 8040 doesn't just degrade girls' sports and disregard their safety by allowing biological males into girls' restrooms and locker rooms. It also "elevates students' 'privacy rights' concerning their gender identity over parents right to know," according to the group Fight for Schools.
So anyone who's not a right-wing transphobe like Philbin isn't "normal people"?
An April 9 post by Clay Waters whined that the New York Times called out right-wing activists for imposing anti-trans policies on schools, claiming without evidence that the activists represent "the mainstream consensus on children and transgender issues." An April 11 post by Tober lashed out at MSNBC's Chris Hayes for calling out Republican Texas Gov. Greg Abbott for treating parents who seek gender-affirming care for their children as criminal child abusers:
On Monday night's episode of MSNBC's All In, host Chris Hayes freaked out over Republican Texas Governor Greg Abbott ordering the state's child protective services to investigate reported instances of children receiving transgender surgeries, ironically accusing Abbott of being the real child abuser.

The deranged host started off by viciously attacking Abbott claiming he "found it helps him politically to be cruel to transgender children." He then claimed Abbott denies the "very existence" of transgender children, despite the fact that there's no such thing as a transgender child, the transgender ideology needs to be instilled in children by their parents or other adults.

This brings us to the reason for the Hayes meltdown. In his wailing over the order, Hayes claimed it "takes what used to be normal care for trans kids and classifies that care as child abuse in the eyes of the state." As if chemically castrating children is "normal care."

[...]

If anything, this order helps weed out the people who aren't fit to work in child protective services. If someone finds preventing children from being mutilated so offensive, then they shouldn't be allowed to be anywhere near children.
The only viciousness and derangement we see is in Tober's high level of transphobia.
Tim Graham spent a May 1 post whining that NPR covered a speech by a transgender Biden administration official:
On the Friday night commute, NPR listeners witnessed an audio press release of sorts for the Biden administration. Transgender activist and assistant HHS secretary Rachel Levine is giving a speech to an LGBTQ health conference at Texas Christian University, and NPR promoted it like a press secretary. No opposing view was considered, certainly not about the "Christian" part.
Graham didn't explain how, exactly, it is "Christian" to hate transgender people the way the typical MRC employee does.
Karen Townsend freaked out over a fictional transgender person -- as the MRC likes to do -- in a May 13 post, insisting there aren't enough transgender people to warrant appearances in TV shows:
Television networks are determined to advance the idea that transgenderism is normal behavior, especially in family dynamics. You will be made to accept the LGBTQ agenda, regardless of your personal opinions and religious beliefs. At least that's their plan. Tolerance is not optional.

The May 12 episode of ABC's Station 19, "The Road You Didn't Take," saw the ongoing battle between divorced parents of a transgender boy play out. She was born Mary and now lives as Matt with her father's blessing. Her mother, Jane (Romy Rosemont), still considers her to be her daughter, Mary.

[...]

The number of Americans identifying as transgender is miniscule compared to the total population. According to the CDC, the number is about 1 million people, about 0.6 percent of the adult population in the United States. Nonetheless, television networks persist.
Townsend didn't explain why she apparently believes the opposite to be true -- that transgender people in fiction must be treated as freaks who deserve to be hated and denigrated. Oh, and complaining there are too many LGBT characters on TV is something the MRC also loves to do.
The MRC's hatred of transgender people extends to being mad that the Associated Press will treat them with respect by using respectful words -- which, of course, Tim Graham framed as "trans activist terminology" in a July 25 post:
Abigail Anthony at National Review reports The Associated Press Stylebook, the longtime style manual for most news organizations, has issued a "Topical Guide" for transgender coverage that encourages writers to use "unbiased language" and to "avoid false balance [by] giving a platform to unqualified claims or sources in the guise of balancing a story by including all views."

You know there's a heavy dose of politics when they claim it's "unbiased" to "avoid false balance."
Of course, the agenda of Graham and the MRC is to politicize journalism and treat everything journalists do that don't advance right-wing narratives as "biased."
When the AP stated that "A person's sex and gender are usually assigned at birth by parents or attendants and can turn out to be inaccurate" and that "Experts say gender is a spectrum," Graham raged in response:
The gender "assigned at birth" is merely a social construct that can "turn out to be inaccurate." Remember that AP sells itself to the public as "Advancing the Power of Facts." When they consult "Experts," then "Facts" go out the window. In 2017, the AP Stylebook commissars embraced "they" as a singular, gender-neutral pronoun.
Graham then complained that right-wingers like him hate transgender people:
The AP explicitly sides against conservatives. A section on "legislation" explains: "Starting in 2020, conservative-leaning U.S. state legislatures began considering a wave of bills aimed at transgender youths. Many political observers assert that the legislation is being used to motivate voters by falsely framing children as under threat." This is an interesting claim, since transgender activists routinely frame any opposition to their agenda with threatening 'trans' children with suicidal thoughts.
Graham never explained what the transgender "agenda" is, nor did he admit that conservatives have an anti-transgender agenda. He went on to grumble that "In today's leftist media, the 'marginalized' people are the powerful influencers, which means 'marginalized' isn't an accurate term, either," without mentioning that he gets paid to try and keep transgender people marginalized.
Graham concluded by ranting some more:
The most Rowelling terminology is describing hormone treatments and even the amputations of breasts or penises as "gender-confirmation procedures" and "gender-affirming care." the guide explains that "treatments can improve psychological well-being and reduce suicidal behavior." AP will insist everyone ignore examples of people who were more suicidal after gender-denial surgery.
Graham linked to a 2021 post by subordinate Curtis Hock in which he maliciously smeared people who raised concerns about a "60 Minutes" piece on transgender people who de-transitioned as "Woke-O-Haram" -- as in the terrorist group Boko Haram. Who's the one pushing an "agenda" here, Tim?
Graham frequently gets mad when non-right-wing media outlets don't use biased right-wing terminology. We recently caught him trying to Heather Fox News for the sin of using the universally medical term "fetus" to describe a fetus.
The war rages on
The MRC's transphobes continued to rage at transgender people and appropriate medical care for them as 2022 wore on. Matt Philbin sneered in a Sept. 1 post:
Now this makes sense. With normal people fleeing California in their thousands, the state has come up with a brilliant plan to replace them: become a sanctuary state for transgender kids and the parents who enable their delusions.

According to a KCRA3 report, the state assembly passed a bill to make California "a haven for transgender youth facing discrimination in other states." When the senate signs off on it, the state will "provide legal refuge to parents from other states who risk having their transgender children taken away or being criminally prosecuted if they support their children's access to gender-affirming procedures and other health care," the report said.

In California, you're not allowed to use plastic straws, drive inexpensive traditional cars or put a gas stove in your home, but you are encouraged to treat your child as a science experiment.
Another post that day, from Alex Christy, complained that MSNBC had on someone "to accuse red states who do not believe in providing 'gender-affirming care' to minors of getting in the way of preventing youth suicides."
Curtis Houck complained in a Sept. 27 post that students and the Biden White House refused to take part in the right-wing anti-transgender narrative:
On Tuesday, far-left students in ultra-liberal areas of Virginia (and those looking to skip out on class) spilled out of their rooms and onto the streets in protest of Governor Glenn Youngkin's (R-VA) new education policy on transgender students that ensures parents have a seat at the table.

But when it comes to the media coverage, the liberals in the journalism profession have decided that Youngkin's policy "restrict[s] the rights of transgender students."

USA Today reporter Cady Stanton whined that the policy dared to "put decisions on students' identities and preferred names at school exclusively in the hands of their parents" and parroted claims from "students and parents" that "the changes put LGBTQ youth in danger because it bans they/them pronouns and allows students to be deadnamed or misgendered."
Houck then declared that the children's rights and feelings don't matter because the only opinion that matters comes from a Republican governor:
But again, it has nothing to do with robbing students of any identity. Rather, it brings parents into the equation on something as monumental as altering their name and sexual makeup as well as protecting women's sports by ensuring athletes remain with their actual gender.
Tierin-Rose Mandelburg, the MRC's chief transphobe, was even more dismissive of the protesting students: "The thing is, kids don't know anything. They can barely cook popcorn. How are they supposed to decide what freaking gender they are? Why can't they just worry about passing a math test or studying for the SATs? And all the policy does is keep parents in the loop." She further whined: "These walkouts are meaningless. All they show is that each school with students participating in 'walkouts' has failed to teach basic biology. If students learned about the two and only two genders in school, this wouldn't be happening."
Kevin Tober further defended Youngkin's anti-trans policies in an Oct. 9 post:
During an interview with Governor Glenn Youngkin (R-VA) on CNN's State of the Union, anchor Jake Tapper took issue with a new policy that requires students' bathrooms and sports teams to be based on a student's actual biological sex, not what they are pretending to be at that particular moment.

Tapper's concern was not for the girls who won't have to worry about having to share a locker room with delusional boys who pretend to be girls, but rather that this would make children who think they are the opposite sex, sad.

The leftist host failed to understand "how a one-size-fits-all ruling for all of Virginia follows those guidelines of parents have the right to make decisions and school shall respect parents," because "a school in rural southwest Virginia, they might look at this issue quite differently than across the river in Arlington."
Mandelburg raged against helping trans children in an Oct. 12 post, which she merged into her anti-abortion extremism:
Planned Parenthood has resorted to mutilating already born children after the possibility to kill unborn children has started to dwindle.

It may not make long-term business sense. The more people that destroy their sexual organs and systems, the fewer abortions for Planned Parenthood to perform -- and that's where the money is for that "women's healthcare" provider. But an abortion mill has to pay bills like anybody else, and Planned Parenthood never met an unholy abomination it couldn't get behind. So it's now offering "gender affirming" services. A cartoon advertisement promoting puberty-blockers for children has faced backlash on the internet ... rightfully so.

[...]

Planned Parenthood is extremely clear about how it doesn't value the life, health or safety of children both unborn and born alike. This is just the latest attempt to verify that anti-life stance.
| | | |
| --- | --- | --- |
| Related articles on ConWebWatch: | | |
| | | |
Jason Cohen -- who had written so much problematic content for the MRC (i.e., , trying to justify Kanye West's anti-Semitism) that he hasn't been allowed to contribute since the beginning of December -- turned in a few anti-trans posts as well. A Nov. 3 post mocked transgender people for having possibly having issues with voting because the gender on their voter ID may not match their outward looks, calling pointing out this issue "such a predictable adherence to the social justice playbook."

A Nov. 11 post ranted that a trans female teacher with what he called a "blonde wig, giant fake breasts, and protruding nipples" would be allowed to continue to teach, huffing that doing so was "codified insanity" and "supports the self-expression of sick adults over the safety of students." Cohen didn't explain how dressing that way made anyone unsafe. Cohen spent a Nov. 15 post being squicked out that some transgender people want mixed genitals, calling it "devastating mental illness" then pretended to care about them: "People who receive this kind of surgery will likely continue needing surgery for the rest of their lives. It will limit and burden them. God forbid they end up regretting it and cannot reverse it."

Mandelburg complained in a Nov. 21 post that a Canadian bank helped fund gender-affirming treatments for transgender people, causing her to whine: "The overall posture on transgender youth has gone from rare and radical to normal and celebrated. It's disheartening to see so much money in Canada, and in the states as well, go to something so evil but, that's what we're dealing with in this ongoing war against our kids."

That's right -- she thinks transgender people are "evil."

A Dec. 1 post by Jason Cohen -- his second to last before he disappeared from the MRC -- parroted a report from a right-wing group that freaked out over something called the "Transgender Leviathan," whatever that is:
The transgender craze is a "social contagion," according to a new report called "The Transgender Leviathan" from the American Principles Project Foundation (APPF).

Its stated goal is "to provide a consolidated analysis and understanding of transgenderism with the hope that Americans will do as they have done time and time again in times of cultural crises — to choose the good, to continue to advance human flourishing, and to protect the dignity of the human person."

The report made clear that so much of this phenomenon is due to misinformation propagated by the mainstream media.

[...]

In a sane society, these drastically dangerous gender-affirming measures would be halted. Or at least their severe effects would be exposed to the public so they can make more informed decisions.

But once a narrative is established and there is so much incentive to maintain it (read the report to find out about all the money involved), it is difficult to change.

As much as powerful forces attempt to prevent it, the truth will come out. One example given in the report is the Libs of Tik Tok Twitter account.

Hopefully, this report achieves its goal. If Americans understand this issue, they will do the right thing, regardless of media malpractice.
Actually, Libs of TikTok -- run by homophobe Chaya Raichik -- is better known for inciting threats against LGBT people and even hospitals that perform gender-affirming procedures for transgender people (threats that, by the way, the MRC is totally cool with).
Mandelburg, spent a Dec. 8 post raging that the American Girl doll brand won't spew hate at transgender people:
The popular children's toy brand, American Girl, is under scrutiny, as it should be, for releasing a book called "A Smart Girl's Guide: Body Image" that promotes transgenderism.

American Girl rebranded itself from its former name, Pleasant Company, back around the year 2000 when Mattel purchased the brand. Since then, the company has spiraled in terms of quality of products.

Previously, the company focused on 18-inch dolls with some minor accessories and clothing changes. They have also produced books that accompany dolls with different historical backgrounds. Each doll had a different history and heritage that young girls would learn about with the purchase of each toy and her story.

Now however, American Girl has an agenda and it is far from hidden.

Their "Body Image" book has a passage that says "If you haven't gone through puberty yet, the doctor might offer medicine to delay your body's changes, giving you more time to think about your gender identity," according to a note from Daily Mail.

"Body Image" also listed resources for kids to turn to "if you don't have an adult you trust." Oh great! Another group that encourages keeping important things hidden from parents.

[...]

This isn't the first time (and it's probably not the last) that a Mattel product has pushed the LGBTQ agenda to children that innocently enjoy their products. Earlier this year the company released a transgender Barbie doll.

Why Mattel had to take something so pure and good and make it bad is unbeknownst to me but that's what we're dealing with these days.

RIP to American Girl.
Only in the homophobic world of right-wing media is accurate medical information -- accuracy Mandelburg does not dispute -- considered an "agenda."
A Dec. 21 post by Mandelburg complained that an isolated incident in a school in Oklahoma wasn't blown up into a national excuse to hate transgender people:
Here's the story:

A transgender girl (ie. guy) got mad at another girl because she was ignoring him. As a result, he followed her to the girls bathroom and asked her if she "wanted to fight." He proceeded to come at her with "clenched fists, pulled her hair and threw her on the ground." A witness said the boy kicked the girl in the head and twice in the back. Said witness tried to stop the attacker but was punched in the face twice, resulting in a possible concussion.

The media had barely even mentioned this story.
Non-transgender boys arguably do this to girls much more often, unfortunately, but Mandelburg would never demand that those incidents be reported by national media. That's because her hatred for transgender people is so great that she is quite desperate to make an example here; indeed, she went on to sneer that "Public Schools, which are increasingly a target of the woke left's agenda, focus more on "inclusivity" and pushing wokeism than about the actual well-being of students."
That wasn't enough transgender hate from her that day. She wrote in another post:
My sister is a teacher and I can assure you she, like most normal teachers, has never been stressed about telling her students her gender.

In a recently viral video a teacher expressed his (I think) worries and anxiety about alerting his class that he's transgender. The teacher sought advice from his TikTok followers on how to address questions of confused children in his class.

[...]

Right off the bat, it's important to note that this video is just another example of how much people like this put themselves on a pedestal. They think they should have special treatment due to their "struggles" as they often call it for being trans which, mind you, is something they did to themselves.

[...]

Kids are not little pawns in a scheme to help you validate your feelings, emotions or gender identity. This teacher needs a reality check and to have his teaching license revoked.

Here's my advice for you to come out to your kids ... DON'T!
That's Mandelburg's (and the MRC's) approach to transgender people -- she wants them to disappear, seemingly by any means possible.
The latest from