Bill Donohue's Year of Bad Takes
The dishonest Catholic and CNSNews.com columnist spent 2022 spreading lies and misinformation about George Soros, Alfred Kinsey, a graphic novel about the Holocaust and more.
By Terry Krepel
Posted 12/5/2022
---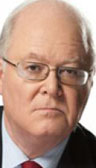 Bill Donohue
The Catholic League's Bill Donohue -- whose columns and rants CNSNews.com reliably publishes -- has always been a dishonest Catholic, but over the past year, he has spread his dishonesty to areas outside of his usual defense of the Catholic Church over priest sex scandals.

This particular round of dishonesty actually began in November 2021. He attacked HHS Secretary Xavier Becerra in his Nov. 19 column for purportedly "trampling on religious liberty," adding: "In his capacity as California Attorney General, he sued the Little Sisters of the Poor for resisting the HHS mandate of the Obama Administration; it tried to force the nuns to provide for abortion-inducing drugs in their healthcare plans." In fact, as we've documented, the Trump administration -- not the nuns -- in 2017 for broadening exemptions to contraceptive coverage under the Affordable Care Act, and then the Little Sisters of the Poor filed to intervene and eventually became a party to the suit. In other words, Becerra didn't initiate legal action against the order, despite Donohue's dishonest suggestion.

In his Nov. 23 column, Donohue tried to claim Thanksgiving as a Catholic holiday because Squanto spent some time with monks in England (after he had been, um, kidnapped and sold into slavery):
Then there are the Catholic roots to Thanksgiving that Jensen and his ilk do not want to discuss. Author and host Eric Metaxas has done the best work on this subject, recalling the travails and triumphs of Squanto, a brave Patuxent Indian boy.

In 1608, when Squanto was 12 years old, he was kidnapped by English colonists and was taken to Spain as a slave. Fortunately for him, some monks bought him. They cared for him, taught him their language, and introduced him to Christianity. The monks knew the young Indian Catholic boy wanted to go back to America so they sent him to live with a London merchant, John Slanie, and his family. He learned English well, and after spending five years with the family, he boarded a ship to America.

Squanto arrived in Plymouth, Mass., which is where he grew up. He was stunned by what he found: everyone he knew was dead. Contrary to what left-wing liars say, they were not bludgeoned to death—they died of smallpox. According to Metaxas, the Pilgrims "basically adopted him." Lucky for them, he spoke English and was able to help them.

[...]

Meanwhile, let's all partake in "self-indulgent family feasting" on Thanksgiving and thank the Lord for our Catholic-rooted national holiday.
The fact that Donohue is citing a children's picture book by Metaxas as an authoritative source on the life of Squanto shows all one needs to know about Donohue's own research skills (that, and the fact that Metaxas has been exposed by historians for his shoddy biography of Dietrich Bonhoeffer). Donohue also conveniently overlooks the fact that -- as numerous Twitter users roasted Donohue for -- the Puritans were fanatically anti-Catholic, which would seem to negate any Catholic claim to Thanksgiving that Donohue is trying to make.
Donohue served up another bad take in a Dec. 3 column:
He just won't leave Catholics and Jews alone. New York Mayor Bill de Blasio is now telling Catholic and Jewish school employees that they must be at least partially vaccinated by Dec. 20. In Catholic schools, 88 percent of school employees are already vaccinated, making absurd the mandatory measure.

[...]

De Blasio's vaccination mandate on yeshivas and parochial schools is being done, he says, to treat religious and public school employees the same. This, however, ignores our nation's long history, grounded in the First Amendment, of extending religious exemptions from government edicts on a wide range of issues. To conflate public and religious institutions is constitutional nonsense.
This is just the updated version of the bad take CNS and editor Terry Jeffrey pursued at the beginning of the COVID pandemic -- that religious institutions are exempt from public health mandates. That's not true, of course; religious gatherings are not exempt from COVID spread simply because they are not religious. Similarly, Donohue offers no evidence of any faith-based objections to COVID vaccines. Instead, he ranted about purported "government overreach." And he went on to push a conspiracy theory about de Blasio:
There is something else going on here that is troubling. De Blasio's mandated vaccination for religious school employees begins Dec. 20. The last day of school in Catholic schools in the New York Archdiocese, before the Christmas break, is Dec. 23. De Blasio's last day in office is Dec. 31.

This is a ploy. De Blasio is intentionally leaving his successor, Eric Adams, with a lot of baggage. The mess he has created, on many fronts, will take months, if not years, for Adams to rectify. This is his parting shot. It is aimed not simply at Catholics and Jews, but at Adams and his new administration.
Donohue provided no evidence whatsoever that de Blasio has any specific animosity toward religious institutions or, again, that requiring religious schools employees to be vaccinated is an attack on religion instead of a promotion of public health.
Donohue complained in his Feb. 23 column:
On Feb. 15, Edward McAlanis was sentenced to six months probation, 60 hours of community service, and $500 in restitution. He was previously fired from his high-salary job in financial services; he is now a pizza delivery driver. What did he do to merit these punishments? On Jan. 6, 2021, he joined a protest outside the U.S. Capitol, and entered the building without authorization. He posed for a picture in front of a statue of Abraham Lincoln. That was it.

By contrast, Antifa and Black Lives Matter (BLM) protesters killed innocent persons, set buildings on fire, assaulted the police, looted department stores, and participated in illegal street demonstrations. Practically nothing has been done to any of them.

[...]

The disparate treatment afforded those who participated in the non-violent Jan. 6 riot and those who participated in the violent Antifa and BLM riots, is a national disgrace. This has everything to do with politics, not justice.
Donohue is lying. In fact, thousands of people were arrested as a result of protests in the summer of 2020 -- more than 17,000 by one count. As of August 2021, more than 120 people had been convicted or pleaded guilty to federal crimes including rioting, arson and conspiracy. More than 70 had received an average of about 27 months behind bars. At least 10 received prison terms of five years or more.
Donohue ignored one other big difference: Even though McAlanis was apparently nonviolent, he still took part in a mob insurrection to attempt to overturn an election and effectively overthrow the government. The vast majority of protests against police brutality were peaceful, though some turned violent. Donohue provided no evidence that "Antifa and BLM" were solely responsible for all violence or called for violence.
Donohue sent on to claim that "Antifa and BLM rioters" were to blame for damage at Catholic churches during the unrest. But none of the links he provides proves that any BLM or Antifa member committed the offenses or that any BLM or Antifa official ordered the damage to be done.
Belatedly bashing 'Maus'
A good couple of decades late to the party, Donohue tried to capitalize on the then-current right-wing obsession with banning the graphic novel "Maus" in his March 23 column:
Over 200 leaders of Polish American organizations have signed a letter to members of Congress asking that a book which offers a vile depiction of Poles during the Holocaust be discontinued in the schools.

The letter has been distributed to members of the House Committee on Education and Labor, Subcommittee on Early Childhood, Elementary, and Secondary Education. It follows a decision by a Tennessee school district to drop the book from its curriculum.

The best-selling graphic novel, "Maus," by Art Spiegelman, which is targeted at children, features illustrations that are outrageous and needlessly offensive. But it is the lies, and the vicious insults hurled at Poles, that merit the most serious condemnation.

The letter by the Polish American coalition, led by Edward Wojciech Jesman, president of the Polish American Strategic Initiative, lists several reasons why "Maus" does not belong as an assigned or recommended book in the schools.
The book offers a flagrantly inaccurate account of the Polish experience during the Holocaust. Poles are portrayed as Nazi sympathizers, which is a lie — they were the victims of Hitler's genocidal agenda. Polish deaths were proportionately the greatest of any nation in World War II, which is why the deaths of Poles and Polish Jews constitutes a double Holocaust. Moreover, many Poles, drawing on their Catholic upbringing, risked their lives to save Jews.
Poles are depicted as pigs. "Pigs in popular culture are viewed as disgusting, filthy animals," the letter notes, "while in Jewish culture, pigs and pork are unclean in a way other animals are not. 'Maus' employs the same imagery of Poles found in Nazi propaganda, where they are routinely referred to as 'Polish pigs.'"
The takeaway for Polish schoolchildren who are required to read this book is that their people are morally debased and that their heritage is evil. No child deserves to be psychologically raped by educators.
It's clear that neither Donohue nor any of those Polish-Americans have read the book or even bothered to look into the story behind the depiction. Spiegelman himself explained it in an interview that pointed out his Polish-Jewish heritage as he discussed being asked about the depiction by a Polish embassy employee:
The day came, I went up to talk with the guy—entirely cordial. He indicated that they would be granting the visa, but he, too, wanted to know, very concerned: Why Poles as pigs?

"My initial reply, I suppose, was a bit facetious: 'At first,' I told him, 'I tried to render Poles as noble stags, but I eventually found it just too hard inking in all those antlers.' But then I went on, trying to explain how in the American cartoon tradition, pigs simply don't carry any particular negative connotation: Porky Pig, for instance, is every bit as cuddly and beloved a figure as Mickey Mouse. Although it wasn't lost on me that as far as my mother and father were concerned, the main thing about pigs is that they weren't kosher. Beyond that, in terms of the narrative conventions of the text, the main thing to be noted about pigs is that they are not part of the book's overriding metaphorical food chain. Pigs don't eat mice—cats do. Pigs are relatively innocuous as far as mice are concerned.

"The embassy guy nodded politely, but clearly he wasn't buying my explanations. 'Mr. Spiegelman,' he said gravely, at length, 'the thing you don't seem to understand is that in Poland calling someone a swine is a much, much greater insult than seems to be the case here in America. Swine, you see, is what the Nazis called the Poles.'

"'Exactly!' I replied. 'And they called us vermin. That's the whole point.' You see, I didn't make up these metaphors, the Nazis did. I was just trying to explore them, to take them seriously, to unravel and deconstruct them. I must say, I keep waiting for some Pole to take umbrage at the fact that I portray Jews as rodents—I mean, I'm not holding my breath or anything, though it would be nice.

"But actually, it's interesting when you look at those metaphors in the context of the sort of suffering competition that so seems to define Jewish-Polish relations nowadays. Because if you think about the Thousand-Year Reich as a sort of animal farm, to borrow a metaphor, Jews as rodents or vermin were pests to be destroyed and exterminated first thing, indiscriminately, as a matter of course. Whereas Poles as pigs, like all the Slavic races in the entire Nazi conception, while not to be coddled, weren't to be indiscriminately destroyed: They were to be put to use and worked for their meat. Neither status was enviable, but it's a distinction worth noting nevertheless.
Meanwhile, another observer noted:
Polish critics who rejected Spiegelman's work seemed unable to see themselves in this story of a Polish Jewish man who survived the Holocaust and encountered both kind and cruel Polish people along the way. For some, the simpler response was to reject the cartoon image of themselves. As [researcher Biz] Nijdam put it, "Instead of being upset about the history, they're upset about the pigs."
Because Donohue couldn't be bothered to do basic research, he doesn't understand that Spiegelman had a reason for doing what he did. Instead, he gives in to his usual historically ignorant performative outrage and demands that the book be banned:
Removing books from a school's curriculum should never be taken lightly, but when the book in question (a) maligns an entire ethnic group (b) is historically indefensible and (c) is aimed at innocent, unsuspecting children, then to make it available in the schools is nothing short of educational malpractice.

Those who defend assigning "Maus" would not assign a book which characterized blacks as pit bulls or American Indians as piranhas, never mind distort their historical heritage by depicting them as savages.
Interestingly, Donohue ended his column with this note: "Many thanks to Ronald Rychlak, Distinguished Professor of Law at the University of Mississippi, for bringing this issue to my attention. He is a member of the Catholic League's board of advisors." Rychlak was the public face of onetime Soviet Bloc spymaster Ion Mihai Pacepa, who served for many years as a useful tool for WorldNetDaily for anti-communism and Clinton-bashing, even endorsing Donald Trump for president despite his sketchy ties to Russian operatives. So it's not a surprise to see Rychlak have a hand in this ahistorical rant.
Indigenous schools and 'The Bell Curve'
Donohue is bizarrely desperate to smear others in order to protect his particular brand of right-wing Catholicism. He demonstrated this again in a July 27 column that began:
Pope Francis is in Canada apologizing for Christians who cooperated with Canadian government officials in assimilating Indigenous persons into society. The most serious charge against them, as outlined on p. 1 of the Introduction to the Report by the Truth and Reconciliation Commission of Canada, is that of "cultural genocide."

"Cultural genocide" is defined as the destruction of the "structures and practices" of a particular population; it seeks to eradicate their "political and social institutions."
But rather than address the issue at hand -- the Catholic Church's role in Canadian schools for indigenous children that sought to wipe out their heritage -- hew ranted that "Canadian Prime Minister Justin Trudeau is carrying out "cultural genocide" against his own people" by not hating LGBT people and abortion the way he does, screeching that Trudeau "was born to privilege, evolved into a white supremacist, and is guilty of committing cultural genocide against his own country."
Donohue finally addressed the school issue in his Aug. 2 column, where the first thing he did was try to downplay Catholic involvement in them:
There has been much recent discussion about the Report of the Truth and Reconciliation Commission of Canada. It found that 150,000 Indigenous children were taken from their homes and forced to attend schools that would assimilate them into the dominant culture.

It was the Canadian government that made the decision to suppress the culture of Indigenous persons, sending children to residential schools operated by the government, Catholic religious orders, and Protestant denominations.

The majority of the schools were not run by Catholics.
Donohue then ranted that Pope Francis referred to what happened at the schools as "genocide" and huffing that reporter "succeeded in entrapping the pope" to say that. He then denied there was any "genocide," cultural or otherwise:
The truth is Canada never witnessed "cultural genocide," never mind "genocide." Don't take my word for it—read p. 6 of the Report.

"Despite the coercive measures that the government adopted, it failed to achieve its policy goals. Although Aboriginal peoples and cultures have been badly damaged, they continue to exist." That is a true statement and it undercuts what was said on p. 1 about residential schools being an example of "cultural genocide." True genocides allow for few, if any, survivors.
Donohue then justified what the schools did to indigenous children by citing ... Charles Murray, the racist-adjacent author who is best -- and most notoriously -- known for a book called "The Bell Curve," which pushed junk science about IQ and race:
The Report accurately notes that "The residential school system was based on an assumption that European civilization and Christian religions were superior to Aboriginal culture, which was seen as being savage and brutal." Without justifying anything the schools did, there were very good reasons for thinking this way.

Charles Murray tallied approximately four thousand first-time accomplishments in history. He found that nearly 100 percent of the scientific and technological breakthroughs in history originated in Europe or North America. He came to the conclusion, which he did not anticipate, that the key to understanding this phenomenon is Christianity.

What Murray said is incontestable, making absurd the statement in the Report that "there is no hierarchy of societies." This is morally and historically indefensible. Are we to believe there is no difference between a society run by Norwegians and one run by Nazis?
Donohue then tried to insist that no children of note died at the schools:
The Report cites not a single person who was killed in the residential schools. So where was the genocide? There are two testimonials about killing in the 535-page Report. One was made by an Indigenous woman who said she witnessed her older brother kill one of her other brothers when she was nine.

The other cites a 2014 document that claims that "1,017 Aboriginal women and girls were killed and 164 were missing." If this is genocide, then it has nothing to do with the residential schools. These killings took place between 1980 and 2012. The residential schools were closed in 1969.

If the residential schools were guilty of genocide, surely the Report would find instances of torture, if not whipping. But no incidents of torture were cited. One instance of whipping was mentioned and it was committed by a government teacher in 1895.
Donohue didn't mention that there are reports of hundreds of children buried in unmarked graves at the school sites; at least 4,100 children have been confirmed to have died at the schools, and the number may actually be as high as 6,000.
Donohue completed his whitewashing attempt this way:
If we don't distinguish between cultural imperialism and cultural genocide—never mind "genocide"—we are belittling what happened to Jews in Hitler's Germany. We need to stop with the drama and the hyperbole—there was no genocide, cultural or otherwise, in the Canadian residential schools.
So Donohue is embracing racism and imperialism to minimize Catholic involvement in the operation of this schools. Sigh.
George Soros-Nazi lie
Donohue started his Aug. 25 column this way:
Few persons have done more damage to free societies than George Soros, the Hungarian-born billionaire. Yet in left-wing circles, the 92-year-old is regarded as a hero. That may have something to do with the fact that his Open Society Foundations have been greasing them for decades. Less well known is his record of bigotry.

Soros is known as a "self-hating Jew." As a young man in Hungary he became a Nazi collaborator.

In a 60 Minutes interview, Soros admitted that he helped confiscate property from Jews. He told Steve Kroft that he never regretted doing so. When asked if this was difficult, Soros said, "Not, not at all. Not at all." Stunned, Kroft said, "No feeling of guilt?" "No" came the reply.
That is a filthy lie. As has been repeatedly documented, Soros was a teenager in Nazi-occupied Hungary when Soros' father arranged to have his son pose as the nephew of a Hungarian official whose job it was to inventory the property abandoned by Jews who fled the country that the Nazis appropriated, playing no other role beyond helper. As any reasonable person might expect, Soros has no regrets about doing what he needed to do to survive the Nazis.

it appears we can add Donohue to the list of right-wingers who fervently wish that the Nazis had exterminated just one more Jew.

Donohue went on to rant that "Soros has a long history of supporting anti-Catholicism," citing his support of [checks notes] a organization called Catholics for Choice, who Donohue bizarrely insists is "anti-Catholic" despite being made up of Catholics, continuing:
In January, Catholics for Choice vandalized the Basilica of the National Shrine of the Immaculate Conception in Washington, D.C. At a prayer vigil that was held there before the March for Life, the Soros-funded entity desecrated the Basilica by using light-projecting technology to post anti-Catholic messages on it.
Projecting something on a building cannot possibly be "vandalism" since no damage is done to the building. He then served up a tale that doesn't quite hold together about another Catholic group he hates:
There is one other aspect to this story worth mentioning. After Obama was elected in 2008, the IRS contacted me to say that the Catholic League was under investigation for violating IRS strictures for non-profit organizations. After the probe was finally finished, we received a slap on the wrist.

I promised the IRS official I would not stop hammering pro-abortion anti-Catholic politicians, and that he should inform his superiors of my pledge.

More important, I told him that I knew who was behind the attempt to destroy me. Just before the 2008 election, a CNN staffer sent me copies of a long document detailing news releases I had sent that allegedly violated IRS rules. She did this because the person who sent it to her tried to get me kicked off TV; he sent the document to validate his request.

When the IRS complaint was sent to me before Thanksgiving in 2008, I quickly concluded that it looked amazingly like the document forwarded to me by the CNN employee. It was sent to her by Catholics United.

In other words, Soros was behind the attempt to silence the Catholic League.

He lost. It's too bad he hasn't lost more often—his legacy of hate has done much harm.
First: His attempt to blame Obama for the audit fails on the facts. He admitted that he received the complaint "before Thanksgiving in 2008" -- two months before Obama took office, meaning that Obama could not possibly have had any influence on the IRS to push for an audit. Further, Donohue said in 2013 that a copy of the Catholics United complaint was leaked to him in October 2008 -- before Obama was even elected.
Second: He offers no evidence whatsoever that Soros has personally targeted Donohue or his little Catholic League group -- he's just copiously dropping Soros' name because he's a right-wing bogeyman and can get clicks by doing so.
More dishonesty from Donohue? Doesn't surprise us at all.
Donohue vs. Kinsey
Donohue's year of dishonesty and bad takes continued in a Sept. 19 column:
What's wrong with child molestation? The question needs to be asked because the tolerant ones in higher education seem to like it, otherwise they wouldn't be defending the architect of the sexual revolution—and known pervert—Alfred Kinsey.

Last week Indiana University, home to The Kinsey Institute, honored the zoologist turned sexpert by erecting a large bronze sculpture of him on the Bloomington campus, marking the 75th anniversary of the institute. As will be made clear, the man was a sado-masochistic, child-abusing, voyeuristic pervert who had sex with men and beasts.

Kinsey became quite a star after World War II when he published two tomes on the sexual practices of men and women. According to Dr. Judith Reisman, who wrote prolifically about Kinsey, in the course of his research he sexually abused over 300 children.
Reisman's anti-Kinsey hate has been discredited, and there is no evidence Kinsey ever sexually abused a single child, let alone "over 300." Then again, Donohue did cite the author of the discredited, racist-adjacent "The Bell Curve" to justify the existence of schools that abused and mistreated indigenous children, so he knows how to pick bad people to defend his bad takes.
Donohue tried to spin that false accusation a couple paragraphs later -- and perpetuated another lie:
In a review of the 2004 movie, "Kinsey," New York Times critic Caleb Crain wrote that Kinsey gathered data on "attempts to bring to orgasm boys between the ages of 2 months and 15 years, in some cases over a period as long as 24 hours."

When asked about this, Reisman condemned Kinsey for his criminal behavior. "When you rape children, it's still a crime. And if you solicit it, and if you support it, it's still a crime." The real story is: Why didn't everyone else condemn him?
There is no evidence that Kinsey "solicited" people to molest children, let alone that he did so himself. The Kinsey Institute has said that data on pre-adolescent orgasm was based a sexual omnivore who kept "very careful notes" but not was instructed or encouraged by Kinsey.
But Donohue is not interested in facts -- he's interested in indulging in his homophobia. So he went on to drag up another fearmongering blast from the past: "To this day, many pedophiles and intellectuals adore Kinsey. Here is how the nation's most prominent homosexual child molesting organization, NAMBLA, remembers him on its website (note: there are no organized heterosexual groups dedicated to child rape)." In fact, NAMBLA really doesn't exist in any meaningful form these days.
Donohue concluded: "Those who defend Kinsey without knowing about his perverted history are an embarrassment—there is no excuse for their ignorance. Those who know about it and still defend him are moral monsters." Of course, Donohue is a moral monster who puts fearmongering ahead of facts and openly lies to his readers in order to advance his hateful agenda, and is counting on their ignorance to cite discredited "researchers" to get away with promoting his own hate.
The latest from