Newsmax Columnist Tries To Portray Capitol Rioters As Political Prisoners
Topic: Newsmax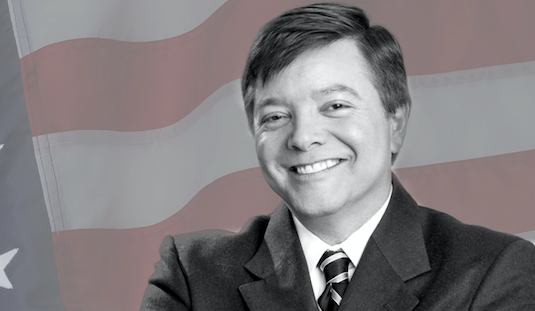 Jeff Crouere began his Jan. 3 Newsmax column by complaining:
Almost two years after the January 6, 2021, Washington D.C., protests that Democrats and the mainstream news media call an "insurrection," the Department of Justice (DOJ) is still asking for the public's help in identifying more people to arrest.

Of then 964 individuals charged with crimes for their participation in the protests of January 6, 2021, "hundreds" are still in Washington D.C. prisons today.

The conditions in these prisons are so horrific that 34 anuary 6th J6) prisoners asked for a transfer to the military terrorist prison at Guantanamo Bay, Cuba (Gitmo). In their letter pleading for a transfer, the J6 prisoners said that Gitmo would provide what they are lacking in their D.C. prison, namely "nutritional meals, sunlight exposure, top notch medical care" and respect for "religious requirements."
The fact that Crouere put "hundreds" in scare quotes tells us that he doesn't actually know how many are in jail; he's also blurring the line between how manyare in jail awaiting trial -- likely relatively few, given that most are out on bail -- and how many are serving prison sentences after being found guilty or admitting to guilt for their actions. Crouere also offers no proof that these arrested criminals are being treated any worse in jail than criminals who didn't take part in the riot (and note that he's not complaining about the conditions those poeple face).
Crouere went on to play whataboutism:
The harsh treatment of the J6 prisoners is in sharp contrast to the rioters who burned and looted in the aftermath of the death of George Floyd in police custody in Minneapolis on May 25, 2020. These criminals destroyed over $2 billion worth of property, attacked countless police officers and participated in 574 violent riots throughout the country.

Some of the worst violence occurred in Minneapolis, where Floyd died. Rioters either partially or completely destroyed or burned 1,000 buildings. As a result of this violence, 520 misdemeanor citations were issued, but 95% were quickly dismissed. Only 17 individuals were charged with federal crimes related to either arson or rioting.
Neither Coruere nor the article he linked to in support of his claim offered any evidence that those whose misdemeanor charges were dismissed actually committed any crime -- indeed, the article points out that the dropped charges were against people who were merely engaging in peaceful protest, which is not illegal. That article also pointed out that many rioters facing charges incriminated themselvesby posting their acts on social media -- just like the Capitol rioters did.
Crouere then served up what he thought was an ideal case of persecution:
While hesitant to act regarding left-wing protesters, U.S. Attorney General Merrick Garland is not restrained on the issue of J6 protesters. It is clearly the top priority for the DOJ.

For example, one J6 protester, Guy Reffittt, was charged with five felony counts and sentenced to seven years in prison. He did not enter the U.S. Capitol on that day, but he was with protesters on the stairs outside of the building.

This harsh approach is typical.

Note that Crouere refused to say what, exactly, Reffitt did. In fact, Reffitt -- a recruiter for a militia called the Three Percenters -- very much earned his prison sentence, as a real media outlet reported:
Reffitt "played a central role" at the head of a vigilante mob that challenged and overran police at a key choke point, a stairway leading up from the Lower West Terrace, before the initial breach of windows near the Capitol's Senate Wing Doors at 2:13 p.m., prosecutors said. After the riot, Reffitt warned his son and 16-year-old daughter that "if you turn me in, you're a traitor, and traitors get shot," his son testified at the trial.

Conventional sentencing rules are of "inadequate scope" to account for the range of Reffitt's obstruction, witness tampering and weapon offenses, prosecutors wrote in a 58-page sentencing memo.

[...]

Reffitt recorded himself at a rally led by President Donald Trump at the Ellipse saying he was ready to drag lawmakers including House Speaker Nancy Pelosi (D-Calif.) and then-Senate Majority Leader Mitch McConnell (R-Ky.) "out kicking and screaming," with "[Pelosi's] head hitting every step on the way down."

A jury found that Reffitt traveled to D.C. from his home in Wylie, Tex., with an AR-style rifle and semiautomatic .40-caliber handgun and repeatedly stated his intention to come armed with a handgun and plastic handcuffs to drag lawmakers out of the building. After returning home from Washington, he threatened his children to ensure they did not turn him in to authorities.
That inconvenient truth interfered with Crouere's victim narrative, which is why he hid it from his readers.
Crouere went on to engage in the usual rigtt-wing defense of Donald Trump's actions befort the riot:
On January 6, 2021, President Trump did not commit or encourage any violence. He did not lead the charge into the U.S. Capitol and was not even present outside the building.

Prior to the breach of the U.S. Capitol, he told a massive crowd of his supporters to march "over to the Capitol building to peacefully and patriotically make your voices heard."

Despite his calls for nonviolence, Trump was impeached by the U.S. House of Representatives for his actions on January 6, 2021. Fortunately, he was later acquitted by the U.S. Senate.
Crouere censored the fact that Trump also told the crowd to "fight like hell." He then whined about the House committee looking into the riot, using it to further portray Trump as a victim:
Despite his calls for nonviolence, Trump was impeached by the U.S. House of Representatives for his actions on January 6, 2021. Fortunately, he was later acquitted by the U.S. Senate.

This exoneration did not prevent a U.S. House Select Committee from targeting Trump in their biased activities. The committee was composed of all Democrats and two Never-Trump Republicans. There was never anything close to a fair proceeding in their activities.

In essence, the committee conducted a "Kangaroo Court" by focusing solely on Trump. Their so-called investigations involved 10 public hearings, as well as reviewing thousands of documents, conducting hundreds of interviews, and issuing dozens of subpoenas.

Not surprisingly, the committee recommended to the DOJ that Trump be charged with four crimes: conspiracy to defraud the United States, conspiracy to make false statements, obstruction of an official proceeding and inciting an insurrection.

It remains to be seen what the DOJ will do with these charges, but there is already a Special Prosecutor who has been appointed to investigate Trump's role in the J6 protests, along with the documents brought to his Mar-a-Lago home.

The unrelenting abuse of President Trump by his enemies is obvious. It must be investigated, along with the horrific treatment of the J6 protesters, by the new GOP leadership in the U.S. House of Representatives.
Just like a Trump loyalist to take an investigate-the-investigators stance rather than support a full probe of his hero.
Posted by Terry K. at 5:41 PM EST