CNS Continued To Follow MRC Parent's Lead To Promote 'Twitter Files'
Topic: CNSNews.com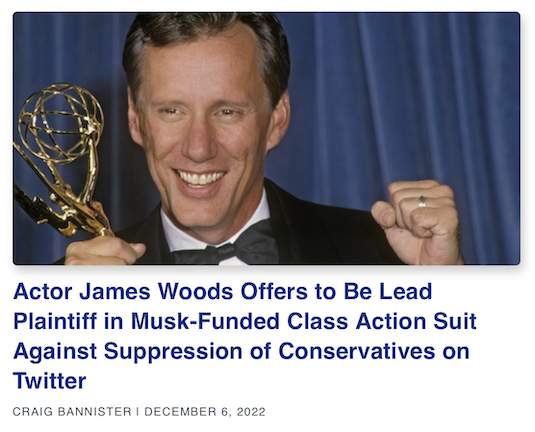 CNSNews.com has largely followed the lead of its Media Research Center parent in gushing over Elon Musk's purchase of Twitter. When Musk selectively released internal Twitter documents to hand-picked journalists, CNS stayed on those same right-wing pro-Musk talking points. Susan Jones cheered ina Nov. 30 article:
Elon Musk has promised to "soon" release the "Twitter Files on free speech suppression." As he tweeted on Monday, "The public deserves to know what really happened..."

The incoming chairman of the House Oversight Committee, Rep. James Comer (R-Ky.), says he's "pretty certain somebody affiliated with this government in Washington, D.C., was calling Twitter, telling them to suppress conservative speech."

[...]

Bartiromo asked Comer if he thinks the Twitter documents will show "how the White House called Twitter and others to say, censor the Hunter Biden story, don't let anybody know about Hunter Biden influence-peddling, making money on Joe Biden's name."

"Well, somebody called Twitter," Comer said.
Melanie Arter tried to turn Musk in to a victim in a Dec. 1 article that noted "White House Press Secretary Karine Jean-Pierre said Wednesday that the White House monitors the news and 'the misinformation that's out there' after being questioned about whether the White House would try to shut down Twitter if they see something they don't like," adding that "House Minority Leader Kevin McCarthy (R-Calif.) said Tuesday that he found it 'offensive' that the White House wants to keep an eye on Elon Musk's ownership of Twitter."
As those "Twitter files" started coming out, CNS piled on the accolades (and the bashing of those who woiuldn't blindly follow the narrative):
CNS also gave Musk praise for his claimed focus on removing child sex and sex exploitation materials from Twitter (as if pre-Musk Twitter wasn't also trying to do that).Intern Luaren Shank gushed in a Dec. 2 article:
Business magnate Elon Musk, the CEO of Twitter, SpaceX, and Tesla said eliminating child exploitation on Twitter will "forever be our top priority." At the same time, the idea of an OnlyFans competitor on the social media platform remains in question.

Musk tweeted on Nov. 29, "This will forever be our top priority," after Liz Wheeler, a conservative political commentator publicly thanked him for his actions to remove child pornography and child trafficking hashtags from Twitter.
That was followed by a Dec. 8 post by Craig Bannister repeating how Fox News host Greg Gutfeld "lampooned liberals and left-wing media for trying to find excuses to criticize Twitter's new owner, Elon Musk, for purging child porn from the social media platform" -- though he provided no evidence anyone is actually doing that.
(Musk does not seem to be doing a good job of this, by the way; hashtags and thinly veiled terms were still being found on Twitter a month later. Those particular terms were blocked only after NBC reported on it.)
Bannister served up talking points on behalf of a right-wing actor in a Dec. 6 article:
After new Twitter owner Elon Musk released Friday the first batch of tweets showing that Democrats had called on the giant social media platform to suppress opposition posts, conservative actor James Woods told Musk he'd gladly be a plaintiff in a Musk-funded class action suit.

Woods, appearing on Tucker Carlson's Fox News Channel show as the tweets were being released, said that his career had been destroyed by the targeting of conservative celebrities:

[...]

"Twitter acting by itself to suppress free speech is not a 1st amendment violation, but acting under orders from the government to suppress free speech, with no judicial review, is," Musk tweeted Friday, commenting on the release of a trove of tweets suggesting Democrats directed the censorship of conservatives.

"Agree. How would you like to fund a class @elonmusk," Woods offered, replying to Musk's tweet.
Bannister didn't mention that one of the "opposition tweets" from Woods that was "suppressed" was of an image of Hunter Biden with his penis exposed, which violated Twitter policies against non-consenual nudity then and now.
Managing editor Michael W. Chapman used the files as an excuse to spend a Dec. 7 article rehashing the MRC's election-fraud conspiracy theory that suppression of the Hunter Biden laptop story stole the 2020 presidential election from Donald Trump. As we've documented, that dubious conclusion is based on polls the MRC bought from Trump's own 2020 election pollster and a polling firm founded by Trump adviser Kellyanne Conway.
Of course, CNS' commentary side was similarly laudatory of Musk and help advance the narrative:
A Dec. 12 commentary by two employees of the right-wing American Institute for Economic Research chimed in as well:
Victims of Twitter's practices include Dr. Jay Bhattacharya, Stanford professor of medicine and co-author of the Great Barrington Declaration (GBD). Weiss's thread and The Twitter Files confirm what we've long suspected. Seeking to prop up Anthony Fauci and the lockdown policies he promoted in response to the COVID-19 pandemic, Twitter (and other Big Tech companies) intentionally blacklisted, censored, suppressed, and targeted the GBD and its signers.

[...]

Posts referencing the GBD were popular Reddit threads such as r/COVID-19 and r/Coronavirus, and large online communities with millions of members. Google also played a role. In the week after the GBD's release in October 2020, Google's news site search algorithms suppressed mainstream coverage of the document by outlets such as Fox News and th Wall Street Journal.

Instead, it steered news searches for "Great Barrington Declaration" toward anti-GBD hit pieces in fringe venues such as the Byline Times, a blog featuring 9/11 conspiracy theorist Nafeez Ahmed. Google algorithms reportedly prioritized an anti-GBD political editorial in Wired Magazine that Anthony Fauci also mined for his own anti-GBD talking points in the press.

These acts of censorship occurred at a time when government officials were working hard behind the scenes to discredit the GBD and its authors. Most notably, NIAID director Anthony Fauci and NIH director Francis Collins collaborated to wage a "devastating published take down" campaign against the GBD, labeling it "nonsense" or "misinformation."
As we've pointed out, the Great Barrington Declaration pushed dangerous "herd immunity" at a time when COVID was killing large numbers of Americans before vaccines were developed -- a strategy most virus experts opposed -- so it actually was misinformation. The declaraton had numerous fake signatures, and even Bhattacharya himself walked back his support for it.
Posted by Terry K. at 11:37 AM EST
Updated: Sunday, January 29, 2023 11:59 AM EST