MRC Parroted False Attack On Children's Hospital Over Gender-Affirming Surgery
Topic: Media Research Center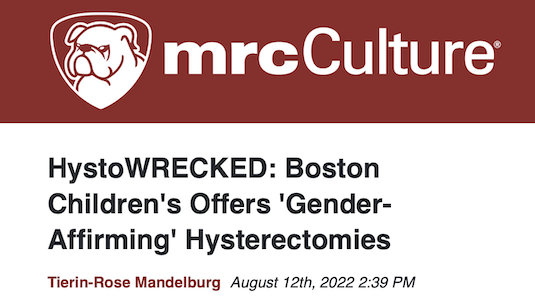 As part of its war on transgender people, Tierin-Rose Mandelburg ragedin a Aug. 12 post, taking her cues from a tweet by the LGBTQ-hating Libs of TikTok:
When reading daily headlines, I often find myself thinking that I dreamt what they say due to the extreme level of radical lunacy … Friday was one of those days.

Boston Children's Hospital recently boasted about its new procedures for kids. It plans to offer hysterectomies as part of its "gender-affirming" treatment in order to help children remove organs that they don't want.

No, this is not part of a dystopian fictional narrative. This is August, 2022 where even the craziest of stories and situations are coming to fruition.
Just one problem: It's not true. (But the internet is forever.) Mandelburg was later forced to update her post, as an editor's note pointed out:
PolitiFact fact-checked the Libs of TikTok tweet and clarified that Boston Children's does not perform hysterectomies on minors. Nonetheless, these are surgeries that take place at Boston Children's Hospital, a pediatric medical facility.
As part of the correction, Mandelburg changed "children" to " patients" but also added a sneer: "Boston Children's has not explicitly stated that it won't extend the procedure to younger patients in the future, not to mention, 18 is still too young for sterilization if you ask me." But nobody asked her, given that she's not a medical professional or is capable of expressing anything but hate and contempt for transgender people. The rest of Mandelburg's post was largely intact -- including the false Libs of TikTok tweet that remains embedded -- including her concluding rant:
Boston Children's has the potential to help and save so many lives but this "gender-affirming care" is a regression of those possibilities. This will only hurt patients in the long run and the media needs to expose the group for its lunacy in order to combat these vile, malicious, and destructive practices.
As right-wingers get called out for spreading this false information -- and as that misinformation resulted in threats against the hospital and its staff, to the point that the hospital sought help from law enforcement, even as Libs of TikTok continued to spread misinformation -- Alex Christy tried to parse things to justify the false attack in an Aug. 18 post:
On Wednesday's installment of New Day on CNN, host Brianna Keilar and correspondent Alexandra Field alleged that it is "misinformation" and "demonstrably false" to say that Boston Children's Hospital provides genital surgeries for minors. Unfortunately, reality is more complicated.

Keilar kicked off the segment by reporting that "Boston Children's Hospital says its doctors and staff have been facing violent threats after right-wing groups spread online misinformation and conspiracy theories like this one on TikTok about their facility providing care for transgender children."

Obviously threats are not acceptable, but the purpose of this segment was to shut up BCH's critics and Field wasted no time attempting to do just that, "Look, the claims being made online are demonstrably false, unequivocally."

She further reported that, "But the hospital has now put out a statement saying it's taking all possible measures to protect members of the community, and it is saying in no uncertain terms it condemns the attacks and misinformation that is being spread. It also goes on to say in very clear terms, 'Boston Children's does not perform genital surgeries as part of gender affirming care on a patient under the age of 18.'"

It is true that if you go to BCH's website it says in bolded text that "To qualify for vaginoplasty at Boston Children's Hospital, you must be at least 18 years old and meet certain," but on August 7, before the video went viral, the same website said in unbolded text that the age was 17.

Either the original website was wrong and nobody noticed until they got embarrassed on Twitter or BCH is lying. Either way, it is dishonest to say critics are spreading conspiracy theories that are "demonstrably false."
Christy censored the fact that his co-worker Mandelburg had her post on the subject corrected for repeating false information.
(Christy's post originally carred the headline "CNN Fact Check Peddles False Claims About Hysterectomies For Minors," but since he didn't actually identify any false claims CNN made, the headline was later changed without disclosure or explanation to "CNN Screams 'Misinformation' to Defend Woke Boston Children's Hospital.")
When the Washington Post reported that anti-trans attacks by Libs of TikTok are resulting in threats against hospitals, a Sept. 5 post by Clay Waters attacked not Libs of TikTok but, rather, rPost eporter Taylor Lorenz, who the MRC has previously bashed for following a trail of public information to identify Chaya Raichik as the homophobic woman behind the Libs of TikTok account:
Inflammatory, self-pitying Washington Post online media reporter Taylor Lorenz, who claims to fight (conservative) misinformation online, pushed her own line of intimidation and misinformation against one of her conservative targets, posted Friday: "Twitter account Libs of TikTok blamed for harassment of children's hospitals -- Employees are warning colleagues to take action against the anti-LGBTQ account, saying it's 'only a matter of time' before its posts lead to violence."

So what awful deeds does the Libs of TikTok account actually commit? It reposts unedited videos previously posted by lefties (often of the gender-radical variety) on social media channels, sometimes with brief commentary. Liberals who don't like their own idiocies exposed to the wider public react hysterically.

Lorenz had previously doxxed the woman behind the account, revealing her name and address in the Post.

Undaunted, Libs of TikTok is now publicizing video clips produced by hospitals, including Boston Children's Hospital, promoting "gender-affirming" hysterectomies -- surgeries for the removal of sexual organs -- for young people, though whether the hospital offered the surgeries to actual minors has not been confirmed.

That triggered Lorenz to try and do (along with co-authors Elizabeth Dwoskin and Peter Jamison) what she loves most: Try and drive Libs of TikTok off the internet.
Waters didn't explain why an account that incites threats of violence should not be policed, or why it "inflammatory" for Lorenz to research the woman behind that incitement.
This was followed by a Sept. 13 attack on Lorenz by Nicholas Fondacaro, claiming that she was "threatening to run a story falsely claiming the account "helped to foster violence," generate "death threats," and "intend[ed] to continue to target hospitals" with bomb threats. All of which are untrue and not supported with evidence." Fondacaro offered no evidence this was the case -- even though it's indisputably true that the threats against the hospitals came after Libs of TikTok targeted them.
Funny how quickly the MRC moved from "threats are bad" to "you can't directly blame us so it didn't happen."
Meanwhile, despite having been burned by Raichik -- Mandelburg was eager to spread more hate from Libs of TikTok against another children's hospital in a Sept. 19 post:
If you'd like to suppress the normal functions of your child's body or medically delay natural gender differentiations, head on over to Ohio.

Akron Children's Hospital in Ohio reportedly opened a "Gender Affirming Center" to shift the focus from actual children's health to progressive child abuse, Libs of TikTok pointed out.

"Our goals are to help gender-diverse youth feel comfortable exploring their gender identity and improve their overall health," the webpage, which has since been removed, said.

[...]

What's sad is that Akron Children's isn't alone in its progressive madness. Even though kids can't get a tattoo as they're "permanent," kids are not only able to, but encouraged to take life changing medicine to affirm an identity that is false.

This is the terrifying reality of our 21st century society.
Actually, what's sad is that haters like Mandelburg has a platform to spread and amplify that hate. Again, the predictable consequences happened: The hospital received threats, and a woman was arrested for calling in a fake bomb threat. We assume Mandelburg approves.
Posted by Terry K. at 9:23 PM EST
Updated: Friday, April 21, 2023 1:14 AM EDT