MRC Ratcheted Up Hatred Of Transgender People, Those Who Accept Them
Topic: Media Research Center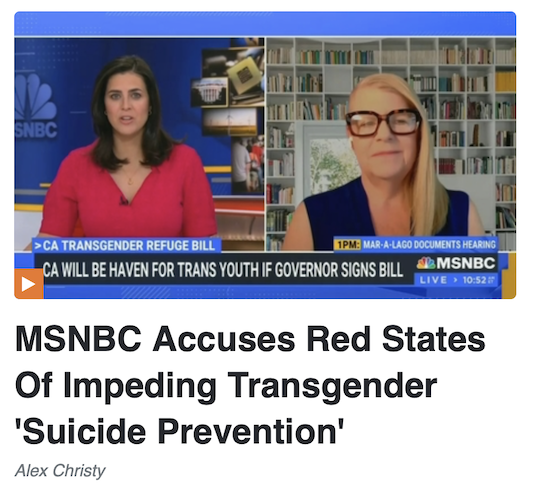 The transphobes at the Media Research Center continued to rage at transgender people and appropriate medical care for them as 2022 wore on. Matt Philbin sneered in a Sept. 1 post:
Now this makes sense. With normal people fleeing California in their thousands, the state has come up with a brilliant plan to replace them: become a sanctuary state for transgender kids and the parents who enable their delusions.

According to a KCRA3 report, the state assembly passed a bill to make California "a haven for transgender youth facing discrimination in other states." When the senate signs off on it, the state will "provide legal refuge to parents from other states who risk having their transgender children taken away or being criminally prosecuted if they support their children's access to gender-affirming procedures and other health care," the report said.

In California, you're not allowed to use plastic straws, drive inexpensive traditional cars or put a gas stove in your home, but you are encouraged to treat your child as a science experiment.
Another post that day, from Alex Christy, complained that MSNBC had on someone "to accuse red states who do not believe in providing "gender-affirming care" to minors of getting in the way of preventing youth suicides.
Curtis Houck complained in a Sept. 27 post that students and the Biden White House refused to take part in the right-wing anti-transgender narrative:
On Tuesday, far-left students in ultra-liberal areas of Virginia (and those looking to skip out on class) spilled out of their rooms and onto the streets in protest of Governor Glenn Youngkin's (R-VA) new education policy on transgender students that ensures parents have a seat at the table.

But when it comes to the media coverage, the liberals in the journalism profession have decided that Youngkin's policy "restrict[s] the rights of transgender students."

USA Today reporter Cady Stanton whined that the policy dared to "put decisions on students' identities and preferred names at school exclusively in the hands of their parents" and parroted claims from "students and parents" that "the changes put LGBTQ youth in danger because it bans they/them pronouns and allows students to be deadnamed or misgendered."
Houck then declared that the children's rights and feelings don't matter because the only opinion that matters comes from a Republican governor:
But again, it has nothing to do with robbing students of any identity. Rather, it brings parents into the equation on something as monumental as altering their name and sexual makeup as well as protecting women's sports by ensuring athletes remain with their actual gender.
Tierin-Rose Mandelburg, the MRC's chief transphobe, was even more dismissive of the protesting students: "The thing is, kids don't know anything. They can barely cook popcorn. How are they supposed to decide what freaking gender they are? Why can't they just worry about passing a math test or studying for the SATs? And all the policy does is keep parents in the loop." She further whined: "These walkouts are meaningless. All they show is that each school with students participating in 'walkouts'has failed to teach basic biology. If students learned about the two and only two genders in school, this wouldn't be happening."
Kevin Tober further defended Youngkin's anti-trans policies in an Oct. 9 post:
During an interview with Governor Glenn Youngkin (R-VA) on CNN's State of the Union, anchor Jake Tapper took issue with a new policy that requires students' bathrooms and sports teams to be based on a student's actual biological sex, not what they are pretending to be at that particular moment.

Tapper's concern was not for the girls who won't have to worry about having to share a locker room with delusional boys who pretend to be girls, but rather that this would make children who think they are the opposite sex, sad.

The leftist host failed to understand "how a one-size-fits-all ruling for all of Virginia follows those guidelines of parents have the right to make decisions and school shall respect parents," because "a school in rural southwest Virginia, they might look at this issue quite differently than across the river in Arlington."
Mandelburg raged against helping trans children in an Oct. 12 post, which she merged into her anti-abortion extremism:
Planned Parenthood has resorted to mutilating already born children after the possibility to kill unborn children has started to dwindle.

It may not make long-term business sense. The more people that destroy their sexual organs and systems, the fewer abortions for Planned Parenthood to perform -- and that's where the money is for that "women's healthcare" provider. But an abortion mill has to pay bills like anybody else, and Planned Parenthood never met an unholy abomination it couldn't get behind. So it's now offering "gender affirming" services. A cartoon advertisement promoting puberty-blockers for children has faced backlash on the internet … rightfully so.

[...]

Planned Parenthood is extremely clear about how it doesn't value the life, health or safety of children both unborn and born alike. This is just the latest attempt to verify that anti-life stance.
Mandelburg raged even harder at President Biden for inviting to the White House someone whom she dismissed with the "trannie" slur in an Oct. 24 post:
Would Joe Biden invite a pro-gun, pro-life, heterosexual, Christian to the White House? As if. But a trannie? Put out the welcome mat! Biden sat down with six "change-makers" on issues that young people supposedly care about for a "NowThis" interview. One of his special guests was a biological male pretending to be a woman, there to talk about how young people need to vote in favor of transgender rights.

Dylan Mulvaney became famous this past year after documenting his transgender journey on the popular app for young people, TikTok. Mulvaney was at day 221 of "girlhood" when he met with Biden about struggles as a transgender person and the backlash he faced in the political climate of America today.

In the interview, Mulvaney asked Biden about his plans and beliefs regarding transgender people in America.

"Mr. President, this is my 221st day of publicly transitioning," Mulvaney began.

"God love it," Biden replied.

Yeah, not sure God is that down with it, Joe.
She slipped in her usual anti-abortion rage:
Biden just said that we need to speak out about the basic fundamental rights of all human beings. That's really ironic coming from the man who is in active support of denying the MOST basic human right to the most vulnerable population in our society, LIFE! Biden has pushed for countless laws, talking points, and ideas regarding unlimited access to prohibiting innocent babies from receiving the most basic human right but is a huge advocate of trans people getting whatever they want.
Mandelburg, of course, cares nothing about the lives of people who are not heterosexual right-wingers like herself. She finished with one last tirade denmanding that people be afraid of transgender people:
Biden suggested that parents not "be afraid" of their kids becoming transgender. "Just because it's different, there's nothing to be fearful about," he said.

Nothing to be fearful about, huh? Go ahead folks and get your little girl's boobs chopped off, put your six-year-old on puberty blockers, and feel free to help your son tuck his balls up so there's no bulge in his dresses.

Nothing to be fearful of whatsoever.

The NowThis interview panel also asked Biden about gun legislation, abortion access, the climate crisis, criminal legal reform, and economic instability.

The sad reality is that these are the kind of people Biden loves -- his base. The people who will encourage more and more young people to vote for him and his social justice warrior gang and Mulvaney was just a sick prop in helping accomplish that.
Mandelburg doesn't see transgender people as having humanity -- all she sees are "sick props." Which raises the question of who the real prop is here.
Jason Cohen -- who had written so much problematic content for the MRC that he hasn't been allowed to contribute since the beginning of December -- turned in a few anti-trans posts as well. A Nov. 3 post mocked transgender people for having possibly having issues with voting because the gender on their voter ID may not match their outward looks, calling pointing out this issue "such a predictable adherence to the social justice playbook."
A Nov. 11 post ranted that a trans female teacher with what he called a "blonde wig, giant fake breasts, and protruding nipples" would be allowed to continue to teach, huffing that doing so was "codified insanity" and "supports the self-expression of sick adults over the safety of students." Cohen didn't explain how dressing that way made anyone unsafe. Cohen spent a Nov. 15 post being squicked out that some transgender people want mixed genitals, calling it "devastating mental illness" then pretended to care about them: "People who receive this kind of surgery will likely continue needing surgery for the rest of their lives. It will limit and burden them. God forbid they end up regretting it and cannot reverse it."
Posted by Terry K. at 11:08 PM EST
Updated: Sunday, January 29, 2023 4:29 PM EST