MRC Does Stenography For RNC In Partisan Attack On Google
Topic: Media Research Center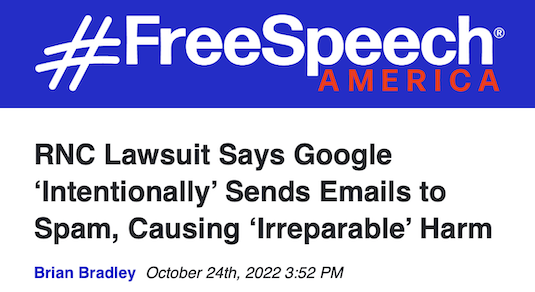 Earlier this year, we documented how the Media Rsearch Center falsely misrepresented a study, claiming that it showed Google's Gmail was exhibiting bias by sending more Republican campaign emails to the spam filter than Democratic emails -- but largely censored the fact that any purported bias goes away when users adjust their spam settings to receive those emails. Despite how misleading it is, it has become a full-blown right-wing narrative, and the Republican National Committee has decided to play along. Brian Bradley served as the RNC's stenographer in an Oct. 3 post:
The Republican National Committee told MRC Free Speech America on Monday that Gmail suppressed over 22 million GOP get-out-the-vote and fundraising emails Wednesday through Friday.

Gmail sent more than 3.1 million RNC emails to users' spam filters on Wednesday, more than 9.8 million emails to spam on Thursday and nearly 10 million emails on Friday, the RNC said.

"We're 40 days out from Election Day, we do not have any new transparency from Google," the RNC wrote in an emailed statement. "We have raised this issue with Google for months with no resolution. On top of it all, our emails have been suppressed despite concrete changes that have improved overall performance."

This comes more than a month after the FEC approved a Google pilot program to supposedly remove political spam bias from the email provider's email filter, following widespread outcry among Republican politicians and political organizations.

[...]

A March North Carolina State University study exposed that Gmail marked 67.6 percent of right-leaning candidates' emails as spam and just 8.2 percent of left-leaning candidates' emails as spam.
In fact, the NC State researchers pointed out that right-wing partisans like the MRC have misrepresented the study's findings, adding that any blocking occurred only in default settings on newly created accounts and that users are free to tweak their spam settings to receive any email they want. One researcher even said: "Gmail isn't biased like the way it's being portrayed. ... I'm not advocating for Gmail or anything. I'm just stating that when we take the observation out of a study, you should take all of the observations, not just cherry-pick a few and then try to use them."
But instead of publishing what the researchers actually said, Bradley simply parroted Republican attacks on Google. Bradley also did not provide a link to any RNC data that supports its partisan conclusions, though he embedded two graphs that are too small to see what they are actually of. He also touted how "GOP party leadership is reportedly exploring unspecified 'legal options' to end Google's 'clear pattern of bias.'"
When the RNC did launch that legal action, Bradley returned as stenographer again in an Oct. 24 post:
The Republican National Committee filed a lawsuit Friday asking a California court to require Google to stop sending hordes of Republican politicians' campaign emails to Gmail users' spam folders.

The RNC alleged seven counts against Google in its lawsuit filed in the United States District Court for the Eastern District of California, including violation of California's common carrier law, unfair competition, discrimination and negligence.

The committee is seeking a judgment that Google's political email spam practices are illegal, an order banning Google from spamming RNC's emails to supporters, and compensatory damages.

Google has pushed "millions of RNC emails en masse to potential donors' and supporters' spam folders during pivotal points in election fundraising and community building," the lawsuit alleges.
Bradley again misrepresented the results of the NC State study, andhe gave space to more right-wing activists. It wasn't until the 14th paragraph of his item that Bradley bothered to include a response from Google:
In a statement Monday to MRC Free Speech America, Google denied any actions to filter emails based on political affiliation.

"As we have repeatedly said, we simply don't filter emails based on political affiliation," Google spokesperson Jose Castaneda said in a statement to MRC Free Speech America. "Gmail's spam filters reflect users' actions. We provide training and guidelines to campaigns, we recently launched an FEC-approved pilot for political senders, and we continue to work to maximize email deliverability while minimizing unwanted spam."
But that's only two paragraphs of an 18-paragraph article. The rest are spent attacking Google -- ironic given how much energy the MRC expends complaining about alleged bias in other media outlets.
UPDATE: We found even more Republican stenography from the MRC over the email issue -- which also misrepresented the NC State study. Bradley touted an "EXCLUSIVE" in a July 5 post:
Republican senators are calling on Google to take quicker action after the company recently asked the Federal Election Commission to approve a pilot program to address concerns that Gmail's spam algorithm disproportionately affects GOP electioneering campaigns.

Google's filing with the Federal Election Commission (FEC) claims emails from participating campaigns won't be "subject to regular spam detection algorithms." But Sen. Steve Daines (R-MT) flagged the FEC's approval timeline as one of several concerns associated with the pilot, which comes at a critical time as GOP and Democratic campaigns briskly move forward just four months ahead of the 2022 midterm elections.

"It is difficult to see how the proposed filing with the FEC to conduct a pilot program accomplishes anything beyond delay and distraction from reforming [Google's] practices to allow for transparent, fair and equal treatment of Republicans and Democrats," Daines told MRC Free Speech America in an e-mail. "Response for permission to conduct the six month pilot may take 18 months. It isn't acceptable to allow one political party unfair and unequal advantage of this significance on such a dominant platform critical to the outcome of elections."
Bradley served up more "EXCLUSIVE" Republican whining over the pilot program in an Aug. 17 post:
Republican politicians knocked Google's newly approved email plan, suggesting it doesn't go far enough to ensure GOP fundraising emails reach Gmail users' inboxes.

The Federal Election Commission (FEC) on Aug. 11 approved a proposed pilot by Google to address GOP concerns that too few Republican political fundraising emails were reaching Gmail users' inboxes. The approval follows a March North Carolina State University study that exposed how Gmail marked 67.6 percent of right-leaning candidates' emails as spam and just 8.2 percent of left-leaning candidates' emails as spam.

In addition to the National Republican Congressional Committee (NRCC), Republican Sens. Steve Daines (MT) and John Thune (SD) expressed doubt that Google will shore up its documented left-leaning spam filter bias, even after the FEC approved Google's pilot proposal.
The MRC working hand-in-glove in pushing this anti-Google narrative demonstrates that it's a partisan storyline, not serious "media research."
Posted by Terry K. at 2:35 PM EST
Updated: Saturday, December 3, 2022 1:18 AM EST