Shady Men's Rights Activist Still Writing CNS Columns, Hating Women
Topic: CNSNews.com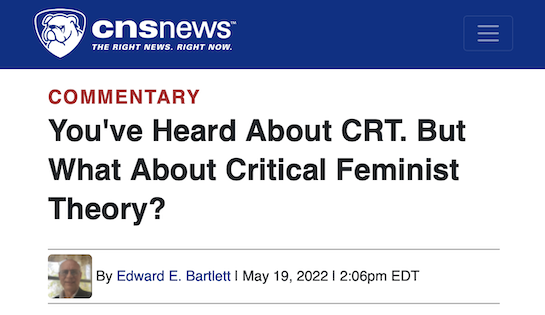 A few days after we documented the shady history of men's rights activist Edward E. Bartlett after he wrote a few columns that CNSNews.com published, CNS apparently decided that was the excuse it needed to publish more stuff by him. We've already noted Bartlett blaming women for men committing gun massacres, but there's more.
A May 17 column featured Bartlett complaining that "leftists began their long march to politicize and weaponize Title IX, expanding its focus during the Obama Administration to include sexual misconduct. And now we're seeing Title IX being harnessed for the purpose of promoting a radical transgender agenda." Bartlett clearly despises Title IX, so it's weird to see him defend it against the "radical transgender agenda," which he never actually defines.
Bartlett served up some old-school anti-communism in his May 19 column by ranting about the Frankfurt School, which led him to whine about the purported existence of "critical feminist theory," which he claims is based on "the widely held belief that feminism is working for the utopian goal of 'gender equality.' In reality, feminism has very little to do with promoting equality of the sexes, as revealed by the federal Violence Against Women Act. Anyone who has been following the riveting Johnny Depp-Amber Heard trial knows that female-initiated partner violence is a major problem in our society." He concluded by huffing: "Celebrate women, negatively stereotype men, and overturn capitalism. It's all part of the CFT agenda. And for most persons, it continues to fly pretty much under the radar."
Bartlett spent his May 26 column complaining about gender identity and cheering right-wing backlash to it: "At long last, however, we are witnessing a culture shift on the issue. Parents are seeing their parental rights eroded into thin air, and female athletes are predictably losing to their stronger and taller transgender counterparts. Even more troubling is when as boys and girls are told that their normal adolescent insecurities are evidence of long-suppressed gender dysphoria."
Bartlett opined more about the Johnny Depp-Amber Heard trial in his June 6 column, embracing the misogynist narrative that Heard was the evil feminist aggressor and Depp the victim:
Why does progressive gender ideology appear to incline women to mental illness?

Many forms of mental illness are the result of a cognitive disorder -- in other words, distorted thoughts about oneself and the surrounding world.

But feminists do not believe there is such a thing as "objective truth." One writer revealed the women's studies courses she had taken "led into an absurd intellectual alcove where objective truth is subordinate to academic theories used as political propaganda." And one feminist treatise referred to science as a "masculine disorder."

So imagine abandoning one's rational faculties, and instead going through life subject to the whims of your feelings -- as well as a series of vacuous slogans such as "gender equality," "women rule," and "the future is female."
Bartlett rehashed that narrative in his June 21 column blaming feminists for allegedly excluding fathers from the lives of their children:
So how do we explain America's failure to assure the involvement of fathers in their children's lives? Analyst Robert Franklin reveals the cascade of father-removing policies that begins the day a woman files for divorce:

Family courts that fail to abide by common-sense joint custody policies, and judges that refuse to enforce child visitation arrangements.
Rules that impose unreasonably high child support payments, unconscionably causing low-income dads to be put in jail for non-payment.
The states that allow children to be placed for adoption without even telling the dad.

In addition, domestic violence training programs routinely depict the father as the abuser, when in truth, the majority of partner violence cases involve the woman as perpetrator and the man as victim.
Bartlett blames Marxism for this, of course, for making women think they're people with worth. Can't have that in Bartlett's world. Yet he never demands that men be the kind of person that women will want to stay married to.
Posted by Terry K. at 1:07 AM EDT