The MRC Goes On Rogan Patrol, Part 1
When podcaster Joe Rogan got called out for spreading COVID misinformation, The Media Research Center rushed to his defense -- largely by pretending that misinformation is a subjective concept when a right-winger spreads it.
By Terry Krepel
Posted 3/21/2022
---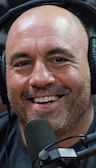 Joe Rogan
If podcaster Joe Rogan is not an actual right-winger, he's definitely right-wing-adjacent -- which is good enough for the Media Research Center.

In 2020, after Rogan moved his "massively popular" show to Spotify, the MRC's Alexander Hall highlighted criticism of him for the right-wing guests he has had, including Alex Jones, Proud Boys founder Gavin McInnes and an anti-transgender author. But Hall also touted how Rogan interviewed more mainstream right-wingers like Ben Shapiro and Jordan Peterson. In January 2021, Christian Toto gushed over Rogan's "refreshing take on Big Tech censorship," which basically came down to being opposed to banning Donald Trump from social media for his legacy of incitement. A couple months later, P.J. Gladnick defended Rogan from accusations of being a right-wing host -- hey, Bernie Sanders was once a guest!

(In fact, Rogan's guest list indisputably leans right.)

In June, Nicholas Fondacaro gushed that " the prolific eponymous podcaster ... tore into CNN media journalist and Reliable Sources host Brian Stelter for his bootlicking interview with White House Press Secretary Jen Psaki a couple of weeks ago," going on to call Stelter a "motherfucker." (Remember this whenever the MRC clutches its pearls about profanity in the media.)

So when Rogan started peddling misinformation about the coronavirus vaccine, the MRC predictably rushed to his defense over this "hot take." Kayla Sargent wrote in an April 2021 post:
Intellectual Dark Web member and podcast host Joe Rogan, once again, appears to have angered the left with recent comments on the COVID-19 vaccine in his podcast, The Joe Rogan Experience.

Some on the left, however, seemed to not only be displeased with Rogan's COVID-19 commentary, but also with the fact that Spotify has not taken action in response to the episode. Spotify holds an exclusive contract with Rogan.

During the podcast, Rogan said: "I think, for the most part, it's safe to get vaccinated. I do. I do. But if you're like 21-years-old, and you say to me, 'Should I get vaccinated?' I'll go 'no.'" He continued: "If you're a healthy person, and you're exercising all the time, and you're young, and you're eating well, like, I don't think you need to worry about this."

Of course, the left panicked over the fact that Rogan dared to question the vaccine in any capacity.
Sargent went on to cite Dr. Anthony Fauci -- who is definitely not part of "the left" -- criticizing Rogan's advice. But Fauci wasn't alone: a group of doctors denounced Rogan's misinformation, pointing out that "Rogan demonstrates that he lacks a simple, fundamental understanding about how infectious diseases — including Covid-19 — spread," adding that "While scientists and doctors are generally more trusted, competing messages like Rogan's can be confusing and affect people's behaviors with regard to their health."
The MRC has yet to mention that Rogan later tried to clarify his misinformation, denying that he's an anti-vaxxer but still (falsely) insisting that young, healthy people don't need the vaccine.
(Also: "Intellectual Dark Web"? Rogan's enthusiasm for hurling the "motherfucker" slur doesn't exactly scream "intellectual.")
By contrast, when Rogan bizarrely speculated that President Biden faked getting a COVID booster shot on TV, the MRC said nothing.
When Rogan started to get wider exposure in non-right-wing media, the MRC hated it. In July, Clay Waters complained that the New York Times published a "snotty" 5,000-word profile of Rogan that put immediately in defense mode: "Rogan, whose hugely popular podcast is now hosted on the music streaming service Spotify, is known for his wide range of interviewees from all parts of the culture and political spectrum. He was a supporter of left-wing candidate Bernie Sanders. Yet Rogan's mocking of cancel culture, self-righteous Hollywood, the pro-Biden media and other liberal sacred cows have put him in the crosshairs of the Very Online left." If Rogan attacks only liberals, that sorta discredits Waters' claim that's he's so open-minded that he has "interviewees from all parts of the culture and political spectrum," doesn't it? Waters went on to grouse that the profile was "littered" with "little cheap shots."
Alexander Hall grumbled in August that an article at The Verge suggested that Rogan might lose some of his audience with his exclusive Spotify deal -- or, in Hall's telling, "Liberals have recently expressed apparent joy over the possibility that fewer people may be listening to his podcast." Hall also served up some fawning defense: "Truly, Rogan is both wildly popular and politically unorthodox, far too masculine and free thinking for many liberals."
When Rogan said he contracted COVID last fall and took ivermectin to treat it, he -- and his right-wing media defenders -- got mad that CNN portrayed him as taking "horse dewormer," even though it was in the news at the time that people who were convinced that ivermectin works had been buying the equine version of it from farm supply store (even though it's not exactly the same thing and there's little credible evidence that ivermectin in any form works against COVID). P.J. Gladnick cheered in a Oct. 14 post when Rogan lashed out at CNN-affiliated doctor Sanjay Gupta over the issue:
If anyone wants to find out why much of the mainstream media ruins its own credibility by throwing dishonest insults while they think they're al all about "facts," check out the Joe Rogan interview on Wednesday with CNN's Dr. Sanjay Gupta.

Rogan pointed out the CNN lie that he took a horse dewormer (Ivermectin) for treatment when he came down with a case of Covid earlier this year. Gupta could not defend CNN on that but merely sheepishly acknowledged the lie but could not go beyond that for obvious job security reasons.
When Rogan spouted views that meshed with the MRC's right-wing narratives, the MRC was happy to echo them. On Oct. 20, Hall gushed that "World-famous podcast host Joe Rogan accused Google of rigging the flow of information, recommending an alternative platform instead," during an interview with Alex Berenson, a discredited COVID misinformer the MRC loves and whose credibility it tries to elevate by identifying him as a "former New York Times writer."
In a Nov. 11 post, Hall touted how Rogan and fellow right-wing podcaster Ben Shapiro "scorched Facebook founder Mark Zuckerberg's plans to launch a both augmented reality and virtual reality metaverse and theorized what it means for America."
Hall wrote in a Nov. 17 post: "Podcaster Joe Rogan joined many of the internet's biggest podcasters from Tim Pool to Michael Malice at a roundtable event. Rogan explained how he came to understand Big Tech is meddling in America's electoral process," adding that "Rogan also illustrated that Big Tech censors and the left are allied." Pool is a self-promoter who presents himself as a right-winger, and Malice claims to be a libertarian anarchist, whatever that is, so it seems not to have been a terribly well-rounded podcaster roundtable
Meet the COVID misinformers
When noted COVID misinformers Peter McCullough and Robert Malone appeared on Rogan's podcast in December, the MRC once again rushed to defend both Rogan and the misinformers, while censoring the inconvenient fact that misinformation was spread. That defense mode continued well into January.
First , though, it went into promotion mode. Hall raged in a Dec. 15 post that "YouTube censored an interview between world famous podcaster Joe Rogan and Texas-based cardiologist Peter McCullough about the COVID-19 pandemic." While Hall noted that the video violated YouTube's policy against medical misinformation, he didn't mention all the medical claims made by McCullough that have been discredited. On Dec. 31, Autumn Johnson promoted how "Vaccine scientist Dr. Robert Malone spoke with podcaster Joe Rogan about his ban from Twitter," promoting how "Malone said his tweets were about informing people about the science behind the COVID-19 vaccines and added that he has been contacted by multiple attorneys about the ban." But Malone's interview was laden with misinformation as well.
In a Jan. 8 post, Christian Toto gushed over how Malone, during his Rogan appearance, talked about "mass formation psychosis" (which isn't actually a thing), adding; "Twitter subsequently banned Dr. Malone, forcing him to move to GETTR. YouTube similarly yanked Dr. Malone's recent interview with Rogan, heard by the podcaster's massive Spotify audience. Toto then approvingly quoted right-leaning podcaster Dr. Drew Pinsky gushing, "The Fourth Estate needs a revolution ... and it might be Joe Rogan. He might end up the head of the Fourth Estate."
It took both Autumn Johnson and Gabriela Pariseau to complain in another Jan. 8 post that Malone "has been banned from LinkedIn reportedly because of his controversial views on COVID-19 vaccines." They touted how "Malone told Joe Rogan that he believes the government is conspiring against him because of his dissenting views" but didn't mention that what they're referring to as "dissent" is actually misinformation.
Related articles on ConWebWatch:
Alexander Hall huffed in a Jan. 13 post that "President Joe Biden called for social media companies to censor American citizens online during a speech Jan. 13, amidst a presidency marked by censorship and government crackdowns" -- actually, he asked them to deal with "misinformation and disinformation" -- going on to huff further: "It may be hard for some to even imagine Big Tech censoring more on behalf of Biden and the COVID-19 narrative. YouTube recently made headlines when it purged an interview between world famous podcaster Joe Rogan and Texas-based cardiologist Dr. Peter McCullough about the COVID-19 pandemic." He censored the fact that McCullough was also called out for spreading misinformation.

Johnson complained in a Jan. 14 post that numerous actual medical experts called out Malone's information, though she insisted on putting the word in scare quotes:
Hundreds of doctors called on Spotify to target Joe Rogan's podcast because of alleged Covid-19 "misinformation."

Rogan was criticized for hosting Dr. Robert Malone on his podcast. Malone, a vaccine scientist, was banned from Twitter for his tweets that questioned the efficacy of the COVID-19 vaccines. Now physicians want Spotify to remove the episode.

In an open letter, 270 doctors asked the audio streaming service to remove Rogan's podcast to stop so-called "misinformation" about the virus. Rogan has also been censored because of his views on treatments for COVID-19.

Infectious disease epidemiologist Jessica Malaty Rivera warned people not to believe Malone simply because of his medical credentials.
Johnson did note that "A fact-check in the letter rated the veracity of the claims Malone made in the interview," but she did not dispute any of the claims in it, meaning she has no factual basis to justify putting "misinformation" in scare quotes.
Contrary to Johnson's assertion, the misinformation is not "alleged"; it's real and documented. She did not mention the proof of that documentation.
Johnson returned to put misinformation in scare quotes again for a Jan. 16 post to deny that Rogan was spreading it, even though, again, it's well documented that he was:
Leftists are calling for platforms to ban famous podcast host Joe Rogan and political and social commentator Jordan Peterson to prevent the spread of so-called "misinformation."

[...]

Rogan is also in the left's crosshairs after he challenged the narrative on COVID-19. Rogan has hosted COVID-19 skeptics on his show and has opposed government mandates regarding the virus.
Clay Waters used a Jan. 18 post to whine that the New York Times was criticizing actual media censorship in Serbia, while "The Times has long embraced Big Tech squelching supposedly offensive viewpoints cross the pond, with their reporters taking the role of self-appointed hall monitor of internet speech." He cited as an example of the latter "Calls for media personalities that offer independent viewpoints on Covid, like uber-popular podcaster Joe Rogan, to be squelched in the name of public health." Waters didn't explain why Rogan deserves to be exempt from consequences for lying to people merely because he's "uber-popular."
Hall complained in a Jan. 19 post that YouTube pulled another podcast featuring McCullough, huffing that "Censors now appear to nix videos before they are even published." He added: "McCullough had told host Joe Rogan there was a 'suppression of early treatment' in order to "create acceptance for, and then promote, mass vaccination.'" Hall failed to tell his readers that a fact-check of McCullough found that he offered no evidence whatsoever to support this claim.
Toto returned to lie in a Jan. 22 post: "Liberals also want to silence Joe Rogan. He's not a journalist but someone eager to let multiple sides of a story be heard." Toto censored any mention of the misinformation spread on Rogan's podcast -- he apparently believes that's merely a legitimate side of a story.
But that wasn't the end of the story of Rogan's misinformation -- or of the MRC's aggressive defense. Read more soon.