MRC Complains Cowboys Owner Looks Like A Racist In Old Photo Of Him Hanging With Racists
Topic: Media Research Center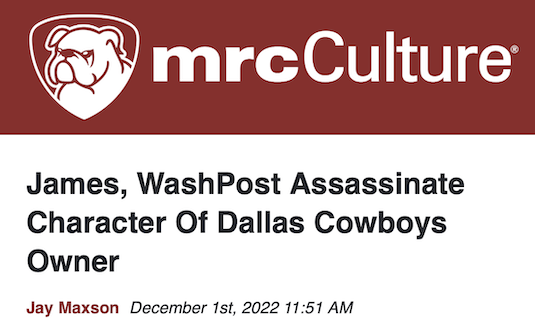 Oh, the people the Media Research Center chooses to defend -- like Dallas Cowboys owner Jerry Jones after the Washington Post found a 1950s picture of a teenage Jones among a crowd of segregationists harassing a group of black students integrating a high school in North Little Rock, Ark., where he grew up. An outraged Dec. 1 post by the mysterious Jay Maxson was in full lash-out mode -- not at Jones, of coruse, but at the Post for exposing and at LeBron James for commenting on it:
We know that LeBron James is more than an athlete and the Washington Post sports section is more than a sports section. They've told us so. On Wednesday night, James took on members of the media in condescending fashion after a Lakers' game about why they did not question his reaction to an ages-old photo of Cowboys' owner Jerry Jones watching desegregation efforts in Arkansas.

The Washington Post's race-baiting SJW's (who take a backseat to nobody -- not even James -- in their self-regard) are doing a series castigating the NFL for not hiring more black coaches. Last week the installment centered in on the photo of Jones watching racial intimidation in Arkansas as a 14-year-old boy. Jones was quoted saying he was present to watch the event out of curiosity and he did not participate in it.

The Post headline belittled Jones as a man who transformed the NFL, except when it comes to race. He was photographed in Arkansas during a time of racial conflict, and he's never hired a black man to coach the Cowboys. He's risen to power in the confederacy of the pro football plutocracy, the Post story goes, in part based on the cultural effect of Jim Crow of his youth. It's character assassination at its finest.
Maxson didn't explain why it was "race-baiting" for the Post to accurately report on the Cowboys' dismal record on coaches, or why it was "character assassination" to report accurate information about that and the photo -- or why he censored that the Post also reported that under Jones' Cowboys ownership, "just two of the team's offensive or defensive coordinators, the steppingstones to head coaching positions, have been Black, including none since 2008."
We also don't recall the MRC calling it "character assassination" whenever someone pointed out that the late Democratic Sen. Robert Byrd used to be a member of the Ku Klux Klan -- heck, the MRC is still reminding us of that to this day, typically as a way of besmirching President Biden.Indeed, Maxson himself (or herself) called Byrd "a real-life Klansman" in a July 2020 post, going on to whine, "Why are the monument removers not busily scrubbing away his name, where's the media outrage over him?" Maxson censored the fact that Byrd spent the final several decades of his life apologizing for his Klan involvement, to the point that no less than the NAACP favorably eulogized him when he died.
Maxson then complained that James "was miffed that the media had recently jumped all over the Brooklyn Nets' Kyrie Irving for anti-semitism and why Jones wasn't canceled over a photo of Jones resurrected from 1957," going on to huff:
Getting back to James, while constantly running interference for his evil Communist Chinese benefactors, he assumed that Jones was guilty of something for just having watched race relations boil over in Arkansas so long ago. Jones also opposed anthem kneeling in 2017, putting a target on his back for social justice warriors. James is no longer the Dallas Cowboys fan he used to be.

Irving was suspended in November because he posted a link on social media to a documentary that included antisemitic tropes, and he has since apologized. The media typically feeds James' massive ego and sought out his opinion on that issue. He craved for the same attention over Jones.
Maxson didn't mention that his MRC colleagues had trouble criticizing Irving's fit of anti-Semitism, with Maxson himself (or herself) playing the whataboutism card. And he played whataboutism here too, insisting that James was somehow a bigger racist than Jones.
In that vein, the closest thing to a forceful criticism of Irving's anti-Semitism by the MRC came in a Dec. 1 post by Mark Finkelstein -- and it happened only because Finkelstein was defending Jones and criticizing James:
What's next, Don Lemon: "whether or not you agree with the people hanging 'Kanye Is Right' banners?"

Lemon hosted a segment on Thursday's CNN This Morning to discuss LeBron James complaining that his old Cavaliers teammate Kyrie Irving has been subjected to intense criticism over his promotion of an antisemitic book and movie, whereas there has been relatively little attention paid to a photo that recently published by The Washington Post showing a 14-year-old Jerry Jones, now owner of the Dallas Cowboys, in a crowd blocking black children from entering a North Little Rock school in 1957.

Jones claims he was curious, but not a participant in the event. He was 14. Kyrie Irving is 30.

At one point, Lemon said of LeBron's statement:

"I've been making a very similar point, that there are a lot of people, whether you agree with Kyrie Irving or not, but there are a lot of people who feel the same way that LeBron James does."

So, there are two legitimate sides to this, Don? Those that agree with Irving that it is worthwhile to promote vile antisemitic tropes, including Holocaust denial, and those that don't?
To paraphrase a former president, are there "very fine people" on both sides of Kyrie Irving's promotion of antisemitism, Don?
Meanwhile, Nicholas Fondacaro suddenly found harsh words to condemn Kanye West's anti-Semitism -- something the MRC has also had trouble with -- in a Dec. 2 post that, again, came in the context of trying to defend Jones and attack James:
Racist Sunny Hostin was at it again on Friday's edition of The View. During a discussion about Kanye West's heinous comments spouting anti-Semitism and Holocaust denial, the ABC co-host demanded a "limitation" on the First Amendment. Something she surely doesn't intend to apply to her, as she followed up with a disgusting assertion that Dallas Cowboys owner Jerry Jones could have been in the KKK when he was 14.

[...]

The condemnation of West and his ilk was broken by co-host Ana Navarro, who hijacked the conversation to draw attention to Jones. She began the detour agreeing with basketball player LeBron James's hypocritical gripe that people go to him for his opinion on matters dealing with race and bigotry.

"LeBron made the point that he gets all these questions about Kyrie Irving, about everybody else, and all these things. He says, you guys haven't asked me about Jerry Jones and why the disparate attention?" she said.

They missed the obvious point that James gets people asking him about those things because he's put himself out there as an activist on the issue of so-called "social justice." He gets asked about Irving because he's a fellow player in his league, while Jones is an owner in a different one. Meanwhile, The View doesn't have an issue with James's silence on China's genocide of the Uyghurs.

"I hope Jerry Jones really does take the opportunity to own this, to talk about it, to explain it and to talk about the change that has happened in 65 years, and his role in it," Navarro proclaimed, saying he's someone "who has so many black players, who has such a platform, who has all this money, who's got all this access"

In the 1957 photo in question, a 14-year-old Jones can be seen craning his neck from what The Washington Post reluctantly admits is "yards" away from other teens blocking passage of black students from entering a high school. And Hostin admitted Jones "claims he was just a casual observer at that event."

Joy Behar pointed out that Jones, who's now 80, was only 14 in 1957. But Hostin countered, pointing to how other kids Jones's age at the time were in the KKK, seemingly hinting at the possibility that Jones could have been one of them:
On the subject of China, Fondacaro seems to have forgotten that his employer hypocritically stopped criticizing Elon Musk for being too cozy with those commies when he got intersted in buying Twtter to own the libs. Instead, Fondacaro is demonstrating yet again that the MRC cares only about criticizing racism or anti-Semitism when doing so advances its partisan right-wing narratives, and they have little interest in unequivocal criticism of their fellow right-wingers.
Posted by Terry K. at 9:32 PM EST
Updated: Wednesday, January 4, 2023 10:47 PM EST