MRC Is Lashing Out At NewsGuard Again
Topic: Media Research Center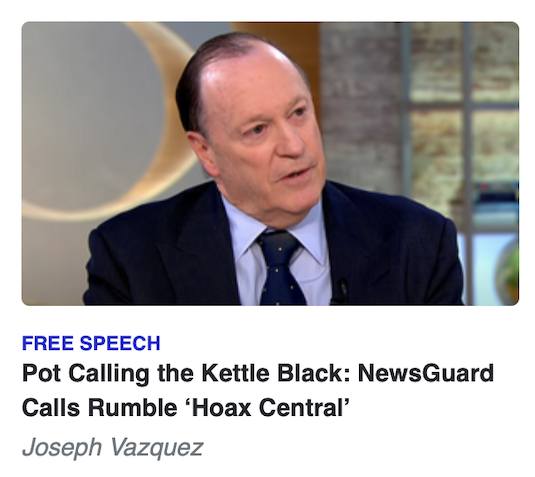 The Media Research Center has spent the past couple of years waging a loud, lame war against website credibility-rating firm NewsGuard for pointing out the inconvenient fact that right-wing websites are not very credible -- which, in the tunnel-vision eyes of the MRC, can only mean that NewsGuard is somehow "biased" and its rating system is faulty. That fallacious whining has continued of the fall.
An Oct. 25 post by Catherine Salgado complained that the New York Times was "citing leftist, biased NewsGuard to back up its claims" that disinformation is rife on what she euphemistically called "alternative social media platforms" -- read: right-wing sitres like Gettr, Gab, Rumble and Truth Social, which she also laughably and dishonestly called "pro-free speech platforms" -- going on to reference how "MRC Free Speech America research showed that NewsGuard's ratings skewed in favor of left-leaning outlets, the firm rating those outlets as having substantially more "credibility" on average than right-leaning outlets." Salgado also referenced"evidence that censorship of the Hunter Biden laptop story by Big Media and Big Tech helped steal the election for then-presidential candidate Joe Biden in 2020, according to a Media Research Center survey conducted by McLaughlin & Associates." As we've pointed out, McLaughlin was Donald Trump's election pollister, so a poll result that supported its client was preordained and discredits the MRC's "evidence."
Joseph Vazquez spent a Nov. 4 post complaining that NewsGuard called out the disinfomation posted at Rumble:
Leftist internet traffic cop NewsGuard is in no position to be throwing around the "hoax" label when its own CEO tried to dismiss the Hunter Biden laptop scandal as a "hoax." It's a classic case of the pot calling the kettle black.

NewsGuard released a new self-serving report headlined: "Making YouTube Look Good: Rumble Becomes Hoax Central Ahead of the Midterms." NewsGuard's primary complaint was that Rumble doesn't abide by NewsGuard's leftist ratings system like censorship-obsessed YouTube does:

"In search results, Rumble pushes twice as many sites rated untrustworthy by NewsGuard as YouTube," which is laughable in the face of a December 2021 MRC study that showed outlets rated "left" or "lean left" by AllSides getting an average NewsGuard score of 93/100, while sites that AllSides considered "right" or "lean right" scored an abysmal average NewsGuard rating of 66/100.

This is the same NewsGuard whose CEO Steven Brill claimed before the 2020 elections that the Hunter Biden laptop scandal reported by the New York Post was a Russian "hoax."
Vazquez doesn't prove anything NewsGuard says to be wrong -- he simply engages in whataboutism ranting about how "authoritarian Russia and Communist China" have accounts on Facebook. He also whined that NewsGuard called out the Rumble accounts of right-wingers Steve Bannon, Steven Crowder and Dan Bongino for spreading disinformation, but he offered no evidence that they don't.
When NewsGuard highlighted how purveyors of misinformation saw increased engagement after Elon Musk bought Twitter, Brian Bradley was there to complain about it in a Nov. 15 post:
Another day, another NewsGuard mudsling against the First Amendment.

NewsGuard, a wildly biased website rating firm, attempted to tarnish Elon Musk's Twitter using its flawed rating system. Musk has expressed an eagerness to promote free speech and eschew unfair censorship on the platform, but not without a fight by NewsGuard.

"Twitter's most popular NewsGuard Red-Rated untrustworthy accounts garnered 57.04% increase in engagement in the week following the change in ownership," NewsGuard wrote in an article Friday.

New Twitter CEO Musk's pro-free-speech stance has apparently encouraged "greater activity by malign actors, boosting the popularity of misinformation on the platform," the article reads.
In fact, both Twitter and NewsGuard are private companies to which the First Amendment does not apply. Bradley even hyped a couple of those serial misinformers -- but insisted that NewsGuard is the problem, not them, because it apparently doesn't have a sense of humor:
NewsGuard took specific aim at two of the 25 accounts that it lambasted as publishing "false" claims about COVID-19: Dr. Joseph Mercola and Dr. Christiane Northrup.

Mercola turned to Substack after YouTube in September 2021 banned his account for spreading so-called COVID-19 "misinformation."

NewsGuard complained that Mercola "published numerous false claims about vaccines and the COVID-19 pandemic, and that Mercola's Twitter interactions "rose from 932 to 19,259, a 1966.42% increase in engagement and the largest increase measured by NewsGuard."

The article also included a tweet of a meme Northrup posted on Oct. 28, depicting a cartooned Musk mocking a caricatured, crying leftist.

NewsGuard portrayed Northrup as "a self-described wellness expert that has also repeatedly published false information about COVID-19."

Maybe get a sense of humor, NewsGuard?
By not disputing that Mercola and Northrup do, in fact, spread misinformation, Bradley is basically trying to maliciously privilege misinformation by dishonestly labeling it as "free speech." He doesn't explain why misinformation shouldn't be countered, or why he's so desperate to see it spread.
After NewsGuard called out Fox News' Tucker Carlson for his rampant misinformation, Salgado went on the attack in a Dec. 6 post:
Try figuring this one out. Biased ratings firm NewsGuard reportedly gave leftist CNN's Inside Politics a credibility score of 9/10, while Tucker Carlson's Fox News show notched a 0/10.

MRC Free Speech America showed in a December 2021 report that "credibility" arbiter NewsGuard has a strong leftist, anti-free speech bias. But the online ratings firm is now expanding beyond online news to TV news, Variety reported.

Variety said NewsGuard's ratings of "140 cable, streaming, and network television shows and networks will be available to advertising agencies, marketers, and others starting January 2, 2023."

NewsGuard's bias is already evident based on its TV show ratings. NewsGuard scored Fox News's Tucker Carlson Tonight< at rock bottom, giving the show a 0/10.

NewsGuard claimed Carlson's show "regularly advances false, misleading, and unsubstantiated claims on topics of importance such as COVID-19 and U.S. and international politics."

"NewsGuard is a dangerous form of censorship," said MRC President Brent Bozell. "They are trashing Tucker's show and downgrading anything they don't like, then pushing advertisers to bail and force them off the air."
As with her fellow writers, Salgado made no effort whatsoever to rebut what NewsGuard actually said ahout Carlson, even though its report on him cites numerous examples of misinformation he has spread. Instead, she whined that "Inside Politics" host John King is "blatantly biased" while citing a few cherry-picked statements.
The MRC has no interest in a good-faith debate with NewsGuard about website credibility -- it simply wants to shout down NewsGuard for revealing inconvenient truths about the shoddiness of right-wing media.
Posted by Terry K. at 10:06 PM EST