MRC Would Rather Keep Griner In Russian Prison Than Trade Her For Arms Dealer
Topic: Media Research Center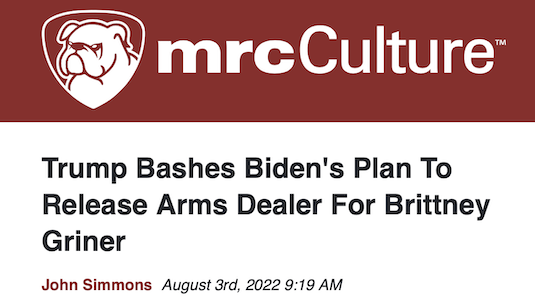 The Media Research Center has been looking for excuses to keep WNBA star Brittney Griner rotting away in a Russian prison on trumped-up drug charges. The latest: It doesn't like the person the Biden administration is reportedly offering in a prisoner exchange for Griner. John Simmons huffed in an Aug. 3 post:
As we wait for the Brittney Griner situation to reach its drawn-out conclusion, President Joe Biden has proposed a moved to get Griner out of Russia … but at a terrible cost.

White House national security spokesperson John Kirby has confirmed that Biden has signed off on a plan to potentially swap Griner and corporate security executive Paul Whelan for Russian arms dealer Viktor Bout, who is currently serving a 25-year prison sentence in the U.S.

"The president and his team are willing to take extraordinary steps to bring them home," Kirby said. "We believe it's important for the American people to know how hard President Biden is working to get Brittney Griner and Paul Whelan home."

Bout isn't some low-tier player in the arms dealing world, he was formerly once one of it's most dangerous and powerful operatives.

Simmons went on to approvingly quote Donald Trump smearing Griner:

Any sane individual would see this deal and think, "I'm all for freeing American citizens, but we cannot let Bout go free." Former President Donald Trump basically said the same thing when he went on the Clay Travis and Buck Sexton Show.

"She went in there loaded up with drugs into a hostile territory where they're very vigilant about drugs. They don't like drugs," Trump said. "And she got caught. And now we're supposed to get her out – and she makes, you know, a lot of money, I guess – and we're supposed to get her out for an absolute killer and one of the biggest arms dealers in the world."
Griner was not "loaded up with drugs"; she had two vape cartridges of cannibis oil.
Scott Whitelock devoted an Aug. 5 post to a "nets ignore" item on how terrible "vicious terrorist-backer" Bout is and how unworthy of a trade he is for Griner.He did somehow manage to avoid slandering Grainer like the MRC's sports bloggers love to do: "Americans want to see any imprisoned fellow citizens brought home quickly. But when Joe Biden is considering releasing a violent terrorist-supporter who has been intent on killing Americans, viewers should be told just how serious a decision that may turn out to be." Jay Maxson played the whataboutism card in another post the same day:
Vice-president and world class hypocrite Kamala Harris is in full virtue signal mode with her condemnation of Russia for sentencing WNBA all-star Brittney Griner to nine-plus years of prison for drug possession.

As the district attorney for San Francisco, Harris was the bane of marijuana users. She jailed 1,900 of them. Now all of a sudden, with her higher profile as VP, Harris has done a 180 with her opposition to a black, lesbian basketball player's cannabis conviction. If it weren't for double standards, leftists like Harris would have no standards at all.
Maxson went on to sneer that Harris is now "enlightened about marijuana users. Especially if they can attract black, lesbian voters."
Yet another post that day cheered an NBC reporter for criticizing the proposed swap but but complained that he said he was "sorry to say it."
Simmons found yet another person to criticize the proposed swap in an Aug. 9 post: "Most current and former NBA players have a shockingly low amount of common sense, but former Boston Celtics forward Enes Kanter Freedom is a welcome exception. ... Freedom, like any human being with a shred of common sense, sees this proposed plan as foolish and potentially detrimental to the United States in the long run."
Maxson was back to laughably smearing Griner as a drug smuggler in an Aug 17 post -- then pretended he (or she) cares agout Griner's plight:
Our bad. Shame on us for failing black women who try to smuggle drugs onto planes. Through our bigotry, we have really let down Brittney Griner, the black lesbian basketball star serving a nine-year prison sentence in Russia for drug smuggling.

Our accuser is Yahoo writer Sughnen Yongo-Okochi, an immigrant from Nigeria, who says the narrative on Griner needs to change. She assailed the people who say Griner should not have broken the rules in Russia, for they are "overly righteous and puritan when a black person gets into the slightest trouble."

[...]

The harsh reality is that Griner has been detained for months, and has allegedly been treated poorly, not by Russian detainers, but by Americans. Instead of investing in wisecracks, showing genuine support is what is needed now.

Yet the empathy for Griner has been underwhelming, writes her defender. It's deeply insensitive for people to counter that LeBron James would not have put himself in the situation (she tried to carry vape cartridges containing cannabis onto a plane in Moscow and got busted.)
Maxson quickly returned to hateful ways, though: "Griner's story demonstrates that we need to do a better job of protecting black women. Who knew that she needed us to protect her by yelling "no!" before she tried to board that Russian jetliner?"
Maxson ramped up the homophobia in an Aug. 18 post maliciously cheering low TV ratings for the WNBA:
With a strong LGBT-ISK3FG flavor, the WNBA has become one of the most woke, left-wing, unappealing professional sports enterprises in the United States.

This is also a league that adorned its courts with BLM and Brittney Griner decals. It named Griner, the Phoenix Mercury center imprisoned on drug charges in Russia, an honorary starter for its 2022 all-star game. Apparently, that's their idea of a 'heroic figure.'
An Aug. 22 post by Simmons, though, somehow managed to avoid spewing hate at Griner to evoke a more universal sentiment: skepticism that an offer by Dennis Rodman to help free Griner will amount to anything.
Posted by Terry K. at 8:54 PM EDT
Updated: Wednesday, September 7, 2022 9:06 PM EDT