Vladimir Putin's Favorite WND Columnist
Scott Lively is using his WorldNetDaily columns to try and convince readers that the Russian leader isn't such a bad guy despite his invasion of Ukraine, largely based on their mutual hatred of LGBT people.
By Terry Krepel
Posted 8/22/2022
---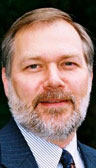 Scott Lively
A lot of right-wing praise for Russian leader Vladimir Putin stopped aging well around Putin's invasion of Ukraine, particularly at WorldNetDaily. But one columnist is still doggedly defending the Russian leader: Scott Lively, who's still trying to convince people that Putin is a great guy -- mostly based around the idea that Putin hates LGBT people as much as Lively does.

A couple months before the invasion, Lively spent a Dec. 27 column trying to convince us that Putin's not so bad:
But this article is not just another COVID-tyranny complaint from the aggrieved citizenry (as valid as that would be). It is a challenge to the MAGA movement to awaken to the danger of a separate class of false and manipulative propaganda most do not recognize as such: the demonization of Putin and Russia.

Some readers will blanch at that characterization and start mentally parroting all the anti-Putin and Russia talking points we've heard relentlessly since 2014. Why do some conservatives feel comfortable aligning with Obama, Clinton, Bush, Soros and the corporate media on Russia but virtually nothing else? Is it because Russia is truly still the Evil Empire of the Soviet years? Or because there really are no effective pro-Russian advocates of stature in the U.S. to counter the anti-Russian arguments of the left and the neocons?

[...]

Now, I'm not claiming Putin and Russia are faultless. No leader or nation (or political candidate) can survive scrutiny of their conduct against the standard of perfection. Maybe Putin did assassinate political rivals, or maybe that's just CIA spin or propaganda. We'll never really know, but let's just suppose it's true. Does his body count approach that of the Clintons? Is there any leader or nation today with purely clean hands in such matters? Has there been anything like honest two-sided debate on ANY of the anti-Putin, anti-Russian talking points for the conservatives to base their opinions on?

My objective here is to encourage people to ignore the talking points and simply compare Putin and Russia with Biden and the U.S. on how each handles the issues we say are important to us, most of which fall under the category of human rights.
Translation: Lively is about to tout Putin as a champion of "true human rights" -- defined as hating LGBT people as much as he does:
It is with a very heavy heart as a man who loves his country that I admit today that Russia has surpassed America as a defender and protector of true human rights.

True human rights are those that have been recognized as such through the history of human civilization, not the Marxist wish list of moral, cultural and political perversions that have been aggressively forced upon the world by the United States since the Clinton administration and slammed into hyper-drive by Barack Obama. And yes, I condemn the Bush 43 administration as well, having fought an unsuccessful battle in Riga in 2007, alongside the late great Pastor Ken Hutcherson, to stop the U.S. Embassy under Bush from forcing a "Gay Pride Parade" down the throat of Latvia's 90% pro-family majority. (Trump did better than Bush, but not by much.)

Just last week Putin reminded the world how a rational world leader handles cultural Marxism, saying, "I am a proponent of the traditional approach that a woman is a woman and a man is a man. ... A mother is a mother, a father is a father. And I hope that our society has the internal moral protection dictated by the traditional religious denominations of the Russian Federation."
Lively then gushed over Putin's purported rationality on Ukraine:
He also addressed the Ukraine situation with similar rationality: "Our actions will depend not on the course of negotiations, but on the unconditional guarantee of Russia's security. We made it clear that NATO's movement to the east is unacceptable. The United States is sitting with missiles on the doorstep of our home. How would the Americans react if someone delivered missiles to the border with Canada or Mexico. And who owned California before? And Texas?"

On these and many more issues, the U.S. has abandoned both rationality and respect for natural rights in favor of the naked self-interests of corrupt special interests, from "the big man" Biden who ran the Ukraine shakedown for Obama, all the way down to the lowliest BLM/Antifa street thugs pushing anarchy.
Lively concluded with a view of Russia that was pretty much in fantasyland even before the invasion:
From the integrity of its elections – where Putin has genuine massive popular support – to his balance of basic civil rights with legitimate state security through such means as banning George Soros' entities – to the fine-tuning of Russia's military as a fighting machine and not a laboratory for woke social experiments – Putin and the Russians have flipped the script on human rights and world leadership compared to the United States.

And the MAGA patriots' failure to recognize and highlight that fact helps the Marxists tighten their grip on America. How can we stop deceived Americans from drinking the Marxist Kool-Aid on woke topics when we're drinking a different flavor of the same stuff – demonizing the people who should be our strongest international allies?
If Putin had "genuine massive popular support," why did he poison his biggest rival, Alexei Navalny, then throw him in prison on trumped-up charges? And if Russia's election are so filled with "integrity," why were last year's elections rigged?

Nope, Lively's Putin-love wasn't aging well when he wrote it, and it's now a total dumpster fire. Yet at the start of the invasion, Lively was still defending Putin and blaming the U.S. in general and President Biden in particular for somehow forcing him to invade Ukraine. He ranted in his Feb. 24 column:
The corporate media are spinning this conflict as unprovoked Russian aggression, but it's really a logical Russian reaction to deliberate un-ignorable provocation by the Biden/Obama administration. Biden has created this crisis both to deflect attention from serious political trouble at home and to create a scapegoat for the "Great Collapse," which I believe is imminent.

The start of this mess was Joe Biden's sudden, arbitrary and unilateral push to fold Ukraine into NATO, essentially to put anti-Russian nukes on the Russian border. It was the political, geographical and diplomatic equivalent of the Cuban Missile Crisis in reverse, with Vladimir Putin in the role of JFK.

[...]

Setting up Russia to have essentially no choice but to respond militarily was exactly what Obama, Biden, Clinton and Soros did in 2014 with their coup to remove Ukraine's pro-Russian president and replace him with an Obama puppet. As I've said many times before, that coup – especially regarding the Crimean Peninsula and its centuries-long military importance to Russia – was the geopolitical equivalent of Russia taking Hawaii away from the U.S. We would never accept that. To protect his legitimate national interests Putin had no choice but to annex that territory, an action overwhelmingly ratified by the mostly ethnic and culturally Russian inhabitants of Crimea.

[...]

President Trump, who would never have gotten into this situation in the first place, will be the main beneficiary of this crisis IF the MAGA movement keeps its eye on the prize of retaking the country and doesn't get caught up in anti-Russian jingoism. We may see American deaths in Ukraine (where we have had Special Forces personnel all along), triggering a pre-set full-court media blitz to gin up patriotic furor amidst a call to "rally behind our president," with accusations of treason if we don't. (The antiwar movement will stay curiously silent at best, or join the war chorus at worst). We may see some sort of false flag event on our soil blamed on Russia – my best guess is a cyber attack on our energy grid in the northern states. I have argued that Obama staged the now-forgotten fake power shutdown in Vermont in 2017 as part of a plot to start a hot war with Russia during the Obama/Trump transition – so there is precedent for this.

Through all of this, never forget the blame belongs to Biden!
Lively continued giving Putin a pass in his March 1 column, while also manufacturing a conspiracy theory:
Let's leave aside the question of whether Christian Russia – which has both honored God and protected normal marriage in its new constitution – has any right to use military force to stop the Obama/Biden/Clinton/Soros-created LGBT Woke-ocracy of Ukraine from putting anti-Russian nukes on the Russian border.

Let's instead ask whether God is using Barack Obama's avatar, Joe Biden, to punish our own country. I'll answer with another question: "Politically speaking, what is the last best hope for saving America?"

Isn't it the MAGA movement?

[...]

The bottom line is this. Biden's Ukraine war and Russia scapegoating is part of a larger strategy for killing the Red Wave in 2022, and if we're not smart enough to see that and make a course correction back to unity and focus on the essentials, he/they might just pull it off.
For his March 18 column, Lively folded China into his conspiracy theory:
This next answer may shock you if you've allowed the propagandists to define reality for you, but what country represents the greatest threat to China in the world today?

It is the largely re-Christianized nation of Russia. Christianity has ever been the nemesis of Marxism, but even more importantly, Russia is by far the most significant country ever to have overthrown its Marxist government and replaced it with a Christian one (or at least heavily Christian-influenced one). That rejection of Marxism for Christianity so infuriating to the Western elites, especially on the issue of sexual morality, is the real reason we get non-stop anti-Russian dogma in our media. (Though China, like the former Soviet Union, only pushes destructive sexual perversion OUTSIDE its borders).

Today's Russian culture may still seem overly authoritarian to Americans, but to the enslaved billions of China it is a beacon of freedom whose very existence threatens Communist rule.

Who really benefits from the Ukraine war? It's not Russia, which knew it would suffer severe consequences for a preemptive attack but feared that less than NATO encirclement. It is China, who used its American puppets to create the Ukraine crisis to drive Russia, with all its vast resources and virtually uninhabited eastern lands, into it's waiting economic arms – and which eagerly hopes to re-enslave Russia's population to Marxist ideology and government.
Or, you know, Putin simply could have chosen not to invade Ukraine, which would avoided the position of having to seek help from China. But Lively doesn't seem to have considered that possibility.
Lively continued his defense in his May 12 column, insisting that Putin deserves a "fair hearing":
The same corrupt elites who orchestrated both the 2014 anti-Russian coup in Ukraine and the 2020 anti-American coup to remove President Trump are now focused on regime change in Russia itself. The key to their plan is demonizing Vladimir Putin as the new Hitler. Our whole country seems to have been swept up in the smear campaign, but we Americans, especially we conservatives, should not be so quick to surrender our right to informed consent when the potential for a nuclear WWIII is on the line.

I am writing this article in my four capacities as 1) an attorney, 2) a pastor 3) a missionary with extensive relevant experience in Russia and the former Soviet Union, and 4) a serial victim of serious media character assassination.

As an attorney, I am reminding everyone that one of the fundamental bedrock principles of American jurisprudence is a) innocence until proven guilty, b) by a court of competent jurisdiction, c) after a careful review of ALL the relevant evidence, d) as presented, explained and defended by competent legal counsel, and e) in a balanced, rules-based adversarial contest designed to ensure that the truth of the matters at issue will prevail. This is America's gold standard of fairness: the best in all the world since the dawn of civilization, which has set us apart from, for example, third-world dictatorships that convict people without trial in the court of public opinion with no counter-evidence allowed because it's banned as "disinformation."
Lively again tried to make the argument that Russia is more Christian than the U.S. and that Putin was unfairly being Saul Alinsky'd:
As a missionary with extensive relevant experience in Russia and the former Soviet Union, I can testify from firsthand observation that today's Russia is not only NOT a Communist country, but is (point for point) arguably more Christian in its culture and policies than the now Marxist-controlled United States – a fact I am ashamed and distressed as a patriot who loves my country to have to admit. I have never personally met or interacted with President Putin, so my opinion of him is based on publicly available sources, such as his speeches and media interviews. However, I have assessed the mentality and character of the Russian people in hundreds of interactions spanning all levels of their society and believe them to be the closest to American conservatives of all the peoples of the world that I have encountered in my missionary and personal travels through 66 countries. And they – the Russian people – are overwhelmingly pro-Putin. He is to his people the equivalent of Donald Trump, but with a much higher percentage of the population behind him (although every day Biden remains in office, Trump's support rises).

[...]

The only possibility of escape from the Saul Alinsky trap is to present counter-evidence to the smear narrative, which is impossible if that evidence is censored as "disinformation" by the government and media moguls. I successfully broke free from the trap by doing something too interesting to the public for my enemies in government and the media to suppress: I ran for governor of Massachusetts and showed my true self to the people during that campaign. But Putin literally has no defender of significance in the U.S. to counteract the character assassination – and so, for all the reasons listed above, I am making this humble effort.
Lively then decided to play dumb, declaring that he can't possibly know if Putin is a war criminal because the government and media are liars and really, when you think about it, none of us compare to Jesus:
To be absolutely clear, I don't know if Vladimir Putin is guilty of any of the specific acts of which he has been accused over the years. I personally don't trust the accusers in the Biden/Obama Defense, State or Intelligence agencies and the media and neither should any American conservatives, because we've all been smeared by the same people for years. That doesn't mean Putin is innocent, but it does mean that we should all recognize our personal investment in ensuring he gets a fair evidence-based hearing and that we shouldn't just join the media-inflamed lynch mob against him. I hope we can all agree that edited and spun TV news reporting is NOT trustworthy evidence. (Can I get an Amen from the pro-lifers, Second Amendment and Trump supporters here?)

It's not just that we have a duty to seek and speak truth, and a huge investment in preserving the principle of "innocent until proven guilty," but we ought to be wondering WHY they're suppressing open discussion on Putin and Russia so aggressively and HOW we might benefit by knowing whatever truths the media may be hiding from us.

I do know that the first rule of character assassination of a public figure is to never allow the public to compare the target with other public figures as a measure of their merit, but only to compare them to a hypothetical perfect alternative. We saw this in the gross mistreatment of President Trump when every one of his flaws, real and imagined, were spotlighted and magnified while similar or comparable flaws in every other politician were simply ignored or whitewashed.

If we're going to try Putin in the court of public opinion, the least we can do is compare him point for point not with the perfect standard of Jesus Christ, but with other current and recent world leaders. How does Putin compare, for example to Joe Biden? Justin Trudeau? Boris Johnson? Emmanuel Macron? George Bush? Bill Clinton? Angela Merkle? Barack Obama? Have any of them killed foreign enemies? Conducted military operations on foreign soil that harmed civilians? Sabotaged political rivals? Consorted with billionaire "oligarchs"? Making fair comparisons is a duty we owe to ourselves, as much as to those being smeared.
But never fear -- despite his decision not to actually examine the evidence, Lively has declared he looked into it enough and is giving Putin his continued stamp of approval:
I've done my due diligence and, on balance, believe Putin is a relatively a good leader of his people – far better than Biden – and certainly not a Hitler. Again, I'm not saying Putin isn't a flawed man. I'm saying the accusations against him should be tested in a fair hearing. None of us should unthinkingly parrot war propaganda from people we have good reason not to trust. We should instead demand that our golden standards of discerning truth are applied to these questions. Wouldn't you demand the same for yourself if you were the target?
The fact that Lively is endorsing Putin even after numerous reports of war crimes tells us that there's good reason not to trust him.
He was at it again in his June 13 column, defending Putin as a fighter of "globalism" and again embracing how he hates LGBT people as much as Lively does:
To my knowledge, I am the only culture war analyst in the world who contends that the current Russia/Ukraine war started not with President Putin's Feb. 24, 2022. "Empire of Lies" speech, nor with the Obama/Soros-orchestrated Maidan coup on Feb. 22, 2014, to replace pro-Russian Ukrainian President Viktor Yanukovych with their own stooge, but with Vladimir Putin's signature on June 30, 2013, making the LGBT propaganda ban the law of the land.

More than any other factor in the vast constellation of geopolitical rivalries and concerns, that single act declared the Russian Federation an enemy of globalism, and more importantly in the realpolitik sense, an enemy of the megalomaniac "closeted" homosexual Barack Obama who, even then, had done more to advance the global LGBT agenda than any other living man.

[...]

Regarding the Ukraine war, the conservative movement has been slowly awakening from the globalists' propaganda-driven hypnosis to realize that Russia is NOT the bad guy in this conflict, but was set up and used as a scapegoat by the very people who orchestrated the plandemic, stole our election and turned America's children into sexual anarchists and social-justice terrorists. Being forced to take preemptive military action to preserve legitimate and essential national security interests is not "unprovoked aggression." In fact, Russia's legal defense under international law to all of the globalist false accusations and propaganda is very sound.

[...]

However, if you are among the remnant of the remnant who appreciate just how close our nation has come to triggering the wrath of God, and that Russia is now actually far closer as a nation to honoring the biblical worldview than we are, you will recognize that IF the Lord tarries, and IF He intends humanity to have a reprieve from globalist tyranny, it just might be that Russia, not America, will be responsible to stop the evil elites from enslaving us all. Or perhaps (best case scenario), we MAGA millions might retake our country in 2022 and 2024 and partner with Russia against the globalists (as Trump strongly implied we would in his 2016 campaign)!

Frankly, I think it is much more likely that we have reached the end of the line and are watching the final scenes of prophecy unfold. Yet, that is all the more reason to speak the truth about all things. And the truth is that Russia is now a more Christian nation than we are, and the evil people ushering in the Antichrist kingdom are based here, not there.
Needless to say, Lively doesn't bother to explain how Putin slaughtering thousands of people who posed no military threat to Russia before his invasion of the country can be justified as "Christian."
Lively also touted as evidence of how "Christian" Russia supposedly is that the country's "national Duma (legislature) has just introduced legislation to expand its 2013 ban on LGBT propaganda to children to include ALL LGBT propaganda throughout the society." You'd think Russia might have more important things to deal with these days than censoring speech it doesn't like, but that just makes Lively love Putin all the more. Not only did Lively explain how censorship is "Christian," he also didn't mention that his source for this story got its information from Russia's own propaganda outlet, RT.com.
That means Lively is serving as a propaganda agent for Russia -- but we knew that already. Still, it's not a good look for an American citizen to be a foreign country's mouthpiece. Let's hope Russia is at least sending a few rubles his way for the effort.
The latest from