MRC Served As DeSantis' Campaign Press Agent
Topic: Media Research Center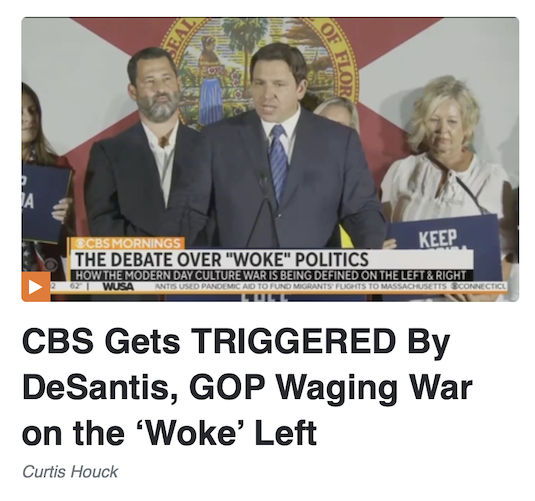 The Media Research Center's DeSantis Defense Brigade was kept quite busy in 2022 putting out various fires the right-wing Republican Florida governor started and proving that, as with Donald Trump, there is nothing so offensive that DeSantis can do that the MRC won't try to defend. And given that DeSantis was running for re-election, the Defense Brigade stepped things up on the way to the midterms to shout down criticism and opposition. Curtis Houck served as DeSantis' press agent in an Oct. 3 post praising the governor for lashing out at criticism of his handling of recovery efforts after Hurricane Ian hit the state:
Over the weekend, the liberal media made the pivot to pin blame for Hurricane Ian's catastrophic destruction and loss of life in Florida n Governor Ron DeSantis (R) and Lee County officials. CNN was naturally part of this campaign Sunday afternoon as they sent correspondent Nadia Romero to confront DeSantis. Spoiler alert: It didn't go well for them as DeSantis wiped the floor with the assembled journalists.

CNN chief carnival barker Jim Acosta tossed to Romero in the 4:00 p.m. Eastern hour after he led off his newscast by insisting Florida officials "are facing mounting questions about the timing of their mandatory evacuation orders" in Lee County.

Romero began with snark: "Why do you stand behind Lee County's decision to not have that mandatory evacuation until the day before the storm?"

Showing why he's more polished than anyone in politics and seen by many conservatives as their top 2024 pick, DeSantis promptly wiped the floor: "[W]here was your industry station when the storm hit? Were you guys in Lee County? No, you were in Tampa. So, that's — yeah, they were following the weather track and they had to make decisions based on that."

DeSantis added that, 72 hours from landfall, the area wasn't "even in the cone" and "the periphery" at 48 hours, "[s]o, you've got to make the decisions the best you can."
Alex Christy served up more post-Ian cleanup for DeSantis in a Oct. 5 post, complaining that PolitiFact called DeSantis' complaint about Lee County not being in the cone until three days before the hurricane hit was "mostly false" because part of the county actually was; Christiy whined that this part is merely "an uninhabited state park." Kathleen Krumhansl, meanwhile, huffed in an Oct. 6 post (also in Spanish):
The want for a steady audience to ensure their networks' survival got the best of Univision and Telemundo's newsrooms during their reports this week about four looters -- three of whom are undocumented migrants -- that were arrested in the hurricane-ravaged community of Fort Myers, Florida.

As part of their efforts to portray Florida Governor Ron DeSantis (R) as anti-immigrant -- and imply the lootings were justifiable -- the scripts at both networks went from accusing DeSantis of seizing on the arrest of the looters in order to trash undocumented migrants, to hinting that the thieves were acting on their emotions, to saying for a fact that DeSantis had not seen "the recovery efforts involving tens, hundreds of Hispanics".

[...]

In effect, the takes were a colossal insult for the hard-working, law-abiding Latinos watching the news reports that aired as part of Telemundo and Univision's coverage of President Biden's visit to Florida on Wednesday, October 5th.

To make matters worse and drive the corporate media's talking points of DeSantis being anti-migrant, Telemundo reporter Rogelio Mora-Tagle lumped all immigrants -- legal and illegal -- into one group.
Krumhansl then cranked out a statement that was worthy of a DeSantis campaign ad:
Missing from the report: the fact that since day one, Governor DeSantis has been on the ground (including in Ft. Myers) coordinating and participating in recovery efforts involving tens, hundreds of Hispanics, along with people of all races and backgrounds that have come together as one to help their fellow Americans in a moment of tragedy.

That should be the focus at Univision and Telemundo in applauding the good deeds and calling out crime for what it is: punishable by law.
Houck spent an Oct. 25 post raging that TV news dared to mention DeSantis' opponent:
On Tuesday morning, the "big three" of ABC, CBS, and NBC engaged in a comical and hopeless rescue mission to convince viewers that turncoat and Congressman Charlie Crist (D-FL) has a chance to retake Florida's governorship against incumbent Governor Ron DeSantis (R) thanks to a debate in which Crist attacked the "firebrand" DeSantis over his "controversial policies" and possible 2024 bid for president.

ABC's Good Morning America was most enthusiastic about Crist. Co-host and former Clinton official George Stephanopoulos boasted in a tease: "Florida face-off. Overnight, Governor Ron DeSantis and Charlie Crist in their only debate in the race for governor. The economy and abortion take center stage with polls in the Sunshine State open."

After Stephanopoulos said at the onset of the segment that it was "an explosive debate," chief White House correspondent Cecilia Vega insisted DeSantis has "a commanding lead in the polls," but nonetheless tried to make a mountain out of a mole hill.
"That "mole hill" was DeSantis refusing to say that he would fill out his entire term and not quit in the middle of it to runfor president in 2024. Houck's whining continued:
CBS Mornings had an extended news brief on the foray. Co-host and Democratic donor Gayle King lamented in the "Eye Opener" that DeSantis was "running for a second term, but refusing to say if he'll run for president."

Co-host Nate Burleson boasted of "fireworks" in which "DeSantis sparred with...Crist on issues like inflation, immigration, and the state's response to Hurricane Ian."

Again doing Crist's bidding, Burleson made the only soundbite about Crist's desperate focus on 2024 and praised it as "heated."
Houck unironically claiming that the shows were " simping for liberals," apparenly oblivious to the fact that he's simping for DeSantis.
Clay Waters whined about the New York Times' coverage of the DeSantis-Crist debate in an Oct. 28 post:
New York Times reporters Patricia Mazzei and Maggie Astor reported on Monday evening's one and only debate in the Florida governor's race, pitting sitting Republican Ron DeSantis against Democrat and former state governor Charlie Crist.

But under the guise of fighting misinformation on abortion and transgender issues by Ron DeSantis, the reporters spread their own.

They even questioned the moderator's impartiality (dimissed as "working the referees" when done by conservative candidates) noting the moderator's connection to Sinclair, a television news conglomerate (regularly targeted by the Times) that doesn't follow conventional liberal media wisdom.

[...]

They half-heartedly tried to boost Crist's ridiculous assertions that DeSantis "ignored science" by defying the liberal lust for lockdowns during the height of the Covid crisis, and that DeSantis's impressive response to Hurricane Ian was grievously flawed.
Houck served up more DeSantis simping in a Nov. 3 post:
For anyone who's been censored, dismissed, mocked, and trashed for opposing the initial, conventional wisdom on the coronavirus pandemic, Thursday'sCBS Mornings brought about some schadenfreude as co-host Tony Dokoupil went to Florida and found that Governor Ron DeSantis's (R-FL) policies on the virus were not only popular, but even admitted that he might have been right.

Dokoupil said on one of two teases that COVID-19 "hit Florida hard, but Governor Ron DeSantis says he took the right approach for the state's economy," adding he would "show how pandemic politics are playing into the race for governor."

He explained at the onset that "we are going to begin this hour with the legacy of COVID" as Florida "had the 12th highest death rate in the country, 382 fatalities for every 100,000 people, according to the CDC" while, "at the same time, Governor Ron DeSantis says he was right to reopen the state's economy and remove restrictions long before many of his more cautious peers."
Having a higher COVID death rate than 37 other states is hardly anything to brag about, let alone evidence that DeSantis was "right," but you be you, Curt.
Tim Graham spent a Nov. 7 post whining about supposed "hit pieces in the last weekend of the campaign" in both the New York Times and the Washington Post. Houck returned for another simping post on Nov. 8 gloating that a newscast apparently "couldn't find a single hater of Governor Ron DeSantis (R-FL) and open supporter for his opponent, Congressman Charlie Crist (D-FL)."
The MRC also made sure to simp and gloat when DeSantis handily won re-election. Nicholas Fondacaro cheered that "DeSantis winning a majority of Latinos in his runaway victory against Democrat Charlie Crist" was "a bright spot in what turned out to be wet blanket Election Day for Republicans," while Christy complained that Republican strategist Ana Navarro pointed out that DeSantis "gamed the system" by changing election laws, huffing in response: "Sounds like DeSantis won because of a combination of his own strengths and Democratic weakness, not gaming the system, but that Navarro just doesn't want to admit it."
Posted by Terry K. at 10:39 PM EST
Updated: Thursday, January 12, 2023 11:08 PM EST