MRC Complains Netanyahu's Government Is Accurately Labeled As 'Right Wing'
Topic: Media Research Center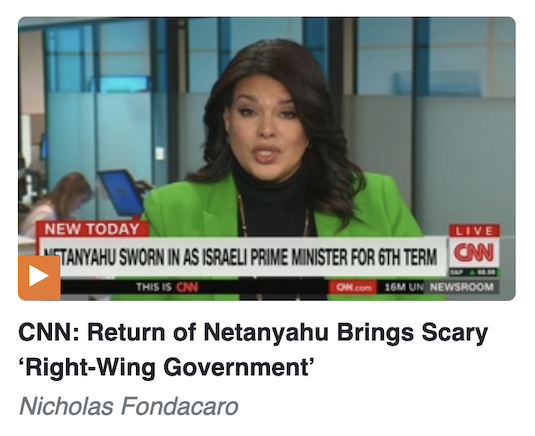 The Media Research Center just hates it when right-wing things are accurately labeled as right-wing, and so it goes for the new government of right-wing Israeli prime minister Benjamin Netanyahu. It actually started at the time of the election, as Curtis Houck fretted in a Nov. 3 post:
Thursday's CBS Mornings lived up to the liberal media's deep-seated disdain for longtime Israeli leader Benjamin Netanyahu as election returns from Israel's fifth election in four years appeared to put Netanyahu on a path to return to his post as prime minister after nearly a year and a half out of power.

Over the course of the nearly two-minute hit, CBS bemoaned his "right-wing coalition" would be revived thanks to the "extreme right" and take the turn on a "sharp shift rightward."

Co-host Tony Dokoupil fretted with halting language the further he went along: "Netanyahu appears to be on the brink of being the current Prime Minister again. Once again."

Dokoupil explained that Netanyahu's "right-wing coalition has the most votes as of now" and would mark a comeback for Netanyahu as he's "still currently on trial" for "corruption charges."

Tossing to foreign correspondent Imtiaz Tyab, Dokoupil had to reiterate: "Imtiaz, they are saying, it could be the most right-wing government in Israel in years, if not ever."
After the election, Kevin Tober complained in a Dec. 4 post:
When people say the inside the Beltway media are out of touch, this is exactly what they're talking about. On Sunday's Face the Nation, anchor Margaret Brennan expressed her concern to Secretary of State Antony Blinken that the incoming Prime Minister of Israel Benjamin Netanyahu and his government will ban "gay pride parades." Considering many extremist Palestinians and Muslims across the Middle East want to behead gays, simply banning "gay pride parades" might not be a bad alternative for the left.

Brennan fretted to Blinken that Netanyahu has "been allying himself with figures who have spewed anti-Arab, anti-gay hate as well as discrimination against nonorthodox Jews. One of them wants to cancel gay pride parades," and "at least two have called for mass deportations of Palestinans. Including the man who may head Israel's police force."

[...]

Brennan couldn't get over her apparent hatred of Netanyahu and doubled down on her attacks against his incoming government: "But this extreme right wing government as it has been described put together does complicate your relationship," she cried.
Houck returned to fret in a Dec. 29 post:
On Thursday, Benjamin Netanyahu returned as Israel's prime minister with a right-of-center government led in part by his Likud Party. But just as was the case following Israel's latest election (its fifth in four years), CBS Mornings melted down over Netanyahu's latest coalition "as Israel's most far-right government" in history that could result in the "targeting" of American Jews, gays, non-orthodox Jews, Palestinians, and women.

Fill-in co-host Adriana Diaz began the 92-second segment by lamenting Netanyahu's "government...includes ultra nationalists and religious parties that were once on the fringes of Israeli politics."

[...]

Inocencio attempted to foreshadow what leftists insist is Israel future by arguing Netanyahu's partners could go after "Palestinians, Jews who are non-orthodox, women, to prevent them from serving in the military alongside men, and the LGBTQ community."
Neither Houck nor Tober disputed the accuracy of the label in any of these posts.Nicholas Fondacaro tried to dismiss the label as a "slur" from the "liberal media" does in another post the same day:
The term "right-wing" has become a slur the liberal media sling around to describe politics they don't like in an attempt to turn off the public to right-of-center politics. As an example, just look at how CNN reporter and fill-in anchor Sara Sidner chose to talk about the return of Benjamin Netanyahu as Israel's prime minister, during Thursday's CNN Newsroom.

Coming back from a commercial break, Sidner announced that "18 months after being ousted from power, Benjamin Netanyahu was sworn in as prime minister for the sixth time" and warned viewers that he would bring with him "Israel's most right-wing government in its history." An obvious talking point circulating in the industry since CBS used a very similar string of words.
Of course, it could be just as easily -- and much more accurately -- argued that Fondacaro is using "liberal media" as a "slur" to describe journalists who won't slavishly confine themselves to advancing right-wing talking points and narratives. He'll never concede that point, of course -- and neither did he make the case that "right-of-center-" is a more accurate label for Netanyahu's government than "right-wing."
Showing that this labeling complain comes straight from the top, Tim Graham whined in a Dec. 31 post:
Thursday's PBS NewsHour broke out every term for extremism in reporting on the new Israeli government. The online headline for the segment was "Netanyahu once again prime minister with most far-right government in Israel's history."

Anchor Judy Woorduff began with the C-word: "Benjamin Netanyahu was sworn in as prime minister today in Israel, but his Cabinet and his government's platform are controversial."

She turned to PBS reporter John Yang, who ran a perfunctory soundbite of Netanyahu, followed by savage soundbites from the left.

[...]

Yang announced "After two months of intensive negotiations, Netanyahu assembled Israel's most far right ultranationalist government ever...The hard-line tilt of the new government worries some Israelis."
But he too refused to dispute the accuracy of any of those labels. Instead, he concluded with a whataboutism whine: "PBS presents itself as straight down the middle, but in reality, they can't locate a 'hard left' in Israel and they're not warning about a 'hard left' in America."
If Graham and the MRC actually cared about accuracy in labeling, they would have examples ready of anybody it has ever described as "right-wing" or "hard right" as instruction for how it believes the lable should be applied. Otherwise, there's no reason to treat this complaining as anything other than a partisan narrative to downplay extremism on the right.
Posted by Terry K. at 8:08 PM EST