Newsmax's Morris Keeps Sucking Up To Meal Ticket Trump
Topic: Newsmax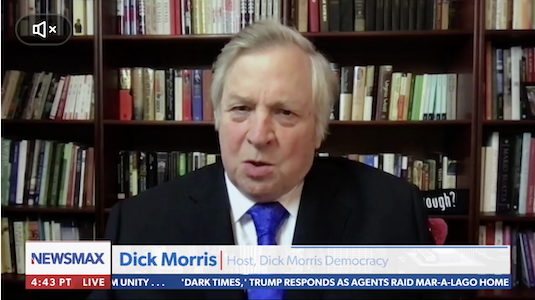 Newsmax pundit Dick Morris is nothing if not painfully loyal to Donald Trump -- he's Morris' current meal ticket, after all, with at book promoting a low-stakes prediction that Trump will run against Hillary Clinton in 2024. And as Trump continues to rack up scandal after scandal, Morris has been studiously ignoring them in his frequent Newsmax TV hits. In between that, Morris was rehashing a previous claim that Republicans need to embrace early voting -- a view counter to other right-wingers and even Trump himself -- declaring in a Dec. 3 TV appearance:
If Republicans want to keep the House in 2024 and regain the Senate, they'll have to play by the same rules that have been enacted for elections as the Democrats use, Dick Morris of the bestseller "The Return: Trump's Big 2024 Comeback" told Newsmax on Saturday.

"First, read the book; that's all they have to do," Morris, the host of Newsmax's "Saturday Report." "I say that the reason the Democrats won in 2020 was not so much fraud as skill in understanding the new rules they enacted for elections."

Republicans didn't like the rules when they were enacted, he continued, "but they are the rules by which the game is played, and Republicans better start playing by those rules, because otherwise, we'll never win an election."

The first rule, Morris said, is to embrace early voting.
Morris added a news hook to this claim in a TV hit two days later:
With more than 1.8 million votes cast before Tuesday's U.S. Senate runoff between Republican Herschel Walker and Democrat incumbent Raphael Warnock, Democrats have built an advantage yet again through early voting.

And if Republicans are going to prevail in future elections, they will need to mirror their political rival's strategy, Dick Morris told Newsmax on Monday.
Then it was Trump-fluffing time, as Morris used a Dec. 10 appearance to spin potentially bad news for Trump as a good thing:
Former President Donald Trump might be investigated, indicted and prosecuted for "technical violations of the law," but none of it will ultimately matter, nor stop his 2024 presidential campaign, according to presidential strategist Dick Morris on Newsmax.

"None of this amounts to anything; each of them may be technical violations of the law, and he may be indicted, he may be found guilty, but it's not going to be a legal bar to his running for president, and it's not going to be a political bar," Morris told "Saturday Report." "If anything, it will stoke the enthusiasm of Republican voters."

The three investigations into Trump — Mar-a-Lago presidential documents raid, Jan. 6, and the election challenge — all amount to nothing more than minor violations, if anything, and pale in comparison to the unlawful activity of President Joe Biden.
A short column that day by Morris attacked a poll showing Ron DeSantis running close to Trump:
Yahoo News/YouGov completed a national survey on Dec. 5 of 1,635 American adults that purports to who that Florida Gov. Ron DeSantis now runs even in a hypothetical Republican primary matchup with former President Trump. But when we drill deeper into the data, we find that Trump has a healthy 39 percent to 29 percent lead among Republicans.

When UGov asked respondents if they felt that Trump would be the party's strongest candidate in 2024 or that it would be better if someone else ran, Republicans said by 48-28 that Trump should be the nominee.

The methodology of the Economist UGov poll is also questionable. Drawn from an online sample, they typically have very long questionnaires and have pay their panelists to complete the survey. By paying respondents, they are more likely to attract Democrats to their sample, putting the accuracy of their results in question.
Morris then used a selective reading of Trump's actions during the Capitol riot to portray him as a victim as shown by the "Twitter files" selectively released by Elon Musk in his Dec. 11 column:
New information revealed in the fourth release of Twitter files, documents how the Internet portal railroaded the former president and bent the rules to force his removal from the site.

On January 6, 2021 former President Donald Trump sent a message over his Twitter account for rioters to go home and to refrain from violence. This tweet mirrored what he had already said on television in a direct appeal to demonstrators to be nonviolent.

Nevertheless, on January 8th, two days after the riot, Twitter permanently banned Trump, while he was still in office as president of the United States.

Recently released Twitter files demonstrate that the decision to ban Trump stemmed from what Internet journalist Michael Shellenberger called "internal and external pressure" from inside and outside Twitter to ban him.
Morris talked about this on Newsmax TV the next day:
With Twitter and the FBI allegedly "conspiring" to suppress promotion or awareness of the original Hunter Biden laptop story in October 2020 (courtesy of the New York Post), "it's becomes it own form of election-rigging," said Morris, author of the book, "The Return: Trump's Big 2024 Comeback."

The investigative findings in the files — along with the leaked whistleblower complaints against Twitter's old management — have "become far more potent than anything that happened in the [election-running] backrooms of Michigan and Arizona" in 2020.
Morris once again spun away Trump's potential legal troubles in a Dec. 16 appearance:
Political consultant Dick Morris says none of the criminal charges the Jan. 6 House select committee is expected to refer to the Justice Department against Donald Trump will bar the former president from running.

"It will have no impact on him politically," Morris said Saturday on Newsmax's Saturday Report."

"The Republican primary voters see it for what it is. They're going to stick with Trump, and he's going to get the nomination easily. ... All this is going to do is to revivify Trump's fortune. It will do one other thing. It marginalizes [Ron] DeSantis because ultimately the choice here will be, 'Do you think Trump should be in jail or not?' And if you say 'not,' you can't then say, 'Oh, but he should be out as president.' It just doesn't work that way. I think Trump will benefit from all of this, and the FBI indicts him and it gets even worse. I don't think that's going to hurt him. I think he's going to absolutely come through as unscathed as he was in two impeachments," added Morris, author of "The Return: Trump's Big 2024 Comeback."
Morris similarly spun the next day: "The Republican primary voters see it for what it is. They're going to stick with Trump, and he's going to get the nomination easily. ... All this is going to do is to revivify Trump's fortune."
As the commitee made those criminal referrals, more deflection occurred in a Dec. 19 appearance:
Political commentator and author Dick Morris told Newsmax Monday that the four criminal referrals against former President Donald Trump passed on to the Department of Justice by the House select Jan. 6 committee are a political "contrivance," "absurd," and are not likely to be prosecuted by the agency.

"This is so obviously a contrivance, and so obviously it's wrong," Morris said during "American Agenda" Monday. "I mean, Trump tried to bring in 20,000 [National Guard] troops to quell the riot. He told everyone to go home peacefully.

"To say that he fomented insurrection is just absurd. And that's obvious just as the two impeachment grounds were absurd, and voters understand that, particularly Republican voters."
Morris spun again -- with a large dose of self-aggrandizement -- in a Dec. 22 column:
When the House Jan. 6 Committee voted to send four criminal referrals against President Trump to the Department of Justice, this should not have come as any surprise to anyone.

Especially to anyone who read my bookThe Return: Trump's Big 2024 Comeback.

In fact, in The Return, I predicted it, as well as almost all major developments involving the former president.

And I correctly predicted that very soon after the midterm elections, Trump would announce his candidacy for reelection.

I also claimed that he would stake out a huge lead over Ron DeSantis.

All of that has now happened.
Morris' book probably didn't predict that Trump would dine with a couple of anti-Semites or call for the suspension of the Constitution to put him back in office, and Morris remains unsurprisingly silent about that.
Posted by Terry K. at 6:47 PM EST
Updated: Wednesday, January 4, 2023 10:52 PM EST