CNS Cranked Out The Ted Cruz Stenograpnhy Over The Past Two Years
Topic: CNSNews.com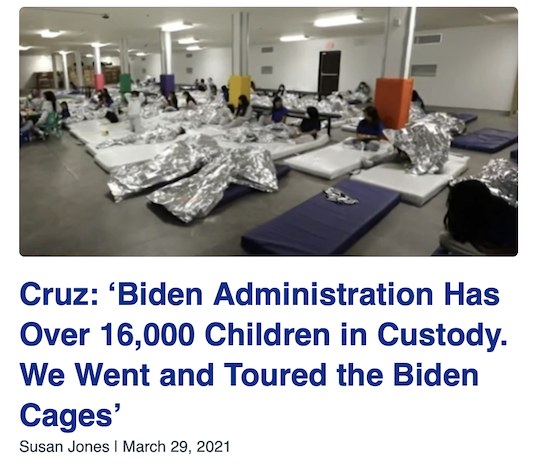 If there's one right-wing congressman CNSNews.com loves to quote more than Jim Jordan, it's Sen. Ted Cruz. He loves to be in the news, and CNS loves to devote articles to whatever right-wing talking point du jour he's dishing out. How much? Let's count (we are just counting stenography-focused articles in which Cruz is named in the headline, not all references). We'll start our 2020 count here:
That's right -- Cruz got a whopping 46 articles devoted to him in 2020 -- and that doesn't even cover the entire year. An issue in CNS' search database kept us from reviewing articles in February, March and the first half of April, meaning that CNS racked up that number of Cruz stenography in just nine and a half months.
The fawning coverage from CNS continued in 2021:
That's a total of at least 72 articles -- which is more stenography than it did for its favorite right-wing radio host, Mark Levin, last year. (Levin might want to raise some question with CNS over why he's not being fawned over to previous levels.) And as with Levin, nearly all of them lack any sort of pushback by a critic -- it's almost entirely straight stenography.
CNS did have to take a break from Cruz-fluffing in early February to crank out articles attacking Democratic Rep. Alexandria Ocasio-Cortez for highlighting that Cruz effectively tried to have her and other members of Congress killed via the Capitol riot because of his support for overturning the election. CNS also made sure not to criticize Cruz for taking a vacation to Cancun during a freak winter storm in Texas that disrupted power across the state and resulted in the deaths of people; it did complain, however, that Bette Midler tweeted about it.
Most members of Congress would kill to get publicity like this -- so fawning, it's almost as if Cruz had paid CNS to do it.
Posted by Terry K. at 5:50 PM EDT
Updated: Sunday, April 3, 2022 5:55 PM EDT