The MRC Flips On Kanye West, Part 2: The Flip Failure
When Ye went full anti-Semitic, it took days for the the Media Research Center -- which spent years praising his right-wing, pro-Trump turn -- to actually criticize him for it. And even then, it was still making excuses for him.
By Terry Krepel
Posted 12/14/2022
---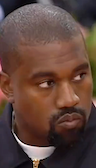 Kanye West
ConWebWatch has documented how the Media Research Center flipped from hating Kanye West as a foul-mouthed, narcissistic rapper to praising him as a true artist when he started palling around with Donald Trump. West --now known simply as Ye -- resurfaced again in October with a stunt of joining right-wing provocateur Candace Owens in wearing clothing emblazoned with "White Lives Matter" -- which, of course, set off the MRC's praise machine once again, to the point that writer Tierin-Rose Mandelburg gushed, "BRB, adding Kanye West's music to my daily mix."

Unfortunately for Mandelburg's narrative of West as a God-loving right-winger, West went full anti-Semitic a couple days later, declaring in a tweet he was "going death con 3 On JEWISH PEOPLE" and bizarrely claiming that "The funny thing is I actually can't be Anti Semitic because black people are actually Jew."

Then things got really bizarre. In an Oct. 11 post -- two days after West's anti-Semitic tweet -- Mandelburg was still crushing on Ye and his right-wing values, with the help of Candace Owens. She actually started her post by declaring, "Ye and Candice Owens are freakin' savage." Well, yes, anti-Semitism is quite savage. But Mandelburg was in full gush mode:
Tucker Carlson's part one interview with Ye went viral last week when Ye explained he was pro-life, pro-God and liked Trump. In part two of the interview, Ye dove further into his salvation and walk with Jesus and Carlson invited Daily Wire's Candace Owens to speak on her and Ye's matching "White Lives Matter" shirts.

On Monday night's segment, Carlson asked West about his choice to wear the "White Lives Matter" shirt and about his photo with Owens in her matching tee.


The more and more I lean into God and work for God, the more wins God is gonna bestow on our team, on Jesus gang. And for me to just go out and just state an obvious and empathetic statement in the middle of the most liberal century, that was like Tiananmen Square. With Candace Owens. And we both wore the shirt at the same time. You know, we've got some Jesus soldiers out here. People say they're willing to die for it but we live for it. We are living for the battle and what's the battle for? Life itself. Our children.

Legendary move on Ye and Owen's part. The mere irony of two black people wearing "White Lives Matter" shirts to show that the BLM movement is in fact a scam, is awesome.

Power moves only.
Does Mandelburg think Ye's anti-Semitism is a "power move" that is "legendary"? She doesn't say, though it is in a, um, certain kind of way. The tone-deaf gushing continued:
Owens said that the second worst thing someone could be in America is a "white, straight male." Noting that it's "too normal" so progressives attack it! "People are dying to say that they are anything but being white."

Owens finally noted the impact that the "White Lives Matter" shirts had mentioning that white people at farmers markets were thanking her for "allowing us to have our voices back."

"There's a vicious narrative around that somehow black Americans are suffering from policing and therefore white lives can't matter. They do, it's obvious, Kanye was correct," Owens concluded.

Mic freakin' drop.

If we only have one takeaway from the controversy surrounding Ye and Owen's "White Lives Matter" t-shirts it's that our society is comprised of so many pansy's who make a mountain out of a molehill when something doesn't fit the leftist narrative.
It's not until the final paragraph in her gushy post that she gets around to briefing mentioning the elephant in the room: "Now, Ye, about those anti-Semitic tweets ..." And that's all she had to say about it -- she couldn't even be bothered to actually criticize him. And no word on whether Mandelburg is still "adding Kanye West's music to my daily mix."
The next day, in a post complaining that "former Disney Channel star Vanessa Hudgens announced a new documentary to talk about her connection to the spiritual realm of witchcraft," Mandelburg referenced West as a cancel-culture victim: "Most recently, the left lambasted Kanye West after going on the Tucker Carlson Tonight show and talking about his pro-life and pro-God stance and how he 'liked Trump' during the 2016 election." She didn't reference West's anti-Semitism at all.
Apparently, being a sufficiently right-wing shill gets you a free pass from the MRC -- even if you're an odious anti-Semite.
Purchasing Parler, censoring facts
The MRC was an early booster of right-wing social media site Parler -- though it censored the fact that Parler's biggest funder is also the MRC's biggest funder, Rebekah Mercer. But it grew bored with Parler as newer, shiner right-wing social media sites popped up, especially the Donald Trump-endorsed Truth Social; the only relevant reference to Parler at the MRC in recent months was a Sept. 6 post by Catherine Salgado touting how "More than a year after Google canceled the Parler app, the tech giant quietly let Parler back onto its Google Play Store." In typical fashion, Salgado censored the fact that Parler shares a funder with her employer; while she touted how John Matze co-founded Parler "as a pro-free speech alternative to increasingly woke social media companies like Twitter and Facebook," she didn't mention that Matze is suing Mercer for screwing him out of his share of the company when she seized control of it. (We wonder if Salgado had to clear the reference to Matze with Mercer before including it.)
That neglect of Parler flipped when Kanye West bought the company. Brian Bradley touted it in an Oct. 17 post:
Censored on one platform? No problem. Just buy another. That seems to be the situation for the rapper and fashion designer, "formerly known as Kanye West."

Parler, on Monday, announced that Ye will acquire Parler from Parlement Technologies, which is expected to take effect by the end of this year.

Parler bills itself as "the world's pioneering uncancelable free speech platform."

Platform CEO George Farmer expressed apparent optimism in reaction to the news, and said Ye will fight for free speech.

"We welcome Ye in the fight for free speech," Farmer said in a statement to MRC Free Speech America. "As the social justice mob continues to put the crosshairs on people they disagree with, Parler's open door and viewpoint--neutral take on social media offers an environment where everybody can speak freely. "

After the acquisition, Parlement would provide "ongoing technical support" and open up use of its cloud services via its private cloud and data center infrastructure, according to the announcement of the transaction.

"In a world where conservative opinions are considered to be controversial we have to make sure we have the right to freely express ourselves," Ye said in a statement.
Lots of stuff missing here. First, Bradley fell into the MRC trap of censoring the fact that the person selling Parler to Ye is the person who funds his MRC paycheck. Second, Bradley failed to report that Farmer is married to Candace Owens, the person with whom Ye did the stunt of wearing "White Lives Matter" shirts a couple weeks earlier that gained him even more favorable press from right-wingers like the MRC. That means Bradley avoided having to raise the question of whether that stunt was a ploy by Owens and Farmer to maneuver Ye into a position in which Parler could be unloaded on him.
Third, and most important, Bradley made no mention of Ye's anti-Semitic tweet in this part of the article -- even though said tweet is the big reason anyone is paying attention to his purchase of Parler and, thus, should have been the lead. As a result, Bradley's prattling on about Ye being "censored" and expressing "conservative opinions" leaves readers wondering if he's really saying that anti-Semitism is a valid "conservative opinion" that must not be "censored."
It wasn't until the eighth paragraph of his post that Bradley finally addressed the elephant in the room:
Ye caused widespread controversy after he reportedly claimed he would go "death con 3 On JEWISH PEOPLE" in tweet on Oct. 8

"I'm a bit sleepy tonight but when I wake up I'm going death con 3 On JEWISH PEOPLE," he reportedly tweeted, according to screenshots. "The funny thing is I actually can't be Anti[-]Semitic because black people are actually Jew also [y]ou guys have toyed with me and tried to black ball anyone whoever opposes your agenda."

Ye's tweet came after Instagram restricted his account for other content that some users also viewed as being anti-Semitic.

Twitter locked Ye's account after his anti-Semitic post on that platform. His last tweet was on Oct. 9.
"Reportedly"? Really? Nobody's disputing that Ye made that anti-Semitic tweet -- given how many people screenshotted it -- not even Ye himself. Note that Bradley could not be moved to criticize Ye's anti-Semitism, making him the second MRC writer, after Mandelburg, to refuse to criticize blatant anti-Semitism when given the opportunity. It also means that in the eight days between Ye's tweet and Bradley's post, no MRC item has explicitly criticized Ye's ugly anti-Semitism.
Seems like someone at the MRC needs to set up a field trip into Washington, D.C., down the road from MRC headquarters in the Virginia suburbs, to the Holocaust Museum to provide a lesson to these scrubs.
The MRC censored other related things, such as Parler's post-purchase PR nightmare: Politico reported that Parler sent an email to its VIP users to announce the news, but it forgot to put the email list in a blind CC format, meaning that everybody knows everyone's email address on the list, with the side effect of some VIP users not being aware they were VIP users or why they were designated as such. Politico also reported Parler's puny size -- 16 million registered users and just 40,000 active ones, compared with Twitter's 237 million active users. The MRC additionally censored how Farmer couldn't be bothered to criticize Ye's anti-Semitism, claiming that the anti-Semitic tweet was merely badly worded, that anti-Semitism is "up for conversation" and that Ye has "fallen victim to the cancellation narrative." He has a company to unload on the guy, after all.
Trying to justify Ye's anti-Semitism
The most egregious example of the MRC's failure to criticize West's anti-Semitism is an Oct. 13 post by Jason Cohen that actually tried to argue that West's banning from various outlets and platforms following those anti-Semitic remarks was proof that his hatred of Jews was correct.
Cohen began his argument this way: "In the past week, Ye made outrageous antisemitic posts and claims, but banning him may only prove his point." After rehashing his posts and whining that "Ye got banned from Instagram for inferring that P-Diddy is controlled by Jews, an antisemitic trope," he added: "People assumed this terrible tweet implied violence, but that seems a little ridiculous. It is difficult to believe anyone would think Ye wants to carry out violence against Jewish people. But maybe with all the propaganda framing him as a crazy white supremacist, they truly did." Cohen then bizarrely argued that Jewish groups who responded to Kanye's anti-Semitism was as bad as the anti-Semitism itself:
Ye even tweeted, "Who you think created cancel culture?," seeming to suggest that the Jews created it and the bannings are proof.

American Jewish Committee (AJC) and Anti-Defamation League (ADL) are two Jewish organizations that both rightfully condemned Ye. However, they each used extreme language. AJC called his posts "dangerous" in a video that was produced before the "death con 3" tweet. So it was solely based on Ye using Jewish stereotypes such as greed and power.

ADL took it up a notch, tweeting: "The behavior exhibited this week by @kanyewest is deeply troubling, dangerous, and antisemitic, period. There is no excuse for his propagating of white supremacist slogans and classic #antisemitism about Jewish power, especially with the platform he has." This tweet was also before the "death con 3" comment.

Ye has said terrible things before, but never has he been canceled to this extent. He was only banned from social media in the past for harassing his ex-wife, which is a much more agreeable reason. And he was never banned by a bank.

It would be more productive to condemn him, debate him, ask him to apologize, etc. Anything but canceling or condoning.

Hopefully, these institutions come to their senses and uncancel Ye. And hopefully, Ye comes to his senses, apologizes, and adapts his views. But if he continues to be canceled, they may be cemented instead.
What? Anti-Semitism is not an "agreeable" reason to take action against someone? It would be "productive" to "debate" Kanye about anti-Semitism? Why would anyone -- let alone anyone on the right -- elevate anti-Semitism to a subject worthy of debate? And it's merely "cancel culture" to shun someone who promotes an ugly and, yes, dangerous ideology?
The MRC eventually saw the folly and tone-deafness of Cohen's argument, because according to the Internet Archive, his post was deleted by Oct. 17, four days after it was made live -- the URL to his post now returns a 404 error on the NewsBusters website -- but the MRC told nobody about its decision to remove Cohen's item, and it definitely didn't apologize for posting it in the first place. But the internet is forever, and Cohen's highly misguided post lives on.
Finally, criticism
After all this MRC praise for Kanye and reluctance to criticize him, it was a bit rich to see Nicholas Fondacaro's Oct. 18 post being outraged that someone was arguing that Ye's anti-Semitism is part of mainstream conservatism:
In an appearance with Chris Cuomo on NewsNation on Monday, singer Kanye "Ye" West doubled down on anti-Semitic comments about what he called "the Jewish underground media mafia." But in the following hour, host Dan Abrams suggested during his eponymous show that West's disgusting comments and interest in buying the social media company Parler were strategic movies to "create a right-wing brand."

Abrams set the tone by kicking off the show with this question:


Kanye West or Ye will buy the right-leaning social media platform Parler after being kicked off Twitter and Instagram over anti-Semitic comments. But isn't this more evidence that he is not mentally ill but just trying to create a right-wing brand?

"But from Kanye's perspective, it appears he's just doubling down on fringe right-wing positions," Abrams added a little bit later.
Fondacaro's description of Ye's anti-Semitism as "disgusting" is the first criticism of it in any MRC post -- a full nine days after Ye spouted it. That utter lack of rush to judgment would seem to indicate a certain amount of comfort with such anti-Semitism -- after all, the MRC has used anti-Semitic tropes to attack George Soros and former CNN chief Jeff Zucker. Fondacaro also didn't mention that the main person who funds his paycheck is also the person selling Parler to Ye.
Fondacaro went on to be annoyed that Abrams wasn't dismissing Ye's anti-Semitism as mental illness, which is how he clearly wants to frame it:
Abrams also didn't put stock in theories that Kanye's recent actions and outbursts were signs that he was suffering from his diagnosed bipolar disorder.

"Now, many have refused to take Kanye's comments seriously, expressing sympathy for what they believe are clear symptoms of severe mental illness, which I think is a cop-out," he said. "And the people who think he's mentally ill, maybe aren't giving him enough credit for believing what he's saying, including his anti-Semitism."

To him, "[i]t seems too easy and protective of him to just say he's mentally ill" and it was all part of a machination to appeal and profit off of bigotry on the right:

[...]

"To write off this gambit as some sort of manic episode is to completely downplay his business acumen," Abrams added. "His apparel brand has been valued somewhere between 3.2 billion and 4.7 billion. He also has a deal with The Gap and industry experts value in excess of a billion dollars."
At no point did Fondacaro prove that anything Abrams said was wrong -- he was just mad it was said. And he certainly did not distance the MRC away from its years of promoting West's alleged right-wing values and Trump bromance.
Mark Finkelstein complained in an Oct. 20 post that "Morning Joe" pointed out that West was fact-checked for claiming George Floyd died of a fentanyl overdose and not Derek Chauvin's knee on his neck:
At one point, Mika cited rapper Kanye West as an example of people lying. Fact checkers jumped on West for implying George Floyd was hyped up on fentanyl -- and that police officer Derek Chauvin didn't have his knee on Floyd's neck. But let's just isolate the fentanyl. Scarborough said:


Kanye West is going out, talking about George Floyd being on fentanyl. You know -- I guess people thought, Willie, in the age of Trump, that they could say whatever they wanted to say. They could spread whatever lies they wanted to spread.

So let's take Joe's advice and read the Wall Street Journal. From the Wall Street Journal article on the official coroner's report on the death of George Floyd.


"The county medical examiner found the cause of death was 'cardiopulmonary arrest complicating law enforcement subdual, restraint, and neck compression.' Its autopsy results also indicated heart disease, fentanyl intoxication and recent methamphetamine use."

So who's lying now, Joe?
Given that the autopsy he quoted specifically said neck compression, not fentanyl, was the actual cause of Floyd's death -- and he hid the fact that, according to the fact-check he cited, West falsely claimed Chauvin's knee was not on Floyd's neck and that nobody was denying there was fentanyl in Floyd's system -- it appears the real liar and deceiver here is Finkelstein.
Finkelstein returned on Oct. 23 to grumble that MSNBC host Tiffany Cross likened Fox News demagogue Tucker Carlson to Ye:
Cross began by playing a clip of Carlson defending Kanye West against charges that he is mentally ill. Cross suggested that the reason Carlson doesn't find Kanye crazy is that Carlson is crazy himself!


"I wonder if Tucker doesn't find Kanye to be, to have some mental challenges, maybe because it takes somebody else with the same challenges to understand him?"

Michael Steele, the former RNC chairman turned member of the disgraced Lincoln Project, agreed. Steele claimed that Tucker's defense of Kanye against charges of being crazy was "projection" on Carlson's part. According to Steele, Tucker was talking about himself, because "that's how we see Tucker. That's how a larger community of people see Tucker," i.e, as crazy.

I find Kanye to be a few fries short of a Happy Meal. And find his antisemitic remarks repugnant. But Cross weirdly tried to claim that "this is who the GOP chooses to put out front. Herschel Walker, who has said himself, he has multiple personalities. I, this is the GOP, putting out these folks."
Related articles on ConWebWatch:
Finkelstein's description of West's anti-Semitism as "repugnant" is, after Fondacaro, only the second time anyone at the MRC has criticized his remarks, and it came a full 14 days after the anti-Semitic Twitter post that kicked off the anti-Ye backlash that the MRC has been so reluctant to take part in. Interestingly, Finkelstein's post, like Fondacaro's, denounced Ye's anti-Semitism only in the context of criticizing people claiming their fellow right-wingers are like him.

Finkelstein didn't explain why he did mention Ye's anti-Semitism in his post defending West's false assertions about Floyd three days earlier. He also didn't mention why he and the rest of the MRC have been completely silent about the revelation that Carlson selectively edited the interview he conducted with West in early October (which set off the MRC's last round of gushing over him) to remove anti-Semitism and other craziness.

But the MRC's instinct, however, is still to paint West as a right-wing "victim" of Big Tech "censors" and "cancel culture." Which is why Jason Cohen -- the author of the post attempting to defend Ye's anti-Semitism that the MRC ultimately deleted -- wrote this Oct. 27 post:
It is October 2022, and people are seriously considering banning the music of an important and influential artist: Kanye "Ye" West.

Apple Music tested the waters by removing his "essentials" playlist.

If you click the link to the playlist, it does not load. It is just an endlessly spinning wheel.

Apple has not made a statement explaining it yet. Perhaps the company is waiting to see the response. As of now, it has not been massive, just a few small pieces about it.

There should not even be a debate about whether banning his music is correct, but it is not surprising in today's cancel culture.

Variety asked the question point blank in a piece by Jem Aswad titled, "Should Kanye West's music be banned?"

Thankfully, Aswad came to the following conclusion: "Great art is sometimes made by horrible people, and whether or not a person is morally comfortable consuming that art, and earning money for that horrible person, is up to them."

Exactly.
Huh? "There should not even be a debate"? Private businesses like Apple and Spotify have the First Amendment right not to promote someone whose views it finds repugnant. Nobody has a "right" to force a business to promote it -- just as it is up to listeners to decide whether to continue to patronize Ye.
Cohen continued:
It will be interesting to see what the "rights-holders" do in this situation. It would be awesome if they donated because it would likely mean substantial money for worthwhile causes.

Also, after this is over, hopefully, Ye realizes the harm he caused and somehow attempts to amend it financially or otherwise. But it should be his choice. They should not compel him to do so through threats of banning.
Again: Private businesses have the right to "ban" or not ban someone's product based on who that person is, just like people have the right to choose not to listen to it.
Curiously missing from Cohen's post is the term "anti-Semitic" to describe what, exactly, West did. That would seem important in accurately describing the nature of Ye's offense, but shoving Ye into the MRC's victim narrative is more important to Cohen than being factual about his offense.
The latest from