The MRC Flips Over Elon Musk, Part 1
The quirky, self-promoting mogul was briefly a pariah at the Media Research Center because of his cozying up to China -- but that was quickly forgotten when Musk got interested in buying Twitter.
By Terry Krepel
Posted 7/20/2022
---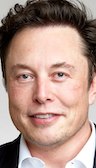 Elon Musk
The Media Research Center started cozying up to Elon Musk late last year after he started spouting all the proper right-wing things. Joseph Vazquez used an Oct. 28 post to gush over how "the world's richest man ... dismantled the logic behind the Democratic Party's latest class warfare tax-the-rich scheme." On Nov. 1, Vazquez wrote that "CNN tried to sell a false headline alleging that a fraction of the world's richest man's wealth could solve world hunger" but got the math wrong.

Vazquez used a Dec. 14 post to cheer how Musk was named Time magazine's person of the year:
Too bad for the left, they can't mandate who wins "Person of the Year." So TIME magazine decided to give the world's richest man Elon Musk that honor, though he's become a vocal critic of vaccine mandates and the left.

In TIME's write-up of its decision to christen Musk, the outlet stated that "Musk has spent a lifetime defying the haters; now, it seems, he's finally in position to put them in their place." Musk certainly has been ruffling leftist feathers as of late. He slapped down the idea of government-imposed vaccine mandates as the "'erosion of freedom in America,'" according to Yahoo! Finance.

In addition, Musk repudiated President Joe Biden's leftist infrastructure plan during the Wall Street Journal's CEO Council Summit: "'Honestly, I would just can this whole bill. Don't pass it.'" He continued to hammer the left's spending spree: "'In general, if we don't cut government spending something really bad is going to happen. This is crazy. Our spending is so far in excess of revenue it's insane.'"
The selection of Musk would seem to blow a hole in the MRC's historical portrayal of Time as irredeemably liberal, but Vazquez decided that drooling over Musk was more important than ideological consistency.
The next day, Vazquez gushed over a supposedly sick burn from Musk:
Elon Musk used his Twitter account like a battering ram to troll the left for their hypocritical pontificating about class warfare.

Sen. Elizabeth Warren (D-MA) took to Twitter Dec. 13 to express disgust at the world's richest man being chosen as TIME magazine's 2021 "Person of the Year." Warren spewed, "Let's change the rigged tax code so The Person of the Year will actually pay taxes and stop freeloading off everyone else."

Musk clapped back: "[I]f you opened your eyes for 2 seconds, you would realize I will pay more taxes than any American in history this year." Then Musk dropped the truth bomb: "Don't spend it all at once … oh wait you did already." Ouch.
Vazquez concluded by trying to loop Time back into the MRC narrative: "Warren's complaining perfectly illustrates how the left can't handle the fact that a notoriously liberal magazine decided to think for itself and honor a billionaire who doesn't genuflect to the leftist hive-mind." He seems to have forgotten that Time has named numerous conservatives as person of the year, including Donald Trump after he won the presidency in 2016, so this is not the huge leap that Vazquez wants you to think it is.
Vazquez then devoted a Dec. 17 post to right-wing talking heads Steve Forbes and Larry Kudlow proclaiming that Musk should be named chairman of the Federal Reserve because he has been "mocking the left's nonsensical multitrillion-dollar economic agenda."
With all that fawning over Musk, one would think the MRC's Musk-fluffing would go on forever, right? Well, it seems to have come to a screeching halt thanks to a Jan. 11 post by Jay Maxson:
Last week, China fanboy/parasite Elon Musk got verbally slapped down by NBA player Enes Freedom Kanter for sucking up to China. Completely overlooking China's innumerable human rights abuses, Musk opened up a Tesla showroom in China's Xinjiang province, drawing the ire of the Boston Celtics' center Kanter, who has been waging an ongoing campaign against China.

Those monster profits from China evidently look just as good to Musk as they do to LeBron James, Nike and the NBA. All of whom enjoy doing business with China, despite one of the world's worst human rights records.

[...]

Buddying up with China is nothing new for Musk, as Breitbart's Warner Todd Huston pointed out. In 2019, the nutty Musk declared China the future for humanity. Which humanity he was talking about was a mystery because the words China and humanity don't belong in the same sentence.

[...]

Not only did Musk unveil his autos in China, he also engaged in bizarre dance moves on the showroom floor, which he found quite hysterical. Maybe acting like a crazy bat constitutes some of the China version of happiness.
As Vazquez might say, ouch. Kanter has been a cause celebre for Maxson, touting his criticism of the NBA's willingness to overlook China's human rights record to promote the sport there, as well as his right-wing-friendly decision to add "Freedom" to his name after becoming an American citizen.
After this, neither Vazquez nor anyone else at the MRC dedicated a post to Musk-- for a while. But it wasn't even two months before the MRC started praising Musk again; a Feb. 21 post by Joseph Vazquez gushed how Musk "decimated" David Frum by calling him a "hypocritical megadouche!" for responding to a hit job about him on the highly biased right-wing site the Post Millennial. That was followed by a March 9 post by Jeffrey Clark noting that Musk has called for increased domestic oil production.
Squeeing over Musk and Twitter
But when Musk turned his focus to Twitter -- against whom the MRC has been fighting a failing war for years -- all that China stuff was apparently forgiven. Autumn Johnson hyped in a March 25 post:
Tesla's Elon Musk tweeted in support of free speech and questioned Twitter's "adherence" to it.

Musk asked his followers to vote "yes" or "no" in a poll that asked users whether the platform supported free speech. "Free speech is essential to a functioning democracy," he tweeted on Friday. "Do you believe Twitter rigorously adheres to this principle?"

Over 1.5 million people had voted in the poll as of Friday evening. Approximately 70 percent of users voted "no" while only 30 percent voted "yes."

Musk added that the tweet's "consequences" would be "important." "The consequences of this poll will be important," he said. "Please vote carefully."
Two days later, Johnson amped Musk's musing that "he is giving "serious thought" to creating a new social media platform to rival Twitter. On April 4, though, Alexander Hall went into full squee mode over the news that Musk bought a chunk of Twitter under the headline "Game Changer!":
A newly released government filing revealed that Tesla CEO and Big Tech censorship critic Elon Musk reportedly became Twitter's biggest shareholder.

Musk put his money where his mouth is after condemning Big Tech censorship. The world's richest man, worth $298 billion, according to Forbes, bought a massive share of Twitter stock. A Securities and Exchange Commission filing dated April 4 revealed that as of March 14, Musk now owns "73,486,938" shares totalling a sizable "9.2%" of Twitter's stock.

[...]

Musk has a history of criticizing Big Tech for its stranglehold on online speech.

Musk famously slammed Twitter for censoring political debate in recent weeks. He also mulled over starting a new tech company altogether. Musk tweeted March 26, "Given that Twitter serves as the de facto public town square, failing to adhere to free speech principles fundamentally undermines democracy."

[...]

Vice President of Free Speech America and Business for the Media Research Center Dan Gainor praised the idea in a tweet: "Please do this, but be prepared for epic opposition from the left/NGOs and government. They fear free speech as we have truly witnessed the last two years especially."
The next few days featuring even more squeeing over the prospect of Musk joining Twitter's board and lashing out at anyone who would dare criticize Musk:
The MRC also didn't like the inconvenient truth that Musk may not be as favorable to free speech as it fervently wants to believe. Vazquez accused a Bloomberg writer of "two-bit whining" for pointing out Musk's "alleged history of firing employees at Tesla, suing whistleblowers and threatening lawsuits against anonymous bloggers" -- none of which Vazquez could prove false -- and going on to rant that Twitter is purportedly "one of the most anti-free speech, censorship-obsessed platforms on the internet."
Johnson similarly lashed out in an April 10 post: "In an op-ed published Friday in The Washington Post, former Reddit CEO Ellen Pao slammed Tesla CEO Elon Musk's investment in Twitter and, to put it mildly, his support and vision for free speech. Put simply, she called for Democracy Dying in Darkness." Johnson further complained that Pao said Musk "willfully ignores that private companies are free to establish some limits on their platforms"but offered no rebuttal to that argument.
When Musk decided not to join the Twitter board, Vazquez went into squee mode on April 11 over the possibility of Musk staging a hostile takeover:
Tesla CEO Elon Musk declined a seat on Twitter's board of directors after becoming the platform's largest shareholder with a massive 9.2 percent stake. But this move could end up signifying an even greater play by Musk to seize control of the platform, according to CNBC.

Leftist Twitter CEO Parag Agrawal tweeted late April 10 that the world's richest man "decided not to join our board." Agrawal seemed to admit the quiet part out loud when he said that having Musk "as a fiduciary of the company where he, like all board members, has to act in the best interests of the company and all our shareholders, was the best path forward." Musk's appointment was supposed to take effect April 9, "but Elon shared that same morning that he will no longer be joining the [B]oard. I believe this is for the best," Agrawal claimed.

There could be another reason why Musk chose an about-face. He could attempt a hostile takeover of the company.
Vazquez did not explain why he called Agrawal a "leftist." Meanwhile, Hall amped up the hostile takeover speculation, and Fondacaro complained that CNN's Brian Stelter also talked about it. Kyle Drennen, meanwhile, got mad that someone on CBS opined that "a lot of people think Elon Musk is sort of like a Bond villain now. That is a very Bond villain move to pull." He didn't prove the assertion wrong, though.
If you thought the MRC couldn't squee any more when Musk announced that he had purchased a piece of Twitter, the squee ramped up to positively orgasmic levels when Musk declared he was planning to buy all of Twitter. Vazquez screamed "IT'S HAPPENING" (to which it was changed from "GAME ON") in the headline of his April 14 article announcing it:
The world's richest man is officially launching his bid for a hostile takeover of one of the most censorship-obsessed Big Tech platforms in the country!

Bloomberg News reported Thursday morning that Tesla CEO Elon Musk is "saying the company has extraordinary potential and he is the person to unlock it." The value of the offer, according to Bloomberg, amounts to a whopping $43 billion. Musk announced the move in a filing with the U.S. Securities and Exchange Commission. Musk also tweeted that, "I made an offer."

This follows Musk's cryptic rejecting of a seat on Twitter's board of directors after his purchase of a massive 9.2 percent stake in the platform. CNBC reported recently that "[i]f Musk had joined the board, he would not be able to acquire more than 14.9% of the company's shares."

He apparently wasn't satisfied with the shareholder cap and is now looking to buy up the outstanding stock to control the entire platform.

[...]

The game has now changed. Will Twitter finally be made to uphold the values of free speech? Only time will tell.
Remember, Vazquez and the rest of his MRC buddies think they have a right to lie to people and that Twitter has no right to call out those lies.
A few hours later, Vazquez and Dan Gainor cranked out a column peddling the right-wing falsehood that Twitter enforcing its terms of service equates to "censorship" (and making sure to please their boss by quoting him):
It was the stock buyout heard 'round the world. Tesla owner Elon Musk's offer to buy Twitter could save the whole concept of online free speech and alter politics and elections globally for years to come.

Musk's move might be the biggest political event since the 2020 election. Media Research Center founder and President L. Brent Bozell tweeted about the offer, "Free at last. Free at last. Conservatives may be free at last!"

Leftists and the media were horrified that Musk might interfere with their ability to censor content, not just in the U.S., but worldwide. Twitter was consistently the absolute worst of the social media sites for restricting conservative content. MRC's CensorTrack database tracked 1,954 examples of Twitter censorship, over half of the total 3,636 entries of Big Tech censorship logged.

[...]

Musk's purchase could lift the veil of censorship that hangs like a shroud over the conservative movement. The pending purchase could also mean former President Donald Trump's long-awaited return to Twitter. The former president used his social media superpower to beat former Sen. Hillary Clinton (D-NY) in 2016. It helped offset the overwhelming bias against him in the legacy media.
They also rehashed an old MRC talking point: "Other platforms were 'offended' too and were determined to destroy Trump's social media presence going into the 2020 election. Twitter in particular censored Trump and his campaign a whopping 625 times between May 31, 2018 and Jan. 4, 2021. President Joe Biden and his campaign weren't censored at all during that time period." The correct way to state that is Trump violated Twitter's terms of service 625 times while Biden did not.
Vazquez and Gainor just couldn't stop drooling over Trump's use of Twitter:
Trump wielded social media like a Twitter version of the Incredible Hulk. It gave him the power to virtually smash critics and leftist journalists alike — defining the campaign. The Washington Post noted at the time that, "Trump used social media, and Twitter in particular, to build relationships with voters and create a word-of-mouth buzz for his brand." The paper added, "this strategy helped Trump build attitudinal loyalty, the degree to which a customer prefers or likes a brand, rather than behavioral loyalty, when a customer buys a product out of habit."

Ohio University Social Media Analytics Research Team Lab Director Laqeeq Khan also noted in 2016 that "Trump won social media. Simply put, Trump's campaign was more engaged with voters." Khan added that Trump "mastered Twitter by embracing immediacy (right now), transparency (unvarnished expression), and risk (rather than caution)."

[...]

Trump built that Twitter army up to 88 million followers during his presidential term and used it to influence major news organizations. Even journalists who hated him hung on every tweet, eager for Trump to make news.

Now Musk has an opportunity to hit a reset and journalists and leftists in Big Tech are going to try to stop him.
Speaking of making the boss happy, Bozell appeared on Fox Business later that day to spout his talking points, and an anonymous MRC blogger was made to document it:
Appearing on Fox Business Network's Varney & Co. late Thursday morning, Media Research Center President Brent Bozell declared that billionaire Elon Musk possibly buying out Twitter would both restore free speech to the social media platform and change "the entire dynamics of politics" across the globe. He also blasted the left-wing co-hosts of ABC's The View for using the New York City subway shooting to attack gun rights.

"Elon Musk offering to buy 100% of Twitter in an all-cash deal. He says Twitter should go private....Brent, this is all about free speech, right?," fill-in host Ashley Webster asked Bozell at the top of the segment. Bozell declared: "You know, I'm gonna suggest to you that this is the biggest story since the 2020 elections. It may be even bigger than the 2020 elections."
Bozell went on to falsely overstate his case: "Consider, Donald Trump won the presidency of the United States in 2016 because he was able to use Twitter. In 2020, one reason, a major reason he lost the presidential campaign is because Twitter censored him and wouldn't allow him." In fact, Twitter did not suspend Trump until after the Jan. 6, 2021, Capitol riot he helped to instigate (and in which Bozell's son participated), meaning it did not affect the 2020 election. And even then, the MRC itself could find few instances of Trump getting "censored" (read: violating its terms of service) only 65 times by "big tech" as of a few weeks before the election.
The MRC then flooded the zone with mocking reaction pieces:
There were a couple of positive reaction pieces too:
There were also a couple posts on the takeover process:
Related articles on ConWebWatch:
Vazquez returned to whine that "A left-wing outlet funded by liberal billionaire George Soros whined that the world's richest man's plan to purchase Twitter was a threat to democracy." He then rehashed an old complaint that the group Free Press "tried to get the Federal Communications Commission to censor former President Donald Trump's coronavirus briefings as 'hoaxes.'" Given that Trump was using those pressers to spread misinformation, that's not too extreme of a question to raise.

Vazquez concluded with his own censorship demand: "Take a seat, Free Press." Just like the MRC to not practice what it preaches.

The MRC then went into defense mode on behalf of Musk. An April 17 post by Autumn Johnson unironically quoted the guy who wants to spend billions to gain sole control of Twitter criticizing Mark Zuckerburg for allegedly having too much control over Facebook and its owner Meta. That was followed by various attacks on people criticizing Musk:

That was joined by stenographic cheerleading for Musk and stenographic details on his plans:

In an April 20 so-called "study" attacking the Washington Post for covering Musk's attempt to buy Twitter, Joseph Vazquez huffed:
The leftist newspaper owned by the second richest man in the world is obsessed with smearing his main competitor's $43 billion Twitter takeover bid. It was willing to spend over 17,000 words to do it.

An MRC Business study of The Washington Post archives found that the newspaper published at least 15 articles between Tesla CEO Elon Musk's April 14 Twitter announcement and April 17 alone criticizing him over his mission to turn Twitter into a platform that upholds free speech. That's just four days worth of articles making up news items and op-eds.

The articles included made up a whopping 17,046 words, all of which attempted to smear Musk. One columnist claimed that if Musk succeeds, "we're all doomed."
Vazquez offered no evidence that 1) the Post is "leftist," 2) Post owner Jeff Bezos demanded that editors and reporters attack Musk over the purchase, or 3) that Musk genuinely believes in free speech.
Johnson excitedly wrote in an April 24 post that "Twitter is reportedly reconsidering Elon Musk's offer to purchase the platform for $43 billion." The next day, it was time for Joseph Vazquez to go orgasmic after Twitter decided to accept Musk's offer, under the headline "Musk Wins":
The world's richest man is set to complete his hostile takeover of Twitter for $43 billion, according to news reports.

Reuters released an exclusive saying that Twitter is "nearing a deal to sell" itself to Tesla CEO Elon Musk for "$54.20 per share in cash." That was the original price Musk offered when he launched his bid to own the company. Twitter may announce the deal "later on Monday once its board has met to recommend the transaction to Twitter shareholders, the sources said."

[...]

Musk slammed the platform on March 26 for its censorship-heavy environment: "Given that Twitter serves as the de facto public town square, failing to adhere to free speech principles fundamentally undermines his bid was successful.
Then, under the headline "VICTORY!", Hall cheered that Twitter CEO Parag Agrawal "broke his silence to share the news that free speech advocate and billionaire Elon Musk successfully bought Twitter," going to tout Musk's tweet that "I hope that even my worst critics remain on Twitter, because that is what free speech means." By contrast, the MRC didn't mention how, according to Judd Legum, in real life Musk is all too eager to censor speech by trying to censor critics, firing Tesla workers for union advocacy, and asking the Chinese government (which is communist, as the MRC loves to remind us) to silence Tesla critics in that country.
Then it was defense mode again, as the MRC was offended by the (arguably accurate) suggestion that Musk really doesn't care about free speech and is more interested in self-promotion and creating chaos:
Of course, the MRC continued to act as Musk's PR agent as well. An article by Johnson hyped Twitter Jack Dorsey cheering Musk's purchase, followed by a repurprosed CNSNews.com article noting MRC favorite Mark Levin's return to Twitter because of Musk even though Musk had not actually completed the purchase at this point. Then the boss got his sycophantic say, courtesy of a lovingly transcribed (and anonymously written) Fox Business appearance:
Billionaire Elon Musk's takeover of Twitter was totally about protecting the First Amendment, and had little to do with labor considerations or investing for financial gain. MRC President and founder Brent Bozell made those remarks during an appearance on Fox Business' Varney & Co. on Tuesday.

"Today's a great day for freedom," he said. "This entire debate has been over free speech, with the left saying that this ought not to be allowed. Let's understand this very clearly: This has nothing to do about economics, nothing having to do about work practices. It's all about Elon Musk saying, 'I'm buying this company because we have to have free speech in America to have a functioning democracy.'"

[...]

"This is a totalitarian institution, Silicon Valley, and along comes Elon Musk and he's tipped over the apple cart, just like [Florida Gov. Ron] DeSantis tipped over the applecart with Disney in Florida," Bozell said. "The American people have had enough of this totalitarianism."

Musk said in a statement that he wants to enhance Twitter by launching unnamed new features, open-sourcing algorithms to improve public trust, defeating spam bots, and "authenticating all humans." The last statement was a nod to free speech.

"Free speech is the bedrock of a functioning democracy, and Twitter is the digital town square where matters vital to the future of humanity are debated," Musk stated. "Twitter has tremendous potential – I look forward to working with the company and the community of users to unlock it."
Again: All this overblown MRC praise for Musk's fealty to "free speech" belies his actual record. But the MRC doesn't want you to know that.
The latest from