CNS Melts Down Over Republicans, Jewish Groups Supporting Same-Sex Marriage
Topic: CNSNews.com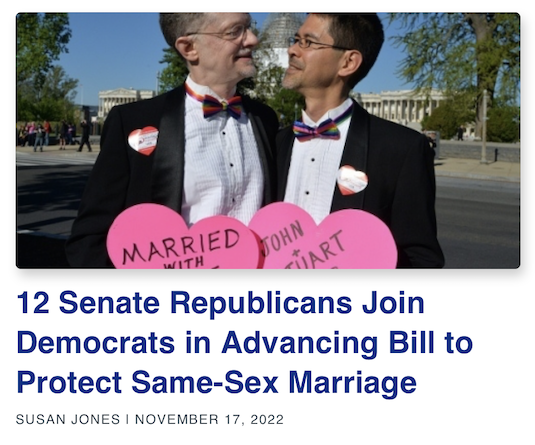 Earlier this year, CNSNews.com lashed out against Republicans that stopped hating LGBT people as much as it does and came out in favor of a bill to include same-sex marriage -- or "homosexual marriage," in CNS' biased nomenclature -- as being covered in federal law. As the bill wound its way toward passage, CNS ramped up the hate. Homophobic managing editor Michael W. Chapman used a Nov. 4 article to attack "liberal" Jewish groups for endorsing the bill and cited his favorite group of hateful right-wing rabbis to criticize them:
At least 108 liberal Jewish organizations have signed on to a letter to U.S. senators expressing their strong support for the "Respect for Marriage Act," which would codify gay marriage into federal law. This position, however, is strongly opposed by many orthodox and traditional rabbis who say gay marriage is contrary to Judaism.

In a letter to all 100 senators, the Union for Reform Judaism, Keshet, and 108 other Jewish organizations said, "On behalf of the 110 undersigned national, state, and local Jewish organizations, we write to express our support for the Respect for Marriage Act (S.4556). Driven by our Jewish values, we are committed to supporting laws that protect the civil rights and individual liberties of all people."

[...]

According to the Coalition for Jewish Values (CJV), representing more than 2,000 traditional, Orthodox rabbis in American public policy, gay marriage is incompatible with Jewish teaching.

According to the Rabbi Yaakov Menken, managing director of the CJV, told CNS News in June, "Marriage is described in Genesis as directly connected to having children. So even without reference to clear prohibitions in Leviticus, it is obvious that a same-sex union is foreign to Judaism."

The Book of Genesis, part of the Torah, teaches, "So God created mankind in his own image, in the image of God he created them; male and female he created them. God blessed them and said to them, 'Be fruitful and increase in number; fill the earth and subdue it. Rule over the fish in the sea and the birds in the sky and over every living creature that moves on the ground.'"
Note that Chapman didn't hang a political label on the CJV like he did the "liberal" groups, describing it only as "traditional" and "orthodox."Chapman also copy-and-pasted a list of the groups at the end of his article, like he did with the Republicans who support the bill.
Susan Jones complained that the bill was moving forward in a Nov. 16 article, keeping up CNS' weird attacks the Democratic Senate majority leader over his non-heterosexual daughter while throwing a little shade at a Republican who was not being homophobic enough:
Senate Majority Leader Chuck Schumer (D-N.Y.) told reporters on Tuesday that Democrats plan to move ahead with their agenda in the lame-duck session and beyond, on a "bipartisan basis" where possible.

First up is the so-called "Respect for Marriage Act," a bill that would codify same-sex marriage.

"I know passing the Respect for Marriage Act is as personal as it gets for many senators and their staffs, myself included," Schumer said.

"My daughter and her wife are actually expecting a little baby in February. And so, it matters a lot to so many of us to get this done, and we're going to hold our first procedural vote on the bill tomorrow (Wednesday). After that, I hope that both sides can work quickly together and move this bill forward on to the president's desk."

(Senate Minority Leader Mitch McConnell, R-Ky., told reporters on Tuesday he "hasn't announced" how he'll vote on the marriage bill.)
After the bill passed the Senate, Jones ramped up the rage in a Nov. 17 article, again calling out Republicans by name who refused to march in lockstep with CNS' homphoobia:
In a statement someone wrote for him on Wednesday, President Joe Biden hailed the Senate's 62-37 vote to advance the "Respect for Marriage Act," a bill that says no state may prohibit marriage between two individuals on the basis of sex, race, ethnicity, or national origin of those individuals.

The bill codifies same-sex marriage, a right conferred by the U.S. Supreme Court in 2015.

"Love is love, and Americans should have the right to marry the person they love," Biden said in his statement.

[...]

Sen. Tammy Baldwin, a lesbian Wisconsin Democrat and co-sponsor of the bill, said Wednesday's vote gives "millions of loving couples the certainty, dignity, and respect that they need and deserve."

The Republicans voting to advance the bill are: Roy Blunt of Missouri; Richard Burr of North Carolina; Shelley Moore Capito of West Virginia; Susan Collins of Maine; Joni Ernst of Iowa; Cynthia Lummis of Wyoming; Lisa Murkowski of Alaska; Rob Portman of Ohio; Mitt Romney of Utah; Dan Sullivan of Alaska; Thom Tillis of North Carolina; and Todd Young of Indiana.
Jones weirdly refused to identify any of the people who came out against the bill as "heterosexual" the way she identified Baldwin as a "lesbian."
An anonymously written Nov. 17 article quoted Republican Sen. Mitt Romney supporting the bill, which made sure to describe him as "the losing Republican presidential nominee in 2012." This was followed by an article by Lauren Shank featuring GOP Sen. James Lankford disparaging the bill while including no disparaging descriptions of him.A Nov. 21 article by Shank was a fairness-free roundup of right-wing attacks on the bill:
The U.S. Senate voted 62-37 on Nov. 16 to invoke cloture and move forward to a vote on the Respect for Marriage Act. While 12 Republican senators voted in favor of cloture, conservatives denounced the bill as an attack on religious liberty, particularly for individuals.

If signed into law, which President Biden is expected to do, the Respect for Marriage Act would repeal the Defense of Marriage Act and essentially codify "gay marriage" into federal law. For federal purposes, marriage would no longer be defined as being between one man and one woman.

[...]

"Gay marriage" was declared constitutional by a liberal majority (5-4) of the Supreme Court on June 26, 2015. In a dissent, conservative Justice Samuel Alito wrote that "the Constitution leaves that question" of marriage "to be decided by the people of each State," not by the federal government.

"The Constitution says nothing about a right to same-sex marriage," wrote Alito. "Today's decision usurps the constitutional right of the people to decide whether to keep or alter the traditional understanding of marriage. The decision will also have other important consequences."
An article by Shank later that day attacked the Mormon Church for supporting the bill -- and, unlike her previous article, featured an opposing view:
The Church of Jesus Christ of Latter-Day Saints, which abandoned polygamy in the 1890s, announced on Nov. 15 that it supports the pro-LGBTQ Respect for Marriage Act, which codifies "gay marriage" into federal law. The Mormon church in a statement said, "We believe this approach is the way forward."

While the Utah-based church holds fast to God's design of marriage – specifically and only between one man and one woman – the church voiced its support to protect gay-marriage rights and suggested such arrangements will not compromise the Biblical truth that same-sex marriage is against the Christian faith.

[...]

In 2015, when the Supreme Court ruled (5-4) in favor of gay marriage, evangelical Christian leader Franklin Graham said on Hannity, "Our country has been slipping every year further and further away from the God of the Bible -- the foundation that our nation was built on. We're slipping away from that. And I believe that we need to do everything we can to warn people of the consequences of sin."

"Homosexuality is sin," said Graham. "Same-sex marriage is a sin against God. Now, people who don't believe in God don't care about that, but at the same time, Sean, God is going to judge sinners, so I love them enough to warn them of the consequences of sin."

"And I want everyone who's listening -- I'm not here to throw stones at you because you want to marry someone of the same sex -- I just want to warn you, and I do this in love, that God will judge sin," said Graham. "God takes sin very seriously. God cannot tolerate sin in his presence."
An anonymously written Nov. 28 article returned to the biased nomenclature with the headline "Senate Homosexual Marriage Bill: 'No Federal Recognition of Polygamous Marriages'."
Posted by Terry K. at 12:00 PM EST
Updated: Sunday, December 11, 2022 12:11 PM EST