Newsmax's Morris Still Trump-Fluffing -- But Won't Talk About Trump's Latest Scandals
Topic: Newsmax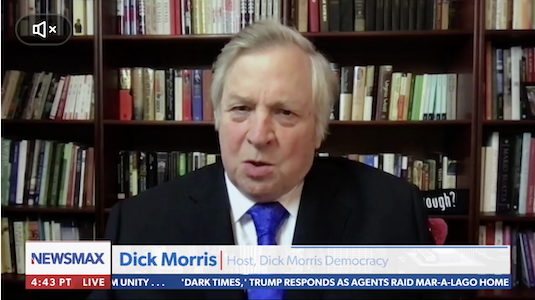 Even as he was making his grandly incorrect prognostications about how well Republicans would do in the midterm elections, Newsmax pundit Dick Morris made sure to plug his (Newsmax-published) pro-Trump book as well during his Newsmax TV appearances. An Oct. 22 appearance sucked up to Trump by lamenting the trouble Steve Bannon created for himself:
It was "tragic" for Steve Bannon, a longtime ally of former President Donald Trump, to be sentenced to four months behind bars for defying the Jan. 6 committee's subpoena, political strategist Dick Morris said on Newsmax Saturday.

"Steve is one of my heroes," Morris, the author of the bestselling "The Return: Trump's Big 2024 Comeback" told Newsmax's "Saturday Report." "He is one of the most brilliant people I've ever met."

Bannon was behind Trump's winning election strategy in 2016 to focus on voters in the nation's so-called "flyover country," or "what Hillary [Clinton] called the 'deplorables,' the high school graduates, working-class voters, who don't live on the coasts," said Morris.

"Trump discovered these people and said their needs have not been made public, and that 'nobody's focusing on them, but I am,'" Morris continued.

And while those voters were being mocked as "deplorables, clinging to their guns and Bibles," Trump said he'd pay attention to them and put them first, said Morris.

"That strategy came right out of the fertile brain of Steve Bannon," he said. "I once told him he and I belonged to a very exclusive club of about five people who are still alive who ran the successful campaigns of people for president. I've got such respect and admiration for him. It's tragic that he's going to have to go to jail."

[...]

"This is designed to distract everyone from inflation, crime, immigration, [President Joe] Biden's failures," said Morris. "Abortion is fading, so this gives them something to talk about. Jan. 6 gives them some talking points that they can use."
Morris rehashed one of the pain theses of his book -- that Hillary Clinton will run against Trump in 2024 -- in a Oct. 25 appearance:
Dick Morris, a best-selling author, TV host, and adviser to former Presidents Bill Clinton and Donald Trump, has a simple explanation for Hillary Clinton's seemingly out-of-the-blue rant about the Republicans, or "right-wing extremists literally" having a plan to "steal" the 2024 presidential election.

From Morris's perspective, Hillary Clinton will pursue the Democrat [sic] Party nomination two years from now — regardless of President Joe Biden's final determination of his own plans.

"By Hillary getting out here and saying this, it means she's running for president," Morris told Newsmax on Tuesday afternoon, while appearing on "American Agenda" with hosts Bob Sellers and Katrina Szish.
Morris did even more pre-election Trump-fluffing in an Nov. 6 appearance in which he had to play cleanup after Trump insulted Florida Gov. Ron DeSantis as "Ron DeSanctimonious":
"The key thing is that the day after tomorrow, all of Trump's candidates will win," said Morris. "That will send a message to the Republican Party that Donald Trump cannot be beaten in a Republican primary."

Further, anyone thinking about running will understand that "Trump is going to win that nomination," said Morris. "If they get in his way they just can be destroying their own political career."
In fact, not that many Trump-endorsed candidates won, and even those that did underperformed. Nevertheless, Morris spun further for Trump in anticipation of his announcement he was running for the 2024 nomination. After the announcement, he served up even more Trump-fluffing in a Nov. 19 appearance:
Dick Morris, adviser to former Presidents Bill Clinton and Donald Trump, told Newsmax Saturday that Trump can and will make history in his third run at the presidency.

Responding to a question from "Saturday Report" on whether Trump will get the Republican nomination in 2024 and make "history," Morris said, "yes and yes."

"I predicted this in my book 'The Return,'" Morris says. "I think he'll win the nomination. I do not think he will have a serious primary. I think DeSantis and all the others will take one look at the polls and run screaming."

"I think Trump will win the election," Morris continued. "I think the economy is further falling apart. I think that, basically, any Republican can win in '24, and certainly, Trump can win."
Morris did more of the same in a Nov. 21 appearance:
Author and advisor to former presidents Bill Clinton and Donald Trump, Dick Morris, told Newsmax Monday that Attorney General Merrick Garland's appointment of a special prosecutor to investigate Trump "won't make a damn bit of difference" in his 2024 candidacy, or with his supporters.

"[Democrats are] taking this nonsense with an all-Democratic grand jury in Washington, D.C. Twist them and shape them so that they could actually find a real violation of law and indict Donald Trump," Morris said during "American Agenda" Monday. "I don't think it's going to make a damn bit of difference. Republicans are going to recognize this for what it is, which is an attempt to manipulate the [2024 presidential] nomination."
A few days later, however, it was revealed that Trump had dinner at his Mar-a-Lago compound with not only anti-Semite Kanye West but also white supremacist Nick Fuentes. Since that revelation on Nov. 25, however, Morris has discussed Trump (in a way that warranted a article, anyway) just once -- in a Nov. 28 appearance in which he complained about the Department of Justice appointing a special counsel to take over its investigation of Trump -- and was not asked about the dinner.
Unsurprisingly, Morris has also not weighed in on Trump demanding the suspension of the Constitution so he could be re-installed as president.
Posted by Terry K. at 6:40 PM EST