How Is The MRC Fearmongering About Soros Now?
Topic: Media Research Center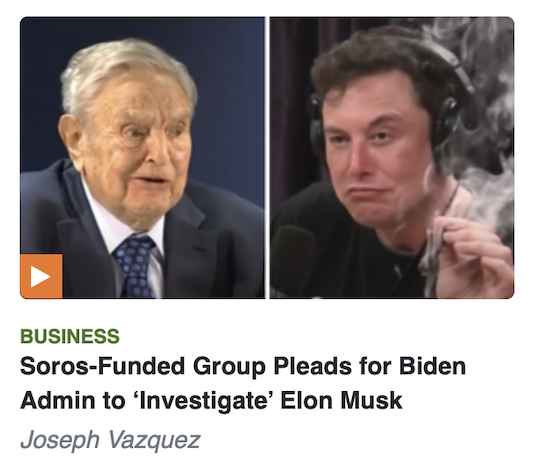 The Media Research Center has kept up its dirty war on George Soros since the last time we checked in. Let's see what it's been ranting about over the past few months:
Note that some of these items are lashing out at Soros-linked efforts to remove disinformation on social media, which are dishonestly framed as "censorship" or framed as "so-called disinfo," as if there was no objective definition of the word.
We've already noted how the MRC has pushed the bizarre narrative that Soros dictates Wikipedia articles and its dishonest branding of an investor group tangentally llinked to Soros buying a group of Spanish-language radio stations as "Radio Soros," as well as how it cheered the anti-Soros propganda of of the right-wing Convention of States.The MRC even attacked a Twitter whistleblower as being tied to Soros because he wouldn't stick to pro-Elon Musk narratives.
Unsurprisingly, the MRC tried to work its hatred for Soros into its pro-Elon Musk narratives regarding Twitter. A Nov. 17 article by Jeffrey Clark complained that "Two groups linked to failed presidential candidate Hillary Clinton and liberal billionaire George Soros are behind a massive pressure campaign aimed at sinking Twitter and destroying its advertising revenue after Elon Musk took control of the platform," complaining further that "Soros gave $450,000 to UltraViolet Action, the lobbying arm of UltraViolet, in 2020 alone." Joseph Vazquez ranted in a Nov. 30 post:
A group funded by liberal billionaire George Soros is pressuring the federal government to investigate the world's richest man simply because he now owns Twitter.

A press release by The Open Markets Institute (OMI) promoted a Nov. 16 letter it sent clamoring for the U.S. government to investigate Twitter CEO Elon Musk's "purchase and management of Twitter and his ongoing management of Starlink."

The letter itself was saturated with absurd fear-mongering language that a Musk-owned Twitter meant doom for the world: "[P]eople across the United States and around the world are watching Mr. Musk potentially destroy – out of greed, recklessness, or incompetence – a service that has proven critical to their safety, and around which they have institutionalized entire systems of emergency response."
As if the war on Soros by Vazquez and the rest of the MRC wasn't heavily based in absurd fear-mongering language.
A Dec. 21 post by Vazquez parroted claims from hand-picked "independent journalist" Michael Schellenberger (who was taking his orders from Musk, so there's lots of questions about just how "independent" he is) about how "A radical group heavily funded by leftist billionaire George Soros has now been linked to Twitter's FBI-influenced effort to squash the Hunter Biden laptop scandal" -- specifically, the Aspen Institute. Vazquez never explained what, exactly, made this group so "radical"; more of that absurd fear-mongering language, apparently.
Posted by Terry K. at 10:11 PM EST
Updated: Friday, January 27, 2023 10:35 PM EST