CNS Complained About House Passage of Respect for Marriage Act
Topic: CNSNews.com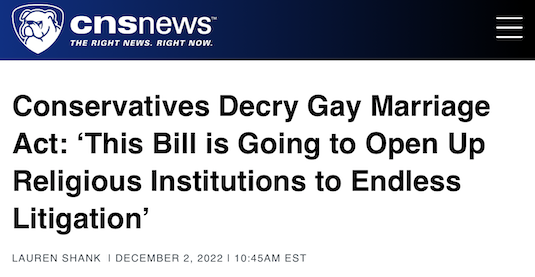 CNSNews' coverage of the Respect for Marriage Act has emphasized right-wing anti-LGBTQ attacks, and its coverage of Senate passage of the bill went the same way. On Nov. 30, the day of the vote, Susan Jones continued CNS' weird obsession with Chuck Schumer and his gay daughter, as well as its insistence on calling out Republicans by name who are insufficiently hateful of gay people:
"As you know, this is personal to me," Senate Majority Leader Chuck Schumer (D-N.Y.) said shortly before the Senate passed the "Respect for Marriage Act," codifying homosexual marriage (and, incidentally, interracial marriage).

Schumer told a news conference on Tuesday that after Supreme Court Justice Ruth Bader Ginsburg died in 2020, "we were at a family dinner. And my daughter and her wife were distraught and asked me, 'Could our marriage be undone?'

"Today, a new day has come for them. In -- and in the new year, they'll be welcoming their first child, my third grandchild, God willing, in a few months.

"With the passage of this bill, though, I think not just about them and the millions of Americans it'll impact, but about my future grandchild. That child will now grow up in a more accepting, inclusive, and loving world, a world that will honor their mothers' marriage and give it the dignity it deserves."

To clear a filibuster, the Respect for Marriage Act needed ten Republicans to join Democrats in voting to advance the bill. In the end, twelve Republicans voted for final passage, including Sens. Roy Blunt (R-Mo.), Richard Burr (R-N.C.), Shelley Capito (R-W.V.), Susan Collins (R-Maine), Joni Ernst (R-Iowa), Cynthia Lummis (R-Wyo.), Lisa Murkowski (R-Alaska), Rob Portman (R-Ohio), Mitt Romney (R-Utah), Dan Sullivan (R-Alaska), Thom Tillis (R-N.C.), and Todd Young (R-Ind.).
Jones then larded up her article with attacks on the bill from right-wing anti-LGBTQ groups like the Family Research Council and Americans Defending Freedom while refusing to offer balance from those who support the bill.
An anonymously written article then complained while using the denigrating "homosexual marraige" term:
Dr. Barry Black, the chaplain of the U.S. Senate, was called to the podium at the front of the chamber on Nov. 28 to say a prayer, as is the customary practice before the Senate begins its daily sessions.

The major business the Senate then dealt with was voting to approve the so-called "Respect for Marriage Act," which effectively approves homosexual marriage nationwide.

"Lord, give us the grace to stay on the road of virtuous and godly living," Dr. Black said in this prayer.

[...]

Having heard this prayer, the Senate went on during that day's session to approve the Respect for Marriage Act—and, thus, extend nationwide recognition to homosexual marriage—by a vote of 61 to 36. (Three senators did not vote.)
Not coincidentally, this was followed by another anonymously written article informing us that "The Catechism of the Catholic Church describes 'homosexual acts as acts of grave depravity' that are 'intrinsically disordered' and 'contrary to natural law,'" while providing no news-related reason for the article's existence.
Yet another anonymously written article served up House Speaker Nancy Pelosi's praise for Senate passage of the bill. That stab at balance was undone by a Dec. 2 article by Lauren Shank quoting numerous right-wing and anti-LGBTQ activists purporting to be "worried about the future of religious liberty, for individuals and institutions, since the Senate passed the Respect for Marriage Act by a vote of 61-36 -- legislation that President Joe Biden has indicated he will sign into law." The article followed the same structure as her Nov. 21 article quoting some of the same critics and, like that article, omitted any semblence of balance by censoring activists who support the bill.
Posted by Terry K. at 1:43 PM EST