CNS Ted Cruz Stenography (And Lack of Disclosure) Watch
Topic: CNSNews.com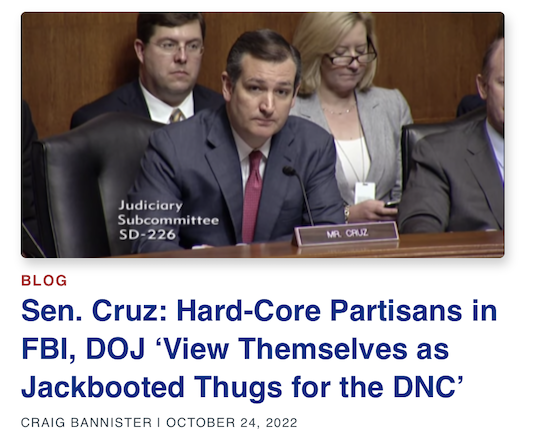 Ted Cruz was having a gangbusters year of being featured at CNSNews.com -- it help when you hire the daughter of CNS editor Terry Jeffrey as your spokesperson. Here's the free promotion Cruz got from CNS in the final quarter of 2022, which throttled things back a bit from earlier in the year:
There was also an Oct. 31 article by Susan Jones giving Cruze secondhand promotion under the headline "Rep. Comer: 'I Agree With Ted Cruz': Why Have FBI, DOJ Ignored 'Credible Evidence' Involving Hunter Biden?" Not counting that one, there were only 11 Cruz-centric articles in the final quarter, which makes for a total of 65 articles in 2022. By contrast, CNS devoted 46 articles to him in 2020 and 72 articles in 2021.
As usual, CNS has never explained why it considers Cruz so newsworthy, and it definitely hasn't disclosed in any of these the fact that Cruz employs Jeffrey's daughter.
Posted by Terry K. at 12:42 AM EST
Updated: Tuesday, January 3, 2023 9:25 AM EST