MRC's Jean-Pierre-Bashing, Doocy-Fluffing Watch, Year-End Edition
Topic: Media Research Center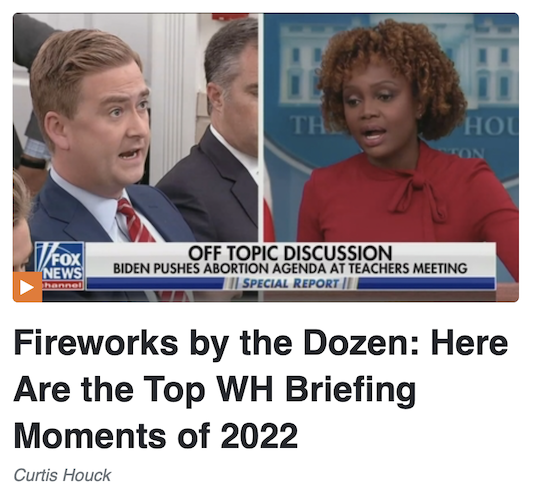 The Media Research Center continued its recent pattern of increasingly sporadic attacks on White House press secretary Karine Jean-Pierre (running out of insults, perhaps?) into December. Houck's writeup of the Dec. 5 briefing was centered on the first "Twitter files" release that the MRC had been aggressively hyping:
Over the course of Monday's 48-minute-long White House press briefing, Fox's Jacqui Heinrich was the only member of the press corps called on who asked the ever-stammering Press Secretary Karine Jean-Pierre about Friday's release of the Twitter Files by Twitter boss Elon Musk and journalist Matt Taibbi. Whether it be reporters for the Associated Press, CBS, or USA Today to name a few, they all remained silent.

Not surprisingly, Jean-Pierre dismissed the matter as a "distraction...full of old news" as Twitter's facing "very serious questions about the rising volume of anger, hate, and anti-Semitism" that "they're letting...happen" (which Musk has vehemently denied).

Heinrich broached the subject by first highlighting the fact that Jean-Pierre said last week that the Biden administration would be "keeping a close eye on" Musk and then asking: "Is it the White House's view that decisions at Twitter were made appropriately in terms of decisions to censor reporting ahead of the election?"

Jean-Pierre feigned outrage and ignored her question, lamenting she "mischaracterize[d], actually, what I — what I actually said took it out of context" when what she meant was "we follow also what's going on just like you guys are reporting and just like you guys are seeing and what I was commenting to is, like, yes, we're — we're seeing what's happening with Twitter."

[...]

Jean-Pierre then leveled the false claims about Musk and illustrated how the administration is indeed dead set on surveilling Musk:

And at the same time, Twitter is facing very real and very serious questions about the rising volume of anger, hate, and anti-Semitism on their platform and how they're letting it happen. And you know, the President said last week more leaders need to speak out and reject this and it's a very alarming and very dangerous.

Instead, she argued, Biden is focused on "helping...American families" and job creation since talking about censorship is (allegedly) "won't do anything to help a single American improve their lives."
Actually, Musk "vehemently denying" the claim that hate and anti-Semitism have increased on Twitter since he took over is not the same thing as that claim being false (it isn't).
Houck returned to his old, malicious incompetent-diversity-hire narrative in his writeup of the Dec. 19 briefing, complaining thatJean-Pierre was dodging biased questions from right-wing reporters:
Shortly before Chief Justice John Roberts stepped into temporarily thwart the end of Title 42, White House Press Secretary Karine Jean-Pierre fumbled her way Monday afternoon through the latest briefing with basic questions from reporters about the administration's plans to (allegedly) deal with their ongoing crisis they've exacerbated.

The ladies representing Fox News brought the heat, however, with Jacqui Heinrich drawing her ire on the border and Hillary Vaughn having Jean-Pierre dodge a question about the truly bombshell findings of Twitter Files part seven.

Amid all the border questions, Vaughn's Twitter files question was whether the administration is concerned the intelligence community squashed "a legitimate news story":

VAUGHN: The latest Twitter Files show that the intelligence community was actively involved in discrediting the Hunter Biden laptop story. Does it bother the President & those at the White House that a govt agency like the FBI was involved in suppressing a legitimate news story?

JEAN-PIERRE: Again, I'm just going to refer you to the FBI. I'm not going to comment from here about that.

[...]

A few moments after Jean-Pierre swatted down a reporter's queries about whether Biden would visit the border, Heinrich started with a simple request for reaction to "El Paso's Democratic mayor...declar[ing] a state of emergency" because "he felt he could no longer keep his community or the asylum seekers safe."

Jean-Pierre insisted that "Biden has taken steps to reduce disorderly migration while expanding legal pathways for orderly migration" since being inaugurated, but Heinrich wasn't having it and noted border facilities are well beyond capacity with one being stretched by a factor of four.
Houck finished out the year with a wrap-up item of his favorite Karine-bashing and fluffing of various Fox News reporters pushing their biased narratives over the past 12 months:
Inside the White House Briefing Room, 2022 began with more mountain-sized word salads and dodges from Jen Psaki before shifting in May to former MoveOn.org spokeswoman and former MSNBC contributor Karine Jean-Pierre, who made waves for her stunning ineptitude and using her binder as a life raft.

Dozens of NewsBusters blogs were dedicated to the topic, so it was a challenge to narrow down to 12-ish examples, but we did our best to sift through the many Doocy Times and Jacqui Times and moments from other reporters across the spectrum.
Houck's beloved Trump press secretary, Kayleigh McEnany, also heavily relied on a briefing binder, but he would never dare to suggest she used it as a "life raft."
Posted by Terry K. at 8:14 PM EST
Updated: Saturday, January 7, 2023 10:15 PM EST