MRC Gets Mad That Non-Right-Wing Media Won't Parrot Pro-Musk Narratives
Topic: Media Research Center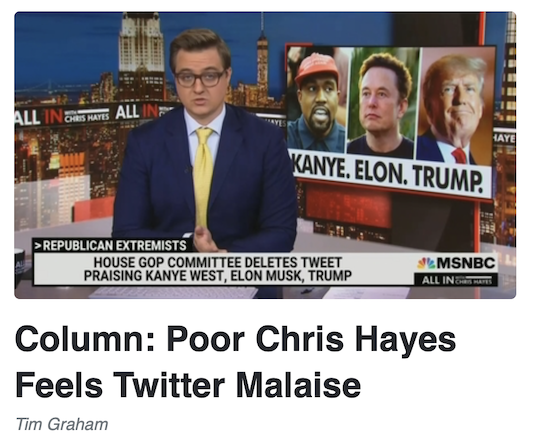 After salivating over the first release from Elon Musk of internal "Twitter files," the Media Research Center eagerly anticipated the next installment of selective documents given to hand-picked reporters. Until then, an anonymous writer expressed glee in a Dec. 6 post attacking Twitter's now ex-lawyer for doing his job:
As a top lawyer for Twitter, Jim Baker had a duty to his client to put Twitter's ethics above his own.

But he apparently failed.

Twitter had intended to publish its second batch of internal files on the company's handling of the Hunter Biden laptop scandal last weekend but ultimately didn't. That's because former Twitter Deputy General Counsel Baker complicated their release, independent journalist Matt Taibbi tweeted Tuesday.

Twitter CEO Elon Musk fired Baker on Tuesday, Taibbi reported.

"I don't see how Jim Baker could have represented his client and met his ethical obligation as a member of any state's bar," MRC Free Speech America Vice President Dan Schneider said. "His state bar association should immediately investigate this matter to determine whether Baker's license should be suspended or even revoked. Michael Avenatti is in prison today for taking advantage of his clients. Jim Baker should not be allowed to escape justice."

[...]

Though news that Baker had been reviewing the "Twitter files" shocked everyone involved, "reporters resumed searches through Twitter files material – a lot of it – today," Taibbi tweeted. The next installment of the Twitter files will appear on journalist Bari Weiss's Twitter page, Taibbi wrote. "Stay tuned."
Reviewing internal documents before public release sounds exactly like the thing a company's lawyer ought to be doing -- most normal people would call that a requirement for someone in his position, not someone who had "failed" -- which means Musk fired Baker for doing his job. Rather than explain how corporate lawyering works, our anonymous writer went into conspiracy mode:
Baker was FBI general counsel from 2014-2018. A controversial figure, he helped initiate the bureau's investigation of former President Donald Trump's supposed ties with Russia, helping to link his friend and Democratic operative Michael Sussmann with FBI investigators, according to The Washington Times. Other accusations included the propagation of claims that Trump had a secret communication channel with Alfa Bank, based in Russia, according to National Review.
The anonymous writer filed to mention that Sussmann was acquitted of any criminal wrongdoing despite facing a biased right-wing prosecutor in John Durham and the MRC's own cheerleading for his conviction. Also, the anonymous writer describing Taibbi as a "independent journalist" obscures the fact that he was hand-picked by Musk to peddle these documents, as well as his sleazy, misogynistic behavior toward women while working as a correspondent in Moscow (h/t Jill Filipovic).
Meanwhile, Tim Graham spent his Dec. 7 column whining that non-right-wing media outlets weren't marching in lockstep with the right-wing pro-Musk narrative:
At 3:39 on Friday afternoon, Elon Musk announced he'd release internal documents exposing how Twitter went about heavily suppressing the New York Post and its mid-October 2020 scoops from Hunter Biden's laptop.

Journalist Matt Taibbi began tweeting out documents three hours later, and not surprisingly, there was no time for it on the evening news shows, including the PBS NewsHour – which airs in Washington at 7 pm.

They also skipped it on PBS's reporter roundtable Washington Week at 8 pm. No one started preparing anything in the afternoon? Maybe these shows were recorded before 6:30?
Alex Christy served up some whining too, this time at MSNBC host Chris Hayes for advancinbg the entirely logical and rational idea that Musk bought Twitter to advance an ideological agenda -- though he had to admit Hayes is probably right, then cover up that admission with whataboutism:
Nobody who works at MSNBC should be accusing Elon Musk of purchasing Twitter as a vehicle to advance his ideological agenda, but All In host Chris Hayes did just that on Tuesday's edition of Late Night with Seth Meyers on NBC.

Switching from sarcasm to seriousness, Hayes addressed Musk's purchase of Twitter, "I mean, I'm not in the books, but I think pretty much-- sounds like pretty much -- no, it's been pretty disastrous. I mean, I -- I -- think the thing -- the thing that I actually have -- that has been clarifying for me, I think there was -- first of all, it felt a little bit like an impulse purchase."

Hayes then added that there was more than an alleged midlife crisis at hand:

I think that what he's been doing with the platform now is actually very clarifying to me because it wasn't about the business and it wasn't an impulse purchase, it was an ideological purchase and as long as there have been rich people, and as long as there have been rich people and capitalism, plus a free press, there have been rich people who buy media outlets for ideological purposes. This is a story as old as time and once I sort of saw it as that, I was like, 'Oh! That's what this is.' He -- he wants to own Twitter because he wants to pursue his vision because he's the world's richest man.

Hayes isn't entirely wrong. Musk does have an ideological commitment to free speech, but the type of ideologically driven media he is referencing is much more like MSNBC. Free speech means people, like Hayes and Meyers, are allowed to disagree with Musk, but good luck being a conservative and getting a show on MSNBC or a comedy show on NBC.
Then it was time for a Musk PR piece from Catherine Salgado:
"[E]verything we find will be released," new Twitter owner Elon Musk assured Americans, after co-founder and former CEO of Twitter Jack Dorsey, who oversaw the massive Hunter Biden laptop censorship scandal, called for the Twitter censorship files be made fully public.

Dorsey responded on Dec. 7 to Musk's Dec. 3 announcement, "Looks like we will need another day or so" to release "Twitter Files" Episode 2. Dorsey tweeted, "If the goal is transparency to build trust, why not just release everything without filter and let people judge for themselves? Including all discussions around current and future actions? Make everything public now. #TwitterFiles."

Musk replied, "Most important data was hidden (from you too) and some may have been deleted, but everything we find will be released." Musk previously said that promoting "free speech" was one of the reasons he bought Twitter.
Curtis Houck joined the whining over non-right-wing media ignoring the narrative:
Journalist Matt Taibbi published a 10-tweet thread Tuesday afternoon as a supplement to last Friday's first batch of the Twitter Files, explaining its rollout was hamstrung by meddling from Twitter Deputy General Counsel, former CNN analyst, and Swamp creature Jim Baker. In conjunction with the thread, Musk said Baker was fired upon being alerted to the fact that Baker had (somehow) stuck around.

Of course, the "big three" networks of ABC, CBS, and NBC remained fully engaged in censorship denialism with zero mention on their flagship morning and evening shows of this new revelation about Twitter's 2020 censorship of the reporting on Hunter Biden. On Taibbi's initial thread from December 2, the networks have similarly been out to lunch with only 26 seconds on the December 5 CBS Mornings.

In contrast, actual newscasts such as the Fox News Channel's Special Report and NewsNation's Early Morning and Morning in America had full stories Wednesday on this new twist.
In the right-wing media bubble that Houck lives in, you're only an "actual newscast" if you uncritically parrot right-wing narratives.
Graham attacked Hayes anew in his Dec. 9 column, this time for poiinting out the rifght-0wing narrative being pushed by Musk (and the MRC):
Like almost everyone else in the leftist bubble, MSNBC host Chris Hayes has not been engaging in the "Twitter Files" revelations about how, in October 2020, Twitter squashed all references to the New York Post scoops about Hunter's left-behind laptop. But on Twitter, he argued this is just another conservative schtick.

Hayes announced, "What's become really clear in the last few weeks is that all the 'Big Tech' anger from the right is really just the latest iteration of the 'liberal media' critique that stretches back to Goldwater, and indeed New-Deal-Era right-wingers."

He added: "There's no new analysis or structural insight. It's just 'the media is run by libs!' Story old as time." Hayes allies tweeted along, that this is more "ref-working" and conservatives trying to "jerry-rig" Big Tech to their advantage.

The real bone to pick with Hayes is that there is no new "structural insight." Hayes, who poses on television as a brainiac, can't seem to distinguish between "news" media and social media. In "news" media, liberal outlets often brutalize conservatives and offer their targets little or no rebuttal. In social media, Big Tech has offered conservatives a forum for constant rebuttal, but after being torched by the Left for allowing "misinformation" (like the Hunter laptop), they ham-handedly squash the rebuttal.

In both cases, Hayes is attempting to deny that liberal bias exists, that the conservative tactic is a sham. It's deeply silly, since anyone watching MSNBC for an hour isn't going to discover an oasis of objectivity.
Meanwhile, Graham -- a longtime resident of the right-wing media bubble -- wants you to deny that Fox News and other right-wing outlets have any sort of bias. Remember, he's the boss of the guy who thinks only "actual newscasts" spout right-wing narratives.
Posted by Terry K. at 10:25 PM EST
Updated: Sunday, January 8, 2023 11:23 PM EST