Dick Morris Rides The Trump Train
The perennially wrong Newsmax pundit wrote a book making the low-stakes prediction that Hillary Clinton will run against Donald Trump in 2024. Newsmax is even playing the "censorship" card on the book because it's not on the New York Times best-seller list.
By Terry Krepel
Posted 12/12/2022
---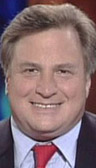 Dick Morris
Newsmax pundit Dick Morris has a legacy of failed prognostications, a good portion of which involve Hillary Clinton -- for instance, he predicted she would run for president in 2020, which didn't exactly work out. But Morris has a new book to promote, this one predicting that Donald Trump will run for president in 2024, which is a less risky prediction, given how aggressively Trump has been hinting at it. But the book is published by Humanix, Newsmax's book division, so it's all over Newsmax, including using it as an enticement to lure readers into subscribing to its magazine.

Despite the fact that Morris' prediction is not exactly a stretch, he's been pushing it like it was, giving up his much more noble endeavor of calling out Tucker Carlson's pro-Russia leanings to revert to political hackery. Morris outlined Trump's alleged election strategy in a July 16 article:
Political consultant Dick Morris said President Donald Trump will focus heavily on getting the Hispanic vote in 2024 and work to secure early voting like Democrats did in 2020.

"One of the groups that we're particularly aiming at are Hispanics," Morris, the author of the new book, "The Return: Trump's Big 2024 Comeback," said Saturday during an appearance on Newsmax's "American Agenda."

[...]

Getting voters to back Trump, he added, will be easy because of his experience as president.

"Donald Trump is a hybrid, like a Toyota car," Morris told Newsmax.

"He is half incumbent and half challenger. And in that role as a challenger, he'll go against Biden and the Democrats and explain all their failures.

"But then when they come back at him and say, 'How do we know you'll do any better?' he can come back as the half incumbent and say, 'I did. I did better on all these things. The border was secure, crime was low, there was no inflation, and the Russians didn't invade Europe. They were intimidated. And that's how it'll be again.' Trump is the only guy who can say that," he added.
A July 17 article by Eric Mack did much the same thing:
"The phrase is not 'likely,' the phrase is dead pipe certain: He's certain to run, and he is, I believe, certain to get the Republican nomination," Morris told Sunday's "Wake Up America." "I think he'll actually get it by acclamation. I don't think there'll be a primary fight."

All the talk of Florida GOP Gov. Ron DeSantis being a viable challenger to Trump in the 2024 GOP primary, is just that, Morris added to host Katrina Szish.

"Well, there's a lot of Republicans who have sort of the 6-year itch," Morris added. "You've heard of the 7-year itch. It's been six years of Trump, but they're flirting with DeSantis and other candidates, but only Trump can win this election."
Morris also did more than a little sucking up to Trump on a personal level:
Morris noted his Trump relationship started when his father was "the best" real estate attorney Trump has ever had, and he spoke with the president every day during the 2020 presidential election.

"And I explain it all in this book, including anecdotes of discussions that we had that there were I think very significant," Morris concluded.
Unsurprisingly, Morris dragged Hillary into it again in his July 19 column:
It will be one of the great political re-matches of all time.

Hillary Clinton will run again for president in 2024 to stop Donald Trump.

[...]

Increasingly, Democrats and big media like The New York Times know that Biden can't run again in 2024.

I share some of the backstories in my book about what his own supporters say about Biden behind his back. It's pretty shocking.

These insiders know better than most that Biden's quickly declining mental abilities, coupled with an economy spiraling out of control, means disaster for the Democrats in '24.
Morris repeated the same series of events he referenced in his failed 2020 prediction, which depended on every single potentially viable Democratic candidate flaming out, thus opening the door for Hillary:
It is clear to me that Hillary's recent spate of media interviews, as well as opinion pieces penned by long-time Clinton cronies touting her as Joe Biden's successor — are a prelude to her announcement she's running.

When that happens, we will enter a new phase.

Trump is preparing for Hillary's run – and knows he needs to create a new majority that will enable him to beat her and win in 2024.

As I explain in "The Return," it's Trump's to lose and he won't.
He repeated much of this in a Newsmax TV appearance the same day.
Morris' book promotion quickly evolved into defenses of Trump on other levels as well. Following the death of Trump's first wife, Ivana, he gushed in a July 20 Newsmax TV appearance:
Ivana Trump was "dignified, proper, and almost noble," Dick Morris told Newsmax on Wednesday, as Donald Trump's first wife was about to be buried in New York City following her death last week.

Morris, an adviser to Donald Trump, told "John Bachman Now" that he met Ivana decades ago when she came to dinner with her husband at the house of his parents.

"Ivana had just broken her leg and it was in a cast," Morris recalled, saying that he remembered how he and his wife Eileen "were both struck at how considerate Donald was in the way he dealt with her, helping her in the chair, helping her up. He was really a doting husband."
Morris made sure not to mention that Donald Trump cheated on Ivana, then dumped her for Marla Maples. He did, however, push his dubious evergreen prediction that Hillary Clinton will also run in 2024.
Morris used an Newsmax TV appearance the next day to defend Trump against a conservative Washington Post columnist who opposed a Republican coronation for Trump in 2024:
Political strategist and bestselling author Dick Morris Thursday on Newsmax accused The Washington Post of reporting "fake news" with an opinion piece stating it would be better for former President Donald Trump to have several opponents in the 2024 GOP primary than it would for him to be unopposed.

"That is pure fake news and propaganda by the Washington Post," Morris, the host of Newsmax's show "Dick Morris Democracy" and author of the book "The Return: Trump's Big 2024 Comeback," said on Newsmax's "Wake Up America." "That's just [owner] Jeff Bezos trying to gin up a primary against Trump."

He added that in the latest poll by Trump pollster John McLaughlin, "who I trust," the matchup between Trump and his nearest potential contender Florida Gov. Ron DeSantis has a wide gap, with 59% backing Trump and 15% for DeSantis.

"That's a 44-point gap," said Morris. "Only a moron runs in the face of a 44-point gap."

Columnist Mark Thiessen wrote in his column for the Post that if there is a divided field with a dozen or more candidates, he will "likely prevail" for the nomination with a plurality of Republican voters.

Thiessen further pointed out that support for a future Trump candidacy has dropped by 29 points in the past nine months.
Morris didn't mention that Thiessen is a solid conservative, nor did he produce any evidence that the column was mandated by Bezos -- or even that Bezos plays any sort of active role in running the paper.
Morris complained about Democratic gamesmanship in a July 24 TV appearance:
Democrats are not only paying up to try to boost candidates they think they can beat in 2022 midterms, but they are also funding potential 2024 GOP presidential primary challengers against former President Donald Trump, fearing his return, according to political strategist Dick Morris on Newsmax.

Morris' new book "The Return: Trump's Big 2024 Comeback" was recently released and has become an instant best-seller.

"I think we Republicans have to basically say that Donald Trump wants this – which he clearly does, and is going to run, which he clearly will – that we have to tell our people, 'No primary fight,'" Morris told Sunday's "Wake Up America Weekend." "Don't let the Democrats say, 'let's you and him fight.'

"Don't let them divide and conquer. Don't let them drain the resources of our ultimate candidate by setting up primary fights that go nowhere."
We don't recall Morris ever complaining about Rush Limbaugh's "Operation Chaos" plan to have Republicans meddle in Democratic primaries, so his concern here is a bit hypocritical.
Morris was back in defender mode in a July 25 appearance, this time insisting that the Capitol riot was no big deal and Trump shouldn't be blamed for it:
Anyone who "wants to blow the Jan. 6 thing out of proportion" to say former President Donald Trump is unworthy of being president, "they're absolutely almost sick," political strategist and author Dick Morris told Newsmax.

[...]

"He told me that he's going to win the nomination and I think, win the election, but Republicans are increasingly doing the bidding of the Democratic Party," Morris said. "They have a master plan that I reveal in this book to divide the [Republican] Party.

"It's the old Roman slogan, divide and conquer, and what they're trying to do is to lure other Republicans into the primary fight against Trump."

One way to do that is with "exaggerated stories about how damaged he is from the Jan. 6 commission," Morris said. "Every time any of those people sneezes, they get a front page cover."

Morris' comments come in response to an editorial in The Wall Street Journal slamming Trump in connection with the Jan. 6 Capitol protest, and another appearing in The Washington Post.

"We have to realize that Trump is going to be the nominee," Morris said. "You either help him or hurt him."
Morris added, "My God, look at what the man has achieved," which we presume he meant in a good way.
In a July 25 Newsmax TV appearance, Morris touted Trump's plan to destroy the federal civil service system:
If former President Donald Trump is reelected in 2024, there are reports he is going to work to drain the swamp of "deep state"career government officials by permitting the president to staff his government as one sees fit.

While Trump campaign adviser Dick Morris, who has released his latest book "The Return: Trump's Big 2024 Comeback," did not fully acknowledge the reported "Schedule F" executive order to Newsmax, he hailed it as noble reform for the Executive branch.

That's a bit of historical tension in American politics," Morris told Monday's "Rob Schmitt Tonight." "All officials used to be appointed. Andrew Jackson set that precedent. He said, 'They elected me president, so I should fill the administration with people who will do my policies.'

"And then when that system became too corrupt, they replaced it in 1882 with the civil service system. But the problem is now the civil service marches to its own drummer."

[...]

"And I think that this rule that he's seeking to propose is a very good one, because it makes the bureaucracy politically responsible to the president."
Related articles on ConWebWatch:
In reality, turning the whole of federal government into a patronage system beholden to the president and not making the government function properly is a bad idea that will quickly descend into corruption and effectively destroy government function.

It was also noted that "Morris also noted in his appearance with Schmitt, as he wrote in his book, he has found strength in God and purpose after battling cancer." No mention of the prostitute-patronizing that cost Morris his adviser gig with President Clinton in 1996 and set him on a revenge path that led him to being a Trump suck-up.

Morris repeated his low-stakes prediction (and his book's premise) that Trump will run for president again in 2024 in a July 27 TV appearance, dutifully mixing in another Newsmax agenda item:
Meanwhile, Morris said he was "shocked" that Trump's speech didn't get any play on Fox News, even though the former president gave this "wonderful speech laying out his programming beautifully, not much about 2020 all about the future, right?

"It took two hours and Fox News did not cover it. They covered Mike Pence's speech to the same group. But Fox did not cover it … this blackout by Fox News and by the arms of the Democratic Party of Donald Trump is reaching horrific proportions."
Morris diverged from his pro-Trump agenda in a July 30 appearance, declaring that "Ukraine is winning the war against Russia and will be 'potentially winning decisively'"-- a worrisome statement for those on the Ukraine side, given Morris' history of notoriously bad political prognostication. He returned to the Trump beat for an Aug. 1 TV hit that again took a shot at the competition:
Former presidential adviser Dick Morris told Newsmax on Monday that Fox News is doing everything it can to create a GOP primary fight opposing Donald Trump — from ignoring the former president to promoting a candidacy for Florida Gov. Ron DeSantis.

Morris, who outlines the strategy in his newly released book, "The Return: Trump's Big 2024 Comeback," said it's part of a larger strategy by the Democrats to sully Trump and change Fox News from conservative-leaning to liberal-oriented.

"They've censored, they switched Fox News from Republican to Democrat, and they are now basically ... Newsmax is the only organ that's covering Trump," Morris said on "John Bachman Now."

"And in the meantime, Fox is doing everything it can to promote DeSantis. He's on the air all the time. They say nice things about him. Trump hasn't been on for three-and-a-half months, and this is because the … Democrats are scared to death of Trump, and they know they have to try to beat him in the primary."
Morris cheered Trump's takeover of the Republican Party in an Aug. 6 TV appearance:
Former President Donald Trump has "orchestrated a makeover" of the Republican Party before his return in 2024, bringing the "fire" for midterm election turnout that is sorely needed, according to presidential adviser Dick Morris on Newsmax.

"In 2016, Trump orchestrated a takeover of the Republican Party," Morris told "Saturday Report." "Now, he's orchestrating a makeover of the Republican Party. It's unprecedented.

"It's never happened before. The former incumbent president really is reshaping the Republican Party and making it into a MAGA, America First institution."

[...]

Trump can stake his claim to returning America to a world powerhouse with a widely successful economy, something no Democrat or Republican can stake claim to, Morris concluded.

"He's a builder," Morris said. "And imagine somebody who built the most beautiful building in the world, and then the successor came in and tore it all down

"He's going to want, as a craftsman, to rebuild that, to bring the country back to where it was at the end of his presidency. He's immensely proud of that, and he's determined to restore that."
The article concluded with a corporate plea to get on a text list for Newsmax readers: "Get latest news on Trump's 2024 plans, his "Big Announcement" and more from Newsmax's Trump list!" As if we needed another reminder that Morris and Newsmax remain beholden to Trump.
The "censorship" bandwagon
As ConWebWatch documented, Morris' book promotion got derailed a bit in August by the federal raid on Trump's Mar-a-Lago compound as part of a dispute with federal officials over his unauthorized possession of classified documents, meaning that Morris' TV hits were diverted to defend Trump more than plugging the book. It then became time to follow that up with an endorsement from the man himself in order to goose sales, and an Aug. 30 article by Nick Koutsobinas did the trick:
Former President Donald Trump is urging Americans to read the new bestselling book by Dick Morris.

It's called "The Return: Trump's Big 2024 Comeback" and predicts Trump is not only running for president again, but that he will overcome big odds to win again.

Writing on his Truth Social platform this weekend, Trump posted: "'The Return' is a fantastic political analysis of what very well may be taking place in the not too distant future. Dick Morris is a #1 New York Times Bestselling Author, who is also a true political pro. Great book, get it now!!"

"The Return" has been an Amazon #1 bestseller as well as a top 10 Publisher's Weekly bestseller.
An anonymously written Sept. 6 article touted the results of the plug:
Dick Morris' new book, "The Return: Trump's Big 2024 Comeback," continues to soar on the bestselling lists after former President Donald Trump's endorsement.

Last week Trump took to his social media platform Truth Social and made a post about the book.

"'The Return' is a fantastic political analysis of what very well may be taking place in the not too distant future," Trump wrote, seemingly confirming Morris' contention that the former president is, indeed, running again.

Trump continued: "Dick Morris is a #1 New York Times Bestselling Author, who is also a true political pro. Great book, get it now!!"

The social media push appeared to propel book sales.

"The Return" began the week as high as No. 4 on Amazon's overall bestsellers list. It tops the No. 1 spot on Amazon's lists in several key categories, including Elections, Political Parties and Political Advocacy. It also was No. 8 on the Publishers' Weekly list of bestsellers.
The article didn't mention that Morris has been an adviser to Trump, so it's hardly surprising Trump would endorse it, nor did it mention that the book was published by Newsmax's own book division.
Then it was time to play the old right-wing game of bashing the New York Times because Morris' book isn't on its bestseller list. The apparently unironically named Charlie McCarthy did the deed for his boss in a Sept. 13 article:
The New York Times' bestsellers list appears to be censoring Newsmax host Dick Morris and his new bestseller, "The Return: Trump's Big 2024 Comeback."

"The Return" is topping several bestseller lists, including Amazon, Publisher's Weekly, and others, but is nowhere to be found on the Times' nonfiction list.

Based on retail sales compiled by Bookscan for the week of Aug. 28, "The Return" should be No. 4 on the Times' list.

But Morris' book is nowhere to be found with more than 4,000 book sales for the week. But a book co-authored by Oprah Winfrey had less than 3,000 book sales and made the list at No. 9.

[...]

"The New York Times would not be caught dead promoting a book praising Donald Trump and calling for his reelection on its bestseller list, but any book criticizing Trump is guaranteed top billing," Morris told Newsmax Tuesday.
McCarthy did not cite any evidence that the Bookscan list is what the Times bases its bestseller lists on. Instead, he complained that "Conservatives have long criticized the Times bestseller list as having a liberal bias and de-ranking right-leaning titles," which ignores that conservative publishers routinely game the Times lists by selling books in bulk to activists; the Times also notes that bulk sales drove a book's positioning on the list, which also irks conservatives. McCarthy also didn't disclose that Newsmax published Morris' book. This suggests that Newsmax is either not buying Morris' books in bulk or is doing it so blatantly that the NYT is on to the game.
McCarthy returned for a Sept. 19 article in an attempt to push the same line again:
Newsmax host Dick Morris' "The Return: Trump's Big 2024 Comeback" continues to make a big impression on national bestseller lists — hitting the top 10 of the respected Wall Street Journal's nonfiction bestseller lists.

But The New York Times continues its censorship of "The Return" despite it outselling almost all the books on its top 15 list.

"The Return" soared six spots to place No. 7 on Publisher's Weekly hardcover nonfiction list as of Monday morning in its 13th week among the top 25.

Morris' book also hit The Wall Street Journal's list for hardcover nonfiction at No. 8 for the week ending Sept. 10.
Again, McCarthy failed to explain why the Times is obligated to mirror other lists, and he again failed to disclose that his employer published the book he's plugging. He also didn't mention that the Wall Street Journal has a right-wing bias, which arguably makes Morris' appearance on the list suspect.
Why is Newsmax making a big deal out of this? Because appearances on bestseller lists creates a virtuous cycle of boosting book sales, and because the Times list is the most prestigious, an appearance there increases sales the most. In other words: Newsmax is crying "censorship" solely to increase book sales. That's all.
The latest from