Dick Morris Spouts Right-Wing Talking Points At Newsmax (And Plugs His Newsmax-Published Book)
Topic: Newsmax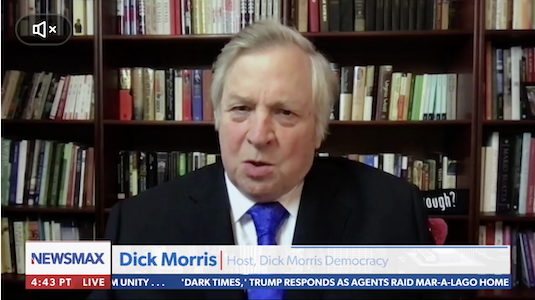 Throughout the midterm election season, Dick Morris has appeared on Newsmax TV and its website to spouting Republican talking points and dubious predictions designed to adhere to his employer's narratives and appeal to its right-wing audience (as well as promoting his Newsmax-published pro-Trump book):
Meanwhile, Morris turned to his Newsmax column to spread more hot takes. In his Oct. 5 column, Morris warned of an "October surprise" by Biden while plugging his book:
Joe Biden needs an October surprise to survive the coming tsunami Democrats face this November.

His pathetic attempt to shift attention on to Donald Trump with his ant-MAGA speech has failed.

In "The Return," I warned repeatedly that the 2022 mid-terms would be the first real battle of the 2024 presidential election.

Whatever party wins 2022 will be in a superior position to win the White House in 2024.

Biden knows this.

And so does Trump.

[...]

Yes, a Biden October surprise is coming.

With inflation soaring, the housing and stock markets collapsing, oil prices rising, and a border in crisis underway — he and his advisers know only a "wag the dog" event can save him.

In "The Return," I lay out what this "surprise" might be — a military action, an economic one, or another, bigger legal hit on Trump.

Trump is already preparing a massive response.

That's in "The Return" too.
Morris spent his Oct. 24 column huffing that early voting may hurt Republicans and begged Republicans to vote early too:
Can the 2020 nightmare repeat itself this election year?

Well, the Republican Party, in its own inimitable fashion, may be about to blow this election — especially in some tight Senate races.

Remember back in 2020 when the Democrats piled up huge leads among those who voted early, sometimes weeks before Election Day?

Meanwhile Republican operatives actually told GOP voters not to vote early but show up on Election Day.

By the time the Republicans showed up, the Democrats had already piled up leads that were insurmountable — all of this happened through early voting.

[...]

When Democrats ask a voter to cast his ballot two weeks before the election, they can follow up if the person doesn't come through.

But with Election Day voters, there is no margin for error.

If even 5% of Republican voters failed to show up on Election Day — think the kids got sick, things piled up, people got the flu, or just too many things to do — the party risks losing Senate races that are now on razor edge in Arizona, Pennsylvania, Georgia, Nevada, North Carolina, and Ohio.

The fate of both the Senate and House depends on GOP voters actually voting.

So why are the Republicans living so dangerously?

[...]

Trump pulled out 11 million more votes in 2020 than in 2016. But, by using early voting, Biden pulled out 15 million more.

Sure we need to stop Democratic voting shenanigans, but let's tell people to vote early!
How like a right-wing operative like Morris to think that the legal act of voting early is "shenanigans."
Posted by Terry K. at 2:55 PM EST
Updated: Tuesday, November 8, 2022 3:01 PM EST