The MRC Flips Over Elon Musk, Part 2
The Media Research Center completed its flip-flop on Musk's coziness toward China as it continued to slobber over his deal to buy Twitter -- and pretty much anything else he says.
By Terry Krepel
Posted 8/3/2022
---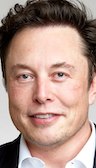 Elon Musk
The Media Research Center briefly soured on Elon Musk when one of its writers was pointed out he's quite cozy with China so he can sell Teslas there -- which it then totally forgot about when Musk got interested in buying Twitter. The MRC shoved that brief fit of conscience completely down the memory hold in an April 26 post by Kyle Drennen, who criticized media outlets for reminding people of that fact:
On Tuesday, both NBC's Today show and ABC's Good Morning America hyped a suggestion from Amazon founder and Washington Post owner Jeff Bezos that fellow billionaire and new Twitter owner Elon Musk might be under the influence of China's authoritarian regime given the amount of business the Tesla CEO does in the country. However, neither network mentioned that in a follow-up tweet, Bezos admitted that Musk was "probably not" beholden to China.

"Sold. After weeks of watching and waiting, Elon Musk reaches a deal to buy Twitter for $44 billion," co-host Hoda Kotb announced at the start of NBC's Today show. She then was quick to sound the alarm: "This morning, inside the world's richest man's plans to change the popular platform, the critics who call the move dangerous, and the looming battle of the billionaires as Jeff Bezos raises his own questions about the deal."

[...]

Bezos initially quote-tweeted someone pointing out Musk's business interests in China, speculating: "Interesting question. Did the Chinese government just gain a bit of leverage over the town square?"

However, in a second tweet in the thread, Bezos promptly dismissed the notion: "My own answer to this question is probably not. The more likely outcome in this regard is complexity in China for Tesla, rather than censorship at Twitter."

In the final tweet in the thread, Bezos neutrally observed: "But we'll see. Musk is extremely good at navigating this kind of complexity."
Bezos conceding that Musk is "probably not" under Chinese influence is not the ringing endorsement that Drennen wants you to think it is. Drennen also failed to remind readers that just three and a half months earlier, MRC sports blogger Jay Maxson was cheering then-NBA player Enes Freedom Kanter for calling out Musk because he opened a Tesla showroom in Xinjiang, "the province which contains what many view as modern-day concentration camps," adding that "Fanboy Musk also credited China with its people's happiness, indicating he must have a warped sense of what constitutes that human emotion."
Instead, Drennen played whataboutism with Bezos, complaining that the media reports lacked "an examination of the significant business ties Bezos has with China. That includes the Chinese state-run publication China Daily paying millions to run an insert in the Post for years that spewed regime propaganda."
It will not surprise you to learn that the MRC has never mentioned Musk's coziness with China again.
That wasn't the only flip-flop the MRC performed in service of Musk, however. An April 30 item by Autumn Johnson stated:
Facebook "whistleblower" Frances Haugen said she was "cautiously optimistic" about Elon Musk's purchase of Twitter. Haugen alleged last year that Facebook prioritized its own profits over public safety and encouraged content moderation in her testimony to Congress.

Fox News reported that she said that Mark Zuckerberg has too many people around him who "tell him what he wants to hear." She said that Musk handled feedback better.

"I have a feeling that Facebook is going to rationalize to itself that it can't really do anything different than it already does because of the demands of the market," Haugen said, according to Fox. "I think there's a huge opportunity here for Elon to really demonstrate that there's another way forward."
Last fall, the MRC was trashing Haugen for her whistleblowing -- a script that just happened to be supplied to it by Facebook itself. Johnson didn't mention any of that or concede her employer was acting as a Facebook tool; instead, she uncritically quoted Haugen saying that "maintained her stance about the issues at Facebook."
Meanwhile, the MRC was still busy gushing over his planned Twitter purchase and whatever else he says:
Of course, the MRC was also still lashing out at anyone who dared criticize Musk over his deal:
Needless to say, the MRC made no mention of the fact that, as others have noted, Musk's real-life commitment to "free speech" -- as demonstrated by his eagerness to censor critics and fire Tesla workers who engage in union advocacy -- pales in comparison to the flowery language the MRC has heaped upon him.
Bashing critics and fact-checkers
Alexander Hall played the inevitable George Soros boogeyman card to defend Musk in a May 4 post:
Twenty-six organizations signed a letter warning that the Twitter takeover by Tesla founder and free speech advocate Elon Musk will ruin the platform.

How the tables have turned! Twenty-six organizations ranging from gay advocacy to pro-abortion demanded corporations boycott Twitter, warning that Tesla CEO Elon Musk's "takeover of Twitter will further toxify our information ecosystem and be a direct threat to public safety, especially among those already most vulnerable and marginalized." Many organizations that signed the letter, such as the Free Press, MediaJustice (formerly Center for Media Justice) and the pro-abortion NARAL Pro-Choice America, National Hispanic Media Coalition, were heavily funded by liberal megadonor George Soros. Identity politics-based organizations such as the Marxist Black Lives Matter Global Network Foundation, Empowering Pacific Islander Communities (EPIC), National Hispanic Media Coalition, Women's March and GLAAD also signed the bill.

[...]

Musk responded to a CNN Business report on the letter, asking in a tweet: "Who funds these organizations that want to control your access to information? Let's investigate." He later added : "Sunlight is the best disinfectant." A Daily Mail report published May 4 answered Musk's inquiry: "[A]n assortment of 'dark money groups' like George Soros's Open Society Foundation; NGOs founded by former Clinton and Obama administration staffers; wealthy Democrat donors and their family foundations; labor unions; and the governments of European nations."
In a May 5 post, Joseph Vazquez declared that a fact-check of Musk was "stupid" and "idiotic" because it followed Musk's words to their logical conclusion:
Tesla CEO Elon Musk correctly slammed NBC News for trying to bury the Hunter Biden laptop scandal. Phony fact-checker PolitiFact tapped into all levels of Pravda to pretend that wasn't true.

The Facebook fact-checker ran an idiotic May 4 "fact check" headlined: "Elon Musk's false claim that NBC News covered up Hunter Biden laptop story." Musk went after NBC for having a conniption over his recently successful multibillion-dollar bid to purchase Twitter.

Musk stated on Twitter May 2 that NBC was the "[s]ame org that covered up Hunter Biden laptop story, had Harvey Weinstein story early & killed it & built Matt Lauer his rape office. Lovely people."

Here was PolitiFact contributing writer Monique Curet's pathetic reasoning for why Musk was awarded a "False" rating: "NBC News said its lack of in-depth reporting in 2020 on the laptop was due to people in Trump's circle trying to limit access to the information. That's not the same as covering up the story." So NBC did pathetic journalism and PolitiFact blames … Trump. In fact, Curet is not even located in the U.S. Her PolitiFact biography says she resides in Tokyo, which means the fact-checker had to outsource its shoddy business to someone located all the way across the Pacific Ocean.

Curet continued: "Musk's tweet gives the impression that NBC News had all the relevant information and chose not to disclose it, and that's not accurate."

[...]

First: Musk never said NBC had "all the relevant information." Curet inserted her own spin into Musk's tweet and fact-checked a straw man. In addition, Musk's insinuation that NBC covered up the story was broad and not limited to the initial 2020 bombshell.

NewsBusters has the receipts proving that NBC not only covered up the story for well over a year, but tried to spin it as a Russian disinformation op.
As we've noted, the New York Post and its partisan pro-Trump sources provided no independent verification of the laptop or the information on it, making it journalistically reasonable to ignore that story since there was no reason to take these partisans at face value.
Meanwhile, the MRC kept cranking out other pro-Musk and Musk-critic-bashing content:
But the orgasms returned when Musk suggested he would allow Donald Trump to return to Twitter. Hall squeed in a May 10 post under the headline "Return of the King?":
Is he back? Maybe. Billionaire and free speech advocate Elon Musk declared he will reinstate former President Donald Trump when he buys Twitter. But will Trump return if the ban is reversed?

Musk said he would reverse Twitter's Trump ban at a recent automobile event. "Musk, the Tesla CEO who is soon to own Twitter, said it was a mistake for the website to ban the former president," The Washington Post wrote on Tuesday.

The article reported that Musk warned while speaking at a Future of the Car event sponsored by the Financial Times: "I think it was a morally bad decision to be clear and foolish in the extreme." He continued: "I do think it was not correct to ban Donald Trump. I think that was a mistake ... It alienated a large part of the country and did not ultimately result in Donald Trump not having a voice."
Catherine Salgado followed up with a post headlined "Anti-Free Speech Twitter MELTDOWN After Musk Proposes Un-Banning Trump." She did not explain why supporting Twitter's decision to suspend someone who incited a riot and repeatedly violated Twitter's terms of service makes one "anti-free speech." Hall added a post quoting Twitter founder Jack Dorsey saying that Trump should not have been banned, though he did agree that Trump deserved a "temporary suspension" for what Hall euphemistically and delicately described as his "behavior in the final days of his presidency."
Related articles on ConWebWatch:
None of these writers noted that, as other observers have noted, Musk's statement came on the same day that Tesla recalled 130,000 vehicles for issues with the cars' touch screens, making the timing of his announcement look a lot like a distraction from bad news.

Also, the MRC has yet to tell its readers that Trump is contractually obligated to make Truth Social his primary social-media outlet, and he can't repost his musings elsewhere for a minimum of six hours. So even if Musk restores Trump's Twitter account, it can't be his primary one.

But as Musk's Twitter deal stopped looking so brilliant -- and Musk himself stopped looking so brilliant -- the MRC still played sycophantic cheerleader for Team Elon.

A May 18 post by Autumn Johnson drily wrote about how Twitter was planning to "enforce" its deal with Musk to buy Twitter at the agreed price of $54.20 a share, but was silent on one big reason why Twitter would feel the need to enforce the deal: Twitter's stock price had dropped precipitously, from $51.20 on April 25, the day after the deal was announced, to $36.85, the day of Johnson's post. Instead, Johnson helped Musk raise a new distraction about the number of fake and spam accounts on Twitter.

The same day, Gabriela Pariseau rant to Musk's defense on another issue:
Guerrilla journalism outfit Project Veritas reportedly caught an alleged Twitter employee trashing free speech and claiming Elon Musk has Asperger's Syndrome.

Project Veritas released another video Tuesday as part of its "Twitter Exposed" series. Alex Martinez, purportedly Twitter's lead client partner, reportedly told a Project Veritas undercover journalist that Twitter employees "believe in something that's good for the planet, and not just to give people free speech." The video purportedly shows Martinez calling Musk "a loony tune" and alleging Musk has Asperger's syndrome.

[...]

Martinez went on to mock Musk, claiming he was on the autism spectrum. "Elon Musk as a person is whatever… like he's a loony tune, he has Ossbergers, Asperger's. So he's special. We all know that and that's fine," Martinez said in the video. "I'm like, you're special needs–you're literally special needs. Literally, though, you really are. So, I can't even take what you're saying seriously. 'Cause you're special."
Never mind, of course, that Musk himself has admitted that he has Asperger's syndrome and that his erratic public behavior is fair game for comment -- after all, the MRC's "news" division, CNSNews.com, believes rampant speculation about President Biden's purported mental state is fair game. Hilariously, Pariseau called on verbally abusive serial plagiarizer Benny Johnson to defend Musk.
Johnson used a May 22 post to engage in a Trumpian victimization defense of Musk after it was reported that his SpaceX paid a $250,000 settlement to a flight attendant who claimed Musk harassed her:
Tesla CEO Elon Musk said the left is out to get him after he announced he would vote Republican.

Musk responded to a story from Insider that alleged he sexually propositioned a flight attendant. He said the left personally attacked him for his commitment to free speech as well as his declaration that he would vote Republican from now on.

"They began brewing attacks of all kinds as soon as the Twitter acquisition was announced," he tweeted. "In my 30 year career, including the entire MeToo era, there's nothing to report, but, as soon as I say I intend to restore free speech to Twitter & vote Republican, suddenly there is ..."
Johnson somehow forgot to mention that a six-figure settlement was paid to the flight attendant, which sure looks a lot like an admission of guilt.
The MRC continued to serve as the PR agency for Musk's ramblings and PR bulldog to attack his critics:
The MRC didn't mention that it sure looks like that Musk was spreading all that right-wing clickbait as a distraction from the bad news.
The MRC even rushed to Musk's defense over an anti-LGBT meme Musk tweeted, in a June 1 post by Wallace White:
Every time pride month rolls around the establishment and corporate America waste no time in declaring their love for the LGBT cause by changing their logos to a rainbow rendition. Musk decided to poke fun at the sudden onslaught of multi-colored logos that recurs like clockwork every year, and the liberals and LGBT on Twitter were quick to ruin the fun for everyone.

It doesn't take a detective to realize that musk's companies were guilty of it too. The left took this information and ran with it, treating it as a "gotcha!" moment for Elon haters. Predictably, the humor of it all was lost on liberals on Twitter, and they could not possibly fathom that Elon could take a joke even at his own expense.

[...]

The meme simply acknowledges that corporate America regularly uses woke messaging to pander to LGBT customers. The meme doesn't mean that Musk hates gay people. The predictability of the annual display of rainbows is something worthy of poking fun at because of its clear superficiality. Leave it to liberals to suck all the laughter and fun out of a good joke and take everything so seriously. Maxwell Adler of Bloomberg was not laughing, which means, of course, that no one else can laugh. When you point out that LGBT causes have the backing of massive corporate power, even superficially, the left goes into meltdown mode.

The liberals have made it clear: no fun allowed on Twitter if I'm the butt of the joke. It shouldn't be surprising that they would take a silly meme personally and lash out at Musk. They've been on the crusade against comedy for years, and this is simply another incident to add to the list.
But Wallace offered no evidence that Musk acknowledged that he was making a joke at his own expense or that he even knew that his own companies participated in what he was mocking. But it fits right in with the MRC's homophobia, so White did his best to make it fit the narrative.
Autumn Johnson was mad that President Biden wouldn't take economic advice from Musk in a June 3 post:
President Joe Biden seemingly dismissed Elon Musk's concerns that the economy was headed for a downturn.

When asked about Musk's comments, Biden dismissively responded to the Tesla CEO's economic concerns:

"While Elon Musk is talking about that, Ford is increasing their investment overwhelmingly," Biden said according to Reuters. "Ford is increasing investment and building new electric vehicles. Six thousand new employees, union employees I might add, in the Midwest."

Biden then wished Musk "lots of luck on his trip to the moon."

[...]

The comments from the president came after Musk wrote in a company email that he had a "super bad feeling" about the U.S. economy.

Reuters reported that Musk told employees that ten percent of salaried jobs at Tesla would be cut in response to a downturn in the economy.
Johnson didn't mention that Musk committed to buying Twitter at the top of a bull market at an inflated price, which puts his economic judgment into question.
Speaking of which, Johnson cheered the next day that Musk's Twitter deal "just avoided a lengthy review period" with the federal government declining to do an antitrust review of the deal. She also served as a Musk PR person by hyping Musk's alleged concerns about the number of bot accounts on Twitter. That is apparently going to be Musk's -- and, thus the MRC's -- narrative as a way for him to weasel out of the deal, as Alexander Hall enthused in a June 6 post:
As Tesla CEO and free speech advocate Elon Musk has fought to acquire Twitter, he demanded the platform reveal how many of its users may be spam or fake accounts. His legal team accused the platform of deliberately hiding information amid Musk's investigation.

Musk's attorneys blasted Twitter leadership in a June 6 letter to Twitter Chief Legal Officer Vijaya Gadde. "Twitter has, in fact, refused to provide the information that Mr. Musk has repeatedly requested since May 9, 2022 to facilitate his evaluation of spam and fake accounts on the company's platform," says the letter, which was posted on the Securities and Exchange Commission website.

"[Musk] does not believe the company's lax testing methodologies are adequate so he must conduct his own analysis," the letter noted "The data he has requested is necessary to do so." The letter explained that Musk "believes the company is actively resisting and thwarting his information rights (and the company's corresponding obligations) under the merger agreement."
Jeffrey Clark gushed even harder over a Musk opinion in another June 6 post:
Tesla CEO Elon Musk warned of "population collapse" in China as a result of tyrannical government policies that devalue human life.

"Most people still think China has a one-child policy," Musk said in a June 6 tweet. "China had its lowest birthdate ever last year, despite having a three-child policy! At current birth rates, China will lose ~40% of people every generation! Population collapse," Musk tweeted in response to a article headlined "Could China's population start falling?"
Clark didn't mention the inconvenient fact that just a few months earlier, the MRC was criticizing Musk for his cozy ties to China, which it memory-holed once he started spouting right-wing talking points and got interested in buying Twitter. There was also no mention of the fact that Musk is so dependent on China for materials used in making Teslas that his purchase of Twitter raises national security questions regarding privacy of user data, since China could use Tesla's dependence on Chinese materials to force Musk to give it information on users who are critical of China.
But who cares about facts when there are right-wing narratives to advance? Which is why Johnson spent a June 9 post hyping how "A new story suggested on Wednesday that Twitter agreed to provide Elon Musk with raw data concerning the platform's bot accounts." And a June 17 post by Clark touted Musk's purported commitment to free speech:
Tesla CEO Elon Musk defended free speech online and fielded questions from Twitter employees, according to a leaked video call.

"You can communicate with millions of people on Twitter. That's just an incredibly important thing," Musk told Twitter staff during a June 16 all-employee call. "I think it's essential to have free speech and to be able to communicate freely."

[...]

Twitter Chief Marketing Officer Leslie Berland asked Musk about "content moderation," a leftist euphemism for censorship, during the call.

"The standard is much more than not offending people," he added. "The standard is — should be — that [Twitter users] are very entertained and informed."
But a few hours before Clark's post was made live, Musk's real feelings about free speech were revealed when he fired SpaceX employees who criticized him. Clark made no mention of that in his post.
Salgado hyped another Musk pearl of wisdom in a June 20 post:
"Is TikTok destroying civilization?" Elon Musk tweeted June 17. "Or perhaps social media in general." Hyperbole? Perhaps, but maybe not considering new revelations about TikTok's reported data sharing with China.

BuzzFeed News reported the same day as Musk's tweet that it reviewed tapes of TikTok employees making statements that indicate its parent company, Chinese Communist Party (CCP)-tied ByteDance, accessed non-public U.S. user data from TikTok. "Everything is seen in China," one member of TikTok's Trust and Safety department said during a September 2021 meeting, according to BuzzFeed.
The MRC has been parroting attacks on TikTok that were secretly fed to it by Facebook through a Republican consulting firm. Salgado made no mention of that. But then, for the MRC, it's all about helping Musk win, and Joseph Vazquez literally invoked that in a June 21 post headlined "MUSK WIN":
Twitter's Board of Directors told the platform's shareholders to accept the world's richest man's $44 billion takeover deal, according to a new government filing.

The filing specifically told shareholders that it "unanimously recommends that you vote" for "the adoption of the merger agreement" with Tesla CEO Elon Musk. Musk reportedly "listed the approval of the deal by shareholders as one of several 'unresolved matters' related to the Twitter deal" during an interview at the Qatar Economic Forum. The document also stated that the board "unanimously" agreed that "the merger agreement is advisable and the merger and the other transactions contemplated by the merger agreement are fair to, advisable and in the best interests of Twitter and its stockholders; and (2) adopted and approved the merger agreement, the merger and the other transactions contemplated by the merger agreement."

[...]

With Musk seeming apparently ready to take over the platform and make crucial changes to its bloated censorship apparatus, it looks as if Silicon Valley oligarchs may have finally lost one of its core vehicles to control online speech just before the 2022 midterm elections.
Vazquez also rehashed the MRC's conspiracy theories attacking social media over the Hunter Biden October surprise before the 2020 election, declaring that "A whopping 45 percent of Biden voters surveyed in a Media Research Center poll weren't aware of the Hunter Biden scandal in part because Big Tech censored it." Vazquez didn't mention that the poll he cited was conducted by The Polling Company, a Republican firm founded by Trump adviser Kellyanne Conway, making its independence and reliability highly suspicious.
The latest from